Top 15 Best Developmental Toys for 9 to 12-Month Olds 2023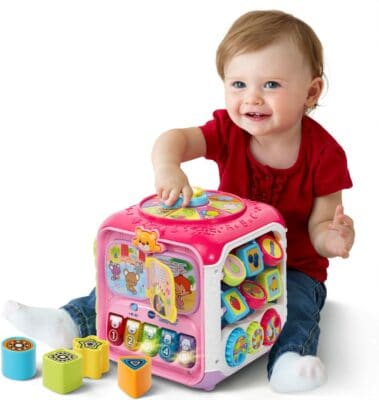 This plastic activity cube also has five different sides for your little one to play with and will introduce them to colors, numbers, animals, and other educational materials. There are book pages to turn, spinners that can be twisted, and shapes that can be sorted. All of this helps improve your child's motor skills while teaching them early reasoning and puzzle-solving ways of thinking.
This activity cube is geared towards education compared to a lot of other toys. With an interactive book of thick, plastic pages for your little one to flip through, they'll be exposed to basic nursery rhymes and words. The keyboard is also able to teach your child colors, shapes, or animals depending on the mode that you put it in. The spinner helps your child recognize animals that it lands on, and the lights keep them engaged.
The shape sorting side helps a lot with cognitive stimulation, especially as your child figures out which shapes can fit through the holes. It's also a good opportunity for you to teach them the name of the basic shapes as they play and experiment with getting blocks through the top. The cube itself also comes with over 75 different songs and sounds.
Unfortunately, the stickers on this toy do peel when they get wet. If your baby still likes chewing on their toys, they might end up eating parts of the sticker if you don't watch carefully. In addition, the cube is smaller than other activity cubes, less than 10 inches tall on all dimensions. A larger activity cube choice would be the Battat wooden cube. The only light up components for this toy are the keyboard on one side and the spinner at the top of the cube.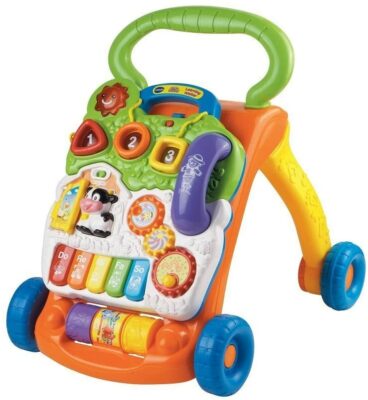 The VTech walker can be placed flat on the ground or propped up and is the perfect way to get your child comfortable around a toy that can help them walk. It comes with a colorful keyboard at the bottom, and many rollers, shape sorters, and other activities to keep them engaged. Once they're comfortable with this toy and a little older, you'll be able to prop it up for them so they can walk with it.
Unfortunately, the wheels of this walker can be a little too fast when used on hardwood floors, which is difficult for beginning learners. You'll want to supervise your little one as they use this toy, and maybe give a steady hand to keep the walker from speeding up too much. In addition, the wheels for this toy won't lock either, so they won't be able to pull themselves off the ground with it. If you'd rather your child practice their crawling a little more first, you should look into the Utex play tent.
On the bright side, the wheels do offer two different speeds, so you can change the speed to the "slow spin" mode on the carpet when your little one is first getting started. It also comes with a variety of toys, such as a rattle shaped like a phone and an activity panel that can easily be removed and set on the ground. It also comes in three different colors, so you'll be able to choose one that matches your baby's tastes.
It comes with over 70 different songs and tunes to keep them engaged, and has several spinning or rolling elements for them to interact with as well. At the top, they're able to fit shapes into the right holes, which can help with cognitive skills and early shape recognition. The buttons also light up when they're pressed to keep engagement.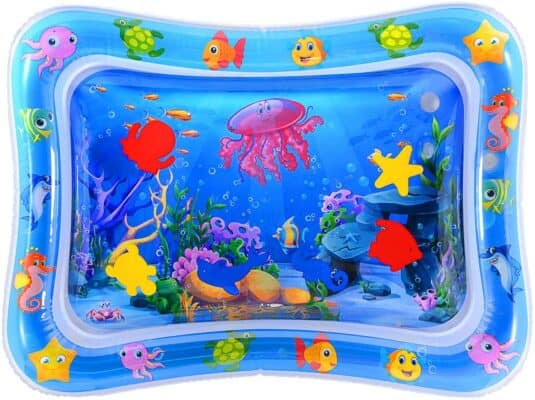 This water mat is soft and gentle while durable enough to keep from leaking. It's easy for your baby to enjoy their tummy time on this mat, or even crawl around on the wobbly surface for extra enjoyment. This mat is designed to help improve their sensory development as well as strengthen their body muscles, preparing them for their next steps in motor development.
You will have to empty it out regularly to keep mold from growing since this is a water-based toy. While the cleaning process is harder for this mat than many other toys, it comes with easy-to-understand instructions to wash it out. In addition, the small, floating sea creatures in the mat can get stuck together sometimes during play and are hard to separate while the mat is filled with water.
However, the benefits associated with tummy time for your little one is significant. It can help with their overall health while strengthening their head and neck muscles. When they're practicing crawling, having them play on this mat introduces them to new sensory components while making their crawling stronger than before as they play on the soft surface. Another good toy to help them crawl around might be the Utex play tent.
The mat also contains an assortment of colorful animal toys that'll move as they lay on this mat. Against the vivid blue of the bottom, the bright red and yellow ocean animal figures can easily hold their attention and encourage them to stay on the mat for longer to improve their motor skills. As they play and lay on the mat, it can also strengthen their arms and legs to improve their endurance for crawling.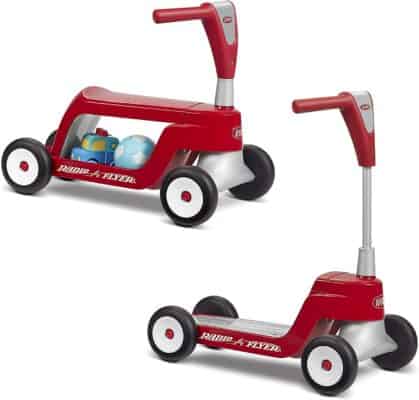 The Radio Flyer scooter has two different setups, one of which allows your child to sit on it safely as they move around outside. With four wheels at the bottom, it also offers more stability than traditional scooters, and can be a good introduction to scooters for your child before they learn how to stand. It's a quick way to keep your child entertained when they go outside.
Unfortunately, this toy is a little more challenging to assemble, and you'll have to get involved every time your child wants to switch from one mode to another. The buttons are hard to push in so that you can lower the handles, and they can get stuck if you're not careful during assemblies. In addition, since this is an outdoor toy, it can be a bit more dangerous for your child, so make sure you watch them when they play and definitely make sure they're wearing a helmet. A more indoors-focused option would be the VTech alphabet train.
While it does take a little more movement and strength from your little one to get it moving, it can provide a source of fun for hours when they learn to use it. It also has a small compartment at the bottom of the scooter when you put it in its seated mode, which you can use to store other toys for them to carry along.
This is also a toy that you'll be able to keep for years since you can just change it to a full scooter once your baby grows a little older. It's constructed out of a sturdy frame so that it stays durable, and can hold up to 44 pounds when used. In addition, it'll help your child improve their confidence and sense of independence when they get used to this toy.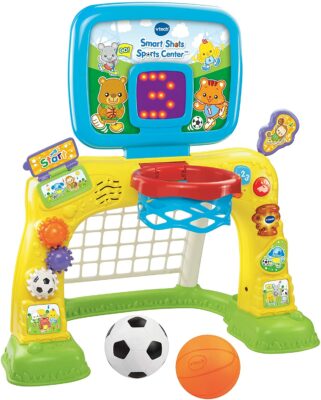 The VTech sports activity center comes with a miniature basketball hoop and a soccer goal so that you can get your kid active and moving around. It also comes with a small soccer ball and basketball so that your little one can get used to the games. Both the hoop and the goal are short enough that they'll be able to reach it while crawling, but tall enough that so that they can get in a slam dunk once they're able to walk.
It does require 3 AA batteries that are not included with the purchase, so make sure you have some at the ready if you plan on ordering this toy. In addition, there are a lot of small holes around the basketball hoop for fingers to get stuck in. Unfortunately, with all of the rough play that this toy is going to get, it might not last as long as some of the other options either. More durable options are often made fully out of wood, such as the Battat wooden cube.
However, this toy is the perfect way to introduce your child to sports without them getting frustrated. Along the rim of the soccer goal, there are buttons, spinning objects, and plastic pages that can be flipped. In addition, the soccer goal has a special sensor that counts how many times the ball gets kicked in, and the number at the top lights up and changes each time your child scores!
Through the LED scoreboard and sensor, this toy also produces different animations and over 50 melodies and sounds to get your child engaged. They'll be working on their motor skills and learning how to count without even realizing it. Each time a ball drops through the basket or gets kicked into the net, you can help your child learn the different numbers that light up on the scoreboard, making this toy an educational and fun choice.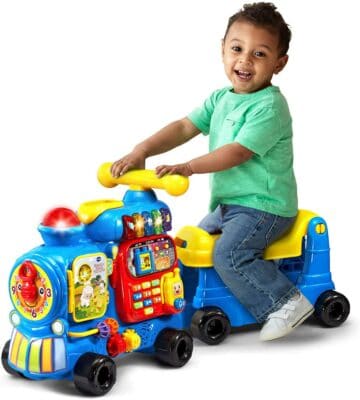 The VTech alphabet train has three modes for your child to play with, and they can use it like a scooter, walker, or wagon at their pleasure. The sides of the train are filled with interactive buttons for them to push and explore, and it makes sound and music to keep them engaged. This toy is also meant to grow with your child so that they can play with it for years.
This scooter isn't as stable as the traditional outdoor scooters, and won't move as fast either. A safe outdoor scooter option would be the Radio Flyer scooter. It can also be hard to move on the carpet, so make sure your little one plays with it on hardwood or tile floors.
It does come with multiple learning options, unlike traditional scooters, with 13 double-sided alphabet blocks to teach the letters and a plastic storybook on the side. Buttons above the phone booth light up when pressed and can also begin teaching your baby about the weather. It also has over 100 songs and melodies, more than any other toy on this list!
In addition, it also helps improve your child's creativity and cognitive skills, as it encourages them to play make-believe. Your little one can pretend to be a train conductor, or answer the walkie-talkie when they get a call. As they get older, the train can help them walk, or be dragged along as a wagon for their other toys.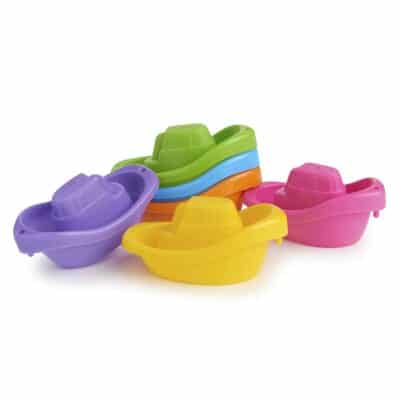 This set of six bath boats come in different colors and float around the water during bathtime. Each toy is lightweight and small enough for them to hold without struggling too much. In addition, the boats all have faces and numbers on them so that your child will be able to easily distinguish boats from each other.
However, the numbers only run from 1 to 3, so you'll get two of each number. The boats will sink if water gets into them, so you'll have to empty them out as your child plays. After linking three boats together, the third may drag the first two underwater. As long as you try to keep the boats from flipping over, they'll be able to continue floating.
The selling point is the boat's ability to all get connected in a row with small pegs and holes on the side. While this may be difficult for your baby, you can give them a helping hand and ask them which boats they'd like to connect. In addition, since it is made of plastic, these boats will not grow mold, unlike other bath toys.
They're a valuable addition to your bath time kit since they can also help your kid begin to recognize different numbers and colors. By asking them to pick up the red boat with the "1" on it, you'll help them develop their motor skills and their cognitive skills at the same time! They're also able to be stacked to conserve space, or to get your kid to practice their stacking skills.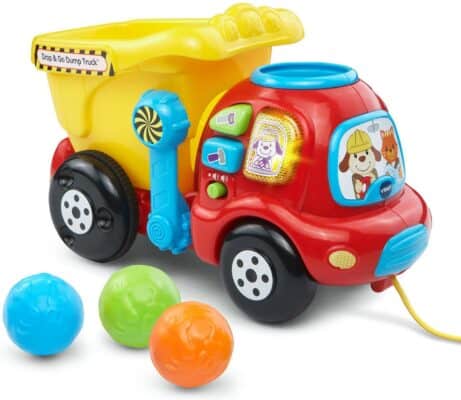 The VTech dump truck is an affordable and engaging toy for your kid to pull around the home. The trunk has a storage area for plastic balls to be put in, and can also lift up the bucket to watch all the balls fall out. It also comes with three buttons that can play music when pushed, and light up parts of the truck at a time.
However, the string for pulling can be a bit short, so you may want to get out some of your own string to lengthen it. In addition, the packaging doesn't look as nice as some of the other toys and will arrive wrapped in plastic. If you plan on getting it as a gift, order it ahead of time so that you can wrap it yourself. It doesn't have as many songs or buttons as some of the other VTech toys.
One thing that this truck does do well is teach your child how to count. Each time a "rock" is pressed into the hole at the front of the truck, the truck plays out the next number and teaches your little one how to count. The truck also plays music when it's pulled around to encourage your child to move and crawl along with the toy.
The lever at the front of the truck can also lift up the bucket to dump out the balls, and your child will be able to collect them once more to continue playing. The truck itself comes in both an orange and a yellow pattern. While the truck requires 2 AAA batteries, some are included with the original purchase.
This set of building blocks isn't like the traditional wooden blocks you may have had growing up. They're stackable and soft, and are made with non-toxic materials (good for those who have aggressive teethers). They come in a reusable bag that can store away the blocks compactly.
Cleaning these blocks can end up being a challenge since there are small holes in the sides of the blocks. As a result, if anything gets in the holes, it's tricky to get back out. If you want something that stays clean by itself, you'll want to get plastic bath time toys like the Munchkin boat train. In addition, these blocks also squeak when they're pressed, which can get annoying if your child likes squishing them.
These ten blocks that arrive also have numbers on one side, with different animals and pictures sculpted into each of the sides. This makes it easy for your baby to learn numbers as you can help them practice lining it up in order. Best of all, while they are squishy and safe for your child to play with it, they are also easily stackable and hold their shape in play towers.
This set is also one of a kit of squeezable, soft toys that you can purchase. Combined with the Elemenosqueeze blocks, you can encourage your kid to pretend to be a builder, and create all sorts of houses with them. With the unobtrusive colors and gentle designs, this is a safe toy for your kid to play with while you take that well-deserved nap.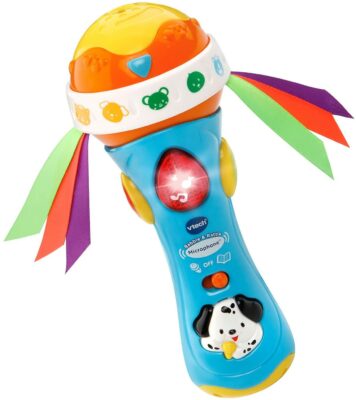 This VTech microphone helps amplify your child's voice when they talk and can be shaken like a rattle as well. It's a fun way to encourage them to speak up and communicate openly at this stage in life, boosting their confidence and independence. It also comes in both blue and pink, so you'll have options for your baby girl or baby boy.
Keep in mind that this isn't a quiet toy, in fact, it's specifically meant to be heard when your little one plays with it. A quieter toy option would be the B. Toys squeeze building blocks. It also has a bit of static as it amplifies their voice, which can get annoying over extended periods of time. There's also no way to change the volume of the microphone and the music that plays, and it may sound every time that it gets moved. You will need to put it in a special location so it doesn't get jostled when it's not in use.
However, this toy does offer a variety of interactive features to keep your baby engaged. There's a ring at the top of the microphone with animal faces on it, which can be turned under the blue arrow to make the animal sounds. Different phrases will also play for different animals, such as "The bird likes to chirp!" and other informative sentences to teach your little one while they're attentive and listening.
There are also multiple buttons for them to explore. The instrument buttons play both classical music and rock 'n roll music, and other buttons (such as the puppy) can be pressed to light up the microphone. Overall, there are more than 60 songs and phrases that this microphone can make, and the extra twisting ring at the top improves their developing motor skills.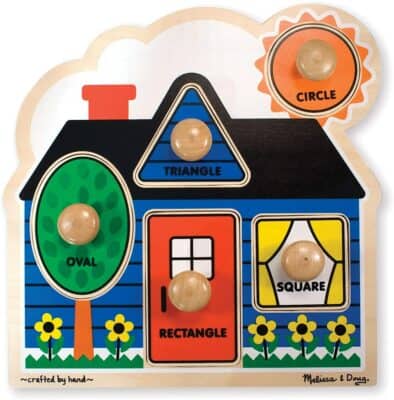 This puzzle was created to help your baby learn their shapes while they play. Five pieces of the puzzle can be fit into differently shaped holes that come together to make a house. Each piece has a large wooden knob on it so that your child can easily hold the pieces and put them in place, or take them out of the puzzle to start over. When the pieces are taken out, the word and color of the various shapes are in the space under to help them figure out where to put the pieces back.
However, the pieces have stickers on them and aren't directly painted onto the pieces. As a result, the paper sticker will peel off if they get wet, which is likely if your baby enjoys chewing on all their toys. In addition, the puzzle pieces are not made with solid wood, and a teething child can easily damage the individual parts. The patterned cut lines are also visible in this puzzle, so you'll be able to see them connecting the cut out parts.
On the bright side, the thick material that this puzzle is made of makes it a suitable first puzzle for your little one. They're thick enough to be handled easily by clumsy hands, and the knobs help them improve their hand-eye coordination as they play. Each of the pieces is also colored differently to help them differentiate between shapes, colors, and letters.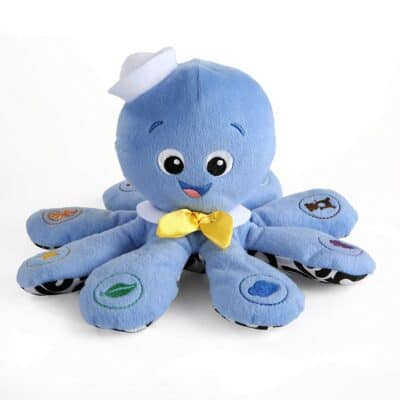 This plush toy comes in a gentle blue color and is made with a soft, fuzzy fabric. The material makes it soft to the touch so that your little one can hug and snuggle it as much as they want in bed. Squeezing the head also helps it play music and melodies, and there are lots of small tentacles for them to grab and play with. It also comes with English, French, and Spanish audio.
Keep in mind that this toy does have electronic components, so it can be difficult to clean. If your baby loves to chew on their toys, you'll need to carefully hand wash it instead of throwing it in the washing machine as to not damage the electronic components. While it does come with multiple languages to choose from, switching between them requires you to un-Velcro the back of the octopus to get to the controls on the battery.
The music for the Octoplush is not as loud as other toys, so they can play with it before bed or when they wake up. Pressing the legs also lets it announce the color and the object on the legs to help them begin recognizing the differences. Unlike other stuffed animals, there are no loose threads, and this toy is quite durable for years to come.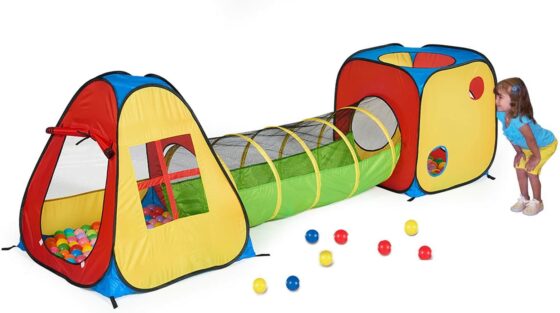 The Utex pop-up tents come in a set of three, with a triangular house, a square house, and a long tunnel to climb through. The three pieces fit together to create a small play area that's around 10 feet in length for your child to climb through and explore! It's easy to hook up the houses and parts in the way that you want to design the playground you have in mind, all while in the comfort of your own home.
However, while the pictures do include colorful plastic balls, this kit only comes with the pop-up tents and tunnels. You'll have to purchase plastic balls separately to fill up the tent. In addition, the square box has a lower flap for your little one to easily climb through, but this means that you won't want to fill it up with too many balls since it can easily spill over.
This set is designed to get your toddler moving and crawling around. They can explore the different parts and pieces on their own as they like, and you won't have to worry about their safety. The entire kit has lots of mesh windows and holes all over so that you can watch your child as they play without having to follow them in. The tents are perfect for games of make-believe and hide-and-seek.
On the technical side, assembly and storage are simple with this kit, since you'll be able to fold it up as soon as you finish. When you set it up, the pieces can pop open to the full-sized tent without the worry of it tearing. It's durable, budget-friendly, and an overall great choice if you want your baby to move and explore.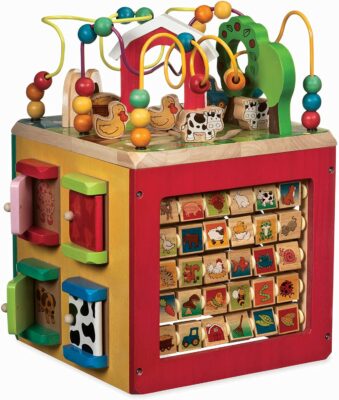 The Battat wooden activity cube is strong and durable, able to last for years after being bought. The bright colors help keep your little one's attention, while the five different sides all offer unique activities to help them develop their motor and cognitive skills. They can move around beads, spin wooden cylinders, and play peek-a-boo with some painted animals.
The paint does wear off after extended use of the toy, however, since it is paint on wood rather than an actual plastic. In addition, while this toy is heavier than other options (14 pounds), an active toddler could accidentally knock it over on their own if they put all their weight on it. To make sure they stay safe, you should keep an eye on them as they play so they won't knock it over onto themselves.
However, the built-in activities and puzzles in this cube are unmatched by any other toys. The bead tracks at the top can develop their hand-eye coordination as they move along the tracks, and you can teach them all about the various animals seen. One side has animals that can zig-zag up and down the box, with another has spinning elements for your toddler to match the animal halves themselves.
This box is a solid way to help teach babies as well, with one side showcasing animals that match the alphabet. Another side has panels with animal tracks on them that can be pulled open to reveal the animals underneath. The cube stands over 18 inches tall, and with so many activities to look into, you'll soon have a well-rounded baby! If you do find yourself wanting a more affordable activity cube, check out the VTech activity cube.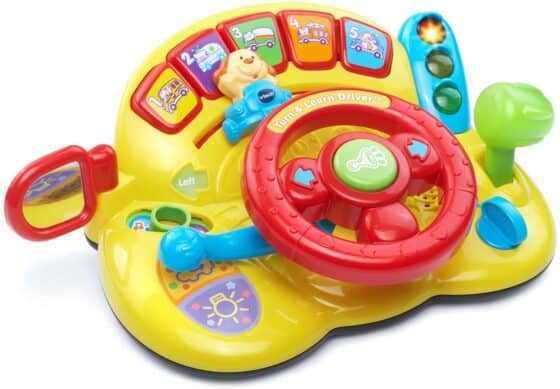 The VTech Turn and Learn Driver is an affordable toy that comes with sound, music, and a colorful design! It's a pretend steering wheel with all sorts of buttons and knobs for your child to interact with so that they can pretend to drive. This toy helps with their creativity in addition to improving their motor skills, and the music is sure to keep them entertained.
Keep in mind that this toy drains batteries quickly, so you'll have to change them out often. It does come with two included AA batteries. In addition, this toy can be a little bulky, so it'll be hard for your child to move around on their own. For a toy they can easily move and carry themselves, check out the Baby Einstein Octoplush. You'll have to set it down for them and listen to when they want to switch locations when they're pretending to drive.
This pretend steering wheel is versatile as well, with three different modes of play. There's an animal mode which teaches about animals, music mode which plays melodies, and also driving mode that lets your baby pretend they're really at the wheel. The wheel is able to turn, and there are levers and knobs for them to shift gears.
The five buttons at the top of the toy can help play over 60 phrases and tunes, and there's the sixth button in the middle of the wheel for honking. A small puppy at the top of the toy even moves back and forth as your baby plays with the wheel.