The motorcycle has been an American tradition for over 100 years, so it's not surprising that they have been featured in some of our favorite kid's toys ever since. Especially for kids whose parents own one, motorcycle toys are captivating. To help you find the perfect gift for your motorcycle-obsessed little one, we looked for motorcycle themed toys of all types. We found all kinds of great motorcycle toys for every age group. Keep reading to see our favorites.
Features to Consider in Good Motorcycles Toys for Kids and Toddlers
Kids and Toddlers Love Motorcycles!
There are a couple of things that make motorcycles a great source of inspiration for lots of different kinds of toys. Of course, there are plenty of motorcycle-themed bikes and trikes for little ones to ride, but there are also lots of models, die-cast replicas, remote control bikes, and more. There are even some motorcycle toys that made our list that we never would have thought existed before we conducted this review. In order to compare such a wide variety of different toys, we had to use the criteria described below.
Choosing the Best Motorcycle Toy for Kids and Toddlers
While there are all kinds of reasons to buy your kid a motorcycle toy, there are some things all parents should look for in any toy they bring home for their kids. Because children of all ages learn through play, it's important to make sure they have access to lots of unique toys that stimulate their minds in different ways. Here are some key factors considered in each motorcycle toy we reviewed.
Age Range: Buying a toy that is too simple for your child will result in boredom and a short-life span for the toy. A toy that is too advanced risks being discarded out of frustration. By matching the toys you buy with the age and skill level of your child, you ensure each toy is far more likely to be played with for a long time.
What They Will Learn: We think that all the time a child spends learning through play is productive. We also believe that it's a parent's responsibility to make sure their child is able to play with a large variety of toys that teach and encourage different skills and talents. While not every toy on our list would be considered "educational," we will explain how each one contributes positively to your child's growth.
Fun Factor: To put it simply, a toy that doesn't grab a child's attention rarely gets played with. A toy that does nothing except sit in the back of a closet or the bottom of a toybox is a waste of your time and money. In order to make our list, a toy must be fun for its intended age range.
Batteries Required: Don't make the rookie mistake of buying a gift and forgetting the batteries! We'll make sure you know exactly what batteries you need for the toy you pick.
Here are our top motorcycle toys for kids and toddlers in 2022:
Top 13 Best Motorcycle Toys for Kids & Toddlers 2023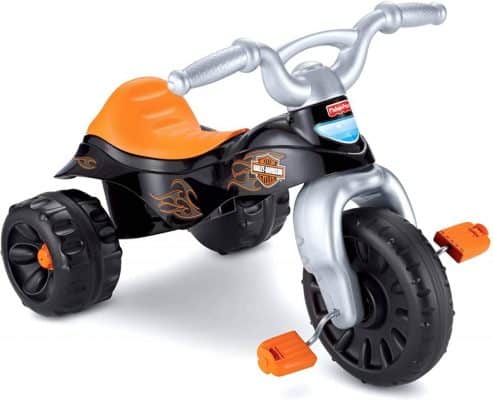 Why we like it:
As tough and cool as the brand of motorcycles that inspired it, the Fisher-Price Harley Tough Trike will be your little biker's favorite ride for years to come.
Editor's Rating:
Age Range: 2-5 years
Batteries Required: No
A perfect first ride for your toddler, the Fisher-Price Harley Davidson Tough Trike is our favorite motorcycle-themed tricycle. With large foot pedals, stable wheels, and easy-grip handlebars, kids between ages 2 and 5 will love riding around on this great looking trike. Complete with Harley Davidson style and a secret compartment under the seat that can hold toys, snacks and more, your little biker will love their cool new Harley.
The Fisher-Price Tough Trike is only available at Amazon and there are several other styling options to choose from including Barbie, Thomas the Tank Engine and more. All styles come with the same features, but the black and chrome-colored Harley Davidson styling is our favorite by far. This trike is especially good for kids whose parents own a Harley themselves.
Parents trust Fisher-Price to provide safe toys for toddlers and the Tough Trike is a perfect example of why. The pedals are big, the seat is wide and the handlebars are easy to grip. This is a trike your little one will love to ride for years.
What they will learn
Aside from having lots of fun, your toddler will improve their motor skills like balance and coordination.
Pros
Best Harley Davidson Tricycle

Easy-grip handlebars

Secret storage compartment underneath the comfortable seat

Excellent durability and tough wheels
Cons
Because of the larger size of the bike, smaller kids may have a difficult time reaching the pedals.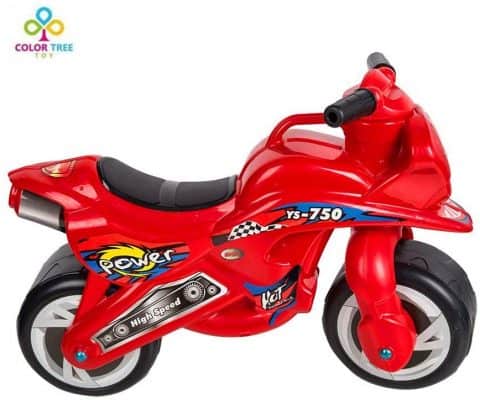 Why we like it:
Designed in Texas and modeled after toddler bikes from South Africa. The Piki Piki Bike is a unique riding toy for little ones learning to balance.
Editor's Rating:
Age Range: 2-5 years
Batteries Required: No
Inspired by bikes ridden by children on the streets of South Africa, the Piki Piki bike is unlike any other ride-on toy for toddlers that we have ever seen. The perfect step between a traditional tricycle and a balance bike, the Piki Piki uses two rear wheels very close to each other to provide some extra balance while riding.
While the Piki Piki Bike is very well designed, the quality of the bike is what impressed us the most. Weighing only 5.5 pounds, the bike is sturdy enough to handle rough play from kids up to 70 pounds. Parents we talked to loved that this bike came fully assembled and requires no batteries. The Piki Piki Bike can be used indoors or outdoors and glides across any smooth, flat surface. The Piki Piki Bike is also safe on laminate floors.
Our favorite part of the Piki Piki Bike is how safe and fun it is for children to ride. The handlebars turn enough to provide a reasonable turning radius while preventing the front wheel from turning too sharply and causing the bike to crash. The one thing we kept hearing over and over again was that kids were spending a lot of time riding their Piki Piki Bikes.
What they will learn
Riding a Piki Piki Bike encourages toddlers to be active and helps them develop their balance.
Pros
Best push-powered motorcycle toy we reviewed

The Piki Piki Bike is the perfect step between a tricycle and a balance bike.

Only weighs 5.5 pounds but carries a maximum of 70 pounds

Very safe to ride

No assembly or batteries required
Cons
Does not make motorcycle sounds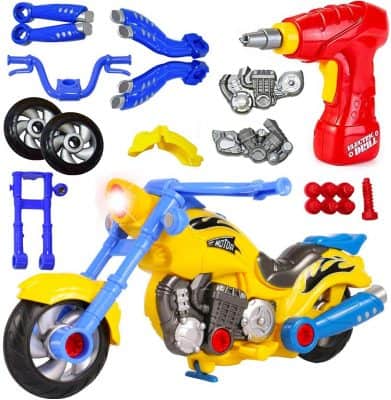 Why we like it:
The perfect toy for future mechanics, the Liberty Imports Take-Apart Motorcycle comes with a working cordless drill and enough interchangeable parts for hours of play.
Editor's Rating:
Age Range: 3+
Batteries Required: 2 AA batteries for drill (not included), engine batteries included
For motorcycle-obsessed kids who love to take things apart and put them back together, the Liberty Imports Take-Apart Motorcycle is the perfect toy to keep them occupied for hours. Great for encouraging STEM learning, the motorcycle comes with 20 pieces and a working cordless electric drill to put them together. Complete with realistic sounds and lights, this toy is sure to capture your little mechanic's imagination.
The kit includes five parts that can be exchanged with modified parts to upgrade the motorcycle. We really liked that this set includes multiple parts for each slot on the bike. This means that rather than ever feeling like the bike is completed, your kid can tweak and modify it endlessly. We appreciated the strong plastic used in this toy, giving it the perfect mix of stability and safety.
What they will learn
In addition to basic STEM skills, kids will learn the names of lots of motorcycle parts by playing with this toy. They will also get practice telling the difference between clockwise and counterclockwise. Playing with the Take-Apart Motorcycle also helps your child develop fine motor skills.
Pros
Teaches kids about the parts of a motorcycle

Great STEM toy with a focus on engineering

Comes with over 20 high-quality plastic pieces

Working cordless drill

Working lights and realistic motorcycle sounds
Cons
Some parents we talked to were disappointed there were not more parts to take apart and put together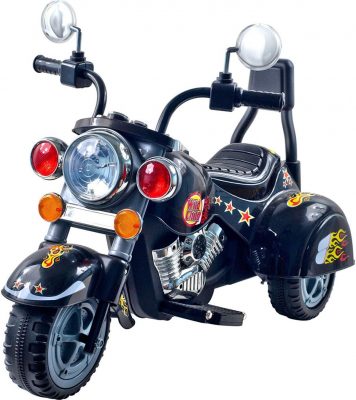 Why we like it:
Perfect for little ones who want to go cruising, the Lil' Rider Chopper is an electric three-wheel bike that will have your kid riding in style.
Editor's Rating:
Age Range: 2-4 years
Batteries Required: Rechargeable battery pack is included. 2 AA batteries power lights and sounds (not included).
The Lil' Rider chopper gives your toddler the chance to ride their own working motorcycle that is built just for them. Able to be used indoors or outdoors, the bike can be ridden on any smooth, flat surface. With a top speed of three miles per hour, your little biker will have a great time while staying perfectly safe. The bike has a weight limit of 50 pounds, so it can be used up until about the age of four.
Our favorite part of the Lil' Rider Three Wheel Chopper is the superior battery life. The included battery charges quickly and lasts several hours after each charge. There is a separate battery compartment for the sound and light features of the bike requiring two AA batteries. These batteries are not required to drive the bike.
The bike is made out of sturdy plastic and carbon steel, making the bike very durable while also keeping it lightweight. At only 22 pounds, the Lil' Rider Chopper is light enough to pick up and take anywhere with you.
What they will learn
The Lil' Rider Three Wheel Chopper is a great introduction to vehicles and vehicle safety. A low-speed motorized vehicle like this will also help kids learn more about the rules of the road.
Pros
Carbon steel construction to keep bike light and durable

Long-lasting battery

Best electric ride-on motorcycle for toddlers we reviewed

Realistic styling as well as lights and sounds
Cons
This bike requires quite a bit of assembly before use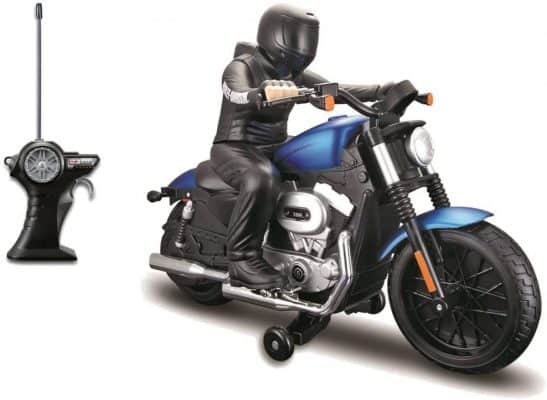 Why we like it:
Our favorite remote-controlled motorcycle toy for kids, this replica Harley Davidson motorcycle is really fun to drive.
Editor's Rating:
Age Range: 5+
Batteries Required: 4 AA batteries for car, 2 AAA for remote control (not included)
Made using authentic Harley Davidson styling, the Maisto R/C Harley Davidson XL 1200N Nightster is easy to control and provides a lot of horsepower. Measuring 12" from wheel to wheel, the Nightster can be controlled up to 66 feet away using the included remote control complete with a pistol grip. We were impressed by how responsive the controls were and how quickly the motorcycle accelerated.
While the steering will take some time to get used to, especially for younger kids. The Maisto R/C Harley Davidson XL 1200N Nightster is durable enough to take most crashes without any damage at all. Maisto Tech has been making high-quality remote control vehicles since 2008.
Our only real complaint about the Maisto R/C Harley Davidson XL 1200N Nightster is the batteries. We would have much preferred that this kit came with a rechargeable battery instead of needing to replace four AA batteries every time the R/C motorcycle runs out of juice. We highly recommend picking up a set of rechargeable AA batteries when buying this toy.
What they will learn
Because controls are always relative to the car and not where the operator is standing, playing with this R/C motorcycle will promote hand-eye coordination and spatial thinking.
Pros
Fully radio controlled

Realistic Harley Davidson style

Durable enough for stunts and tricks

Fast acceleration
Cons
Uses lots of AA + AAA batteries

Controls only work within 60 feet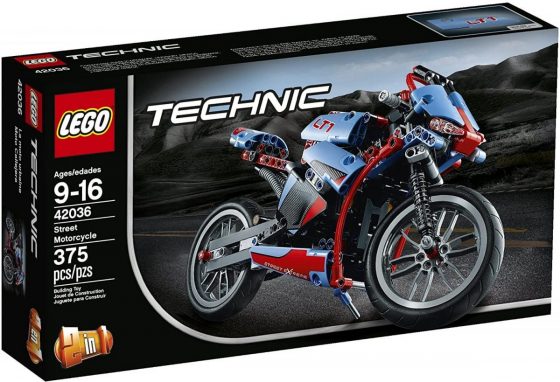 Why we like it:
LEGO bricks are beloved by kids and adults of all ages. This kit allows older kids to build two different models of motorcycles with working parts.
Editor's Rating:
Age Range: 9-16 years
Batteries Required: No
With 350 pieces to snap into place, the LEGO Technic Street Motorcycle is our favorite toy motorcycle building kit for older kids. With an intended age range between 9 and 16, this bike includes an impressive amount of technical detail. Once assembled, the bike has working steering, an engine complete with working pistons, a chain drive, and working suspension in both the front and the rear.
Once the bike is completed, the fun is still far from over! The LEGO Technic Street Motorcycle set is a 2-in-1 kit. This means it can be taken apart and reassembled into a retro-styled bike. This feature adds a ton of replayability to this set as kids will want to disassemble and rebuild the two different motorcycles over and over again.
While Lego toys have long been a favorite of teachers and parents who place an emphasis on STEM studies, the Technic series of LEGO toys takes this to the next level. Giving kids such a hands-on way to learn more about the inner-workings of vehicles like motorcycles and cars is a great way to get them interested in engineering.
What they will learn
By building the LEGO Technic Street Motorcycle, your kids will learn to follow directions and pay attention to detail while building. The kit is an excellent introduction to mechanical engineering.
Pros
Great motorcycle toy for STEM learning

Working suspension, steering, full fairing & more

The 2-in-1 model can be built into a classic motorcycle as well
Cons
Due to the complexity of this build, this set can be frustrating for younger kids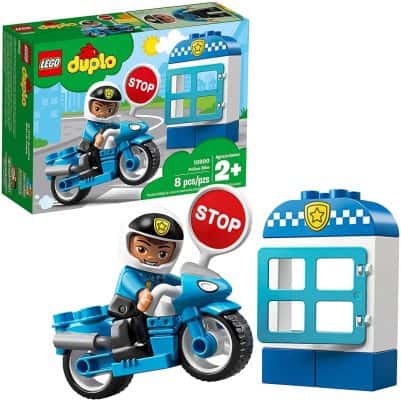 Why we like it:
Alone or combined with other LEGO Duplo sets, the Town Police Bike set is a great addition to any playroom.
Editor's Rating:
Age Range: 2+
Batteries Required: No
As most parents already know, Duplo is the junior version of the world-famous LEGO building bricks. Made for little hands, not only do Duplo blocks snap together just as satisfyingly as LEGO bricks, but they are also compatible with any LEGO set your child gets as they grow older. This set contains 8 pieces and is fun to play with by itself or with other Duplo sets. Included in the Town Police Bike set is a police officer figure with a motorcycle helmet and stop/go traffic sign, a police motorcycle, and a four-piece police kiosk to build.
At under $10, this set makes a great stocking stuffer or birthday gift. One of the best parts of Duplo blocks is how many different ways there are to play with them and how many other toys they compliment. It's not unusual to see Barbie lounging on a couch made of Duplo or Ninja Turtles battling on a Duplo bridge. There are also lots of other Duplo Town sets to collect.
What they will learn
The Duplo Town sets are a great chance for kids to play out real-life situations in a realistic world with cute Lego figures. Pretend play is essential for children of all ages and helps develop language skills and encourages creative thinking.
Pros
Duplo blocks are the perfect size for toddlers

Helps young children develop fine motor skills

Encourages pretend play

Great value

Compatible with all other Duplo and LEGO blocks
Cons
You will need more Duplo blocks to build anything other than the 4-piece police kiosk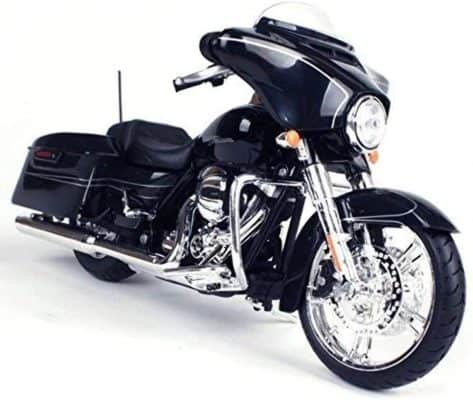 Why we like it:
Perfect for playing with or for displaying on a shelf, this scale model of the Harley Davidson Street Glide Motorcycle is our favorite die-cast motorcycle toy.
Editor's Rating:
Age Range: 8+
Batteries Required: No
Harley Davidson motorcycles are an American icon. That's why this incredibly detailed 1/12 scale die-cast model made by Maisto caught our eye right away. Looking every bit as cool as the real thing, this toy motorcycle is nice enough to put on display but tough enough for play. This motorcycle is also the perfect size for play with larger 6" action figures.
Because the small plastic parts can break off and become a choking hazard, this toy is not recommended for toddlers. We talked to owners of real Street Glide Harley Davidson Bikes and they were blown away by how accurate and detailed these bikes are. Needless to say, this toy is a massive hit with kids whose parents own the real version.
In addition to this model, Maisto also makes die-cast recreations of many different bikes by Harley Davidson and other bike manufacturers like BMW and Ducati. Thankfully for collectors, these model bikes are very reasonably priced, especially for the level of detail that they include. We can't imagine a motorcycle-obsessed kid who wouldn't absolutely love this toy.
What they will learn
Because this is the most detailed scale model of a real-life motorcycle we were able to find, it's an excellent tool to learn about parts of a motorcycle.
Pros
Best 1/12 scale-model motorcycle toy we reviewed

Modeled exactly after the real-life 2015 Harley Davidson Street Glide Motorcycle

Ideal for play or display

Great for use with 6" action figures
Cons
Small pieces may break off and create a choking hazard for very young children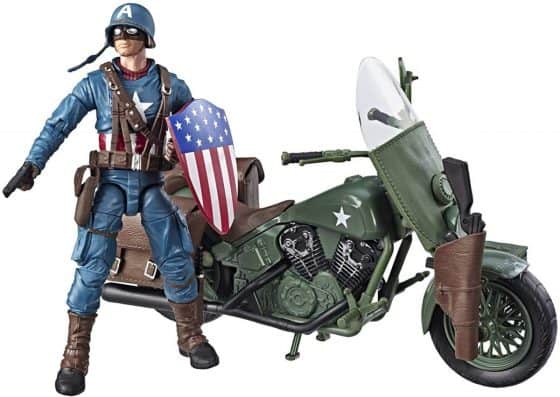 Why we like it:
Two legends together in one package, Captain America and his authentic WWII motorcycle are sure to delight kids and collectors alike.
Editor's Rating:
Age Range: 4+
Batteries Required: No
Inspired by over 80 years of comic books and many successful films, the Marvel Legends series of 6" action figures are some of the most detailed recreations available of your kid's favorite Marvel superheroes. That's why this great rendition of super-soldier Steve Rogers A.K.A. Captain America is an easy entry on our list of top motorcycle toys for kids.
After joining a top-secret military program during World War II, scrawny Steve Rogers is given an experimental serum that gives him super strength, turning him into the superhero Captain America. The look of this action figure is not taken from one specific movie or comic book, but rather is a combination of a few different versions of the iconic character.
Of course, our favorite part of this package is the included World War II era green bicycle. Painted in army green, the bike is very detailed and features an exposed engine and saddlebags. We were impressed by how well the action figure was articulated, allowing kids to pose the figure in all kinds of ways for play or display. This figure is guaranteed to impress Captain America fans of any age.
What they will learn
Originally created during WWII, Captain America has helped generations of kids learn about history as well as lessons about freedom and sacrifice.
Pros
Realistic WWII-era bike details include saddlebags, exposed engine, and weathered green paint job

Best action figure with motorcycle we reviewed

6" tall figure is detailed and poseable

Includes great accessories like a helmet and Cap's shield
Cons
6" action figures are too big for most playsets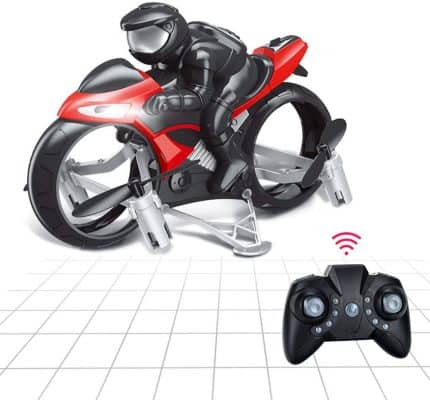 Why we like it:
One of the most challenging sets we reviewed, kids who finish building this kit will have a fun toy and lots to be proud of themselves for
Editor's Rating:
Age Range: 9-15 years
Batteries Required: No
With over 450 parts, the K'NEX Mega Motorcycle kit lets kids build a replica of a sports bike with a working suspension. In addition to the K'NEX pieces required to build the bike, there are also authentic recreations of a bike seat, handlebars, tailpipe and thick tires with excellent traction. While the manufacturer recommends this kit for ages 9+, many parents we talked to said it was a little too complex for 9 and 10-year-olds to assemble without adult help.
We appreciated the clear directions included with this set and liked how satisfyingly the pieces snap into place. Even for an adult, building this motorcycle will take a couple of hours, so kids who have a hard time focusing on long projects may end up frustrated by how long this takes to build. We recommend breaking the project into chunks in order to help kids work on their patience and focus.
Ultimately, any child or adult who finished building this challenging kit will be rewarded with a big sense of accomplishment as well as an awesome motorcycle toy with a kickstand for display.
What they will learn
The K'NEX Mega Motorcycle Building Set is an advanced STEM toy that will help older kids and adults improve their spatial awareness and manual dexterity.
Pros
Contains over 450 parts

Promotes STEM learning

Challenging build for older kids as well as adults

Lots of fun to build with your child

Great price
Cons
If you make a mistake while building, it can be hard to notice and result in pieces not fitting correctly later in the build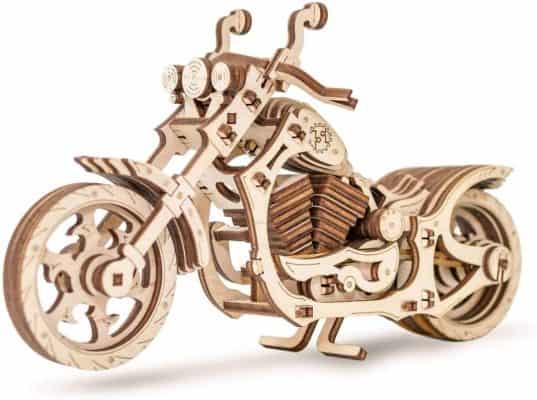 Why we like it:
A totally unique three-dimensional puzzle concept. This Eco Wood Art 3D Puzzle is a perfect gift for puzzle fanatics.
Editor's Rating:
Age Range: 14+
Batteries Required: No
With no glue required, this kit contains all 152 pieces that can be assembled into a wooden model of a highly detailed cruiser-style motorcycle. The finished product is complete with a working kickstand, handlebars that turn, and a simple engine powered by a rubber band. The plywood pieces have simple etched styling and are fully paintable.
We heard from lots of parents who purchased this kit for a school project while others report that their kids had a blast putting it together all on their own. This model is fairly difficult to build and as such will require a lot of parental assistance for kids younger than 14. We were impressed by how well the plywood pieces interlock together.
This is one of many innovative 3D wooden puzzles from Eco Wood Art. Since 2016 EWA has released several highly-rated wooden puzzles across many themes.
What they will learn
Completing this puzzle is a challenge for any age and the instructions are not always clear. Kids who complete this wooden puzzle will be rewarded with a cool collectible and bragging rights.
Pros
150+ plywood puzzle pieces that fit together in a satisfying way

Perfect for expert puzzle solvers

No glue required to assemble
Cons
Can be frustrating to put together

Pieces can break if mishandled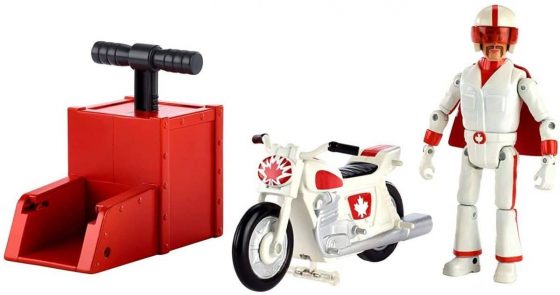 Why we like it:
Toy Story 4's Duke Caboom always crashes when he tries to perform his stunts. With this launcher, your kids will send Canada's greatest stuntman flying
Editor's Rating:
Age Range: 3-7 years
Batteries Required: No
Featuring the daredevil Duke Caboom from Toy Story 4, this toy motorcycle and launcher set lets kids recreate his epic stunts and crash landings from the movie. We liked that so much care was taken to try and make him as close to the toy from the movie as possible, even matching the size nearly exactly. The tall 5.9" figure is posable and looks hilarious when riding or when being played with off the bike.
Duke Caboom is Canada's greatest stuntman, but unfortunately, he never lands his jumps. The same is true with this toy as every stunt Duke attempts results in an inevitable crash landing. We would have liked the included launcher to have just a little bit more zip, but it still gets the job done, launching duke up to 15 feet by pressing the dynamite-inspired plunger on the launcher.
We also were impressed by the level of detail on the character. Duke's helmet looks great, but we also wish it were removable. There are lots of stunts that can be attempted including a wheelie. This toy works much better on hardwood or tile floors.
What they will learn
Just like in the movie, the Duke Caboom Stunt Racer will encourage your child to engage in make-believe and pretend play.
Pros
Size and scale based on Duke Caboom from Toy Story 4

Detailed Duke Caboom action figure is detailed and highly posable

Launcher sends Duke and his motorcycle zooming for up to 15 feet
Cons
The helmet looks great, but cannot be removed from the figure

Would be more fun if the launcher was just a little bit more powerful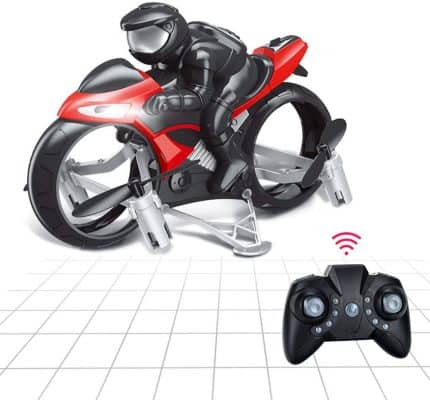 Why we like it:
The most futuristic version of a motorcycle we found, this mini-drone that switches from land to air with the press of a button was too much fun to leave off our list
Editor's Rating:
Age Range: 8+
Batteries Required: 3 AAA batteries (not included)
Looking like something out of a sci-fi movie, this remote-controlled motorcycle drone switches between land and air mode seamlessly. When set to land mode, the drone zips across the ground like a motorcycle. With a single press of a button, the drone takes off and becomes a fully-featured quadcopter with multiple axes and speeds.
We were pleasantly surprised by how easy it was to maneuver the drone using the included remote control. The drone itself is small and lightweight. The flying motorcycle itself is made out of a soft foam material that makes it durable, but pilots still need to be careful to avoid crashes that could break this toy.
In both modes, there are three speeds to choose from with the fastest setting only being suitable for more experienced pilots. There is also a stunt button that makes the drone do a full 360-degree flip while in the air. Because there is not a steep learning curve associated with this drone, it's great for beginners.
What they will learn
By flying this mini-drone, kids practice their hand-eye coordination and improve their awareness.
Pros
2-in-1 R/C motorcycle and flying drone

One button takeoff, landing, and stunts

Great drone for first-time operators

Comes in 3 different colors
Cons
Can break after a bad crash
Why Motorcycle Toys Are Important
When a child is naturally curious, their brains open up in new and unexpected ways. This is why it's crucial for parents to look for toys that connect with their child's interests and inspire that creativity. Children with family members who ride motorcycles or kids who get excited when they see a one on the street may form close attachments with toys that relate to motorcycles. This means that they are more likely to get the full benefit from playing with those toys.
No matter your child's reason for wanting a motorcycle toy, you should be proud of yourself as a parent for noticing their interests and seeking out toys that they will love. Studies show that parents who are highly engaged with the decision about toy buying for their families communicate better and are happier.