As wonderfully bonding and beneficial as breastfeeding may be, if you ask any mom, she'll tell you there's a painful downside to the ordeal.
As her little one learns to latch on, mom's nipples can become cracked, chapped, dry, sore, itchy, and—in extreme cases—bleed.
But fear not, new moms of America, because there's a safe and simple remedy out there to take the edge off the pain: a nipple cream for breastfeeding. Applying a modest swab of these soothing ointments right after breastfeeding will dull the discomfort.
So how does the everyday mom work out which nipple cream is right for her? We've got you covered right here with our top 10 nipple cream recommendations, and our in-depth nipple cream buyer's guide. Before we get into the reviews, there are a few basic principles to keep in mind when selecting a cream.
Factors to Consider When Buying a Nipple Cream for Breastfeeding
What's a mom to look out for when on the hunt for a new tube of soothing nipple cream? Before you take the plunge and order a year's supply, you need to work out what you want first. Several factors influence the ideal nipple cream, so take the following into account:
Consistency
Some nipple creams are thicker than others. And when your nipples already feel like they've been dipped in molten lava, the last thing you want is to forcibly apply a thick, putty-like cream to the sore spot. Oozy and runny creams are more comfortable to lather on and feel heavenly on tender nipples.
Numbing Agents
Some heavy-duty nipple creams include numbing agents to provide maximum relief. But unless you've got especially sensitive areolas, then we don't recommend these, which is why you won't see them on our list. Sooner or later, you'll forget to wipe it off before use, and your precious baby will cop a mouthful of potentially toxic numbness.
Smell
Many nipple creams on the market are scented with pleasant floral aromas. And while these may smell lovely to momma, there's a good chance baby will find them overbearing. It's a personal preference, but we reckon non-scented creams are the best.
Ingredients
When it comes to sensitive sections of your body and the inside of your baby's mouth, nature knows best. Look for products made from soothing natural ingredients such as aloe vera, coconut oil, lanolin, and shea butter. Avoid any creams with alcohol as that will only dry your nipples out (plus your baby needs to wait until 21!).
Allergies
If mom or baby have any known allergies, you'll want to avoid products that contain the offending ingredients. One ingredient found in many creams that can cause problems is lanolin, a wax extracted from sheep's wool. Check the label carefully before consumption.   
Price
We'd generally list price as one of the most important factors when purchasing baby products, which tend to be eye-wateringly expensive. But the good news is that nipple creams are wonderfully affordable; it's unlikely you'll pay more than $15 for a lengthy supply, so only the most cash-strapped moms will need to consider the cost.
Top 10 Best Nipple Creams for Breastfeeding 2023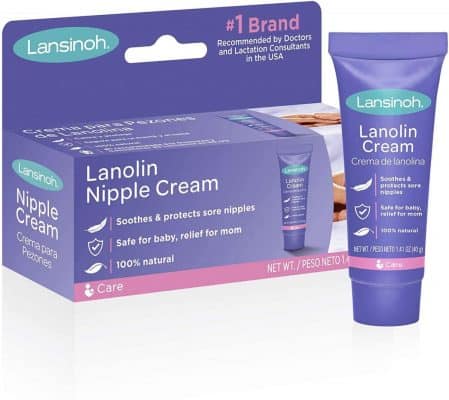 Why we like it:
It's a tried and tested favorite that soothes the nipples of moms all over America every day.
Editor's Rating:
Quick Facts:
Consistency: Thick and rich. A little hard to spread on sore nips
Ingredients: 100 % Lanolin
Remove before feeding: No
Smell: None
Review
Lansinoh reckons it makes the nipple cream most commonly recommended by doctors in America. And while we can't vouch for that claim, there's no denying this particular product is the country's most popular. You'll find the ubiquitous Lansinoh Lanolin Nipple Cream in mom's handbags and medicine cabinets all around the country for one simple reason: it works like a charm.
The affordable ointment is free from preservatives, fillers, colors, odors, parabens, and additives—just 100% natural HPA lanolin and nothing else. And it's precisely that simplistic, all-natural approach that makes it a hit with so many moms.
Aside from providing near-instant relief to chaffed nipples, this pure lanolin product is excellent for rubbing all over delicate skin on your hands, feet, ankles, and elsewhere. A word of warning, though: it's a little on the thicker side, so it won't be ideal for moms with super sensitive nipples. Of course, you'll need to give this one a miss if you or baby has a lanolin allergy.
Pros
Cost-effective cream

100% lanolin

Popular and trusted brand
Cons
A little too thick for sensitive nipples

Lanolin may provoke allergies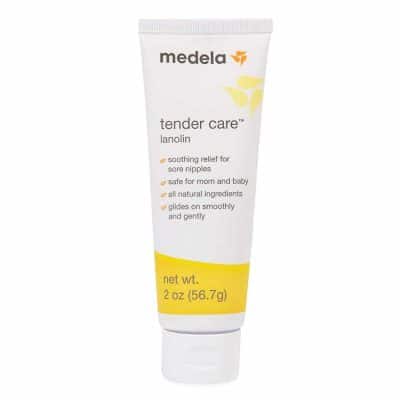 Why we like it:
This cost-effective lanolin cream is a cinch to spread and soothes even the most sensitive nips.
Editor's Rating:
Quick Facts
Consistency: Oily, Easy to apply
Ingredients: Lanolin, with caprylic/capric triglycerides and oat beta-glucan
Smell: None
Remove before breastfeeding: No
Review
Moms on a budget love this soothing lanolin cream from Medela as it provides a high degree of relief without breaking the bank. Coming in at a fraction of the cost of some of the upmarket creams, Medela provides the perfect solution for low-income mommas who just want something that works.
The lanolin product does contain a few additives such as caprylic/capric triglycerides, and oat beta-glucan, although these natural ingredients have been proven to be safe so you can leave it on while feeding. Another obvious plus is that the cream has a thinner consistency than most, allowing it to glide over the affected area smoothly. It's quite easy to wash off your hands as well.
Although the product is all-natural and hypoallergenic, it's not suitable for moms and tots with an allergy to lanolin.
Pros
Low-cost solution

All-natural ingredients

Leave on while breastfeeding
Cons
Not suitable for lanolin allergies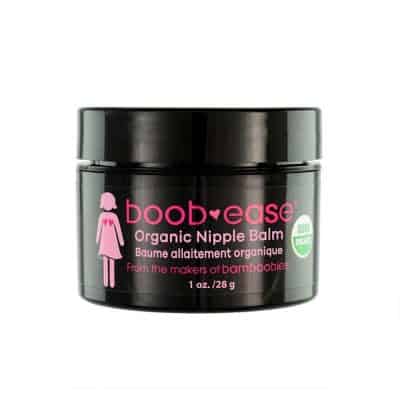 Why we like it:
This all-natural and certified organic nipple cream is safe for your little one and works like a dream.
Editor's Rating:
Quick Facts
Consistency: Balm; non-greasy or sticky. Thick and smooth like Vaseline
Ingredients: Certified organic: extra virgin olive oil, beeswax, shea butter, marshmallow root, calendula flower
Smell: Slight olive oil smell
Remove before breastfeeding: No
Review
Boob Ease is a superb name for an amazing cream. Aside from the clever marketing gimmick, we adore this premium product because it works so wonderfully well.
Much like our favorite organic nipple cream, Motherlove, the secret to Boob Ease is its all-star selection of organic ingredients—you'll find the exact same line-up of extra virgin olive oil, beeswax, shea butter, marshmallow root, and calendula flower on the ingredients list.
The big point of difference here is that Boob Ease is certified organic, with official validation from the USDA. So if you're happy to spend a couple of extra bucks to go with a known organic brand, then Boob Ease is the bee's knees.
Of course, all those all-natural, organic, and edible ingredients aren't going to harm your baby, so feel free to leave it on when you breastfeed. It's lanoline-free too, which is one less allergy to worry about (just be sure you two aren't allergic to calendula flower, though).
The Vaseline-like texture glides on smoothly, but it's a bit greasy and does tend to ruin your clothes, so it's best to use a nursing pad. Of course, Bamboobies sell those too.
Pros
Certified organic by the USDA

Safe and effective product

All-natural ingredients

Has a funny name
Cons
Expensive compared to other brands

Greasy consistency may ruin clothes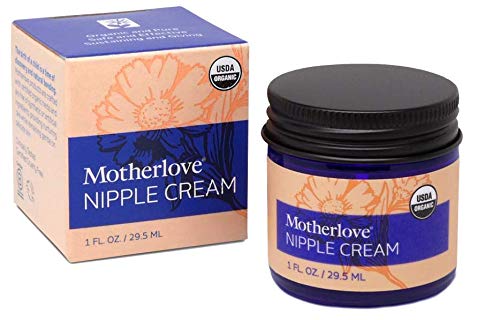 Why we like it:
This all-natural nipple cream is made from beeswax and other organic ingredients
Editor's Rating:
Quick Facts
Consistency: Feels like a light ointment Painless to spread on sore nipples
Ingredients: Beeswax infused with marshmallow, calendula, and shea butter
Smell: Slight olive oil smell
Remove before breastfeeding: No
Review
Who would have thought beeswax would be so effective at relieving sore nipples? Motherlove evokes the power of beeswax to draw extra moisture to the affected area and alleviate the pain associated with dryness and cracking, and it works wonderfully well.
Reading through the ingredients list here—shea butter, marshmallows, and calendula, to name a few—the product sounds more like a recipe than a nipple cream. And it kind of is, because all these items are entirely edible, so you don't have to stress about baby ingesting a mouthful or two. It does have a rather potent olive oil smell, however, which some babies might not like.
The product comes in a recyclable glass jar rather than plastic, and the socially conscious female-run company manufactures the product in a solar-powered, zero-waste facility. It's also lanolin-free, thus a perfect alternative for those with an allergy.
Pros
Contains beeswax and other organic materials

Doesn't require removal before breastfeeding

Environmentally friendly product
Cons
Some babies won't like the olive oil smell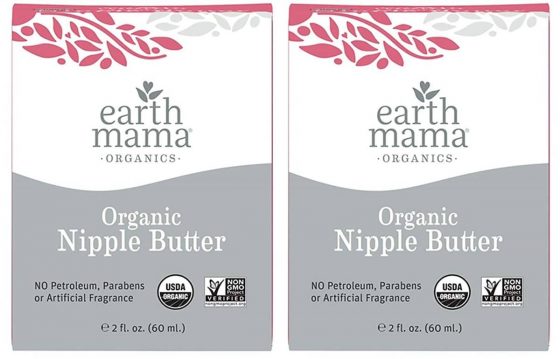 Why we like it:
You get all the goodness of Mother Nature with a lovely buttery texture.
Editor's Rating:
Quick Facts
Consistency: Buttery yet grainy. Goes on smoothly. Works well with sensitive nipples
Ingredients: USDA certified organic olive oil, cocoa butter, shea butter, mango butter, candelilla wax, calendula flowers.
Smell: Faint buttery smell
Remove before breastfeeding: No
Review
Made from a superb selection of nature's finest healing reagents, Mama Earth packs a soothing punch and comes in a beautiful buttery blend. Moms who can't stand the thought of contaminating their little ones with chemical remedies will love Mama Earth because the ingredients here read like they've been plucked straight from the herb garden. The stuff is all organic as well, so you needn't worry about pesky pesticides finding their way into your precious nipple butter.
Given there are no nasty manmade ingredients here, feel free to leave it on your breasts before feeding time. Some babies, however, aren't all that keen on the smell and taste—if that's true for yours, then you'll have to try another brand. The formula works just as well for other parts of the body, so save some to lather the heels, lips, or cradle cap.
And unlike many other organic, all-natural options on our list, this butter is super affordable, so you don't have to worry about spreading it on too thick. It's lanoline-free, too, an essential quality for anyone allergic to wool wax.
Pros
Cheaper than other organic nipple creams

Works for damaged skin elsewhere on the body

All organic ingredients with USDA certification

Smooth buttery texture that glides on with ease

Provides fast and effective relief
Cons
Some babies don't like the taste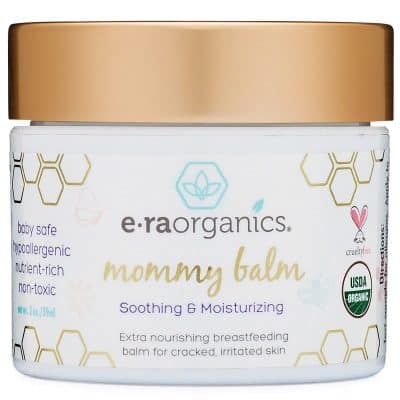 Why we like it:
This all-natural product is oily enough to spread on sensitive nipples with ease and provides superb relief for many women.
Editor's Rating:
Quick Facts
Consistency: It's quite thick straight out of the tube, but once you break it down in your fingers, it becomes oily and easy to spread.
Ingredients: Sunflower oil, arrowroot powder, apricot oil, cocoa butter, chamomile extract, calendula oil
Smell: Faint body butter odor that doesn't tend to bother the baby.
Remove before breastfeeding: No
Review
As you could probably guess from the name, Era Organics uses all-natural ingredients to formulate this widely popular nipple cream. The blend is a bit different from other options on our list, however, with some exciting additions such as arrowroot powder, apricot oil, and rosemary extract alongside the usual suspects. Of course, all this is organic, too; the brand boasts full USDA certification.
And for many women, the concoction works incredibly well, providing near-instant relief for even the sorest and most swollen breasts. If you've tried one or more other brands of nipple cream and haven't been blown away by the results, then Era Organics might be the optimal solution for you.
Of course, every woman is different, so while the product may work wonders for some, it won't necessarily be the best option for you. But the good news is Era Organics offer a 60-day money-back guarantee, so if you don't love it, you can send it back for a refund.
The formula is effective at soothing, protecting, and healing other areas of damaged skin around the body, and also serves as a strong anti-inflammatory. The fact that it's lanolin-free and doesn't contain other nasty toxins like parabens, alcohol, mineral oil, perfumes, or petroleum ensures this hypoallergenic cream will be safe for almost every mom and baby.
Pros
Unique blend of organic, all-natural materials

Spreads on easily once being broken down in fingers

No need to remove before breastfeeding

Works really well for some women

Doesn't contain any common allergies
Cons
A little thick straight out of the tube

Isn't effective for all women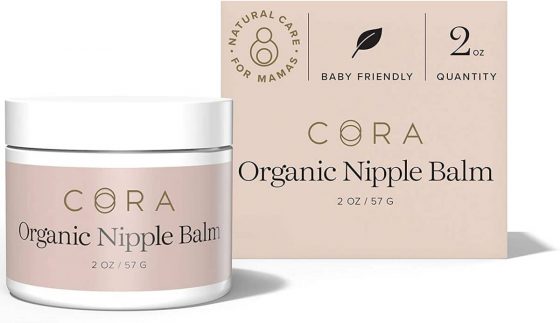 Why we like it:
Cora creates a super soothing nipple cream and donates a portion of the profits to helping girls in need.
Editor's Rating:
Quick Facts
Consistency: Spreads on easily. Doesn't leave any oily residue
Ingredients: Coconut oil, shea butter, beeswax, sunflower seed oil, marshmallow leaf/root extract, organic matricaria flower, chamomile-extract
Smell: Mild natural smell that doesn't offend most babies
Remove before breastfeeding: No
Review
If you'd like to give a little back when shopping for nipple cream, then consider Cora. The women-run brand donates a portion of its profits towards purchasing tampons and other essentials for impoverished women in developing countries. Founder Molly Hayward began the innovative fundraiser upon meeting a young girl in Kenya who felt too embarrassed to attend school without tampons, and the program has been donating huge quantities of much-needed supplies ever since.
But aside from giving the buyer a warm fuzzy feeling inside, Cora's organic nipple cream also delivers. The soothing and rejuvenating ointment is made from a compelling mix of all-natural ingredients to absorb quickly on the skin and provide a high-level of relief. Besides your boobs, Cora works magic on the lips, providing more relief than many of the best lip balms on the market.
It's easy to spread on too, which makes it painless to apply to damaged skin, and it doesn't tend to leave much annoying residue behind. Furthermore, you won't find any lanolin or other additives in the tub, so rest assured it's about as hypoallergenic as nipple creams can get.
However, there's another thing you won't find much of in the tub: nipple cream. Although Cora ships a 2oz container of the stuff and charge accordingly, it's often not filled to the brim, which means it'll run out fast, and you'll be paying more than you should. Nonetheless, if you cherish the thought of donating tampons to African girls in need, and you love the soothing protection this organic product provides, then Cora is still superb value for money.
Pros
Profits help women in need

All-natural and hypoallergenic ingredients

Formula is effective for most women

Spreads easily and doesn't leave an oily residue

Works well as a lip balm
Cons
Tub is rarely filled to the brim

Some babies won't like the smell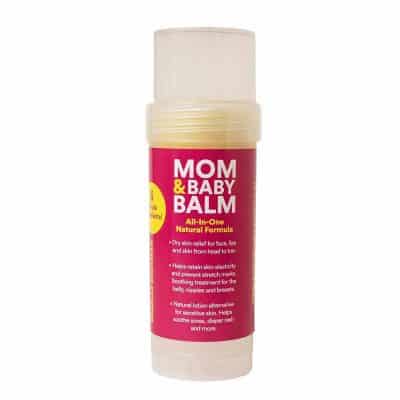 Why we like it:
This soothing organic ointment is your go-to option for vegan mommas in need of instant relief.
Editor's Rating:
Quick Facts
Consistency: Balm spreads on relatively easily. May require refrigeration in warmer climates
Ingredients: Olive oil, cocoa seed butter, shea butter, candelilla wax, coconut oil, mango butter, calendula flower extract
Remove before breastfeeding: No
Smell: Moderate plant-based odor that most moms and babies enjoy
Review
For the vegan mom with a strong social consciousness, Camille Beckman offers a cruelty-free and soothing solution for sore nipples. While most other all-natural and organic products contain beeswax, this wonder balm is 100% plant-based and isn't tested on animals, so you can rest assured it's entirely ethical.
The multipurpose balm does a stand-up job of healing cracked and damaged skin, not only on the nipples but also on the lips, ankles, and elbows. The regenerative power of coconut and cocoa oil also makes this product effective at treating post-pregnancy stretch marks and other ailments. You can even slip a little on the baby to provide some rash relief.
The balm comes in a chunky 2oz stick, which makes it easy to apply to hard-to-reach areas on both mom and baby (it's also fab for lathering on your lips). If you want something smaller, then you're fresh out of luck because Camille Beckman doesn't offer different sizes yet. Nonetheless, considering the product is suitable for so many different uses, you won't have trouble getting through the 2oz stick.
Pros
All-natural vegan product

Works well for multiple skin problems

2oz stick is effective for hard-to-reach places
Cons
Only comes in one size

Some moms/babies don't like the smell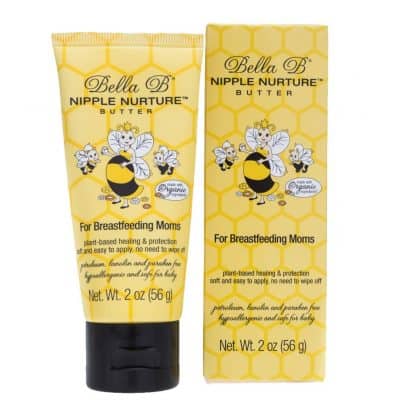 Why we like it:
Bella B uses organic and all-natural ingredients to provide soothing relief for sore nipples.
Editor's Rating:
Quick Facts
Consistency: Butter. Rather thick but not goopy
Ingredients: Shea butter, olive fruit oil, soybean, avocado oil, cocoa seed butter, ascorbyl palmitate vitamin C, tocopherol natural vitamin E
Smell: Mild plant-based smell that most moms/babies don't mind
Remove before breastfeeding: No
Review
Coming in at under ten bucks for the tube, this organic, all-natural nipple cream is an affordable solution for moms who can't handle lanoline. The plant-based butter works wonders on dried and cracked skin all over the body, especially on sensitive areas such as the nipples.
Oddly enough, the product doesn't contain beeswax, despite having a picture of a bee on the label and the letter "B" in the name. Nonetheless, that's good news for vegans, as that means Bella B is 100% animal product-free.
Like other all-natural products, Bella B is free from nasty additives like parabens and petroleum, which makes it safe for the baby to ingest in small doses—no need to clean it off before use. Do take care, though, because the product is a little greasier than most and does tend to stain your clothes. Either wear a shirt you don't care about or invest in a pack of nursing pads.
Pros
Plant-based organic formula

Easy to apply

Cost-effective

Soothes the nipples and other areas
Cons
Misleading advertising (doesn't contain beeswax)

Will stain clothing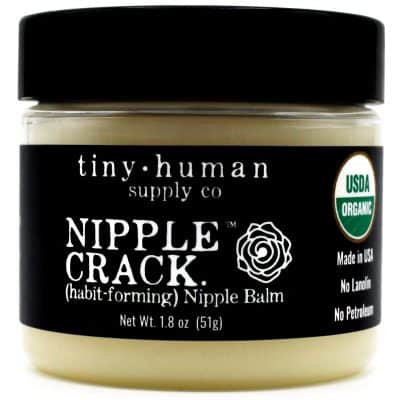 Why we like it:
The company that makes this organic, lanolin-free nipple balm donates a portion of its profits to feeding hungry kids.
Editor's Rating:
Quick Facts
Consistency: Super soft and creamy balm .Gets softer as you break it down. Doesn't liquify
Ingredients: Coconut oil, sunflower oil, shea butter, aloe, beeswax, olive oil, calendula
Smell: Slight organic smell that most babies/moms don't mind
Remove before breastfeeding: No
Review
Formulated from seven powerful natural ingredients and free from damaging toxins, Nipple Crack makes an effective nipple balm that does exactly what it's supposed to: soothes, protects, and heals. Although it may be a bit more difficult to apply than other products, the efficacy here is hard to beat, and it doesn't tend to stain your clothes. Plus, the fact this premium product only takes a few moments to start soothing sore nipples is a godsend for moms in severe discomfort.
You won't find any parabens, additives, petroleum, dyes, or fragrances in the mix, so it's almost entirely certain neither mother or baby will have an adverse reaction. It's also lanolin free, which is a must for moms with allergies.
The big point of difference with Nipple Crack, however, is the company feeds one hungry child for every tub sold through a partnership with the Children's Hunger Fund. And there's no greater injustice in this world than hungry children, so that's a massive plus in our book. Also, the product is made right here in the USA, which safeguards its quality and provides much-needed American jobs.
Pros
All-natural and organic ingredients

Works well and starts soothing quickly

Made in the USA

Every tub sold feeds one hungry child
Cons
More difficult to apply than other brands

A little on the expensive side
Nipple Creams for Breastfeeding Buyer's Guide: Everything You Need to Know
If you thought nipple creams would all be the same, think again. There's a whole host of differences between products, and there's plenty of things you need to know before settling on a brand. We'll cover the details right here in our in-depth buyer's guide. We'll talk about safety, ingredients and how to get the most out of your nipple cream. If you're suffering a lot, we have an article about how to help prevent sore or cracked nipples. It may give you some strategies to use with your cream to reduce the pain that you are in.
How to Apply Nipple Cream for Breastfeeding
The process of applying nipple cream is relatively straightforward. As soon as you've finished breastfeeding, gently rub a small dab over the affected area. Only apply extra cream between feedings when necessary and stop using the product once your nipples have gotten used to their new role as a 24/7 milk dispenser.
We only recommend creams that don't need to be wiped off before use, so follow the manufacturer's advice and leave it on. Although you might cringe at the thought of your precious baby ingesting random ingredients, all the ointments on our list are 100% baby-safe and provide mom with essential protection during the latching phase of the process. Wiping the cream off your nipples before each feeding session is only going to further irritate the area.
Of course, if you do go with a brand that needs to be wiped off before use, you must remember to do so as the cream could harm your baby. And that's precisely why we don't recommend these options. As a busy mom with a million other chores on your mind, you're going to forget now and again. Make life easier on yourself by opting for a cream you can leave on.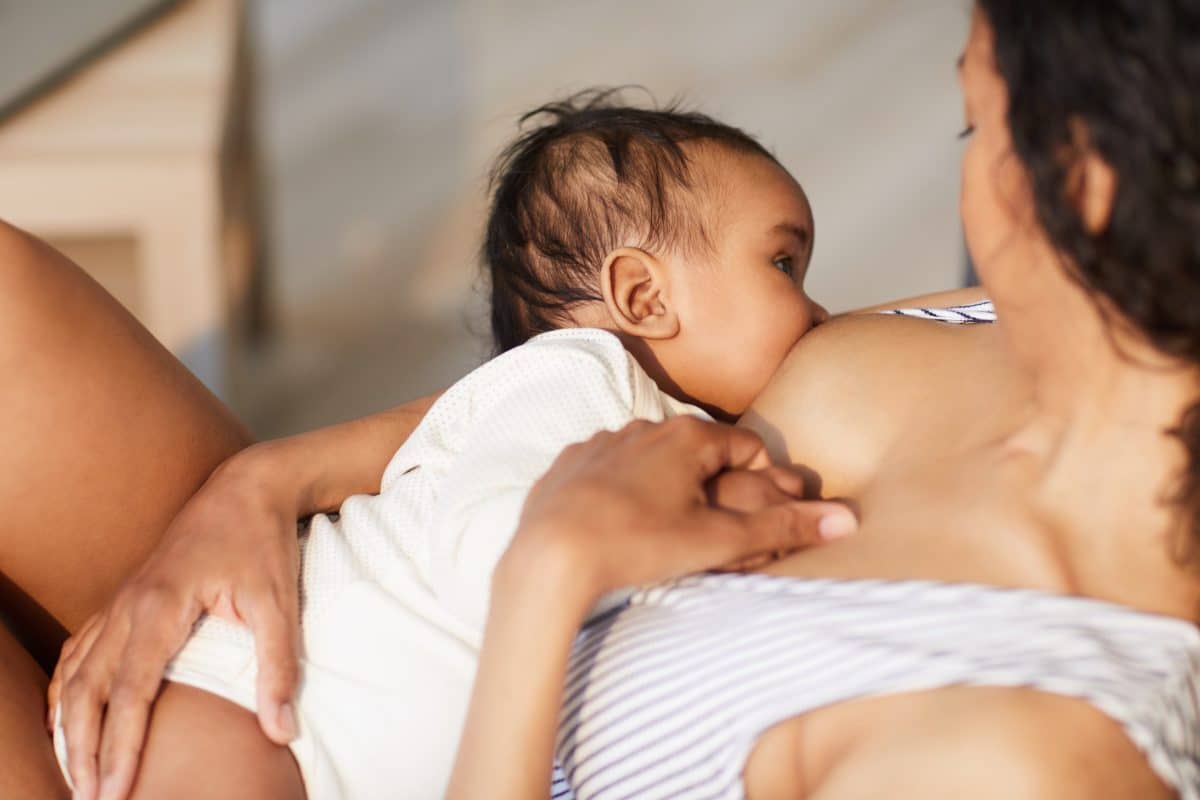 How to Find a Safe Nipple Cream for Breastfeeding?
Worried about whether nipple cream could adversely affect your baby? We don't blame you; it's logical to keep a close eye on everything that enters your baby's mouth. Keep the following safety tips in mind.
Nature Knows Best
The last thing you want is to be putting any unnecessary chemicals into your baby's mouth, and that's why it's best to opt for a product made from natural ingredients. If the label comes with a list of long-named components that wrap right around the bottle, then it's probably a sign to look elsewhere. Natural ingredients like aloe vera, coconut oil, lanolin, and shea butter are easier to absorb and less likely to cause unwanted side effects.
Numbing Agents
It may be tempting to use a numbing nipple cream to provide instant relief, but you'll be running a significant risk of it ending up in your baby's mouth. And that's something your tot definitely will not enjoy (it could harm the baby too).
Besides, numbing agents don't help heal chapped nipples. All they're doing is dulling the pain for a while, which you can quickly achieve through an ice-pack or a cold washcloth.  For these reasons, we don't recommend any numbing creams on our list.
Alcohol and Petroleum-Based Creams
Some nipple creams include alcohol or petroleum jelly, which works wonders as a disinfectant. However, unless you're suffering from a little bleeding, there's no need to sterilize. These kinds of products will only further dry out the affected area, and that's the last thing you want when you're already chapped and cracked. For this reason, we don't recommend any alcohol-based ointments, either.
Allergies
You won't know what you're baby is allergic to during the formative years of life, so you'll need to rely on a little trial and error. If tot becomes inexplicably ill or forms a rash around the mouth, there's a chance they could be reacting to the leftover cream on your nipples. Lanoline, for example, provides exceptional soothing relief but can occasionally provoke allergic reactions. And while some moms and babies share the same allergies, many do not.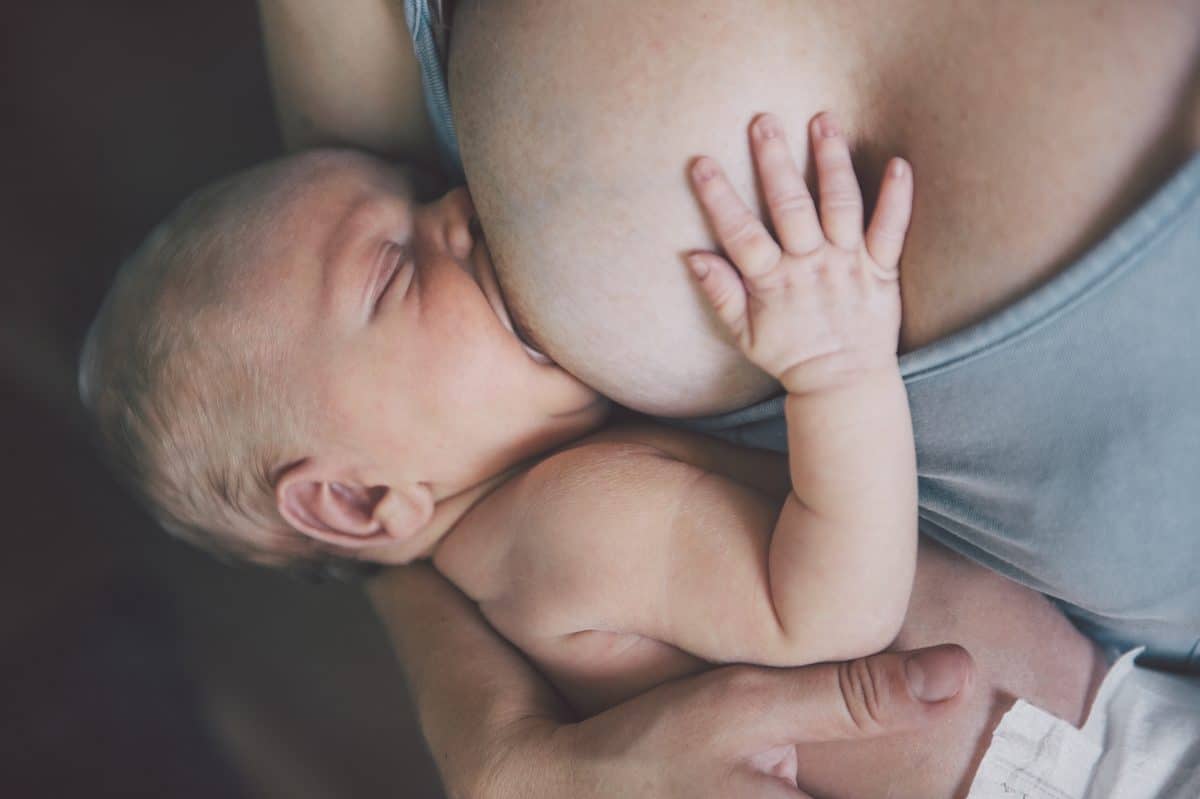 Nipple Cream FAQ
Will Nipple Cream Cause Thrush?
Nipple cream won't cause thrush, but it can exacerbate the ailment if you're already suffering a breakout. Thrush is caused by a nasty fungus called Candida albicans that loves hanging out in warm and moist places. As nipple cream moisturizes the area, you could inadvertently create the ideal environment for it to spread. If you start developing thrush, stop using the cream until it clears.
Will Nipple Cream Cause Baby Acne?
Nope. Baby acne comes from a variety of things such as heat rashes, allergies, cradle caps, and mom's hormones. It doesn't come from your nipples or the cream you've lathered on top.
Besides, baby acne is a natural and normal occurrence, so you've got nothing to worry about.
Will Nipple Cream Cause Mastitis?
When a mother's milk ducts become infected or engorged, the breast will become inflamed due to a condition called mastitis, which causes a considerable amount of pain. One of the most common causes of mastitis is dry or cracked nipples, so using a nipple cream to moisten the area can help alleviate the ailment. If it's still too painful, you could think about using a breast pump instead.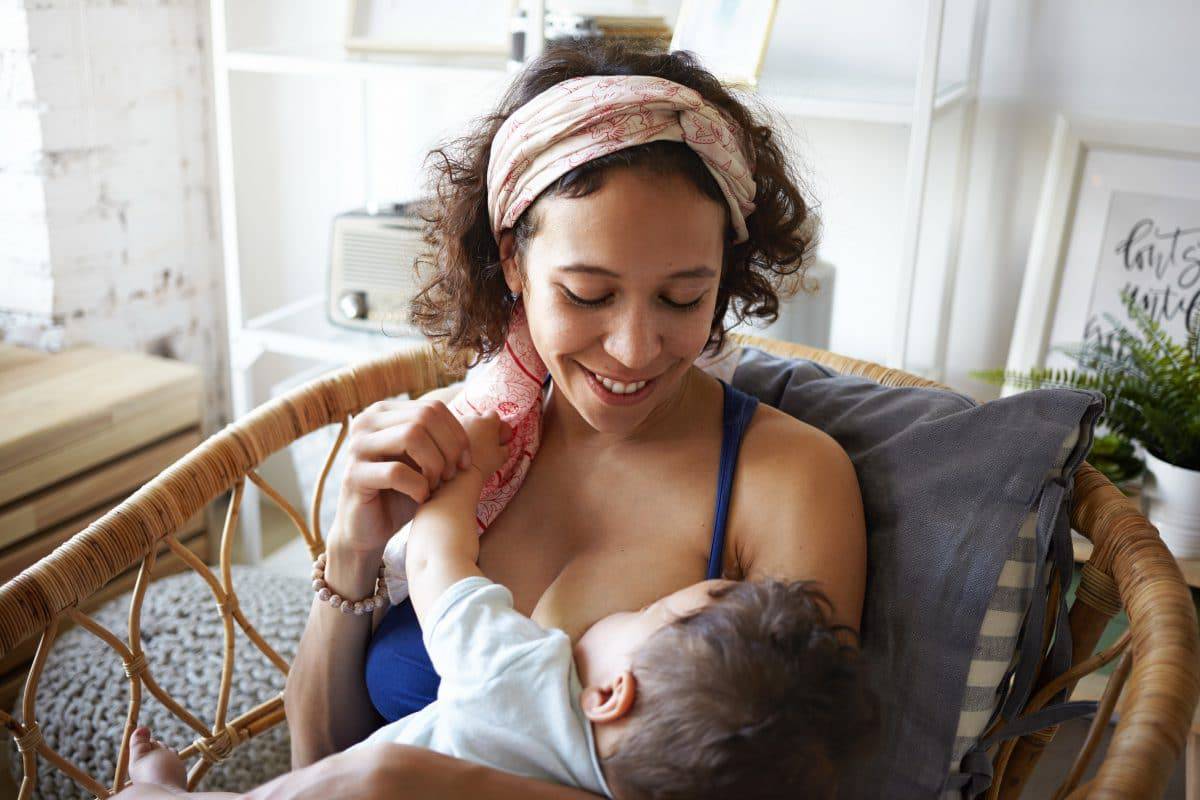 Can I Use Nipple Cream Elsewhere on My Body?
Nipple cream is incredibly versatile; you can apply it to obtain relief across many parts of the body. All the product is doing is moistening the area to repair damaged skin. Feel free to rub nipple cream on your heels, elbows, or anywhere else that feels dry and chapped. You could even use it in place of chapstick, although we feel the specially designed stuff tastes a bit better.
What Are Nursing Pads and Do I Need Them?
Nursing pads, sometimes known as nursing shields, are designed to protect your clothes from the milk that leaks out of your breasts between feeding. All moms are going to experience leakage to some extent, so it's a good idea to invest in a supply of them. The pads come in both disposable and reusable varieties, each with distinct pros and cons.
Another great advantage of nursing pads is they can prevent nipple cream from staining your clothes. Some creams on the market are greasy and will leave behind an unsightly and impossible-to-clean residue if directly exposed to your clothing. Pads provide a handy little barrier to prevent this from happening.
Final Thoughts on Nipple Creams
By now, hopefully you feel like an expert on nipple creams for breastfeeding, so feel free to peruse through our recommendations to find the option that works best for you. The great thing about these products—unlike most baby gear—is they're so cheap they won't send you broke if you need to switch halfway through.
Just don't try and tough it out alone. The nipple creams on our list are affordable, effective, and entirely safe, so there's no need to suffer sore nipples in this day and age. You can look forward to breastfeeding your child and the joy that comes with it, without having to worry about the pain.