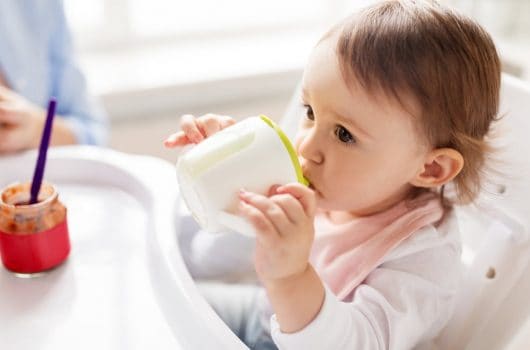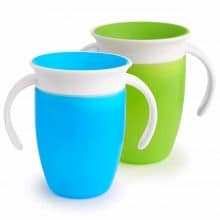 Munchkin Miracle 360 Trainer Cup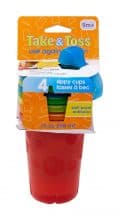 The First Years Take & Toss Spill-Proof Sippy Cups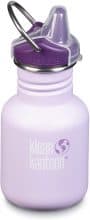 Klean Kanteen Sippy Cup
Previous
Next
With so many challenges that come with being a parent, it sometimes seems almost impossible to keep up with your toddler's ever-present and constantly-changing needs. From feeding them to establishing a proper sleep schedule, there are numerous obstacles that pop up during early child-rearing. One of those obstacles is helping them learn how to properly eat and drink in the future.
For any mother and child, the transition from a baby bottle to a cup might be pretty challenging, and a sippy cup is the perfect thing to help bridge this gap. It will teach your baby to drink correctly, give them more independence, and prevent spilling.
But with so many options available today, it seems almost impossible to know which sippy cup is best for your child. We're here to help you find the sippy cup that works for both you and your little one. This list will go through the most popular styles of sippy cups and show you the best ones available on the market today.
What to Consider – Best Sippy Cups
The American Academy of Pediatrics recommends to phase out feeding bottles between 12 and 24 months of age. However, every child is different, with their own specific needs. The transition from the bottle might be difficult, so try to introduce your child to sippy cups months in advance to give them time to get comfortable with one.
You can start as early as 6 months. If you feel that your child is not ready yet or reacts badly, then you can try again at 7-8 months. Read more about transition, rejection and what do in our buyer's guide after the list.
If your child doesn't take to the sippy cup at first, it isn't necessarily something you should add to your ever-growing list of concerns. Accept that, like everything with your child, choosing the right sippy cup is a process influenced by both their age and their stage of development. Don't worry; eventually, you'll find the right fit! Read on to discover how to make this process as easy and stress-free as possible.
A good Sippy Cup should be:
BPA-Free – BPA in plastic may cause many health-related problems. So, it's crucial to buy a sippy cup that is labeled as being BPA-free.
Leak and spill-free – If anything, this is what your cup should be. Leak and spill-proof features are very important and will make your life a lot easier.
Dishwasher-Safe – Choosing a cup that is dishwasher-safe guarantees that it can be properly cleaned and disinfected before giving it to your child. Sippy cups that aren't dishwasher-safe will deform in the dishwasher.
Made With Bright Colors – Of course, it comes to your personal preferences what color and design to choose. Consider bright and vibrant colors and cute and popular designs that might be visually appealing to your kid.
Types of Sippy Cups
The kind of sippy cup you select may provide different benefits depending on the area you are most concerned about. There are three main styles of sippy cups:
Spout
A type of sippy cup where a child suckles in order to get liquid from the cup. The spout is a part of the lid. These cups are spill-proof and leak-proof.
Straw
This type of sippy cup has a silicone straw inside. Many parents prefer to start with strawed cups due to some concerns over dental issues. One of the biggest complaints about straw sippy cups is that they are very hard to take apart and clean the straw particularly.
Rimless 360
For older kids who want to try to drink from an "adult cup," there is an option of a rimless 360 cup. Children can drink from anywhere around the rim with no spills because the cup seals immediately when they stop drinking. This sippy cup design is relatively new on the market, but it is undoubtedly becoming more and more popular.
Now, let's get into our top 10 picks for best sippy cups to consider when starting your sippy-cup journey.
Top 10 Best Sippy Cups to Buy 2020
Guide to buying best Sippy Cup

There are many things to consider when shopping for your child's Sippy Cup. To make it easier for you, consider the following factors before purchasing a baby sippy cup.
Leak-free
This feature is probably one of the reasons you are looking for a sippy cup. After all, the most significant benefit to a sippy cup is that it aids in preventing spills as your child transitions to drinking from real cups. Make sure to pay attention to the leak-free feature because some sippy cups are more leak-proof than others.
Has a Lid
Some sippy cups will have covers. Having a lid is usually a good thing as it provides extra protection from germs.
Has a Valve
A valve is usually incorporated into a sippy cup to avoid leakage. Typically, a valve is built directly into the spout and shuts off the flow if the cup is dropped.
Has Handles
When it comes to grips, it is mostly up to your personal preference. Some sippy cups might have removable handles; others have them built into the cup. Handles come in handy when training your baby or toddler's muscle grip and to avoid dropping and spilling the liquid.
Free of toxic chemicals
The FDA requires all sippy cups sold in the United States to be BPA-free. BPA stands for bisphenol A and is an industrial chemical that has been used to make certain plastics and resins since the 1960s. Today, BPAs are becoming a thing of the past; however, there are still some concerns about chemicals that might be contained in the plastic.
If it is something that really worries you, several eco-friendly sippy cup options are available, made from safe materials such as stainless steel or glass. Such as our best premium sippy cup and Green Sprouts' glass sippy cup.
Easy to use
It will most likely take some time to find the sippy cup that works best for your baby. Some children tend to do better with straws, while others may prefer a spout. Keep in mind that it is a trial-and-error process, and you should keep trying until you find the right one.
Tongue Position
We don't really think about it when choosing the sippy cup, but tongue position is a significant factor to consider. While using a sippy cup, the tongue is pushed down or back from where it usually is. And after continued use of a sippy cup, the tongue might end up learning how to rest in the wrong position. This can cause dental problems.
Materials of Sippy Cups
Plastic
The cups that are made from plastic are usually cheaper and most popular. However, even though all of them are BPA-free, many people are still concerned about the harmful fumes and toxins that plastic containers may emit.
Glass
Glass cups are not as popular, mostly because they are heavier and easier to break. If you consider a glass cup, buy a silicone sleeve that makes it less slippery.
Stainless steel
Stainless steel cups are becoming more popular nowadays because they are super durable. And stainless steel doesn't mean too heavy or bulky for the child to hold. In addition, stainless steel is a safe material and is relatively easy to clean and sterilize.
Silicone
Silicone is used in most of the sippy cups for spouts, straws, and valves. It's a soft material that won't hurt your baby's gums. However, remember to consistently replace the silicone parts before they become too chewed-up.
Age of the baby
Although most sippy cups might look the same to you, not all of them are suitable for the same age. So, when choosing a sippy cup, consider your child's age. There are two main age ranges for sippy cups.
Learner cups
Learner cups like this one are perfect for kids who are anywhere between 4 and 12 months old. During that age, children begin to sit up, hold and grasp things, sit in a highchair, and try new food and drinks. Some of the features of a training sippy cup include:
Handles: Learner cups have handles that make it easier to hold on to a cup.
8 oz or smaller size: Learner cups should be no more than 8 oz. Otherwise, the cup would be too heavy for the child to pick up.
Silicone spout: Silicone spouts that are usually very soft help to ensure that it doesn't hurt the baby's gums.
Sippy cups for children 12 months and older
When children reach the 12-month milestone, it is time for them to start using a big kid cup. For example, this one. Usually, around that age, babies become more independent and more coordinated and begin transitioning from drinking their mother's milk and formula to other more "grown-up" food and drinks. Therefore, it is a perfect time to introduce your child to a slightly more advanced sippy cup. When choosing that new cup for your baby, there are a few features you must consider:
Easy-to-grip design: Many cups for children 12 months and up don't have handles, but instead feature the grips that help kids hold the cup.
Hard spouts: When your baby has reached a year old, it is time to start using a cup with a harder spout. It will help to avoid any dental problems as well as protect the cup since kids at that age start to chew on things.
8 – 12 oz sizes: Most sippy cups for older kids come in the 8-12 oz range. This is because not only do older kids drink more, but they can also hold larger cups.
How to clean a sippy cup?
Since sippy cups are an ideal place for bacteria and mold to flourish, it is essential to clean your baby's sippy cup after each use. Each sippy cup comes with specific cleaning directions, so be sure to follow them thoroughly. Some cups are dishwasher-safe, while others are only hand-washable. One thing that you might want to procure if your sippy cup is not dishwasher-safe is a bottle brush that will allow you to get to those hard-to-reach spots.
How many sippy cups is enough?
When you find a sippy cup that works for your baby, consider buying a few of them to make your life easier. Ideally, you would want to have at least five sippy cups at once. That way, you will always have a clean and ready to go cup, while others are in the dishwasher. It is always a good idea to keep a spare sippy cup in your diaper bag, your parent's house, or child's daycare.
Final words
We hope that by now, you have a better idea of which sippy cup to get for your baby. With our best baby sippy cups reviews, we have considered sippy cups with the best designs and features to make the transition from a bottle to a cup enjoyable. Now you'll be able to find a sippy cup that is durable, easy to use, and does a great job of making the transition from bottle to cup fun and stress-free for both you and your child!