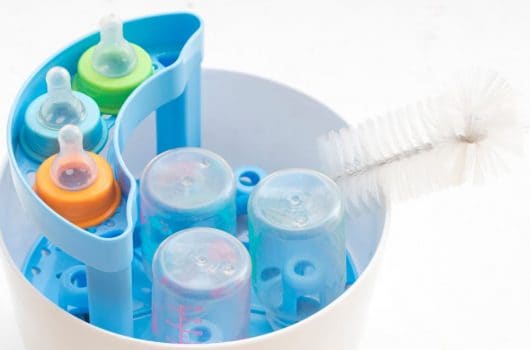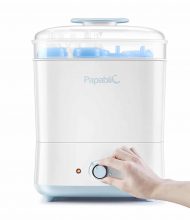 Papablic Electric Steam Sterilizer & Dryer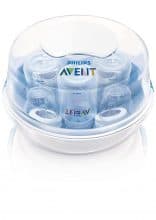 Philips AVENT Microwave Steam Sterilizer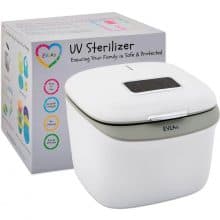 EVLA's UV Sanitizer
Previous
Next
Parents do everything they can to keep their babies safe and happy. They change countless diapers, spend long nights nursing them back to sleep and give them daily doses of unconditional love. But despite their adorable smiles and coos, a newborn's first year isn't always rainbows and butterflies, and that's thanks to germs — the invisible enemy.
Luckily, there are plenty of practical and simple methods you can use to keep your infant's immune system in tiptop shape — like sterilizing their baby bottles and feeding items. If you're looking to equip your growing family with one of the best bottle sterilizers on the market, this guide is for you. We've gone ahead and covered the research portion, so you don't have to.
Features to Consider in Good Bottle Sterilizers
Doctors recommend that parents sterilize their newborn's baby bottles and feeding items for up to a year. This is especially important for premature babies, who do not yet have a strong immune system and cannot fight off harmful germs. Sterilizing these items is crucial for the first three months of a newborn's life. This is also true for infants with compromised immune systems. Ultimately the choice is yours unless specified by your health practitioner, but it's recommended to help protect your baby in the early stages of life.
Boiling water will do it, but it's fiddly and is a multi-step process. You may not get complete coverage and you may burn your hands. The other way of doing it is to use a bottle sterilizer. They are cheap and convenient ways of sterilizing your baby's bottles. If you want to see what to do with the bottle after you've sterilized it, check out our buyer's guide at the end of this article.
Types of Bottle Sterilizers
Which type of sterilizer you use is a matter of preference. All of them will successfully kill almost any germ that could harm your baby. They do it in slightly different ways though, with different convenience factors attached to each.
Microwave Steamers
Microwave steamers are simple to use and generally affordable. Fill the apparatus with water, place it in the microwave with the bottles, and allow steam to work its magic. If you want a 'basic' sterilizer, this is often the best choice.
Electric Steamers
Like microwave steamers, electric steamers use steam to combat germs. However, electric steamers need to be plugged into an outlet. The push of a button gets the job done. It frees up the microwave but takes up some counter space. If you've got space for it, they're simple and effective.
UV Sterilizers
UV bottle sterilizers use ultraviolet light to kill germs effectively. They are loved and trusted by parents and professionals and are more high tech, and usually faster at the job. They're often more expensive though.
Sterilizer Bags
This type of sterilizer is less for the home and more for when you're traveling with your baby and want a solution. Combined with a microwave, you can sterilize your baby's bottles wherever they are.
Ease of Use
As a new parent, the last thing you need is a bottle sterilizer that complicates your life. Operating your sterilizer should be a straightforward process. If the instruction manual leaves room for error or is longer than your to-do-list, we continued our search.
Size
If you have limited kitchen counter space, you want to opt for a bottle sterilizer that can be easily stored — or one that takes up little room. To find out which size best suits your needs, ask yourself how many bottles and feeding items you will need to sterilize daily. If you strictly feed your baby formula, a larger sterilizer will be of utmost value.
Time
We understand how important it is to sterilize your newborn's bottles quickly and efficiently, but some sterilizers are more time-efficient than others. When selecting the best bottle sterilizer for your growing family, take note of the cycle's length, from start to finish.
Multifunctional: Drying, Bottle-Warming and More.
Some bottle sterilizers are multifunctional: they sterilize and dry bottles simultaneously, while some even offer bottle-warming functions (among other features). While microwave sterilizers are time efficient, they leave bottles wet.
If they aren't properly dried, leftover moisture can cause germs to grow. Therefore, parents have to account for drying time. Depending on your needs, it might be beneficial to opt for a multifunctional sterilizer. Some have up to six functions, but more on that later.
Included Accessories
So you ordered your very first bottle sterilizer, and you're excited to put it to good use. But wait, where are the plastic tongs, the baby bottles and the other accessories needed to get the job done? Oops.
This is an unfortunate situation many new parents find themselves in. When buying a bottle sterilizer, it's important to find out which accessories are included, and which ones have to be ordered separately. We'll cover which accessories are included and which ones aren't as we delve into each product. So, there's no need to worry about that!
Easy to Clean
Contrary to popular belief, your sterilizer has to be cleaned at regular intervals. Don't worry, you don't need a sterilizer for your sterilizer. Some bottle sterilizers are dishwasher safe, while others have removable trays for easy cleaning.
Now, it's time to segue to our picks for the 12 best bottle sterilizers of 2020:
Top 12 Best Bottle Sterilizers 2020
Guide to Buying the Best Bottle Sterilizer
Which Bottle Sterilizer Is Best for Your Growing Family?
So, you're in the market for a baby bottle sterilizer but there are so many choices your head is about to spin. Life with a newborn baby is complicated enough as it is, so instead of searching for the best bottle sterilizer, find one that checks off every box for your family. Before you make your pick, ask yourself the following 3 questions:
How Often Will I Use My Bottle Sterilizer?
Women who breastfeed tend to use fewer baby bottles than women who strictly use formula. This can make buying a bottle sterilizer with a smaller capacity more than sufficient — especially if they only have one baby at home. A great choice for breastfeeding moms is the Philips AVENT 3-in-1 Electric Steam Sterilizer, which holds up to six bottles. For parents with multiple children, we recommend the Elechomes 5-in-1 Sterilizer & Dryer. This large apparatus can hold dozens of feeding items, toys included!
How Much Counter Space Can I Spare?
The Munchkin Latch Microwave Sterilize Bags use zero counter space, which can be a necessity for some families. If you would have limited counter space but would rather use an electric and multifunctional sterilizer, the Baby Brezza Sterilizer & Dryer will suit your needs just fine. Take note of your counter space before selecting the best bottle sterilizer for your family.
What Is My Budget?
What it all comes down to is your budget. But sometimes, spending a little extra for much-needed features is worth biting the bullet. Parents who plan to have a large family can benefit from purchasing the EVLA Sterilizer. Not only can it be used to sterilize an array of household items, but it also offers a large loading capacity while being easy to use and clean. It's known for being one of the best UV sterilizers on the market, but it isn't cheap and its size can clash with some households.
If a drying cycle isn't on your checklist, take advantage of affordable options like the Munchkin Microwave Sterilizer. Whatever your budget may be, there are plenty of affordable and safe options for your family.

How to Prepare a Baby Bottle for Feeding Time
If you're new to parenting, this image will show you how to prepare your baby bottles after you've sterilized them. Once sterilized, boil the water and pour it into the bottle (making sure your own hands are clean first!). Pour the hot water in and add the baby formula. Shake, and wait for it to cool down. Then test it on your own wrist before feeding it to your baby.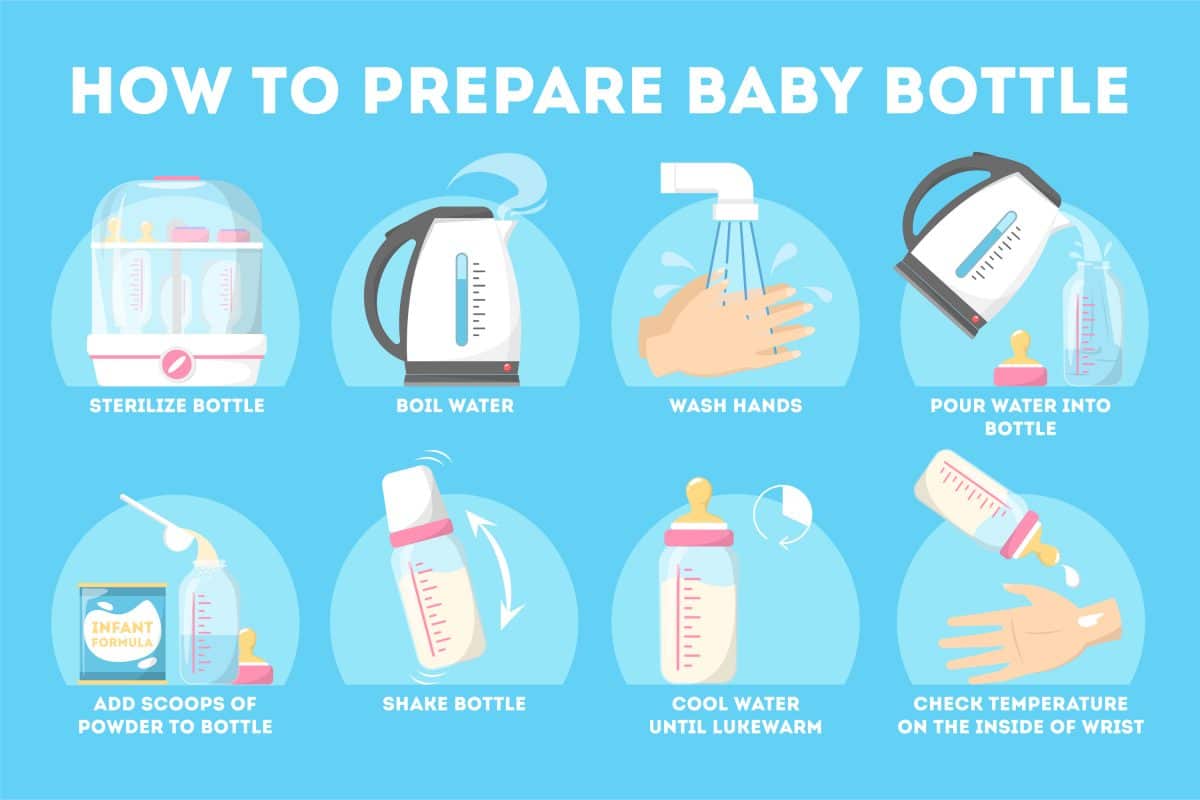 Factors to Consider When Buying a Bottle Sterilizer
Alright, now that you've asked yourself these questions, let's move onto the next phase, which is finding out what type of bottle sterilizer is right for you. Let the battle begin:
UV Sterilization vs. Steam Sterilization
UV sterilizers are more expensive than steam sterilizers, and for good reason, too. They're suitable for long-term use and can sterilize everything from TV remotes and cellphones to jewelry and makeup brushes. They have a dual ventilation system makes them dry effectively. Plus, they have a touch panel that confirms when a load has been successfully sterilized. For some parents, this offers extra peace of mind.
Steam sterilizers, on the other hand, generally do not tell you if the load was sterilized without complications. Still, they're just as effective and far more affordable than UV sterilizers. In the end, it all depends on your budget and whether you have long-term goals for your sterilizer.
Drip-Dry vs. Bottle Dryer
If you have a bottle sterilizer at home, you're probably accustomed to the drip-dry method. But although it is effective, it can be time-consuming and requires a dish drying rack, which can take up extra counter space. Additionally, drying racks can be a source of microbes if not properly sterilized.
Then there's the popular baby bottle sterilizer and dryer combo. This prevents unnecessary germs from latching onto freshly sterilized items. These machines can also double as sterile storage units (as long as the lid remains closed after the cycle is complete). Bottle dryers use hot air to effectively get rid of residual steam droplets.
Please note that using a towel to dry baby bottles and other items is not recommended, for even a clean cloth can spread germs.
Tap Water vs. Distilled Water
Depending on your geographic location, your tap water can contain minerals and salts, which can shorten your sterilizer's lifespan. However, it won't jump ship as long as you regularly clean it with vinegar or other alternatives. When selecting a bottle sterilizer, check to see if it uses tap water or distilled water. If you don't want to use water at all, a UV sterilizer is the way to go.
Using distilled water might seem like a hassle, but it can be beneficial in the long run. If you strictly use distilled water when loading your sterilizer, you won't have to clean it as frequently.
Final Thoughts
Keeping baby safe is always the number one priority. Sterilizers can make sure dangerous germs and bacteria don't regularly enter your baby's feeding cycle. Of course, you can't protect them forever, and your baby will always get ill at some point, but baby bottle sterilizers ensure the worst of it doesn't reach their fragile immune systems. Baby bottle sterilizers double up as useful kitchen utensils too, depending on how much you trade up. Enjoy perusing our list and finding the best baby bottle sterilizer for you.