In order to choose the right toy for a 2-year-old girl, it is important for every parent to consider the developmental benefits of the toy to the child. The developmental needs of a 2-year-old include language and communication skills, motor skills, personal and social skills as well as cognitive skills. The best toys should foster development by encouraging these skills and enhancing them. However, finding such toys may be an uphill task given the vast number of toys tailored towards development. As a result, we have sampled the top 30 best toys and gift ideas for girls to enable you to choose the perfect gift. We have ensured that these toys are affordable, safe, enhance motor skills and they spark the kid's imagination.
Top 30 Best Toys and Gift Ideas for 2 Year-Old-Girls in 2020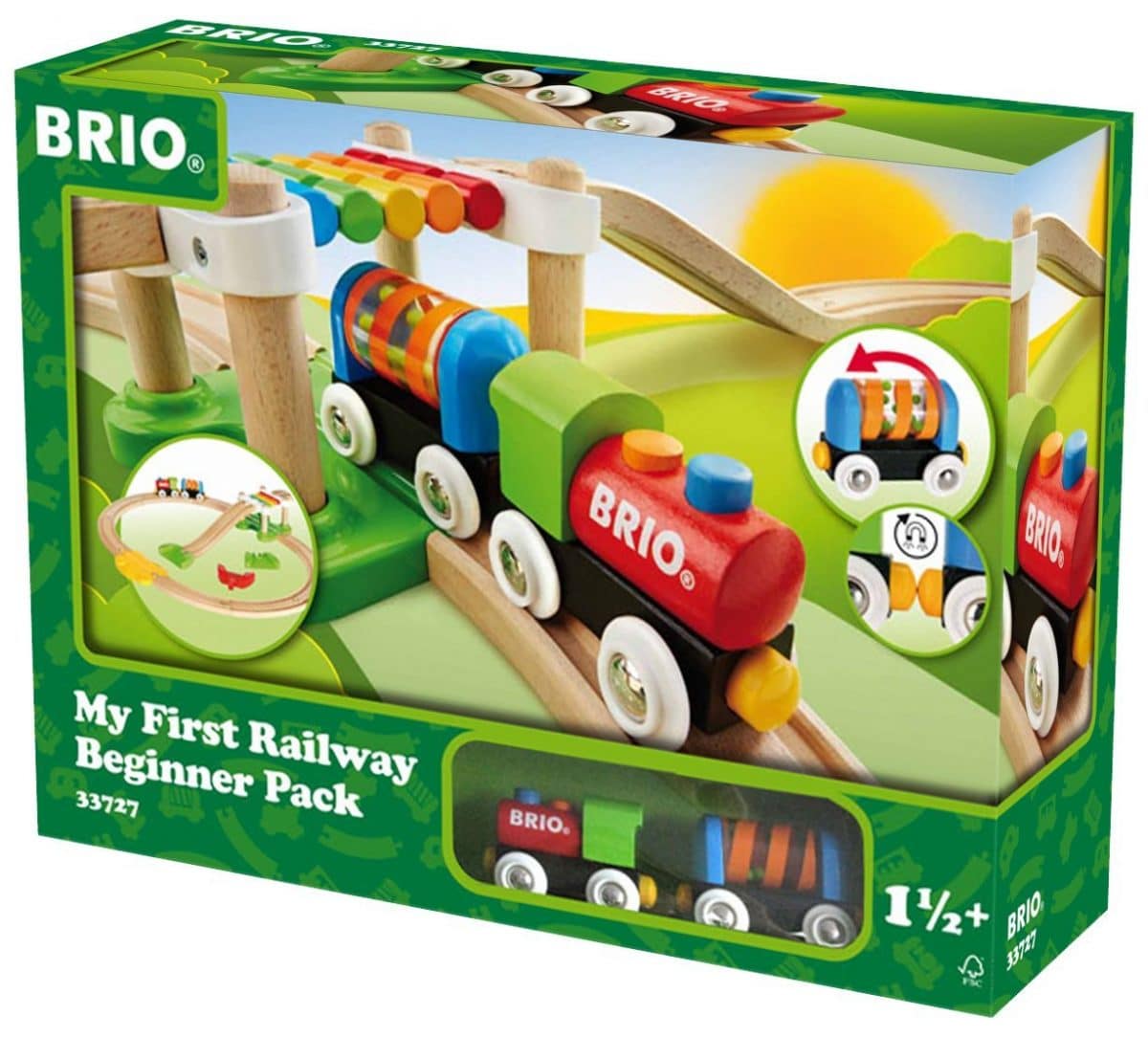 Suitable for ages 18 months and above, this perfect Brio Railway starter pack is a gift your little girl will like. She will enjoy riding the train either over or under the rainbow-colored suspension bridge while exploring the different layouts she could build. This first set features an ascending wooden track for trains to go up and down, a colorful bridge and a wagon that makes interesting noises. The set comes with one train, one rattle train car, four ramps, one tunnel, eight curves, two ascending tracks, and one connecting track. It has a bright green and red finish that will help spark creativity and improve hand-eye coordination. Made from FSC certified solid beech wood, the train pieces are safe and durable.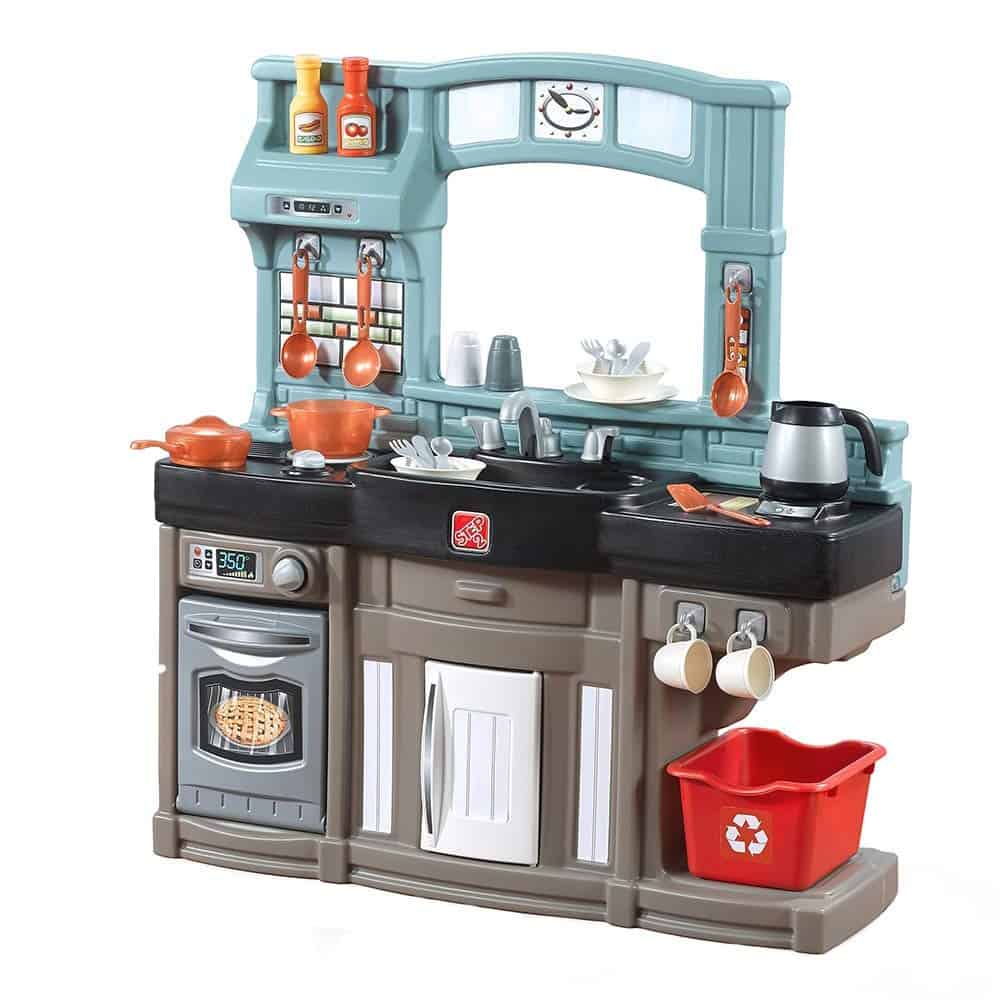 This 25-piece kitchen accessory set is perfect for a 2-year-old girl, especially at this age when they love to act like adults. Your girl will enjoy cooking on this kitchen set. It has an attractive design with a fresh color scheme that both the parents and little girl will love. This set will teach your little girl interactive and social skills by working in the kitchen. Best chef kitchen features an electric stove burner with realistic cooking sounds and fun burner lights. The clicking knobs on the stove top make it even more realistic. There is plenty of storage space that includes hooks for hanging utensils and cups, and a recycle bin. Your girl will love the working oven, refrigerator door, counter space, and a pass-through kitchen window.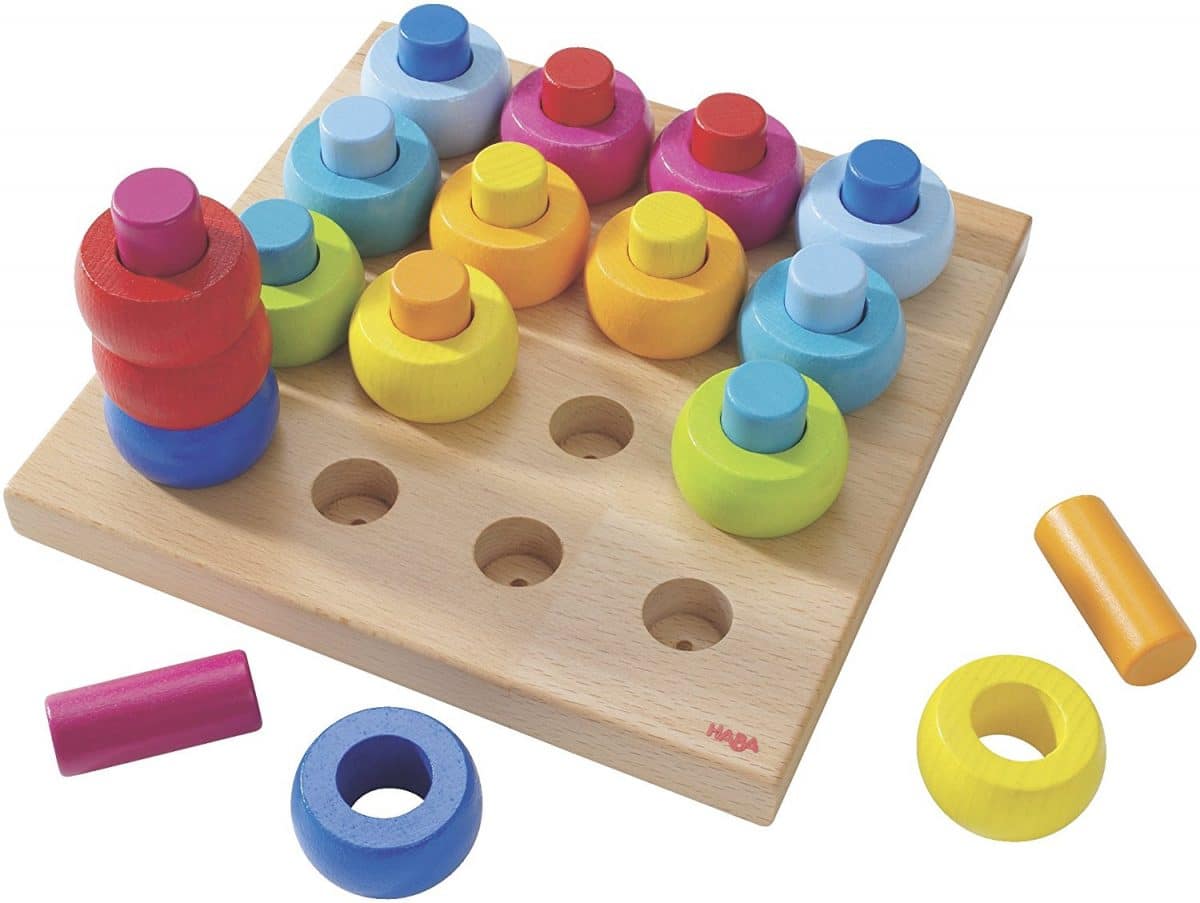 The game is made from German Beech wood into colored rings and pegs. It is a game your little girl will enjoy. The game is brightly colored using multiple layers of water-based and solvent-free lacquers. This makes the surfaces resistant to wear and tear and safe for the child even if they put it in their mouth no debris will remain. This game was the winner of the prestigious awards: creative child magazine game of the year, Dr. Toy best vacation products, the National Parenting Seal of approval 2011. The child can enjoy hours of free play given that the colored rings and pegs offer a variety of plug-ins. The child can stack the rings up the pegs or arrange them according to color combinations.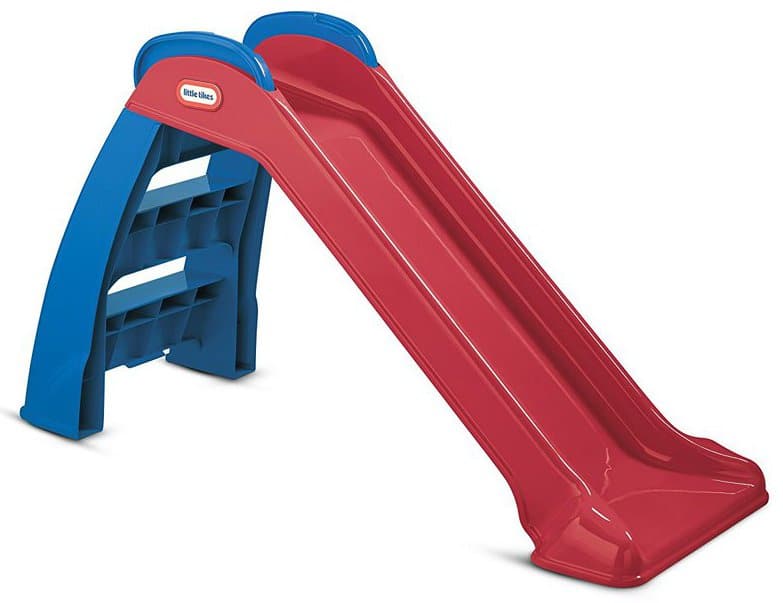 The little tikes first slide an excellent gift for your little girl since kids love to slide. It is perfectly sized especially for young kids. The product dimensions are 23.00"L x 18.00"W x 39.00"H and Slide length: 38.00"L. Its perfect size allows it to be used both indoors and outdoors as long as the surface is soft. It saves on storage space since it folds easily. It does not require any tools for assembly. The handrails simply snap into place. This slide promotes fitness, balance, and coordination.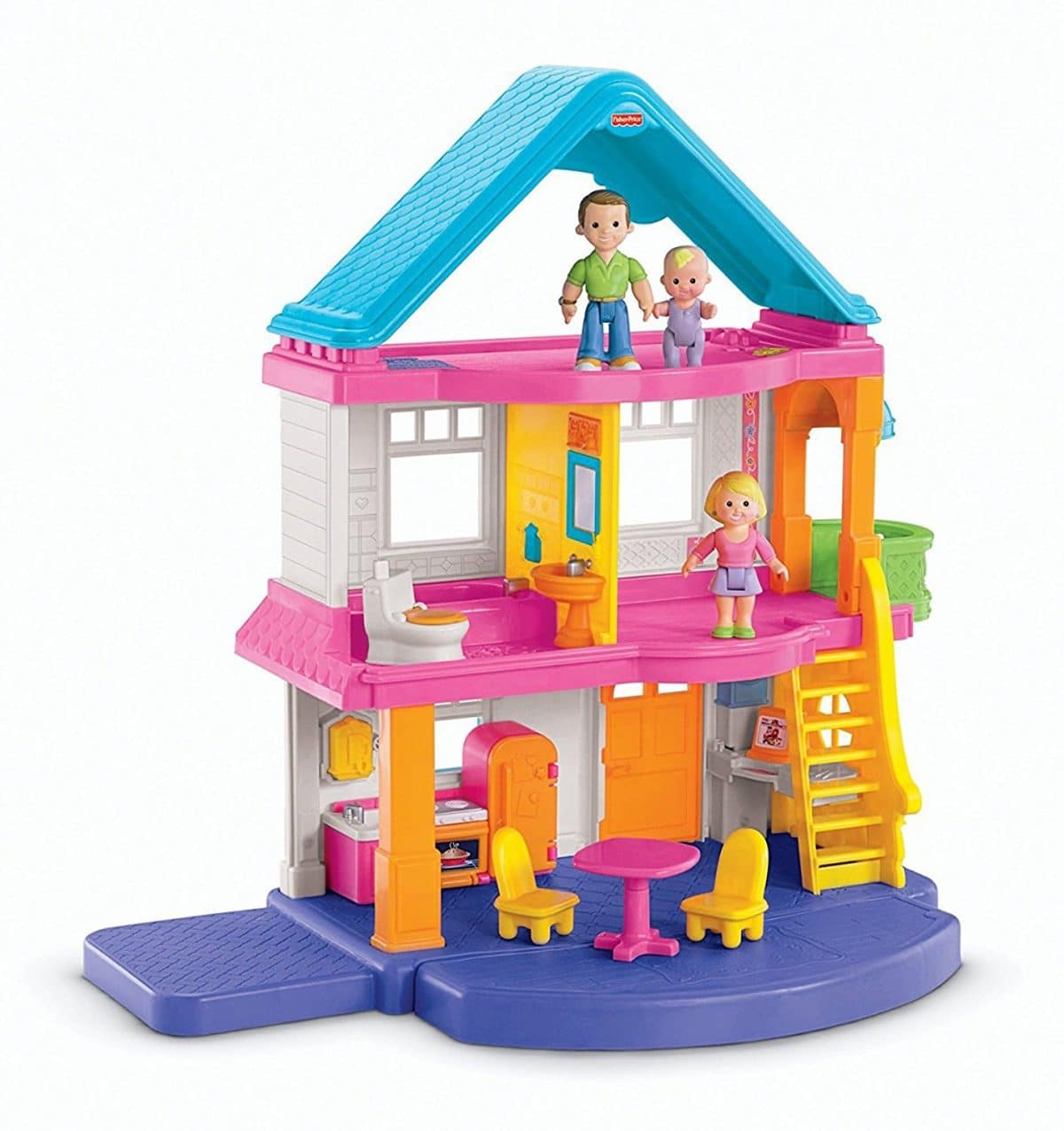 This first 3-story dollhouse is a gift your little girl will really enjoy playing with. Your little girl will have access to several accessories that come with the dollhouse. It comes with five rooms that are: the kitchen, bathroom, living room, parent's bedroom, and a nursery. It also has family figures, i.e., father, mom and baby that are perfectly sized for the little hands. Your child will have endless imagination as they walk through the front door. She will learn to role play thus scaling her imaginative skills.

This is a six-piece play set that gives kids all the housekeeping tools they need to keep it clean. The six pieces include broom, mop, duster, dust pan, brush, and a storage stand. Sized perfectly for kids, the set is comfortable to use and easy to store by just hanging each from the sturdy cords onto the included stand for neat, compact storage. This set encourages children to imagine and be creative.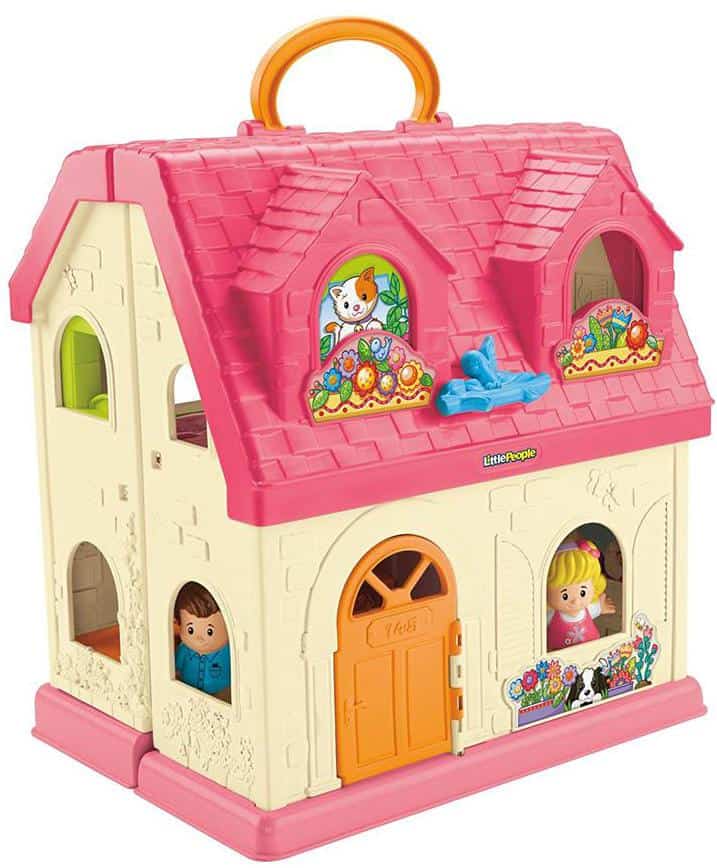 This is a portable house for kids, whose design aims at teaching kids how to be kind neighbors, and caring friends. It basically allows them to do what happens in our households and neighborhoods. It's feature-packed to make it look like a real home, but the good thing is that everything fits inside perfectly so even when you want to take it with you all you do is grab the handle and off you go. Your little one will even get the weather report, hear an alarm clock, flush the toilet, has an opening fridge, etc. With all these features, your little girl will be more creative and imaginative and even her motor skills will greatly improve.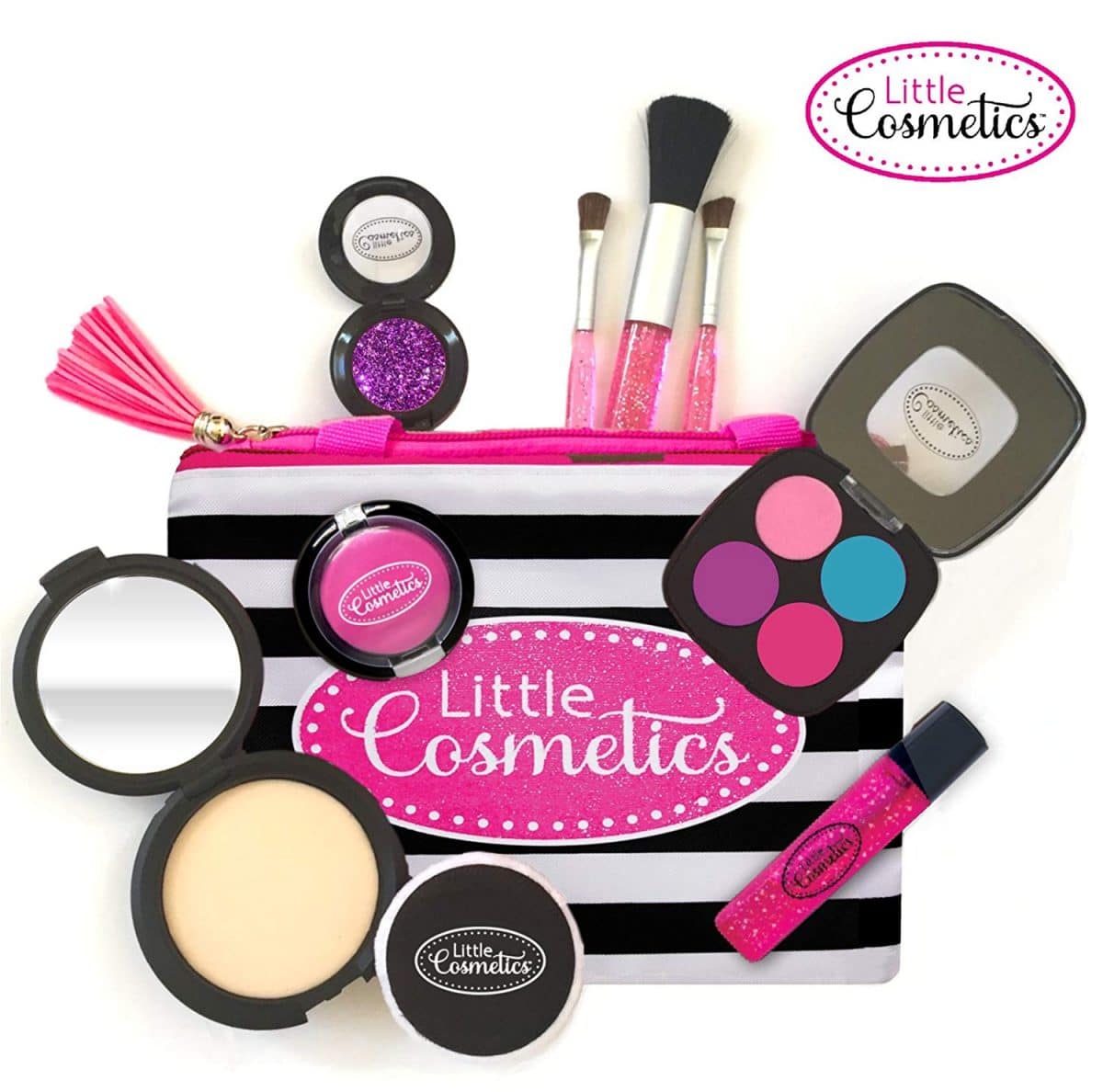 If she loves watching you apply your makeup, get her this signature set and you can "apply" together. It's all fake and doesn't go to her skin, but she will have fun playing pretend. It's a good way for her to exercise her imagination and even creativity. It's also mess free because nothing really comes off and she gets all she needs to "apply" the various makeup plus a shatterproof mirror and a pretty cosmetic bag.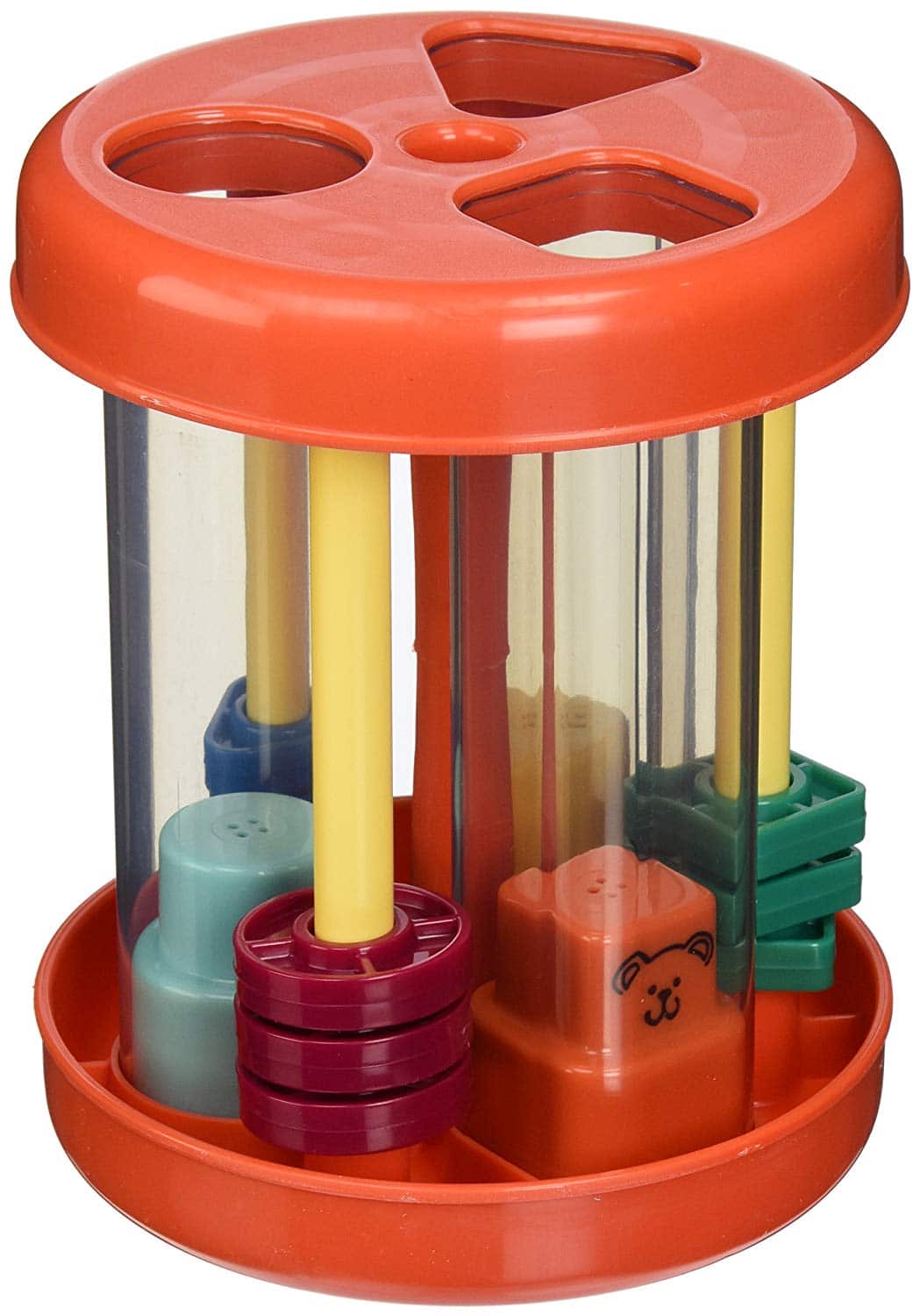 This is a great shape sorter toy to boost the little one's visual performance as well as her fine motor skills. It features different shapes that should be dropped in their corresponding holes on the puzzle. Once dropped, each shape will make a unique sound and this will make the little one want to keep doing it. The various shapes are perfectly sized for little hands and she will have an easy time grabbing and dropping them. They are great for boosting her eye-hand coordination too.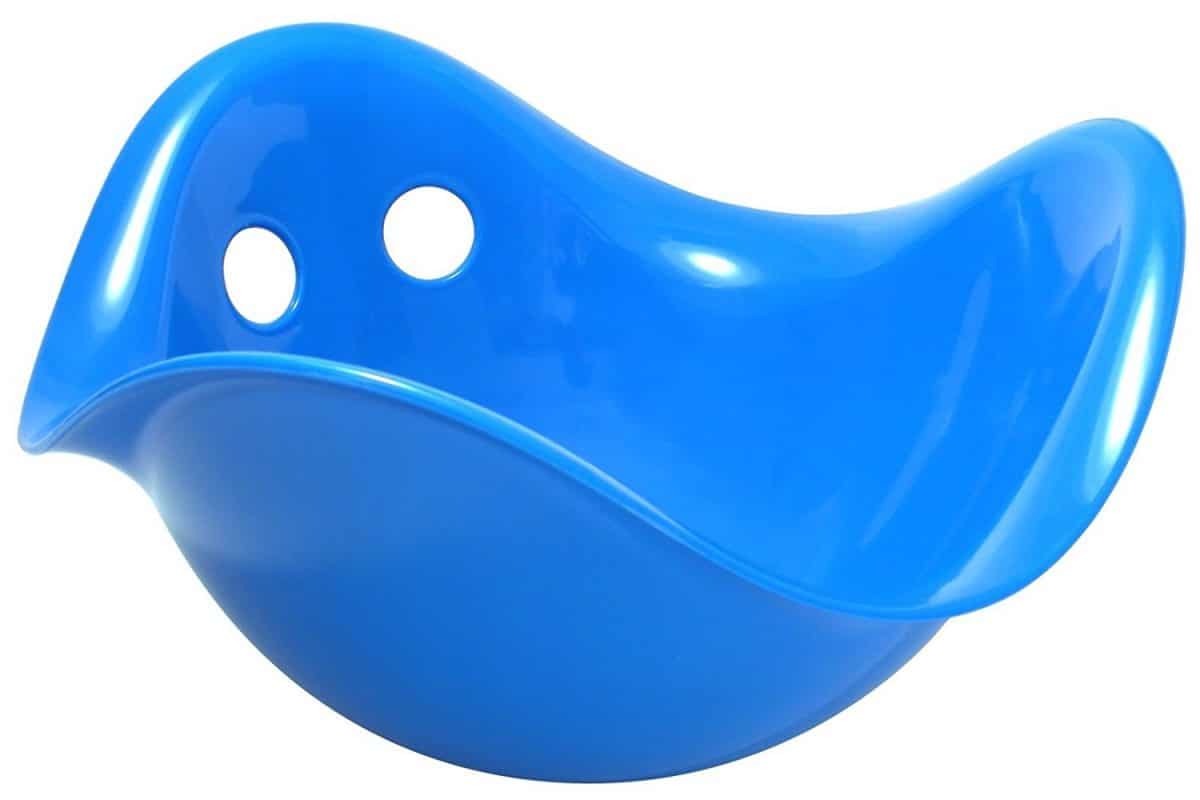 This is available in various colors so you get to choose your favorite. With this Bilibo, your little girl will enjoy both indoor and outdoor playing and as she comes up with different ways of playing with it, she will be more creative and imaginative. It is made of very sturdy and nontoxic polyethylene and that's why it's suitable for use both indoors and outdoors.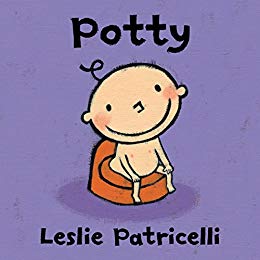 This is the right age for potty training, and you might find this book somehow helpful in explaining to your little girl on how she should use her potty. The book uses a gender-less child character, and they are using a toddler potty unlike the regular toilet, so your girl will relate. The book has step by step pictorial illustrations on how the baby should go about using their potty. All the illustrations are very cute, and they capture all the baby's expressions throughout the process. The pages are very sturdy and thick, so they will hold up to frequent lifting and peeking. It's also very affordable, cute and simple for your little one to follow through. It's not too wordy, and it's packed with a lot of humor. It also allows the parents to improvise plus it's just straight to the point.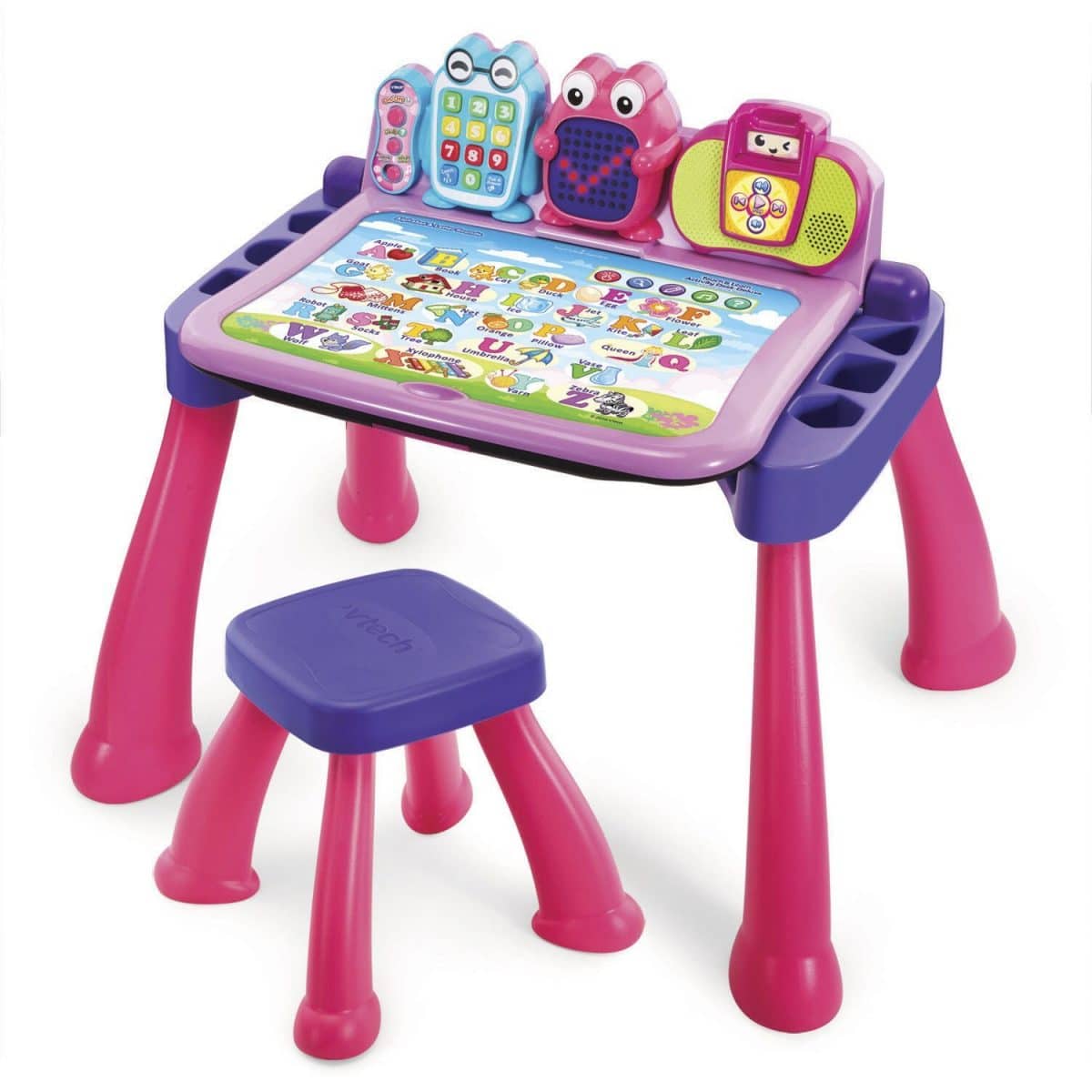 This is a cute interactive desk with five activity pages that your little missy can explore, learn and enjoy the engaging content. The desk comes with a small stool for the baby to sit on and the desk can be transformed into a chalkboard and an easel. It also has a storage space where the little girl can store her art supplies, so she can play as she discovers. There are also fun tunes and a toy telephone, so your kid will have fun playing pretend. Along with the desk, you can get her several expansion packs because they include a curriculum that teaches how to draw various shapes, numbers and letter stroke order, etc. all in LED display illustrations.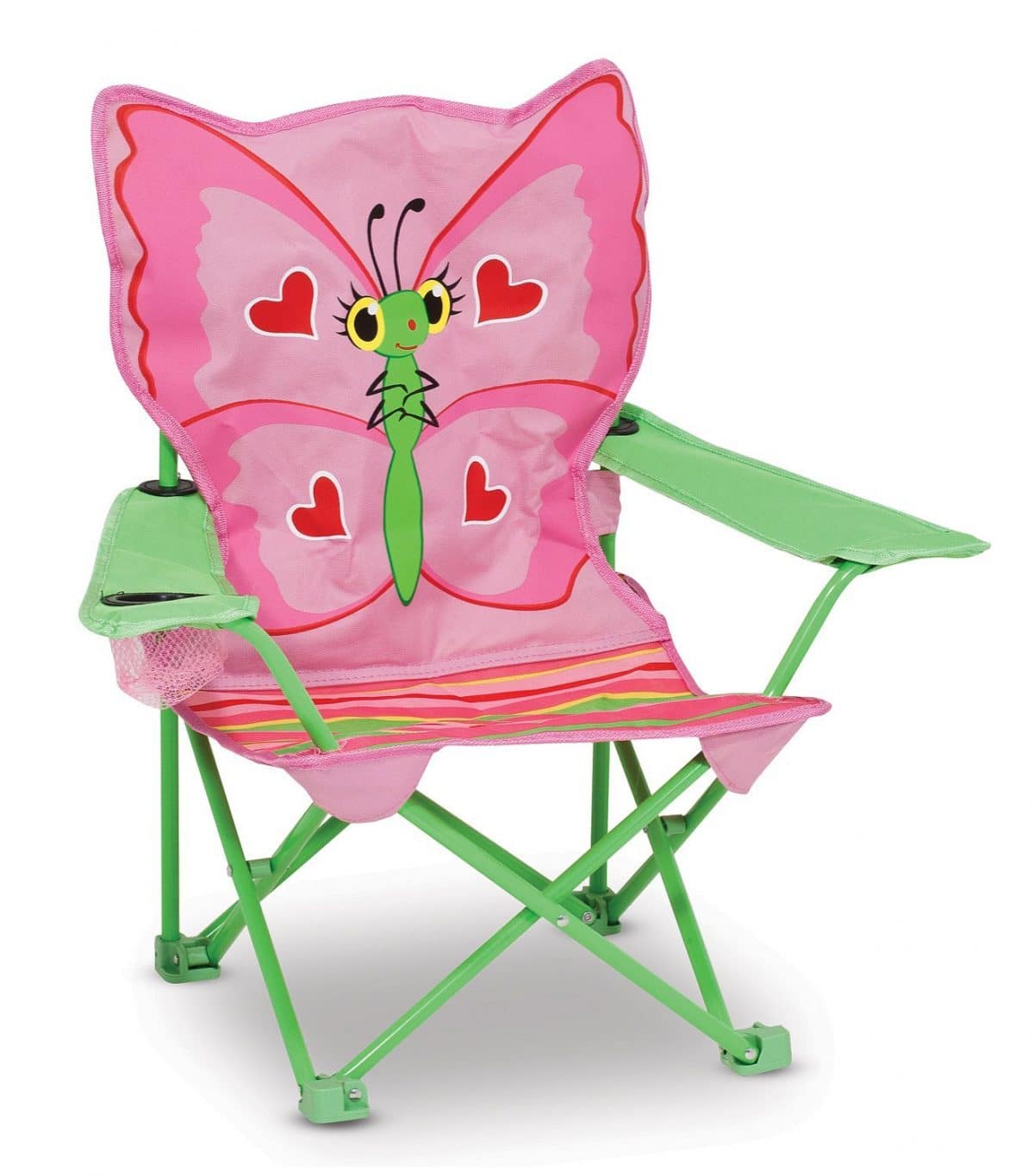 This is a pretty butterfly folding camping and lawn chair that any little girl will love sitting on. It features a cup holder, and you can already imagine your little one enjoying their cup of milk outdoors comfortably. It also opens and closes pretty easy and doesn't take up much space, so you can take it with you for those picnics or camping. And, if you have a lawn, outdoor activities will be so much enjoyable for her. Again, it's super easy to clean, and it's 100% cleanable. Included is a matching carry bag for the little missy.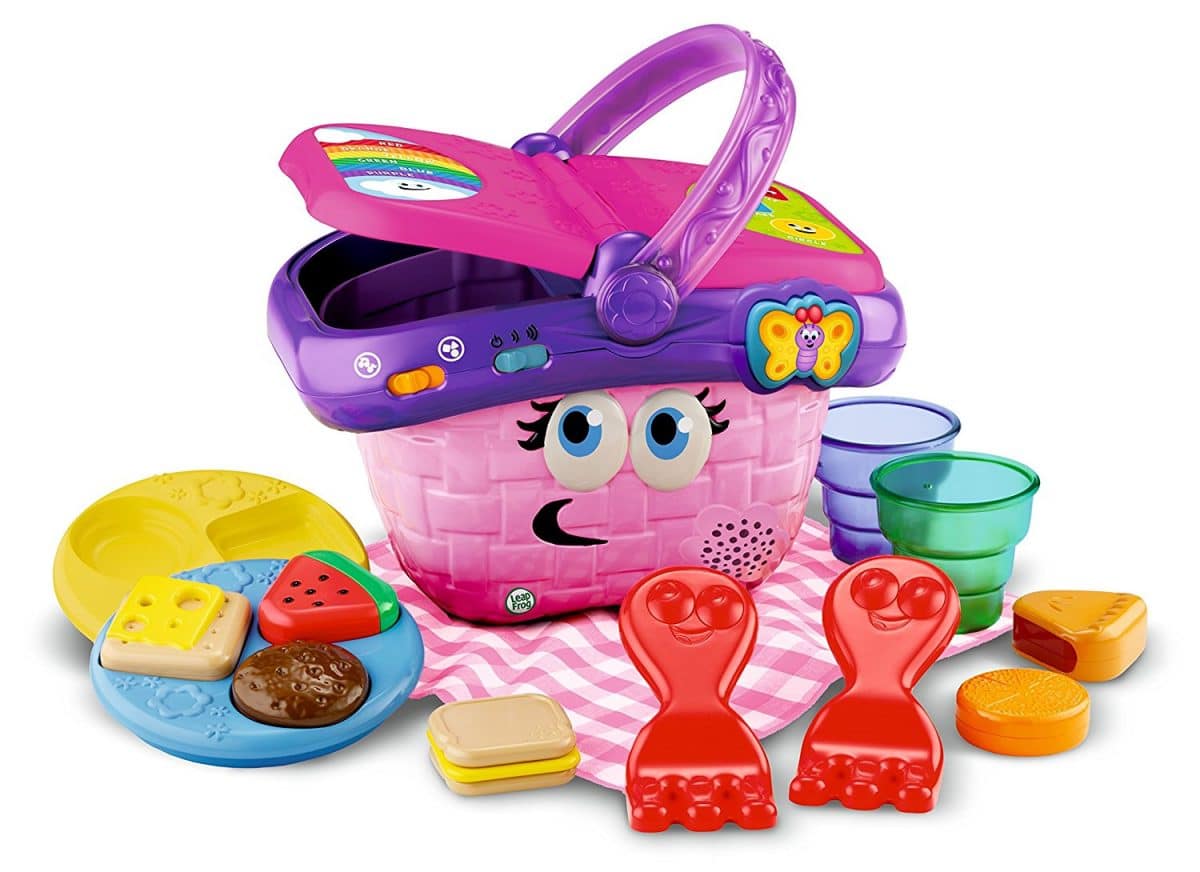 If the little girl loves pretend play, then this picnic basket will suit her perfectly. It features toys in various shapes and colors, and that's why it's also great for teaching her the sharing concept. It's also great for helping her improve on her motor skills because she will be sorting, stacking, matching, filling and emptying the basket. Again, it's a perfect toy set as everything goes back in the basket once she is done playing and she can lift its lid to listen to some fun sound effects and music. The six food pieces are designed in various shapes and colors to teach the baby the various shapes and colors.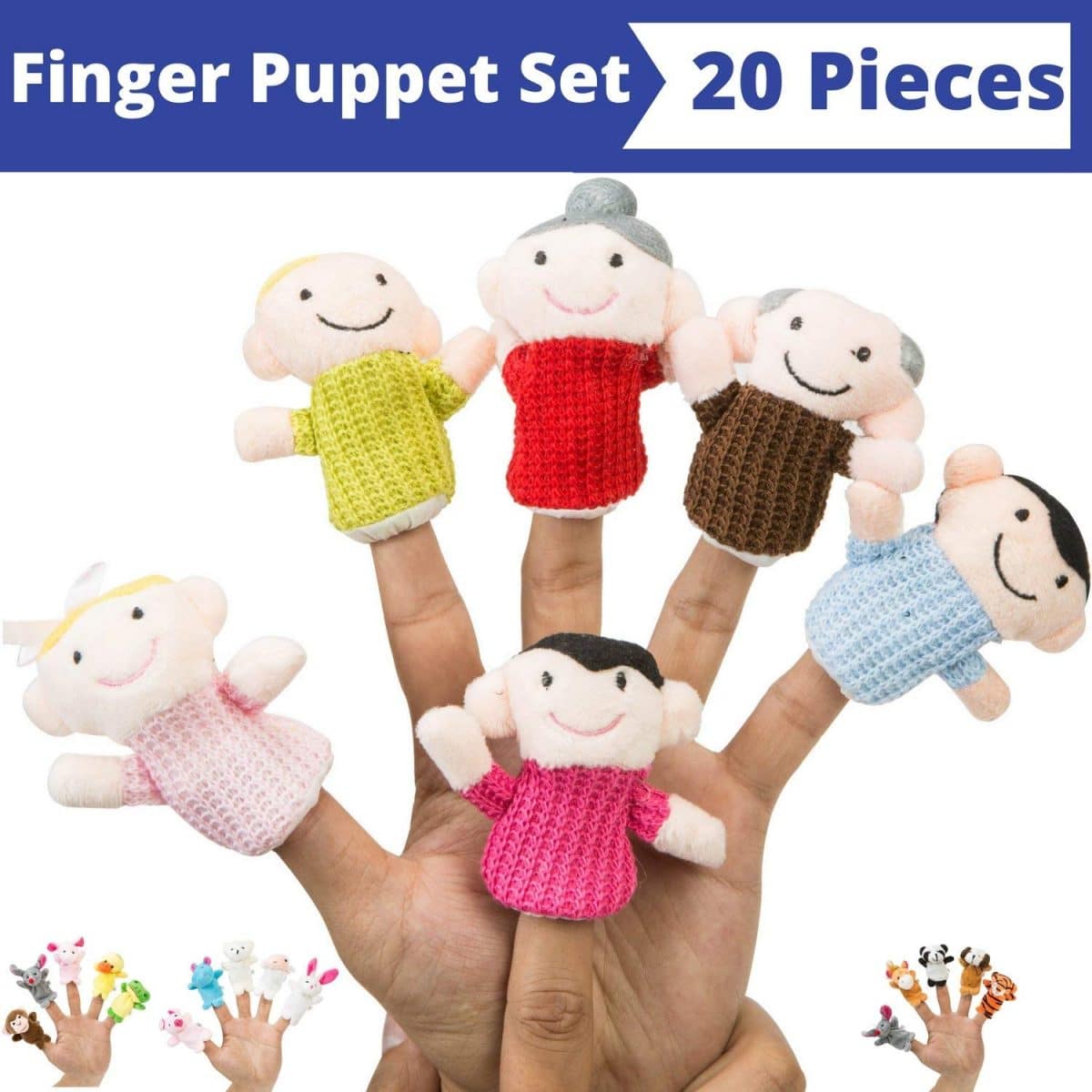 Storytelling will be more fun with this finger puppet set. Included are 20 pieces of high-quality finger puppets plush toys that also make roleplaying more enjoyable. They also sparkle your little one's imagination, and they will have fun naming/ "talking" to each member of the family and the various animals. The set has a total of 14 animals, and it makes it very easy to introduce your little one to various animals and their names. Again, if you're looking for ways to spice up the Easter egg surprises with your little one, look no further. The finger puppets also encourage imaginative play, they make great birthday party favors, and can also be used for teaching ESL.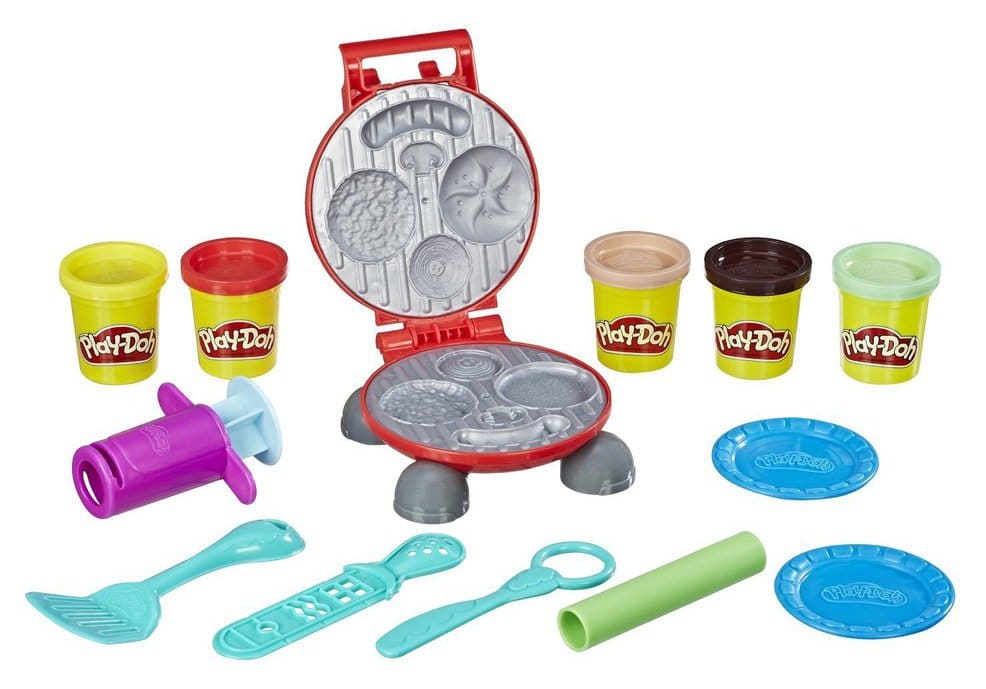 This is another great toy set to stir up every 2-year-olds imaginations because it's quite packed with various items to keep them busy as they explore. It's perfect for creative role plays, and this also means that you get to come up with creative ways of bonding with them. Included in the set are basic tools and can packs to create a more realistic burger barbecue. The toys are also in different colors, so they will get to master some and also included is five containers of Play-Doh, all in different colors. You will enjoy watching your little one make hotdogs and hamburgers and serving you. It's the perfect toy set for pretend play.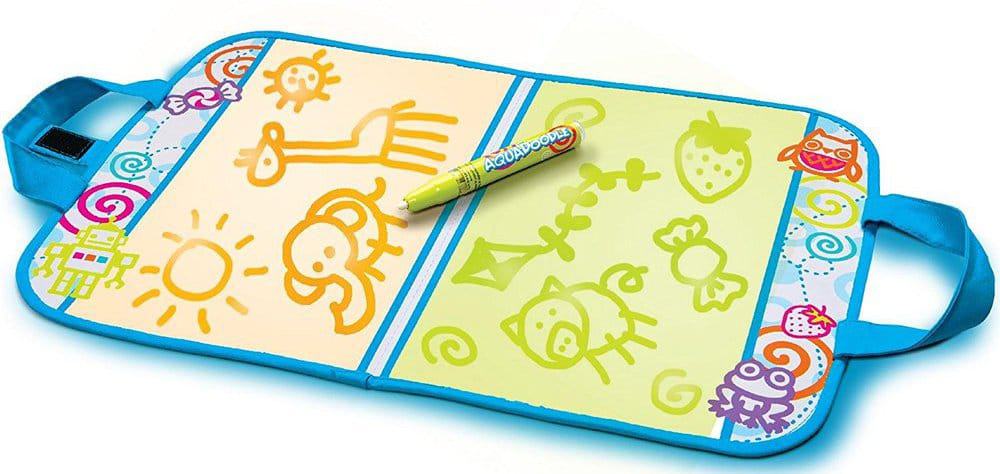 It's at this age that little one love doodling on just any surface if unsupervised. Thanks to this doodle mat, you can have them enjoy doodling, but not on your house walls, coach or car seats. It's perfectly designed for mess-free doodling, and all you need is to add a little water, and they will enjoy using it. It's also very soft and portable and can be used even by younger or older kids for drawing. And, you can use it with any other Aquadoodle products, say pens and accessories.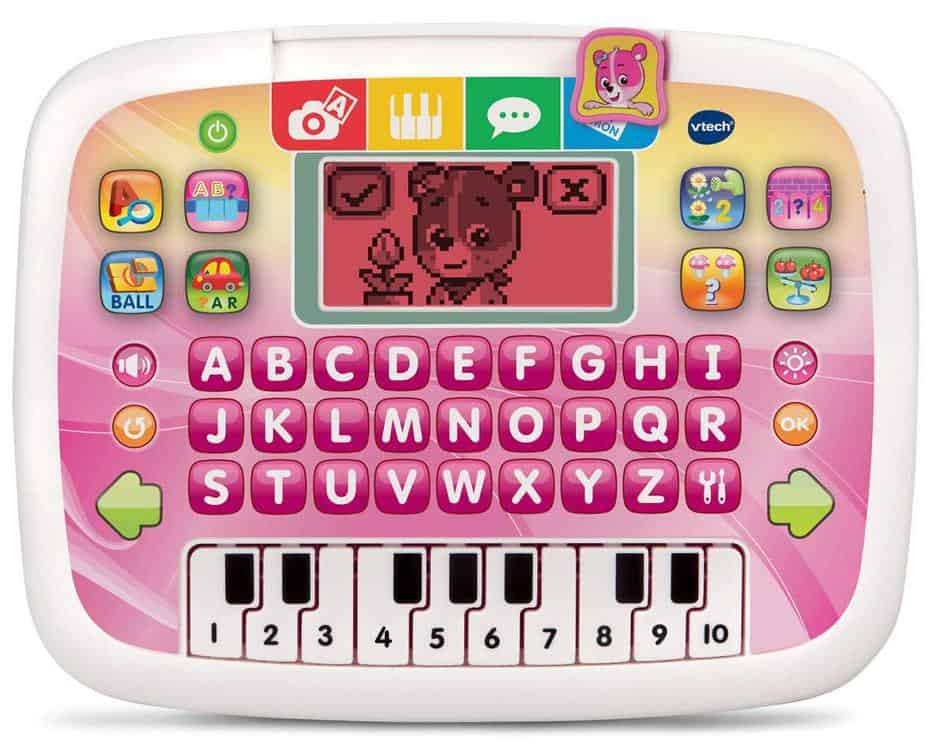 This tablet toy for kids makes it easy to teach your baby girl the number order, letters, counting, and matching. It's a great educational toy with twelve learning activities and has progressive learning levels, so they can continue using it as they grow. It also has a calendar, and a pretend camera and a piano. It's basically feature-packed to keep the little girl engaged, but in a better way. It's also a very parent-friendly toy tablet as it features an automatic shut-off thus saving the batteries when not in use plus the batteries are included for a demo, and volume control to set the most comfortable volume for both you and the baby.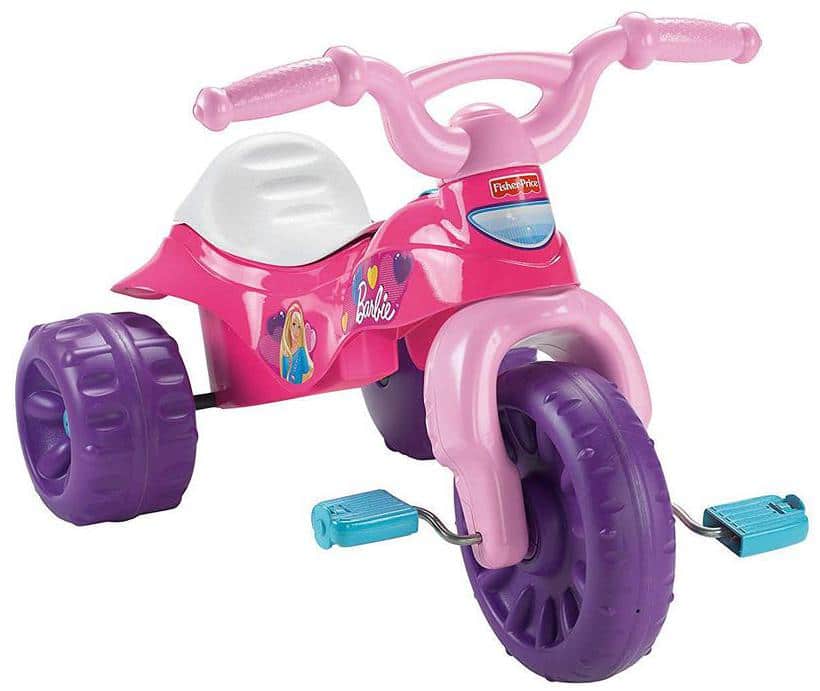 First riding experiences come with a lot of excitements for both the kid and the parents, and this little tricycle will make everything easy and more enjoyable. It's a great trike with cute colors, big foot pedals for small feet and rugged tires for better balance. It makes it easy to prepare your little one for the real bike by building their confidence while also making outdoor adventures more fun. The wheelbase is also very stable, so you won't be worried about them falling off and getting hurt. And, it has a small storage compartment where they can store their small toys as they go out cycling. The overall design is pretty impressive too.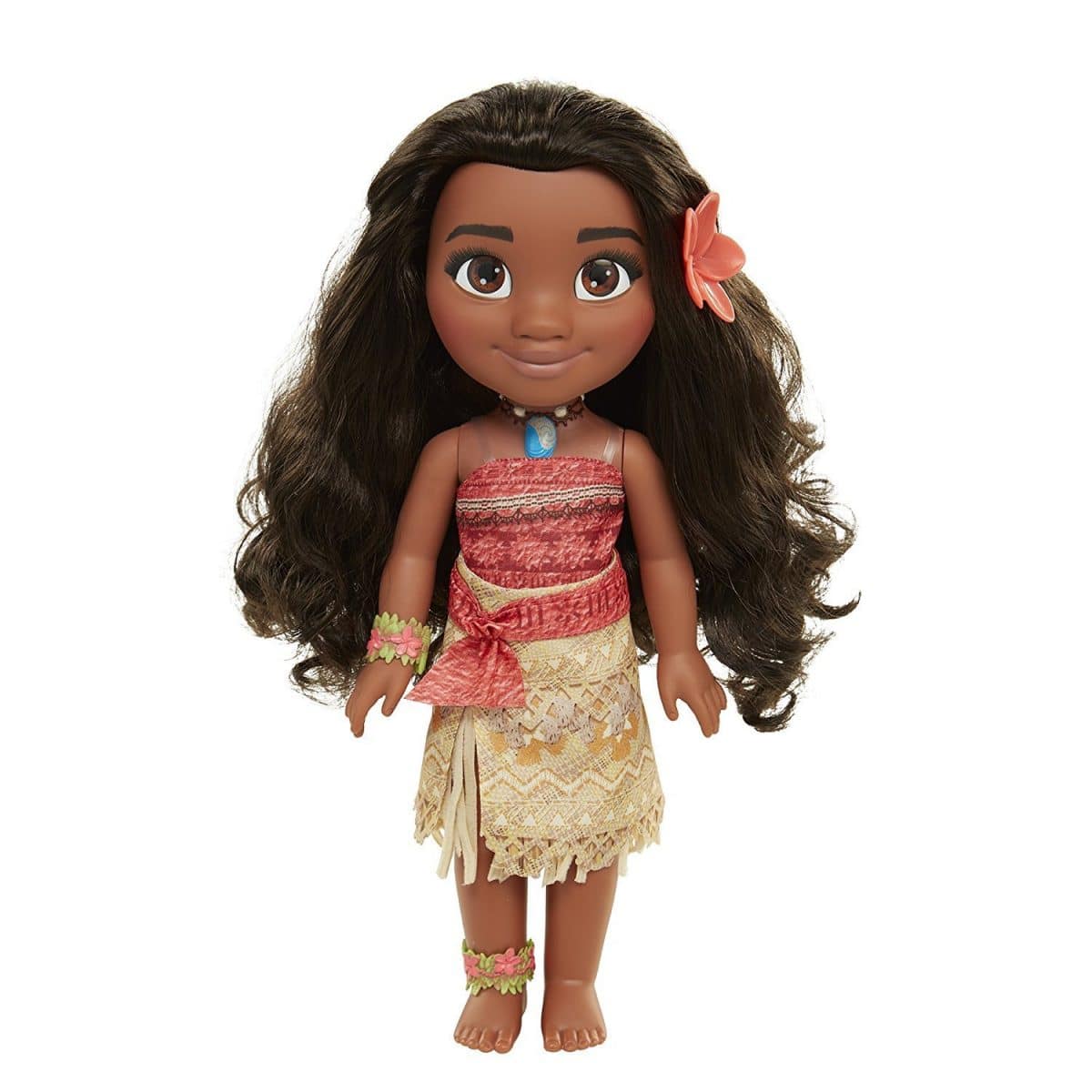 Here is a high-quality doll that your little girl will love because who doesn't like Moana? There is great attention to detail, and it looks so realistic. They will love the light up heart because it looks so real and it comes with the batteries though they cannot be replaced. The doll has all the accessories that the Moana from the film wears, and they are of high-quality. She also has a wear and share hair clip that your little missy can "borrow" and wear. If you are taking your baby for an ocean adventure soon, get them this doll, and they will have a perfect company of the adventurous Moana.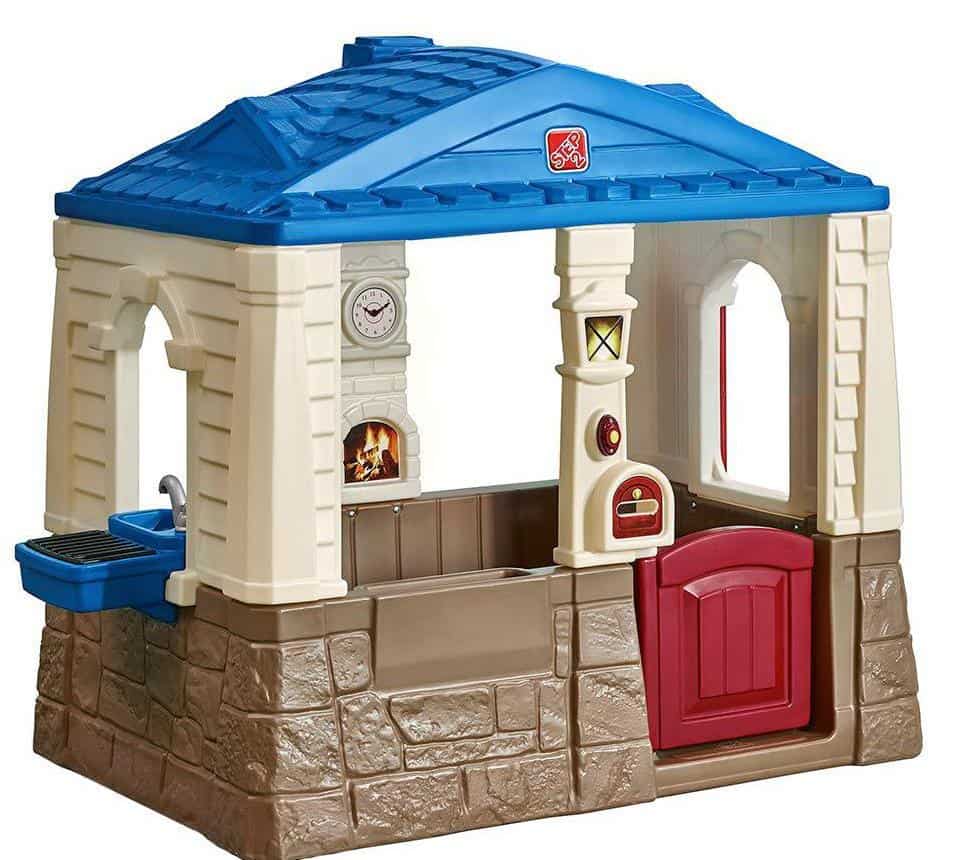 This is a very realistic playhouse, and your little imaginative daughter will love spending time in and around it playing pretend. It has most features that you'll find in a real house such as a mailbox and a doorbell, a kitchen table, built-in seat, burner, faucet, etc. It is made of a high-quality plastic material, and it's spacious enough to host several kids at ago. The design is also pretty open, and you can keep an eye on what the kids are doing in there without getting too close. It also has a molded-in floor with drain holes such that there will be no standing water after the kids are done playing or when it rains. The "Dutch" door works perfectly and also has shutters, so it's pretty much like a real house.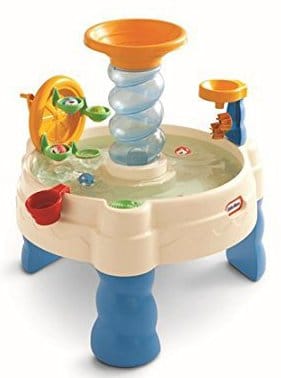 Our little ones love playing with water, and when the weather is right, there is no harm in letting them have a little fun. This toy set makes water play more fun and also boosts babies' motor skills because they get to play with the included fun characters. They will enjoy dropping the included balls down the spiral then watch them down to the water. They will also be filling the included cup with water then pouring it into the funnel as this is the only to power the play table's twin water wheel. It's a pretty fun toy set for any 2-year old, and it's not only sturdy and stable but durable as well. Your little one will also enjoy using the character balls as squirt balls for more outdoor water plays.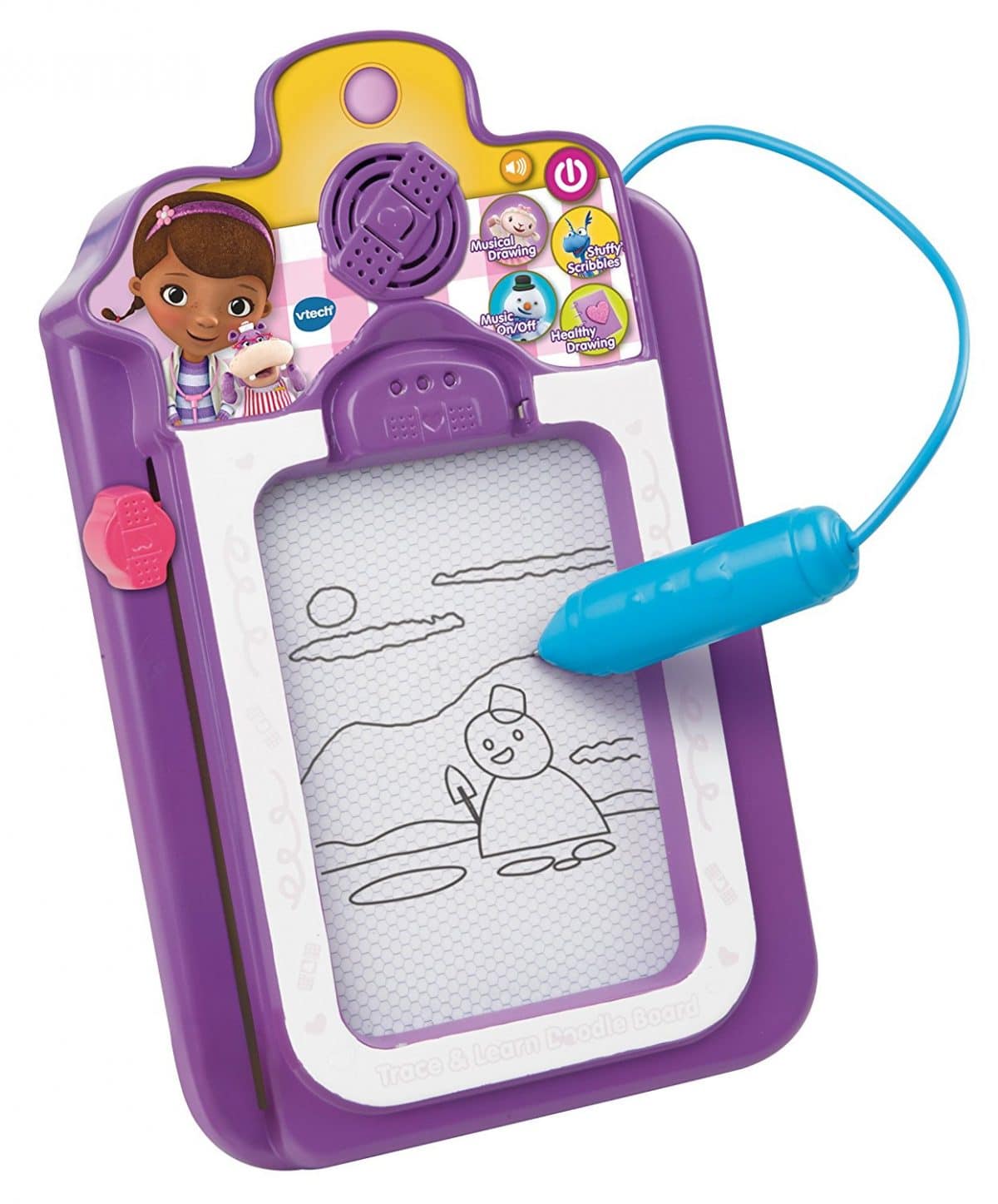 For boosting imagination and hand coordination, this is a perfect toy for a 2-year old. First, the size is right for little hands, and it features so much to capture their attention and keep them busy for a long time. It's also designed to teach the little ones letters, writing skills, health topics, and numbers. She will love the magnetic drawing board as she can doodle on it as much as she wants, and you will be less worried about her doodling on your seats or walls. One thing to love about this toy is that it has characters that engage and encourage the baby as she plays and learns. This makes it more interesting, and she will enjoy using it more. Again, it can be used by kids aged between 2-5 years so that it will be useful for a long time.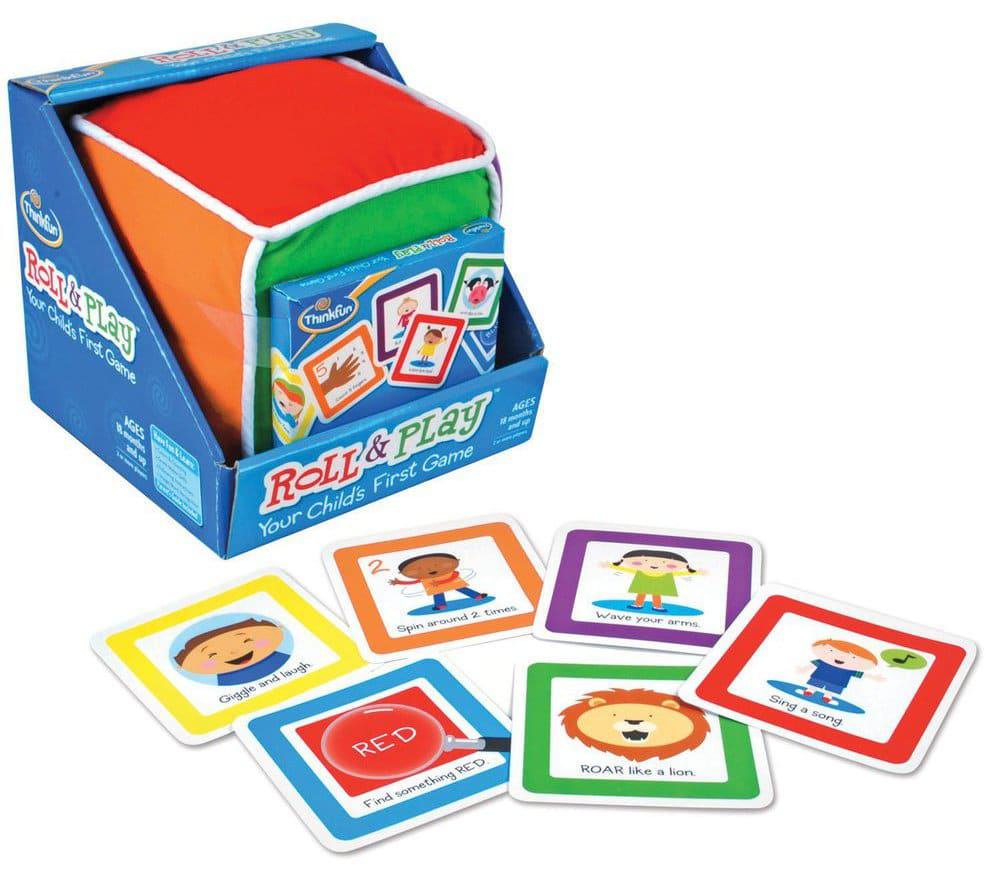 This is a fun toy game for both the parents and the baby girl. It creates a fun way of bonding with her. Included is a WHAT YOU GET cube and 48 cards for hours and hours of fun and learning. It's a very engaging and enjoyable game pack, and it also comes with a storage packet to store all the cards once you're done playing. You will also get a parent's guide to help you through if you have not used one before, but it's very easy to learn even for the little one. With this game, your little one will develop their gross motor skills, play actively, and also boost their creativity.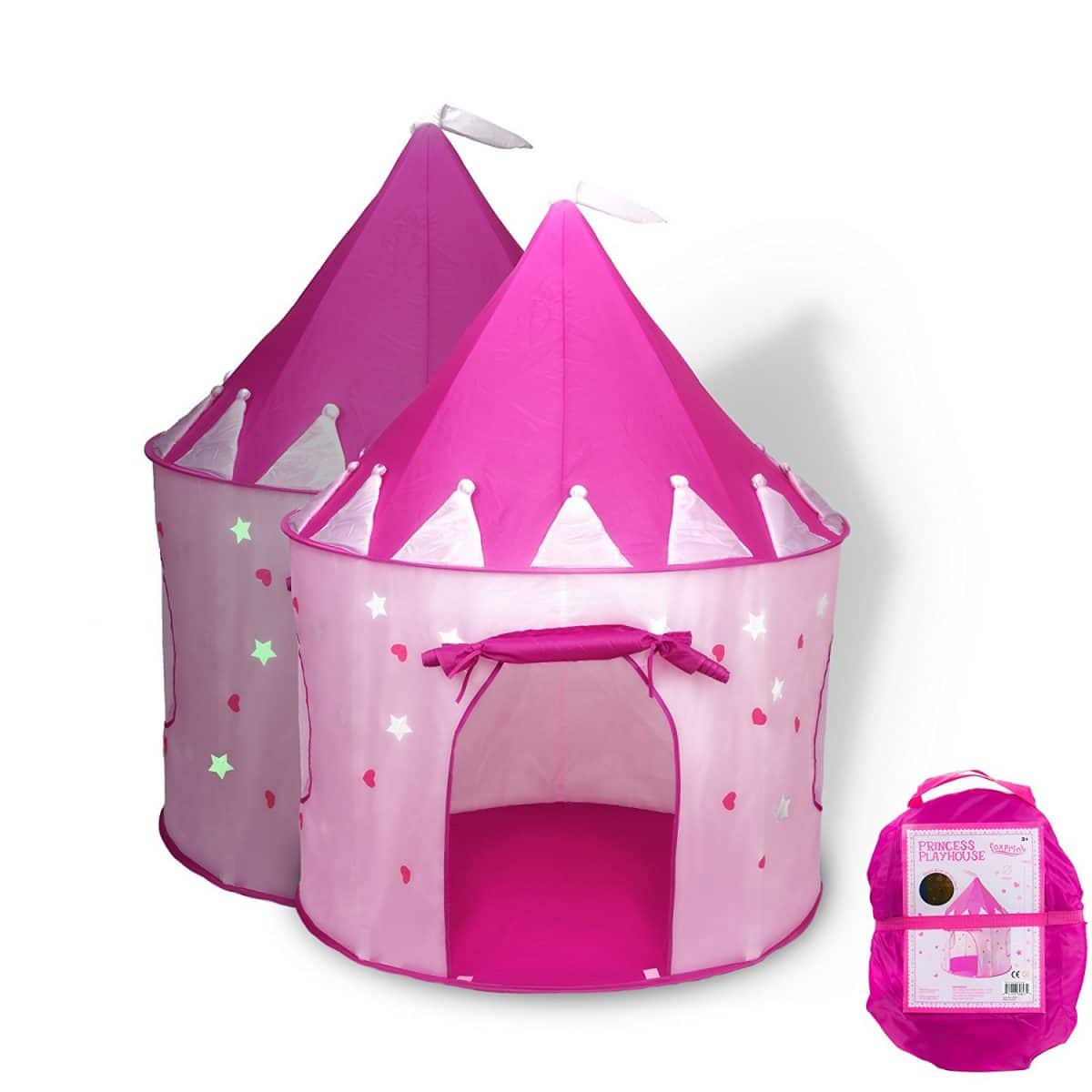 With this princess castle play tent, your pretty girl will be more imaginative and also very creative. This will be her "own" little space where she can exercise her creativity and imagination. Outdoor trips will be more enjoyable, and it's very portable. The shock-corded fiberglass poles are very sturdy so you won't be worried about her safety when in there. And, the best part is that you won't be assembling it nor buy any accessories as it comes ready for use. Cleaning it is a breeze, and all you need is a damp cloth and some soap. Again, she can use it indoors or outdoors. It's also very pretty in the dark because it glows.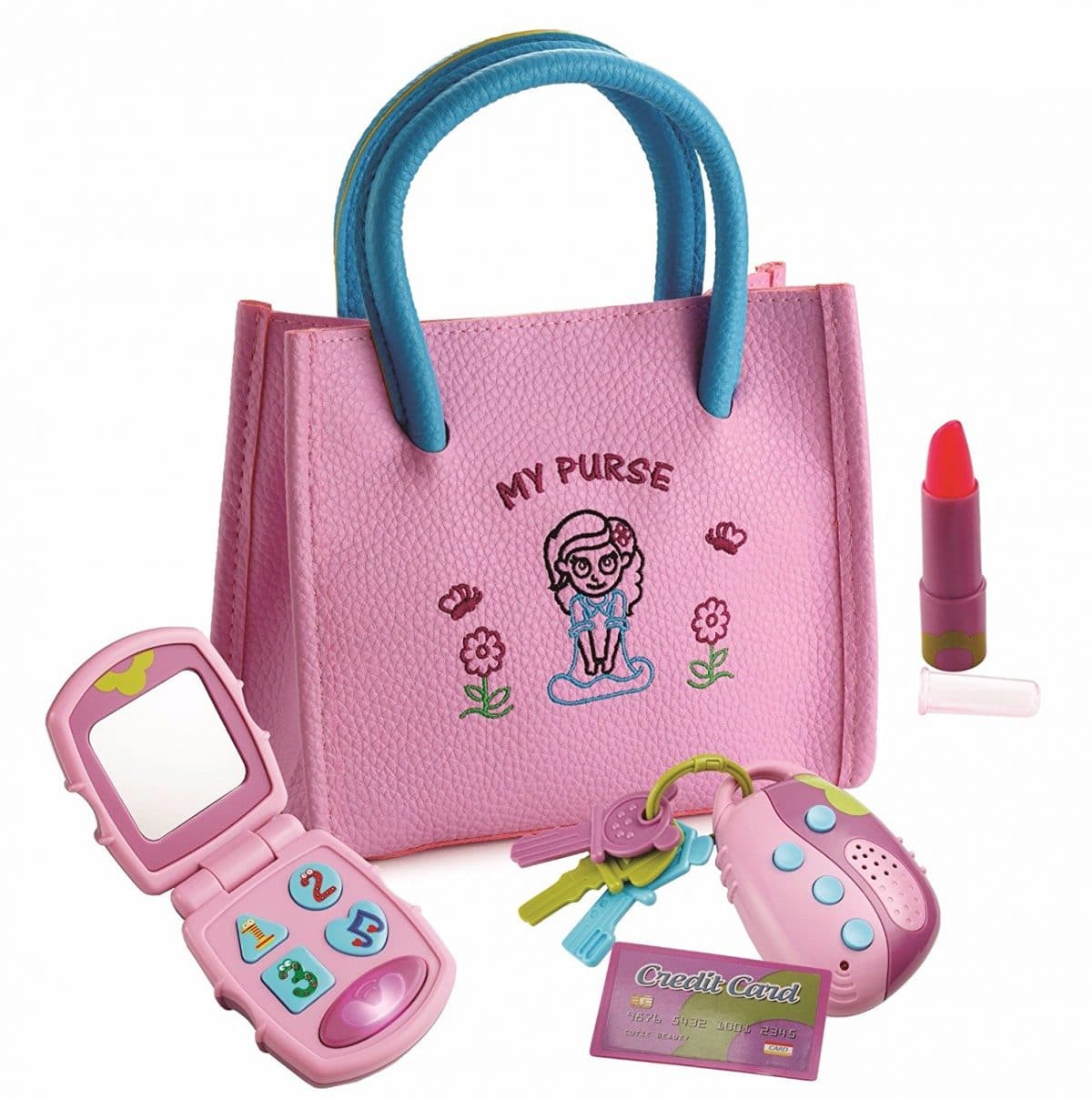 This is a very pretty pretend play purse set for your little missy. If she loves carrying your purses around or just going through its content to see what mummy is carrying, get her this set, and she will love it. It comes with various accessories including car remote, credit card, and toy lipstick to make her feel like a little lady. The purse itself is in a perfect size for her little hands, and the included flip phone has blinking buttons, and they produce sound when pressed. And, everything is made of nontoxic materials, so she will be all good.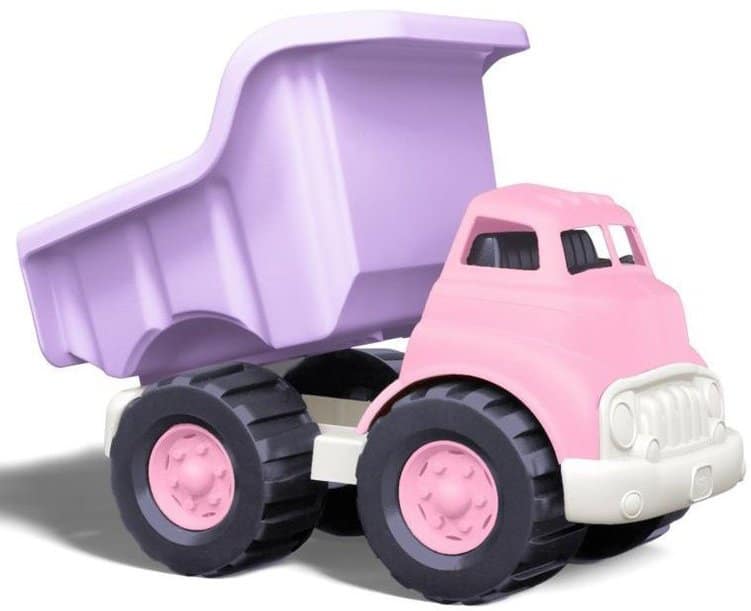 Outdoor games will be fun with this BPA free dump truck. Playing with it will help improve their fine and gross motor skills while also keeping them active. The truck also features a dumper so the little girl can get a little creative while using it and it's also a great way of boosting her imagination. It's also very durable and safe for use by babies.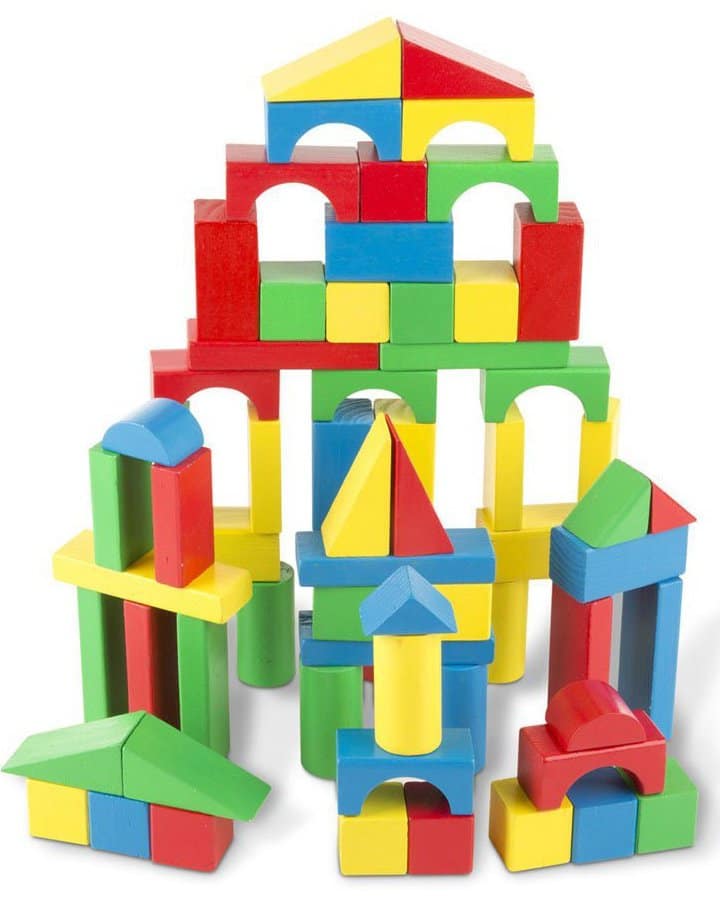 This is a set of 100 wooden building blocks to keep your little one busy. They come in four colors and nine different shapes so along with building, she will be learning colors and shapes. It's a really nice toy to use with her as you can build various structures together and it also stirs up her imagination and creativity as she comes up with various designs.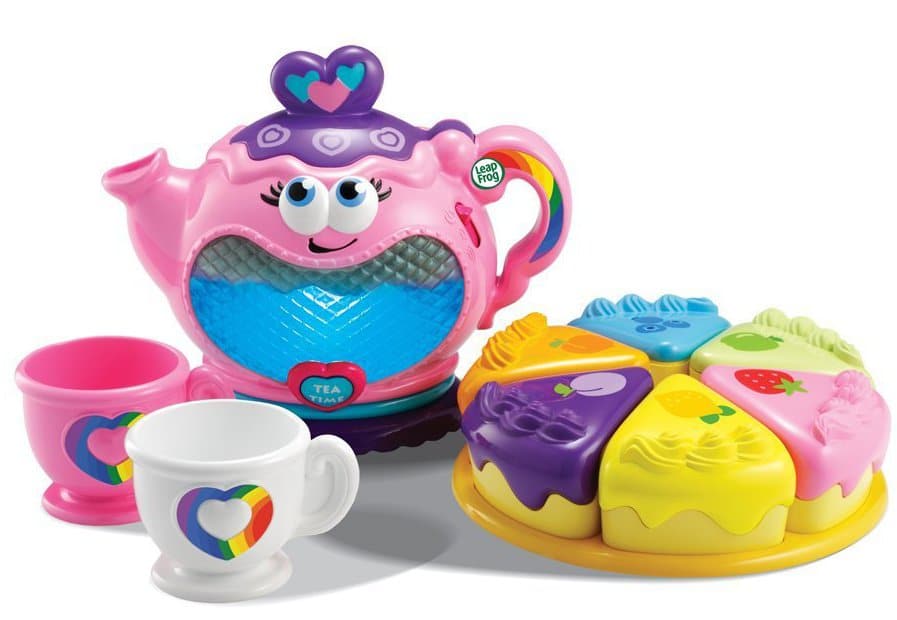 All little girls love tea parties, and this set will spice up everything for them. It features seven tea-time songs plus six magical colors, so it creates a really lively atmosphere. It's great for teaching your little one the colors, matching, counting, manners, and much more. It's a perfect toy for pretend play. It's also great for teaching your baby girl the sharing concept.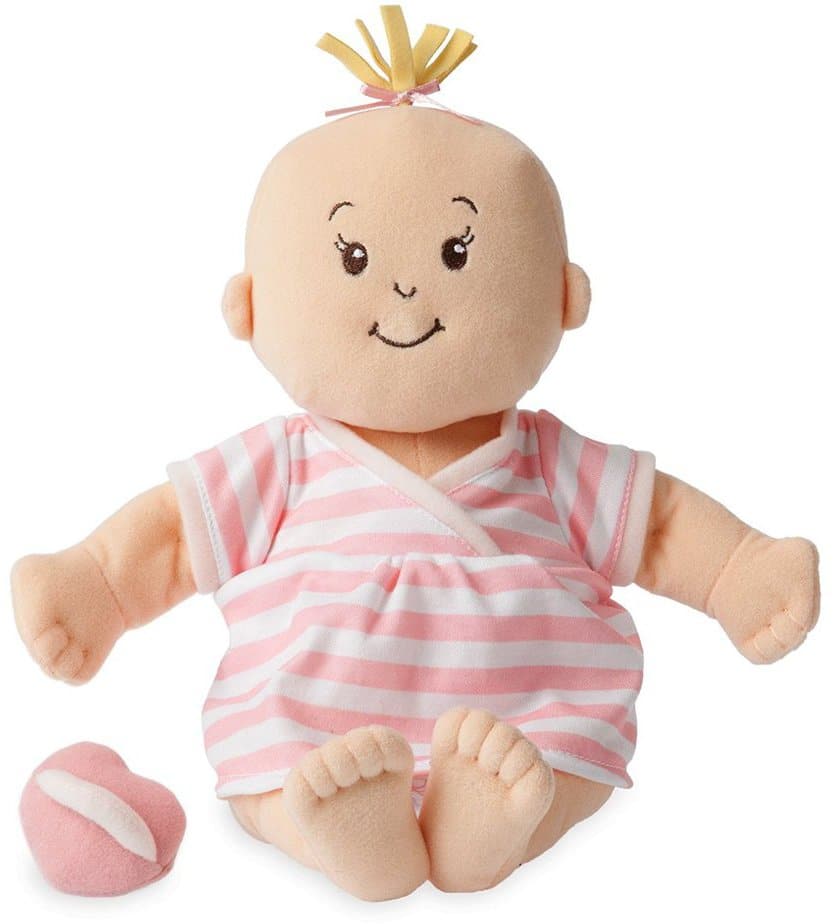 This is a very cuddly baby doll with pretty embroidered belly button and toes. Your little girl will definitely love her softness and will love carrying her around and even sleeping with her. The outfit is removable, so your girl will enjoy changing her plus this might be a good way of preparing her to be a big sister. The doll also has a magnetic pacifier and a removable diaper, and it's great for role-playing.
Finally
Your search for the best toys and gift ideas for 2-year old girls ends here because the list above got you covered. We did extensive research, and we believe it will be helpful. All the best!