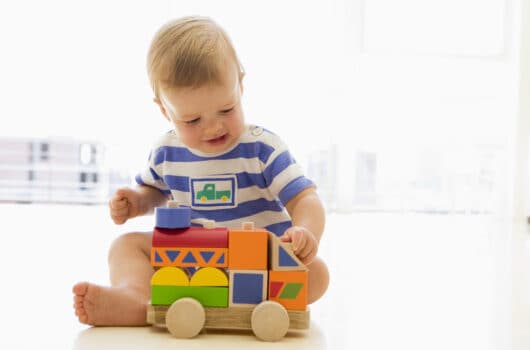 O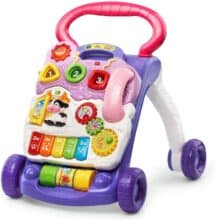 VTech Sit-to-Stand Learning Walker
B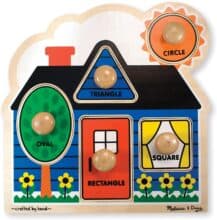 Melissa & Doug First Shapes Jumbo Knob Puzzle
P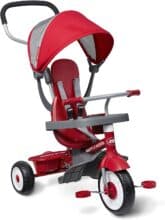 Radio Flyer 4-in-1 Stroll 'N Trike
Previous
Next
One-year-olds are notoriously hard to buy for. They are no longer infants but not yet toddlers, so it's hard to know what gifts to get. The good news is many baby toys and gifts are appropriate for a range of ages, so you can get a one-year-old something that they can play with for several years.
There are so many choices out there, though—books, toys, learning activities, the list goes on and on. It's overwhelming! That's where we come in. Whether you're looking for a birthday present or holiday gift, we'll help you find the perfect gift for the one-year-old in your life.
What to Look for in Toys and Gift Ideas for 1-Year-Olds
One-year-olds might not be able to tell you exactly what they want in a gift, but they know a good one when they see it. Thankfully, we do, too. Here are the aspects we looked for in the best toys and gifts.
Entertainment
Who wants a boring toy? You won't find one of those on this list! And for good reason. Parents are willing to spend lots of money to keep their babies entertained because that buys parents just a few more minutes to clean the kitchen or shower or just stare at the wall in peace. For a baby, though, having fun and being entertained helps them to learn and grow.
Educational Development
Babies learn through play. Every one of the gifts on our list encourage learning in some way, even if it's just learning cause and effect, so we'll point it out whenever a toy we've chosen helps to develop your little one's brain in some way—whether by building logic, math, and language skills or by promoting pretend play.
Motor Development
Babies and toddlers are constantly working on their fine and gross motor development. Fine motor skills for a one-year-old are skills like the pincer grasp, where they pinch their pointer finger and thumb together. Toys that encourage babies to poke, turn, grasp, pinch, or scribble are all ideal for fine motor development.
Gross motor skills are where your one-year-old uses their whole body, like standing, walking, kicking, and throwing (ideally a ball and not your favorite coffee cup).
We've also included the age ranges of all the toys so you can get an idea of how long your baby will likely want to play with it. Now, on to the reviews!
Top 21 Best Toys and Gift Ideas for 1-Year-Olds 2020
Final Thoughts on Toys and Gifts for 1-Year-Olds
We hope our list of gift ideas helped you find the perfect present for the sweet one-year-old in your life. Remember, though, that one-year-olds are just as likely to play with the box as the toy itself. So, don't feel bad if the gift isn't an instant hit! There's always next year.