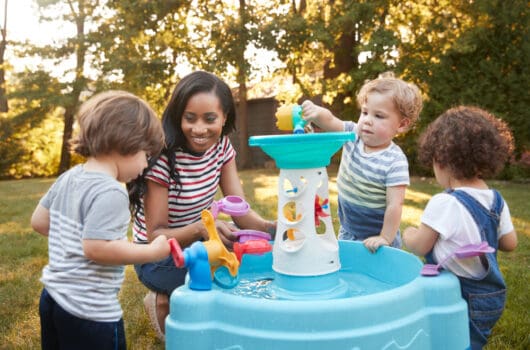 O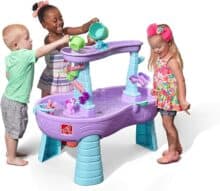 Step2 Rain Showers Splash Pond Water Table
B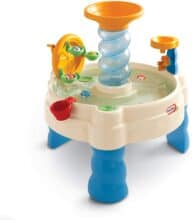 Little Tikes Spiralin' Seas Waterpark Play Table
P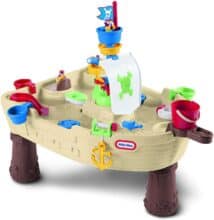 Little Tikes Anchors Away Pirate Ship
Previous
Next
Water tables are a great way to introduce your kids to water-based activities, improve their motor skills, encourage creative thinking, and also let them splash about in the water for hours without creating a mess for you to clean up after.
Since these tables are designed to cater to kids as young as one year old, it is a great way to let them get comfortable around water in the safety of their play area. The newest water tables feature lots of fun ways to play with water like water wheels, rain showers, sprinklers, and lots of other toys that make playing with water a treat. Keep reading to see our favorite water tables for kids in 2020.
What to Consider Before Shopping for Water Tables
Parents have lots of options when picking a water table. While the most affordable options are available for around $40, a fancy water table with lots of activities could set you back by a good $200. There are good options for every budget. Here are the important features you should look for when buying a water table for your kids.
Water Capacity
How many gallons of water can the table hold? If your kid will mostly be playing by themselves or with only one friend or sibling, 1.5 to 3 gallons of water should be plenty. The bigger ones can hold around 6 to 7 gallons of water and are spacious enough to host playdates for more kids.
The Little Tikes Spiralin' Seas Waterpark Play Table holds the most water out of any of the entries on our list with a seven-gallon capacity.
Drainage
For ease of use and hygienic maintenance, we recommend water tables that come with good quality, non-leak drain plugs. This way, the water doesn't sit on the table when you're too tired to clean up after the kids are done. This ensures that there's no bacteria-causing water stagnation, and will prevent the plastic from developing a gross smell.
Quality of Materials Used
While most water tables these days are made of good quality plastic, sometimes the durability of the materials used might cause problems after repeated use. Plastic water tables are the best in this regard as they're not prone to mold, can be cleaned easily, and do not develop bad odors over time if maintained properly.
Storage and Portability
Some water tables can be assembled and dismantled with ease making them easy to store as well move around. Check the size and weight to ensure that you aren't stuck with a bulky table without a good place to store it when not in use.
Accessories
Since water tables are designed to encourage learning and creativity, each design comes with its own unique set of accessories that your kids can employ to come up with new games and activities. If you can afford one, we recommend that you splurge on a table that includes lots of creative accessories. That way, you'll have fewer water toys to buy separately.
The Simplay3 Sand and Water Activity Table comes with the most impressive set of accessories we found in a water table.
Age Range
Water tables have different heights and water holding capacity. While some tables are suitable for kids above the age of 3, others are designed to cater to toddlers below 24 months. You should consider the age of your child and their height and choose one accordingly.
Now that we have a general idea of the kind of features we should look for in a good water table, let's have a look at the best water tables available online. Also, if you're looking for a more active outdoor activity for your kids, don't miss our list of the top inflatable waterslides for kids.
Top 10 Best Water Tables 2020
Guide to Learning More About Water Tables
That rounds up our list of the best water tables for kids in 2020. We hope you found something that fits your budget in addition to satisfying any other requirements. Following is a brief look at the benefits and maintenance aspects of water tables.
Top 10 Benefits of Water Tables
Water tables aren't just regular activity-based play toys but double up as educational toys with an exhaustive list of benefits. Here are our ten favorite benefits to buying your little one a water table:
Improved hand-eye coordination in toddlers.
Improved logical reasoning as they figure out various tricks and traps that are required during gameplay.
Practical understanding of mathematical concepts like the volume of water displaced, level of water in cups and buckets to be used, and so on.
Helps develop basic problem solving.
Boost to creative thinking and imagination as children incorporate their own ideas and twists to the games played.
Benefits the sensory system as it indulges in water based activities – satisfying our primal instinct and affinity to water.
All sorts of additional toys and accessories can be used to create new games and activities to avoid repetition and boredom.
Safe, portable, and easy to maintain toys that do not require much parental supervision.
Some water tables can be used as sand tables or just regular games for toddlers, so you don't have to stick to the standard manual to make the most out of your water table.
Water tables are versatile and can be used all year round regardless of the weather outside.
Maintaining Your New Water Table
Most water tables have textured tub bottoms that eventually lead to silt deposits. This is why wiping the table thoroughly after usage is highly recommended. Even though water is drained out, the sand deposits in the nooks and cracks of the textured lines remain.
If the table starts reeking after usage, use a diluted bleach solution to wipe it thoroughly every once in a while. Two teaspoons of bleach diluted with a gallon of water make for the perfect cleaning solution. Let the solution sit for a few minutes in the water tub before draining it for thorough cleaning.
Do not overload a water table with bleach, as this might harm the plastic. Air-dry the water table once you've cleaned it with a bleach solution.
Splurge for Splash Play
Toys that help your kids learn and grow are in high demand these days, and water tables for kids belong to this category. In addition to getting comfortable with water-based games, water tables also improve your kids' creativity, spark their imagination, improve physical well being, and make for hours of fun play.
A water table keeps your kid engaged for hours allowing you to monitor them easily as you work around the house. So, let your toddlers satisfy their urge for some aquatic fun with minimal risk and get yourself a water table as trips to the swimming pool, beach, and other water-based outdoor arenas aren't always within reach, but a water table always is!