Water tables are a great way to introduce your kids to water-based activities, improve their motor skills, encourage creative thinking, and also let them splash about in the water for hours without creating a mess for you to clean up after.
Since these tables are designed to cater to kids as young as one year old, it is a great way to let them get comfortable around water in the safety of their play area. The newest water tables feature lots of fun ways to play with water like water wheels, rain showers, sprinklers, and lots of other toys that make playing with water a treat. Keep reading to see our favorite water tables for kids in 2022.
What to Consider Before Shopping for Water Tables
Parents have lots of options when picking a water table. While the most affordable options are available for around $40, a fancy water table with lots of activities could set you back by a good $200. There are good options for every budget. Here are the important features you should look for when buying a water table for your kids.
Water Capacity
How many gallons of water can the table hold? If your kid will mostly be playing by themselves or with only one friend or sibling, 1.5 to 3 gallons of water should be plenty. The bigger ones can hold around 6 to 7 gallons of water and are spacious enough to host playdates for more kids.
The Little Tikes Spiralin' Seas Waterpark Play Table holds the most water out of any of the entries on our list with a seven-gallon capacity.
Drainage
For ease of use and hygienic maintenance, we recommend water tables that come with good quality, non-leak drain plugs. This way, the water doesn't sit on the table when you're too tired to clean up after the kids are done. This ensures that there's no bacteria-causing water stagnation, and will prevent the plastic from developing a gross smell.
Quality of Materials Used
While most water tables these days are made of good quality plastic, sometimes the durability of the materials used might cause problems after repeated use. Plastic water tables are the best in this regard as they're not prone to mold, can be cleaned easily, and do not develop bad odors over time if maintained properly.
Storage and Portability
Some water tables can be assembled and dismantled with ease making them easy to store as well move around. Check the size and weight to ensure that you aren't stuck with a bulky table without a good place to store it when not in use.
Accessories
Since water tables are designed to encourage learning and creativity, each design comes with its own unique set of accessories that your kids can employ to come up with new games and activities. If you can afford one, we recommend that you splurge on a table that includes lots of creative accessories. That way, you'll have fewer water toys to buy separately.
The Simplay3 Sand and Water Activity Table comes with the most impressive set of accessories we found in a water table.
Age Range
Water tables have different heights and water holding capacity. While some tables are suitable for kids above the age of 3, others are designed to cater to toddlers below 24 months. You should consider the age of your child and their height and choose one accordingly.
Now that we have a general idea of the kind of features we should look for in a good water table, let's have a look at the best water tables available online. Also, if you're looking for a more active outdoor activity for your kids, don't miss our list of the top inflatable waterslides for kids.
Top 10 Best Water Tables 2023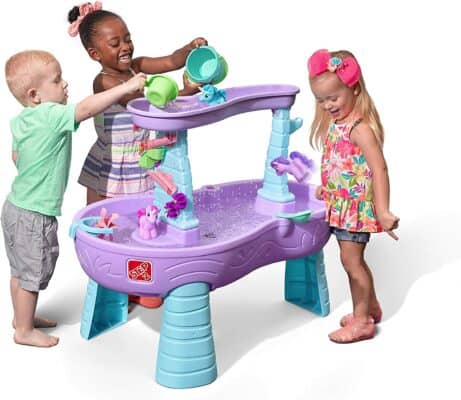 Why we like it:
The unique design of this water table features two levels of water basin, making it a crowd favorite when it comes to playdates.
Editor's Rating:
At a Glance:
Water Capacity: 5 Gallons
Recommended Age: 1.5 to 10 years
This water table is considerable in size, and four kids can easily play together without being too crowded. It caters to a wider age range as well as there are two levels to play at, so height isn't an issue. The kit also includes 13 accessories like pouring buckets, hand-held spinning wheels, and more. These are geared to improve your child's motor skills.
Pouring water into the top container creates the rainfall effect as the water showers down into the bottom container. The regular set is all blue and green while a cute unicorn themed variation is available in a cute purple and blue combination.
Although the included instruction manual is helpful, an easier set of instructions would greatly improve the assembling experience. While using a drill is not recommended with plastic screws and toys, it does make your work easier, and the assembled table ends up being more sturdy and less prone to leakage.
Pros
Cascading waterfall design

Comes with a non-leak drain plug

The table includes 13 accessory toys

Good quality plastic that's long-lasting and resists odors
Cons
Assembling the kit is a tad bit complicated

Screw holes could get leaky if not set up properly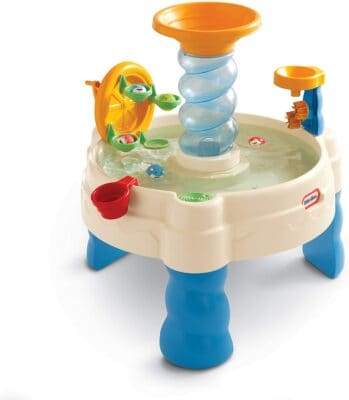 Why we like it:
This water table takes the cake when it comes to price - very affordable, capacity - huge, and quality - superb.
Editor's Rating:
At a Glance:
Water Capacity: 7 Gallons
Recommended Age: 2 to 6 years
This water table is not very big in size but happens to have a deep tub that can hold almost 7 gallons of water. The table has unique design features like the spiral tube in the center that allows kids to pour water down the funnel and watch as it spirals its way down into the water tub.
The tube has a big opening that also allows for balls and other toys to be dropped into the funnel. Another unique feature is the Ferris wheel, which can be turned to pick-up and drop balls from the water tub. Although the set doesn't come with too many accessories, the water squirting balls are quite fun to play with.
This table is built with sturdy, long-lasting plastic. It can be assembled with great ease, and there's a drain plug to empty the tub after usage. You might need to tilt it slightly to get all the water out, but it's hassle-free business.
Though designed for kids aged 24 months and more, 1-year-olds can easily reach the cusp of the table and can be allowed to play with some adult supervision.
Pros
Unique design features like a spiral tube and Ferris wheel

Easy to drain the water after use

Easy to assemble - takes around 10 minutes

Caters to a wide range of ages and heights
Cons
Does not come with many accessories

The tub floor is textured, so cleaning needs to be thorough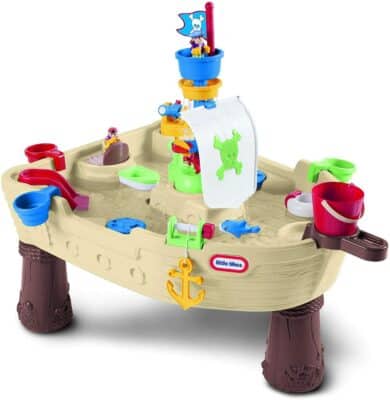 Why we like it:
This fun pirate-themed water table is shaped like a ship and is very spacious, allowing a group of kids to stand around and play at the same time.
Editor's Rating:
At a Glance:
Water Capacity: 5 Gallons
Recommended Age: 2 to 6 years
This pirate ship water table is like having a small boat anchored in your living room. It incorporates a lot of seafaring accessories and design features that mimic a ship. There's a water canon that squirts water, an anchor that can be dropped, a sail that can be raised, and a pump to keep the water in constant motion.
Lots of attention has been paid to all the little details that make this table worth the hefty price tag it carries. It is also visually appealing in its design, and the plastic table is textured to resemble a wooden vessel quite remarkably. The plastic used to make this table is BPA free.
Pros
Spacious for a couple of kids to play together

The unique pirate-themed water table in the shape of a ship

Features an anchor that can be raised and a fun water canon
Cons
In the high range of the price spectrum for water tables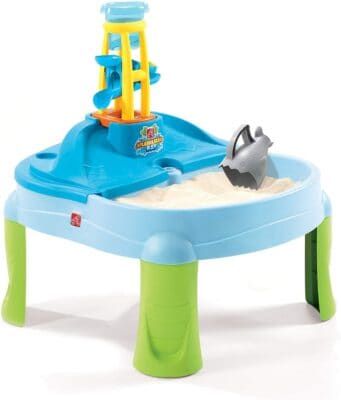 Why we like it:
This affordable water table provides the best of both worlds with a tabletop basin that's divided into sand and water tubs.
Editor's Rating:
At a Glance:
Water Capacity: 1.5 Gallons
Sand Capacity: 15 lbs
Recommended Age: 2 to 5 years
The 'Splash N Scoop Bay Sand and Water Table' by Step2 has a large basin that's divided into two sections. A convenient drain plug that makes water drainage easy after playtime marks the water basin. There's a spot that can be used to fit an umbrella to allow your kids to play in the shade when the table is placed outdoors. The kit comes with a lid that has placeholders for water bottles and cups so your kids can have nourishment on hand as they play. You can choose to cover the sand basin while using the water tub and vice versa. It includes an interesting accessory that's designed like a water tower and can be used to create a waterfall.
There are a few issues with the fit and make of the water tower as it doesn't stay firmly in its slot. Also, the water stopper could do with some quality improvement. Step2 is also a well-known toy maker and provides good customer service so you can be certain that any problems that arise will be resolved to your satisfaction.
Pros
Two-in-one water and sand activities table

Comes with a lid to cover one section at a time

Easy drainage water stopper

Sturdy build with durable and long-lasting materials

Excellent customer support
Cons
The water tower fits poorly in its slot

The water stopper isn't always up to the mark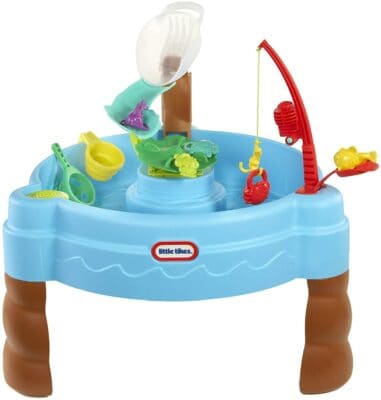 Why we like it:
This water table is affordable as well as sturdy without compromising on its features. It is a fishing theme based water table with lots of accessories.
Editor's Rating:
At a Glance:
Water Capacity: 3 Gallons
Recommended Age: 2 to 5 years
This is a fishing-themed water table and includes a lot of fish and other sea creatures that can be caught using the included hook and fishing pole. It also includes a fishing net to catch the fish in addition to the rod.
There's a fishbowl at the center of the table that can hold all the caught fish. Once filled, the bowl tips over to release all the fish back into the water. Kids can also launch the sea creatures into the water using the included launcher.
This table comes assembled from the manufacturer, so you don't have to put it together when it arrives. This might pose some storage problems, but the table isn't all that big. While Little Tikes is a well-known brand for toys, this is one of their budget offerings, and as such, you can't expect the same quality and durability from the make and construct as their regular high-end fare.
Pros
Comes pre-assembled

Easy to drain water plug

Unique design elements like a fishbowl, fishing pole, and fishing net

Introduces your child to the concept of fishing
Cons
The quality of the plastic is not on par with other water tables we reviewed

Table legs aren't very sturdy and tend to twist and wobble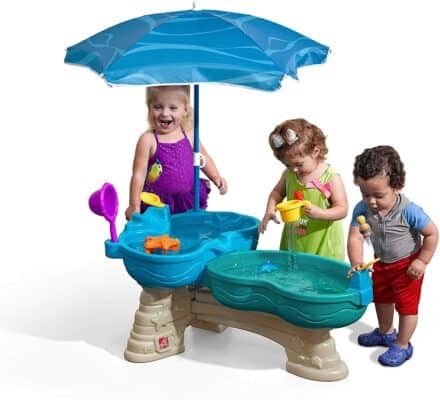 Why we like it:
This two-tub water table mounted on a tripod comes with an umbrella so the kids can play outside even on the sunniest of days.
Editor's Rating:
At a Glance:
Water Capacity: 5 to 6 Gallons
Recommended Age: 1.5 to 8 years
This mid-range priced water table by Step2 is another unique design that features two water tubs that form a T shaped design. One tub is placed slightly lower than the other, making for cascading water flow. This water table is another good investment for playdates and group activities because the T-shaped design provides a lot of standing space, and two large tubs ensure that all the kids get to have a spot to play.
Both the tubs are deep in keeping with the 'Seaway' theme. A very useful umbrella is included in the kit so you can place this table outdoor without worrying about the sun.
One tub features a manual starfish spinner that can create a whirlpool effect, but the water stops cascading to the lower tub the moment you stop spinning. The other tub has a launcher that serves as a springboard for the accompanying toys, but it hasn't been incorporated properly in the design as the toys keep falling off of it instead.
Pros
The table includes an umbrella in addition to 10 other accessories

Unique design with two water basins

Features a spinner that can create whirlpools

Can easily accommodate 5 to 6 kids playing together
Cons
Water doesn't flow easily from the top tub to the bottom tub unless you keep doing it manually

Poorly designed launcher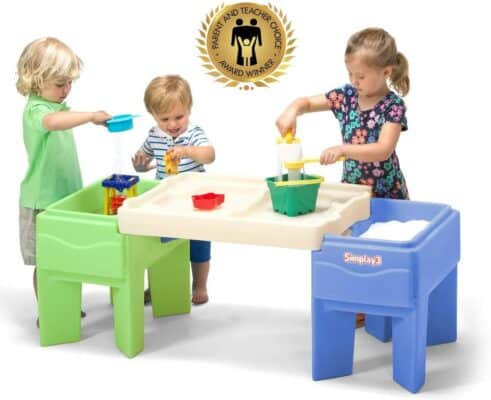 Why we like it:
This sensory table with separate tubs for water and sand and a table cover that doubles up as a bridge as well as a tabletop is an award-winning design that appeals to parents and teachers both for its simplicity and diverse usage options.
Editor's Rating:
At a Glance:
Water Capacity: 2 Gallons Each
Recommended Age: 1.5 years +
This uniquely designed sensory table has provisions for water-based activities, sand play, storage, includes a sliding table cover with slots for holding cups, and accessories to be used with the tubs for water and sand. It can be configured into different patterns.
You can slide out the bins from under the table cover to create a larger playing area. Sliding in the bins makes this a regular play table. The product is made of double-walled plastic – which is very durable and sturdy. The storage bin legs are designed with a wide base to avoid wobbling even when placed on uneven surfaces.
Sliding the bins apart might not be as easy as it looks. The tubs do not have water drain plugs, so you have to make sure that you take the tubs out and empty them properly before putting them in storage.
Pros
No assembly required

Sliding cover design enables an increase or decrease in the length of the table as required

Tubs double up as storage bins when not in use

Unique design with a table cover that serves as a play area for board games

The cover also has slots for 4 cup holders and can be used as a regular table for picnics

This table can be arranged in different patterns based on your requirements

Made in the US of A
Cons
Difficult to slide the bins apart

Draining the water isn't easy as there's no water plug incorporated in the design

Cleaning and maintenance requires extra attention unlike regular tables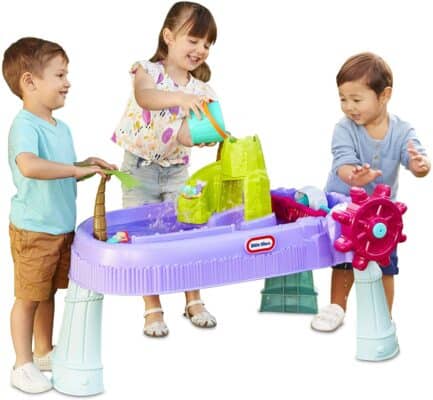 Why we like it:
This wave-making water table has the cutest table and accessories with colors in pastel shades. It also features a uniquely designed tabletop with lots of fun gameplay options.
Editor's Rating:
At a Glance:
Water Capacity: 7 Gallons
Recommended Age: 2 to 6 years
This pretty water table in pastel shades is very appealing visually. It can be assembled very easily as there's not much that needs to be put together. Unfortunately, it is also prone to coming apart just as easily. It's quite low in height, so even ten-month olds can play at it with parental supervision.
Design elements include a manual wavemaker as well as a mini water slide in the tub. The wavemaker wheel is attached to one side. When the kids spin the wheel, waves are created in the tub.
As the name suggests, it comes with mermaid themed accessories with narwhals, mermaids, and oyster shells. It is made of good quality plastic and manufactured right in the United States. If the accessories and attachments were to be on par with the quality of the table, this water table would feature much higher on our list.
Pros
Made in the United States of America

Easy to assemble

Visually appealing colors and design

Ideal for toddlers in the lower age range
Cons
While the tub itself is sturdy and durable, the accessories are prone to falling off often

Attachments like the wavemaker and the water slide could use a little improvement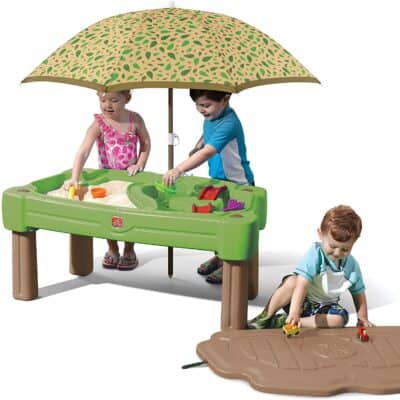 Why we like it:
The Step2 Cascading Cover Sand and Water Table is a really safe and fun toy for toddlers as it is sturdily built, has a shallow tub, and doesn't have too many distracting or complicated features.
Editor's Rating:
At a Glance:
Water Capacity: 1.5 Gallons
Sand Capacity: 20 lbs
Recommended Age: 1 year +
The Step2 Cascading Cover Sand and Water Table is offered in in two different color combinations. But be careful when buying as supply issues mean that one color is often far less expensive than the other.
This is a regular rectangular tabletop with a big tub divided into two by a road bridge down the middle. It's a shallow tub filled with inbuilt waterways and bridges. Even though it occupies a large space, the water capacity is very less.
This table is ideal for kids in the younger age range as the tub is shallow and comes with a cover that can also double up as another tabletop. It also comes with an umbrella with a huge canopy. The build and make of the table is very sturdy and bears the Step2 brand quality stamp. A very high-quality drain plug is also included in the design, and there are no leakage problems.
This table doesn't provide many unique play options besides the bridge and waterways. For this price, you can also buy a water table with original design features.
Although it doesn't provide many unique features, it caters very well to toddlers who are ten months and above.
Pros
Sturdy build, good quality plastic

Good quality drain plug

Comes with a cover for the tub

Huge umbrella provided with the kit
Cons
Not many original or unique gameplay options

Not good value for money as you can get better-designed water tables for much less.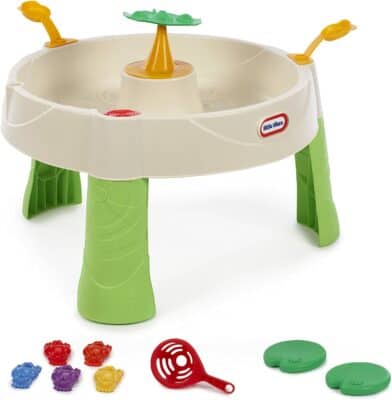 Why we like it:
This is one of the most affordable water tables available in the market.
Editor's Rating:
At a Glance:
Water Capacity: 7 Gallons
Recommended Age: 2 to 3 years
This is a big water table with enough space to let five kids play together. It has a deep water basin that can hold almost 7 gallons of water. The theme is a frog pond, so the accessories include frogs, lily pads, and the usual cups.
Two launchers are included with this table and allow kids to launch the frogs into the pond, but they are not attached securely and are prone to falling off. The tub's rim has a spot to accommodate an umbrella, but you'll have to buy it separately as one isn't included in the kit. Turning the spinner at the center of the table churns the water.
Although the recommended age is two years and above, this table is pretty low set, and toddlers aged 12 months and up can also play with it.
The plastic used in the making isn't the best, and colors bleach easily if the table is left in the sun for long. The launchers are also attached flimsily. The basin floor is textured, and the silt can build up quickly unless wiped thoroughly after draining the water. Unfortunately, the plug does not always create a watertight seal, and this can cause leakage.
Pros
Least expensive water table we reviewed

Has a spot to attach an umbrella

Very spacious to stand around

Big table suitable for playdates
Cons
Colors bleach if left in the sun for too long

Launchers aren't attached firmly

Water plug is prone to leakage
Guide to Learning More About Water Tables
That rounds up our list of the best water tables for kids in 2021. We hope you found something that fits your budget in addition to satisfying any other requirements. Following is a brief look at the benefits and maintenance aspects of water tables.
Top 10 Benefits of Water Tables
Water tables aren't just regular activity-based play toys but double up as educational toys with an exhaustive list of benefits. Here are our ten favorite benefits to buying your little one a water table:
Improved hand-eye coordination in toddlers.
Improved logical reasoning as they figure out various tricks and traps that are required during gameplay.
Practical understanding of mathematical concepts like the volume of water displaced, level of water in cups and buckets to be used, and so on.
Helps develop basic problem solving.
Boost to creative thinking and imagination as children incorporate their own ideas and twists to the games played.
Benefits the sensory system as it indulges in water based activities – satisfying our primal instinct and affinity to water.
All sorts of additional toys and accessories can be used to create new games and activities to avoid repetition and boredom.
Safe, portable, and easy to maintain toys that do not require much parental supervision.
Some water tables can be used as sand tables or just regular games for toddlers, so you don't have to stick to the standard manual to make the most out of your water table.
Water tables are versatile and can be used all year round regardless of the weather outside.
Maintaining Your New Water Table
Most water tables have textured tub bottoms that eventually lead to silt deposits. This is why wiping the table thoroughly after usage is highly recommended. Even though water is drained out, the sand deposits in the nooks and cracks of the textured lines remain.
If the table starts reeking after usage, use a diluted bleach solution to wipe it thoroughly every once in a while. Two teaspoons of bleach diluted with a gallon of water make for the perfect cleaning solution. Let the solution sit for a few minutes in the water tub before draining it for thorough cleaning.
Do not overload a water table with bleach, as this might harm the plastic. Air-dry the water table once you've cleaned it with a bleach solution.
Splurge for Splash Play
Toys that help your kids learn and grow are in high demand these days, and water tables for kids belong to this category. In addition to getting comfortable with water-based games, water tables also improve your kids' creativity, spark their imagination, improve physical well being, and make for hours of fun play.
A water table keeps your kid engaged for hours allowing you to monitor them easily as you work around the house. So, let your toddlers satisfy their urge for some aquatic fun with minimal risk and get yourself a water table as trips to the swimming pool, beach, and other water-based outdoor arenas aren't always within reach, but a water table always is!