Top 30 Best Toys and Gift Ideas for 2-Year-Old Boys 2023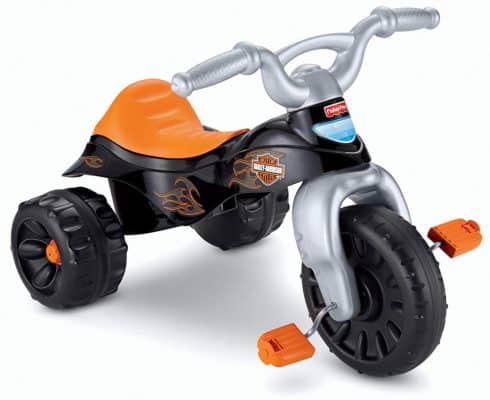 This Harley Davidson styled tricycle is suitable for boys three years and below. It is easy to ride due to its full and stable wheelbase with big foot pedals. Your son will enjoy riding it while sitting on its comfortable chair. Right under the chair, there is a secret compartment for storage that enables the kid to carry many toys for additional fun. The rugged tires make it more durable and stable for a safer ride. The handlebars are also easy to grip so he won't be losing his balance and the overall design is just beautiful.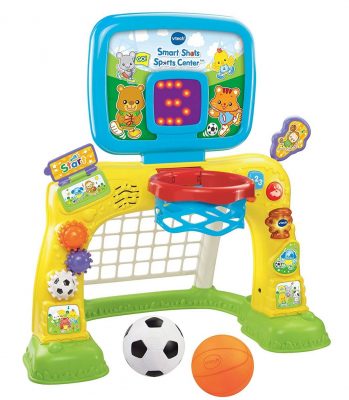 This is a 2-in-1 sports center that allows the child to play, score and learn. They can score points by tossing the basketball into the hoop or hear sounds, animations, and phrases whenever they kick the soccer ball into the net. It also has shape buttons that play numbers, shapes and more than 50 songs. It's also very colorful and you can use it to teach them the various colors while also playing with them for better bonding times.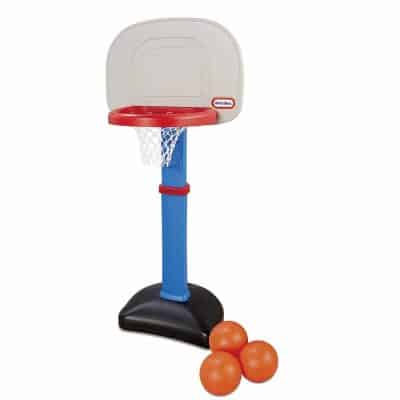 This easy to score basketball set is designed for children between 18 months to 5 years old. It enables kids to learn about basketball. The height can easily be adjusted to suit the kid making it possible for the kids to play with it when as they grow older. Its wide rim and small basketball make it easy for kids to score. It teaches kids to coordinate hand-eye movements as well as develop motor skills. With three kid-sized balls, children can play together thus enhancing social and competitive skills.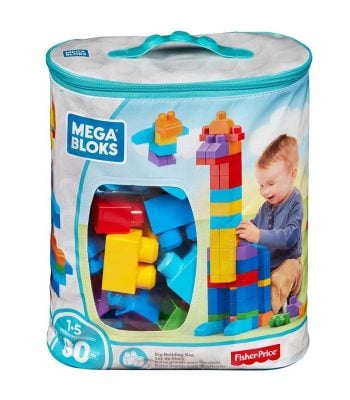 This bag of 80 classic blocks holds a vast possibility of constructions it can form. A 2- year-old can comfortably grasp, stack or take them apart. They are highly compatible, given the oversized prongs that hold and keep the blocks together. These blocks can engage your child for hours as they build and rebuild their imaginations. It has a storage bag and a wide variety of colors making them very appealing. The storage bag helps to make clean up easy and also keep the blocks safe.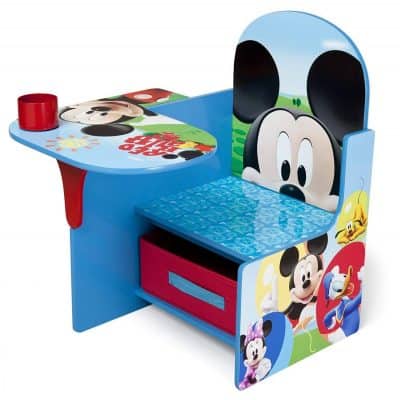 The chair desk is recommended for ages between 3-6 years. It is wooden made with some fabric, and it meets the safety standards by the CPSC. It is easily accessible by the toddler as it lays low to the ground. Its colorful graphics last longer since it is resistant to scratch. It has a storage bin for toys, papers or art supplies. It also has a removable cup for holding pencils and crayons. Your child will enjoy sitting on this sturdy chair as his workspace to play, study or color.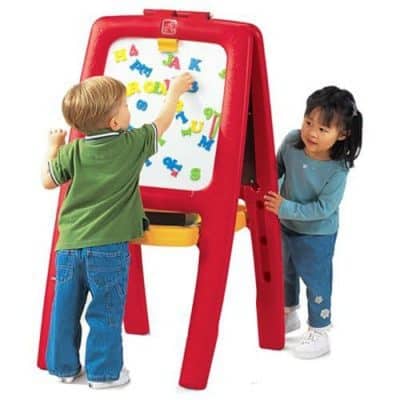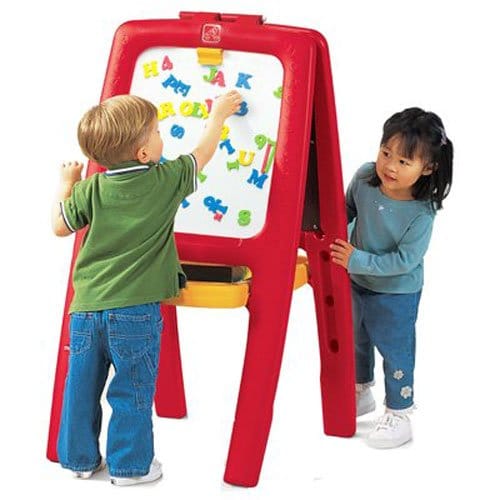 Available in pink or red, this multipurpose easel is perfect for kid artists. It has a chalkboard on one side and a dry erase board on the other side. Your kid can also paint on a craft paper while holding on the easel which has clips on either side. Under the chalkboard, there are a tray and pencil lasers to keep chalks, eraser, markers, paint brushes and accessories within easy reach. This makes it easy for kids to clean up independently.
Additionally, it has 77 magnetic letters, signs and numbers. With two sides, the kid can play with another one, on the other hand, it's even better if you have two kids or twins.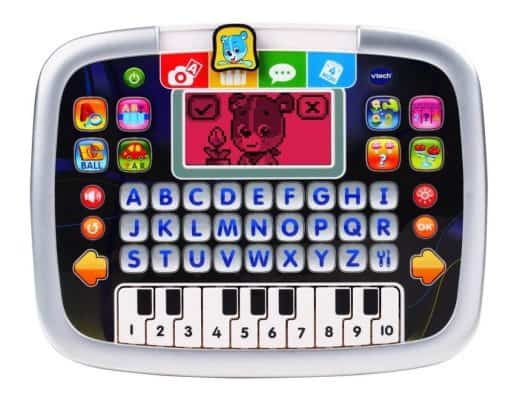 This small tablet has a color changing screen, piano keyboard and letter buttons that engage a child fully. It teaches your child letters, number counting, words, and simple math from one level to another using 12 learning activities. The sound effects, color changing screen, and sound effects encourage the child to adventure. The child also gets to learn role play using the tablet. Volume control together with automatic shut down help saves the battery. It is portable hence suitable for play anywhere anytime.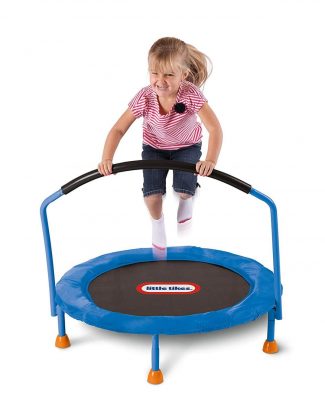 Kids are active and always need a way to use their energy. This trampoline is an excellent indoor way of burning energy while enhancing his coordination, fitness, and balance. It has an ample space for jumping and a handlebar to maintain their balance. The plastic and metal material used, make this trampoline very durable and easy to move from place to place. It's also very safe for use by your little one, but you might want to mention the does and don'ts when on a trampoline to avoid any accidents. He will definitely love it and you more!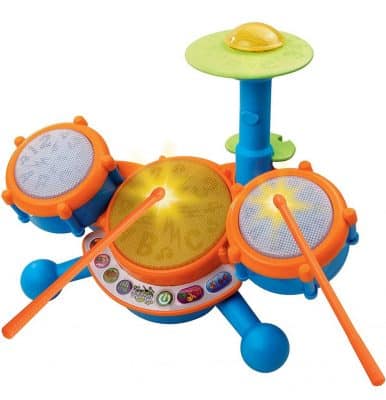 This set of four different electric drums comes with two drumsticks for tapping. If your child loves music, he will enjoy learning with a variety of sounds through four ways to play. The drum has four modes of play. The child can make up their songs through 16 different songs on the freestyle mode or follow a structured play that shows lights as they sound letters and numbers.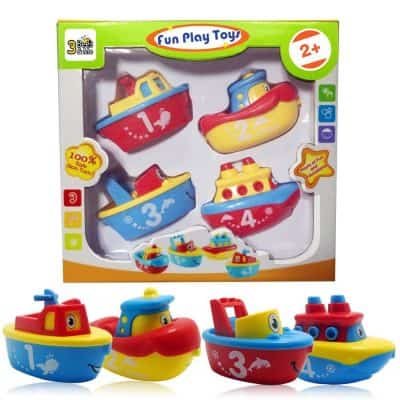 Is your little one giving you a tough time during baths? These toys will make bathing fun and something to look forward to. The play set has four twin boats that float on water. Boats are pulled together to another in order number 1 to 4. With these toys, the child can learn shapes and colors while enhancing motor skills as well as creative skills. They are perfectly sized for the small hands at the same time without sharp edges. They are also totally safe to use in water as they retain no water, so no mold development.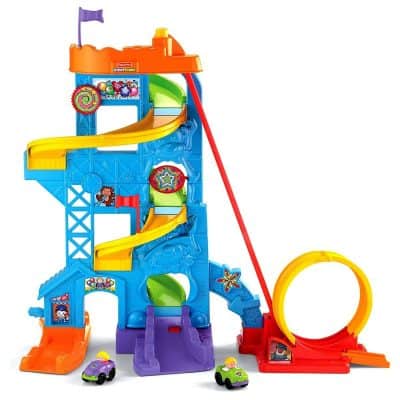 This amusement park is over two feet tall with two roller coaster ramps to enable the wheelie vehicles to zoom down. It produces a lot of sounds as the little people move around the loop-the-loop thus going against gravity. Lifting the jump at the end of the loop sends a vehicle flying. Your child will be thrilled by the numerous songs, sounds, and lights. The roller coaster starts at a simple push of a button which sends it down the ramp. Then it passes under a monkey arch, activating a spinning on its way. Your child will create exciting stories with their little people friends. Besides, the park contains four colorful flags as well as perfectly-sized, four-wheeled park-themed wheelie vehicles.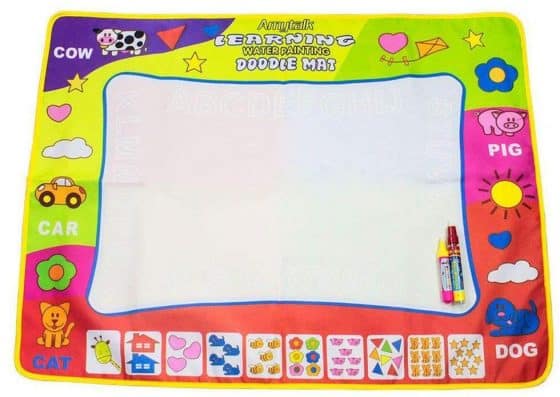 This paint-with-water coloring mat comes with four color parts that include blue, yellow and green. It has unlimited use since the painted content will disappear automatically following painting for around ten minutes. It encourages kids to explore and imagine as they learn how to paint pictures, numbers and letters as well as trace and write. It is ideal for both indoor and outdoor use since it is easily folded and portable. The water pen is easily refillable using water making it perfect for traveling because it can be emptied and refilled.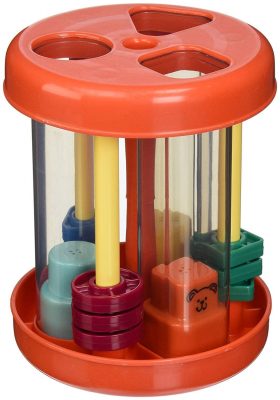 This product, through a fun puzzle, develops hand-eye coordination and pattern matching skills. It is an easy game where the child is only required to match each shape with its corresponding form on the hole at the top of the puzzle then drop it inside. Each shape makes a different sound as it falls to the bottom of the puzzle. This is a good way of encouraging eye-hand coordination and distinction between shapes and colors. It is recommended for children one year and above.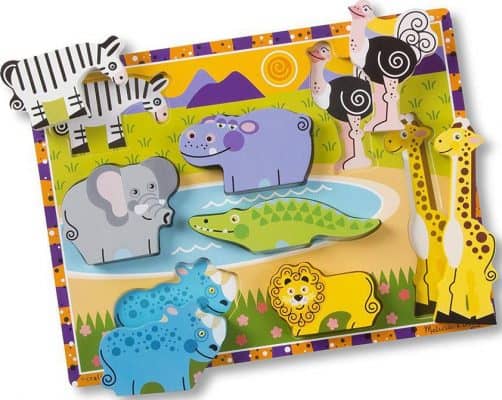 This thick wooden puzzle features African animals. Eight easy to grasp wild-animal pieces allow for pretend play as the animals stand upright against matching pictures below them. These offer a variety of ways your child can play while encouraging his imagination to realize his full potential. This toy promotes hand-eye coordination and excellent motor skills.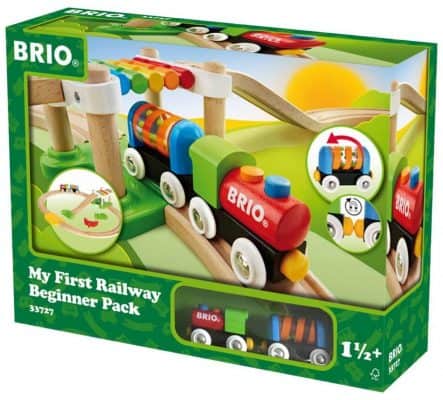 This captivating railway starter pack is suitable for kids 18 months and above. It is made of FSC certified beech wood and works with all wooden railway sets. Your child will enjoy the train ride over or under a bridge that is rainbow-colored and discovering all possible layout he can make. In the pack are 18 pieces that include a wagon which makes new noises and an ascending wooden track for the train to go up and down. The connecting magnets are safe and hidden as they connect trains and train cars.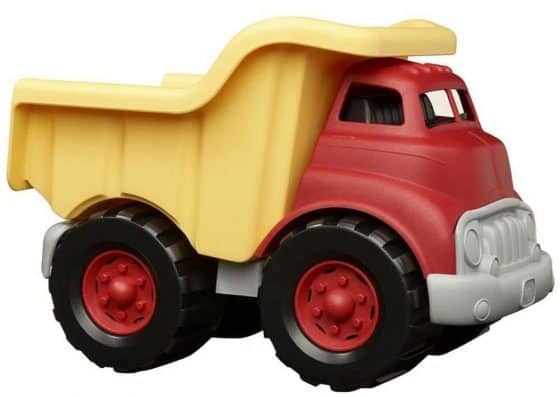 This award-winning is entirely safe and fun for your little one. It is phthalate, PVC and BPA free since it is made from 100% recycled plastic which saves energy and does not emit greenhouse gases. This toy is a great way to help your child develop and refine their excellent motor skills. Your child will enjoy carrying things on the deep dumper which tilts easily to aid loading an offloading. It also teaches them about garbage disposal and the importance of maintaining our surroundings. It has an awesome eco-design and a workable dumper with no metal axles.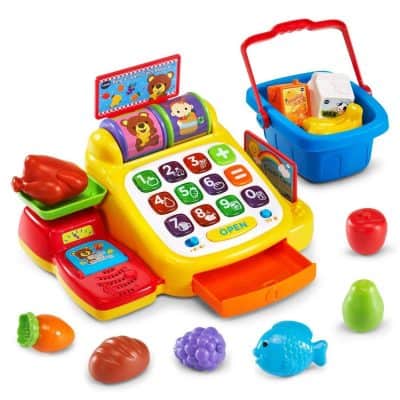 This fun interactive cash register comes with 12 accessories that include a credit card, carrying basket and ten healthy food toys. With these toys, your child will learn about numbers, colors, and food. Your little one will go shopping and will enjoy filling the basket with healthy food, place it on the weighing scale and then pay for them using the pretend credit card. Every interaction, like pressing the light-up number buttons rewards the kid with; healthy eating phrases, sounds, songs or music. Your child can also slide the credit card through the slot and open the cash drawer. The child can also spin the rollers for cheerful melodies and phrases.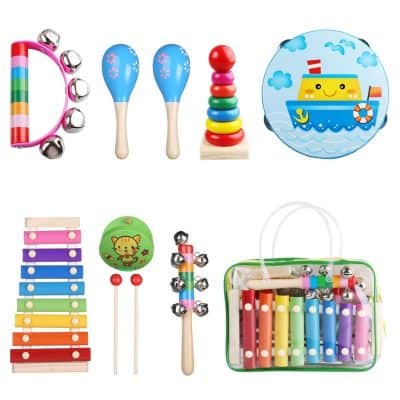 This colorful musical instrument is a great choice for a Christmas or birthday gift for a 2-year-old boy. It engages the kid's mind and body through dancing, singing, acting, through the use of percussion instruments that are based on rhythms. This sparks interest and activates the child's sensibility to music. With perfect musical toys, it exposes the child to attractive rhythms, tones, and volumes that teach your little one about music. The toys are made of toxin-free, high-quality materials that guarantee your child's safety though accompanying your little one wy8hile playing makes it safer. It comes with a special carrying bag for easy cleanup and protection.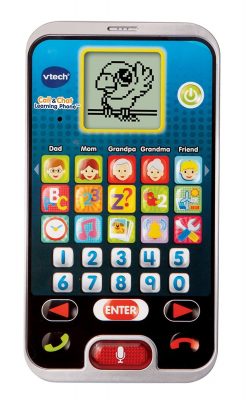 This call chat learning Smartphone is a great gift. It has 15 app buttons and a chat button with a chat parrot that guides the kid through the activities and games. Your little one can pretend to be on phone by choosing whom to call from the app buttons and it's possible to key in and save real contacts of up to five family members or friends. With a push on the chat button, you can use real voice activation technology to chat with the parrot that will question you and respond to your voice inputs. From the other apps, your child will learn how to count, numbers and letters. Also, it has a music app, picture gallery, and game app; you could also set your ringtone.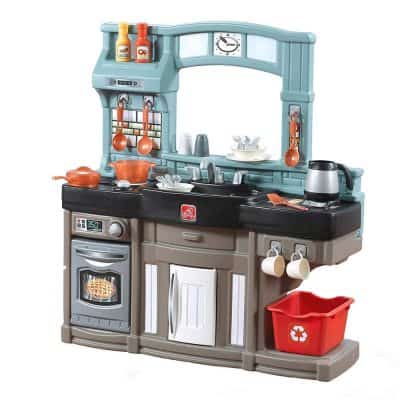 This fantastic play kitchen set comes with 25 pieces. Your kids will love playing and interacting as they cook their favorite meal or clean the kitchen. With lovely color schemes, the set has a working oven, counter space, refrigerator door, and a pass-through kitchen window. The stove top has clicking knobs, fun burner lights and pretend cooking sounds that make the whole play lively. There is a recycle bin, coffee pot, space for hanging utensils, large storage space -which makes cleaning enjoyable and hooks for hanging. Best kitchen encourages interactive play and helps children to develop social skills as they share the kitchen appliances and work together.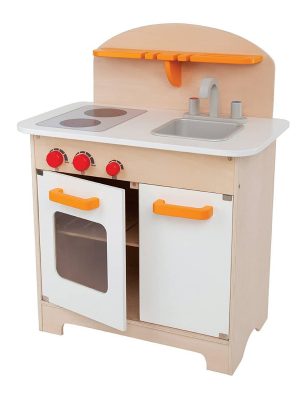 Hape Gourmet kitchen set is made from durable wood and finished off with kid-friendly paint. It has received several awards as the best toy one being Toy of the Year by a parenting magazine. The set features an oven, large red knobs, stove top and a shelf for utensils and 'foodstuffs.' This product will encourage your child's imagination and motor skills as they enjoy kitchen activities like cutting veggies. Also helps develop natural abilities such as interacting and sharing with others as the child grows.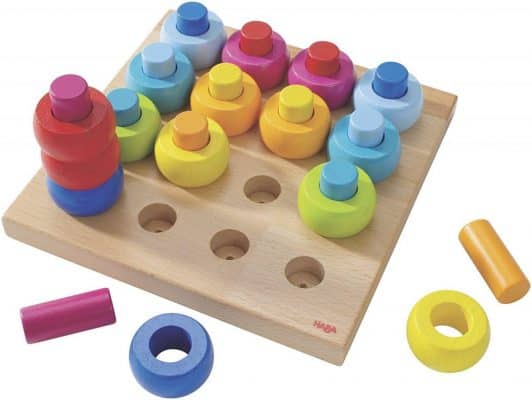 Made of brightly multicolored pegs and rings, this toy will entertain your child four hours as he assembles and reassembles it. Made of wood, painted using water-based and solvent-free lacquers the pegging game is durable and safe even if the child puts it in the mouth. The child will enjoy stacking rings up the pegs. This toy won the prestigious award: creative child magazine game of the year, Dr. Toy best vacation products, the National Parenting Seal of Approval 2011.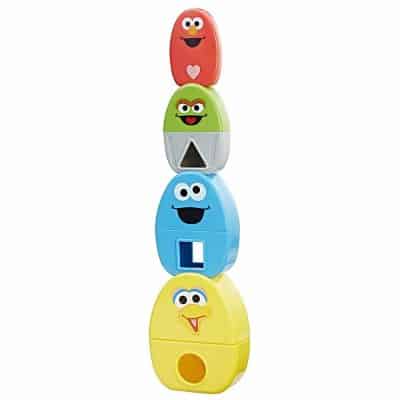 This toy features four sesame street friends: Elmo, Oscar, Big Bird, and Cookie Monster. Each character fits perfectly into the other to save on storage space or for nesting play. It has four fun ways to play. Your little one will enjoy stacking up the pals to form a tower or have peek-a-boo fun by exploring the shapes as well as nest and match. It teaches shapes, colors, and counting while improving fine motor skills.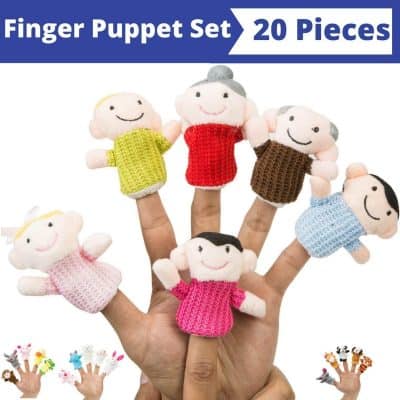 This is a 20-piece set of 6 family members and 14 animal Finger puppet flush toys that include mother, father, son, daughter, grandfather, grandmother, horse, tiger, platypus, sheep, pig, monkey, mouse, duck, hippo, bear, panda, elephant, rabbit, frog and a dog. There is a variety of plush to fabric puppets with choices of family members or animals. Sized for both children and adults, these puppets are great for storytelling among many other benefits. Your child will enjoy storytelling and imaginative play. It becomes easy to visualize the characters using the puppets. They also have puppet theatres to make the experience more colorful and fun. These toys teach children to pay attention, listen, build vocabulary and socialize. The child gets an opportunity to role-play and come up with better stories.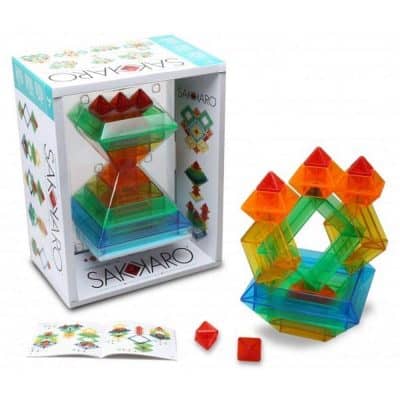 This comes in the form of translucent colored puzzle pieces that blend into new colors when stacked, nested or interlocked into creative designs. This will spark your child's imagination and creativity. An idea booklet with 100 plus clear patterns is packed in the box. This toy gives room for the kid to imagine and create designs.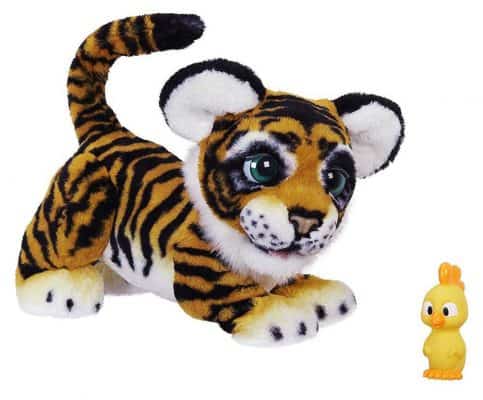 This wonderful pet is a wonderful toy you could get for your child. Made by Hasbro, a recognized industry leader regarding product safety, environmental conservation, and ethical sourcing- the toy is made with the children's best interest in mind. It comes with a toy alongside instructions for use and is ready for play. It is designed to play with your kid, mainly by roaring- you roar, it roars back while bowing playfully. He also responds when talked to and has 100 plus sound-emotion combinations. He knows his little chicken toy and reacts when it squeaks. The playful tiger has soft fur and poseable hind legs, making him easy to hug and cuddle. Your little one will enjoy making sounds and roaring at him as he roars back. It is also designed to create a memorable childhood for your child.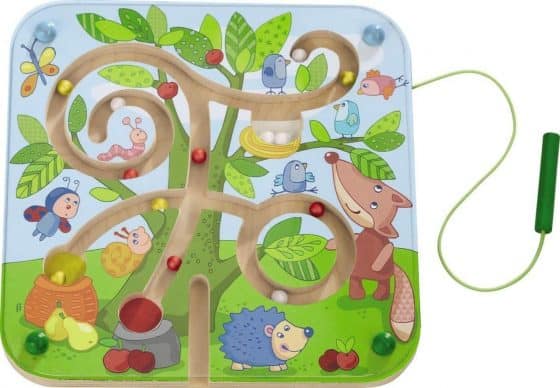 Your child will use a magnetic rod to guide the balls around the tree maze. He can sort them according to colors or play randomly. If he chooses to sort them, the white balls become eggs in the bird's nest; the red ones become apples in the basket while the yellow ones become ripe pears decorating the tree.

Your child will love this fun Thomas styled train with a track. The product is toddler-friendly with power wheels that can be used indoors. It is easy to use with an easy to press operating button (to go or stop), comfortable footrests and an easy to assemble truck. For more fun, pressing the yellow whistle will produce sounds and phrases as well as sounds from the blue engine. The 6v battery is built to withstand long hours of use as the little one become more experienced. The battery is rechargeable. The kid will ride around the track, and when he learns to steer the wheel, he can ride off the trucks for a new experience.
This award-winning balance bike will teach your child how to balance, steer and coordinate before learning to pedal. It is recommended for 2-5 year olds. The frame is made of birch wood, handgrips of solid rubber. Tires are also rubber made. The seats are height adjustable. The head helmet is required every time and night time rides should be avoided. It makes it easy for your little one to transition from a ride on toy to the real bike when they are old enough. It also gives them more confidence to try on a real bike with time and they will take much less time to learn everything. The best part is that it's durable and sturdy.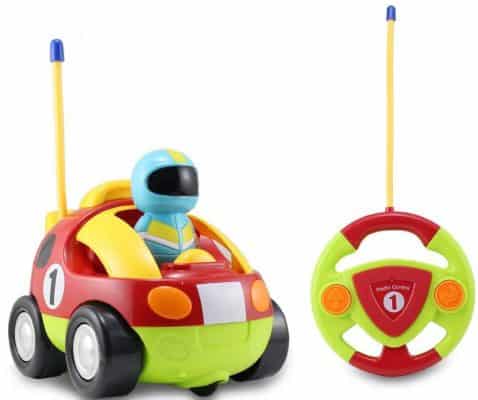 This beautiful and stylish race car with remote controls is brightly colored and perfect for a 2-year old. Your child will love and spend hours playing with because it is entertaining. It is super fast and can ride in four directions, i.e., forward/ backward and left/right. By pressing a button, the car will honk and blink headlights while playing music. It has a removable car driver figure that the kids can place inside the car or play with outside. For first-timers, this is a perfect introduction to remote control toys for young toddlers.