Top 30 Best Toys and Gift Ideas for 4-Year-Old Boys 2023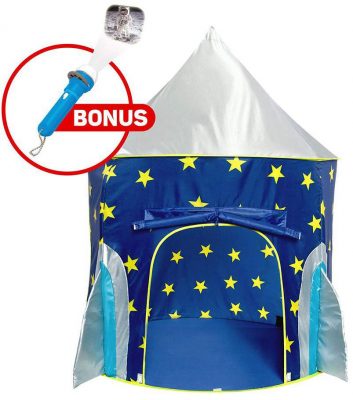 Your son will go on a galactic adventure with this USA Toyz Rocket Ship kids play tent and space torch projector which projects color images of the galaxy inside the tent or on any flat surface. The play tent includes sturdy poles which hold the tent up. It is decorated with fun designs from the galaxy, and your child can use his imagination to and pretend to be an astronaut. It has a flap which acts as a door and can be tied up or rolled down and mesh windows to make it breathable inside the tent. It is easy to clean and takes little time and effort to set up. It is foldable and easy to carry around and can be used for indoor or outdoor play.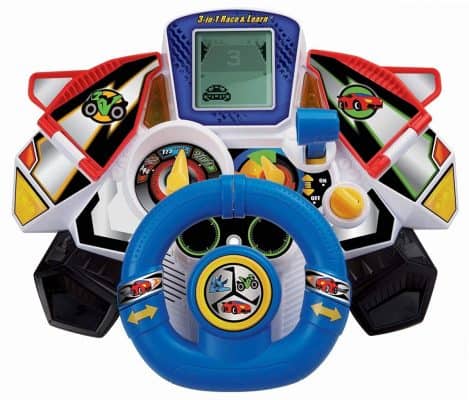 Your little boy will finally feel like a man with this racing toy. It comes in three modes which your son can switch to, from a car to a jet, to a motorcycle. It has a small screen which displays letters and numbers. Your son will race on nine different courses, and he can go on exciting adventures by using his imagination and pretend play. While he is having fun, your child also learns about letters, numbers, and how to spell. It has vibration effects, and the gear shift plays real racing sounds, and your son will feel like he is driving a real car.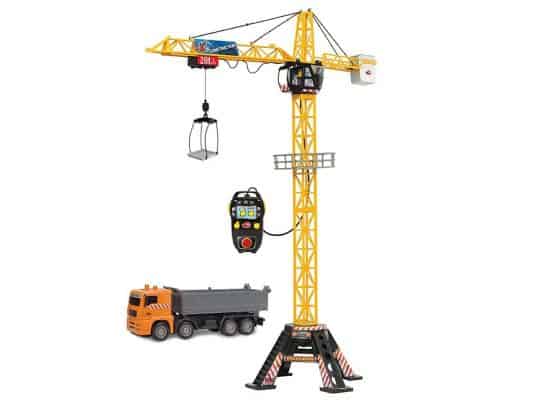 This play set provides your son with close experience of the cranes he usually sees at work in construction sites. The set includes a cable remote control, a rotating cabin, and a trolley. It is 120 cm tall and has accessories which act as extensions, and he can use them to transport building materials. The cabin rotates almost all the way around with the press of a button giving it a realistic look. Your son will use his creativity and imagination through pretend play and coming up with new ideas on what he should build. It is sturdy and easy to assemble and doesn't need any tools. It just snaps together.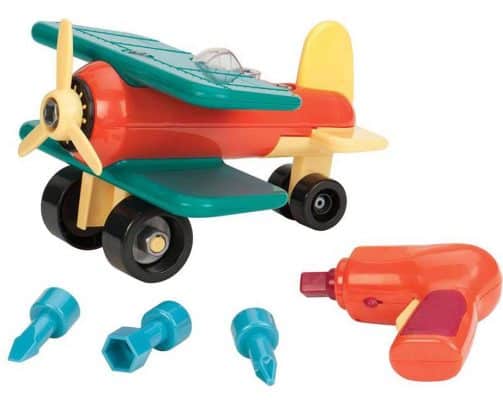 This toy comes in several airplane parts, and a battery powered drill with three interchangeable parts. It is perfect for keeping your sons mind engaged as he figures out how to put the parts together to come up with a whole airplane. This also perfects his motor skills and hand-eye coordination. He can play with it around the house and can easily unscrew the pieces one by one until he is left with 21 airplane parts. This toy helps promote your sons' imagination and develops his interest in mechanics. The parts are big making it easy for your son's small hands to manipulate. The quality is great, thus durable and the color combination of the set is perfect for the little man.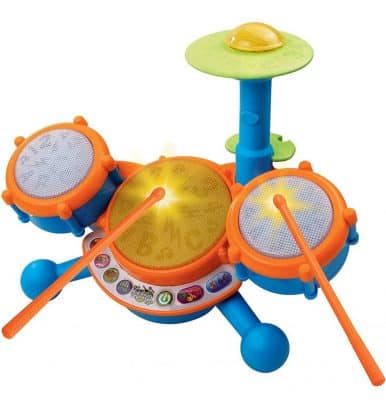 Let your son explore his musical talent with this VTech KidiBeats Kids Drum Set. It includes three drums, two drumsticks, and a cymbal which produce their own unique sounds. The drums also have their own unique lights which guide your son where he should bang to produce a melody, but he can also play it freestyle. It is an excellent learning toy as your son can follow the pre-set melodies and learn about letters and numbers, and it promotes his creativity as he tries to come up with his own melodies. It features a volume control button so you can always adjust the volume when it gets too noisy. It is also sturdy and can withstand being hit constantly.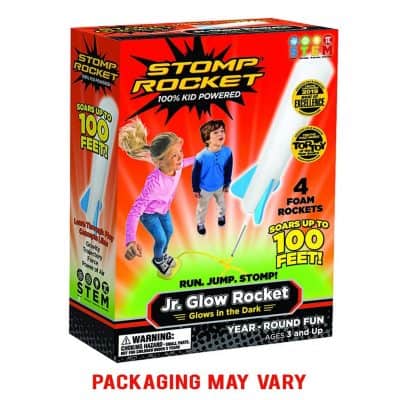 This glow in the dark stomp rocket is the perfect gift for your super active and playful son. It includes four glow-in-the-dark stomp rockets and a stomp launcher. The rockets get replaced with the refill foam rockets when it stops glowing, and no batteries are required. The rocket can be launched 100 feet into the sky by just jumping and stomping on the blast-off pad and is great for outdoor play. It helps in developing your son's interest in science, technology, engineering, and math from a young age. It is sturdy and durable, thus perfect for active outdoor play.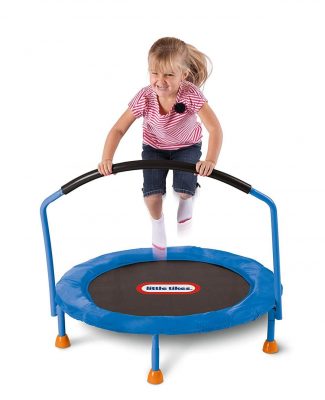 This indoor trampoline is perfect for burning off your son's extra energy and keeping him active for hours. The jumping area is large enough for your kid to jump on comfortably and he can grab onto the handlebar to gain balance and stability, and also keep him safe from jumping too high and falling over. It is constructed from plastic and metal to ensure durability and can hold a maximum of 1 child and a maximum weight of 55 lbs. It helps your little boy keep fit by providing hours of bouncing fun. It is easy to move and needs to be assembled before use.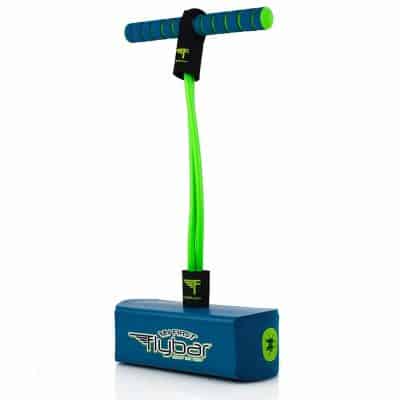 This is an excellent exercise toy which can also be used by older kids. It has soft foam handles to provide comfort to your son's hands, a strong bungee spring which can be stretched to any height, and a strong, durable foam base with a built-in squeaker to make it more fun. While he is having fun, your son will also learn and improve their balancing and coordination while also staying healthy and active. The foam base ensures that the constant hopping does not scratch the floor. It is generally firm and durable and can be used for many years. It's ideal for both outdoor and indoor play.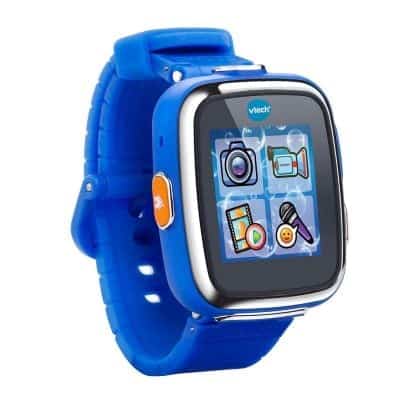 This is a one of a kind touch screen watch which features a camera, a video camera, an alarm, a timer, and a stopwatch, a calendar and a calculator, and many more fun features. Your son can take pictures and videos and use his creativity and imagination to use the various editing effects. The calculator helps him solve simple math such as addition, subtraction, division, and multiplication. It has eight games your son can play using the touch screen, and he can download more. It features a built-in and rechargeable battery which can go for up to two weeks, and it comes with a micro USB cable. It also withstands splash and sweat but should not be submerged in water.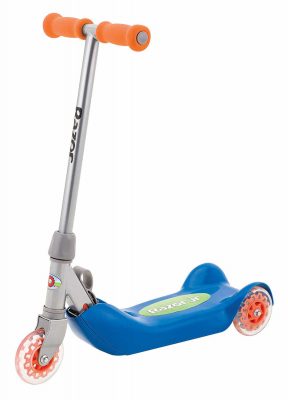 This scooter has three wheels which provide stability for your son. It is made from high-quality plastic, steel and aluminum and the deck is wide and slip resistant while the handles are made from soft foam which is easy to grip. The scooter can be folded making it easy to store and carry around. It helps develop coordination and balance in the young rider and can hold a maximum weight of 45 lbs. It is suitable for riding on smooth surfaces and pavements away from sharp bumps, water, sand, leaves, etc. worn out parts can be replaced.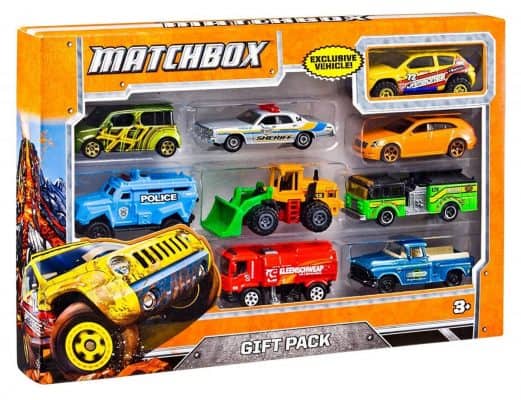 Boys love cars, and this would be the perfect gift for your boy. The gift box includes nine unique cars which are selected and assorted randomly according to availability. The toy cars come in different colors and have unique decorations, providing a variety of options for your son to choose from. The cars are small and can easily fit into pockets, and small containers and your son will have endless hours of fun with his new fleet. The pack is very affordable.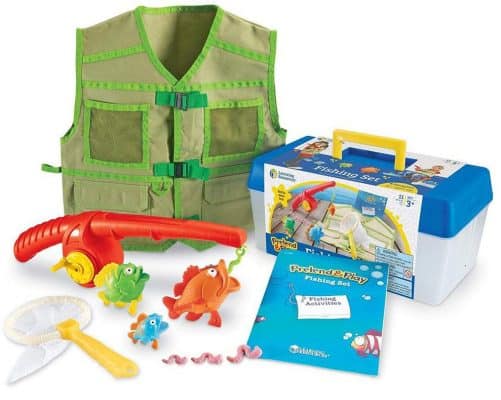 This 11 piece set includes a vest, a tackle box, a fishing pole, three vests, three worms, fishing net, and an activity guide. The set is bright and colorful and will catch your son's attention for hours. The magnet hook is embedded for safety, and it makes reeling sounds when hooked to the fish, just like how it sounds when you reel a big fish. The adjustable vest also makes it realistic, and your son can play dress up and join daddy in his fishing trips. It helps promote your son's creativity through pretend play as he also learns about the basics of fishing. It is a great toy for bath time or pool play.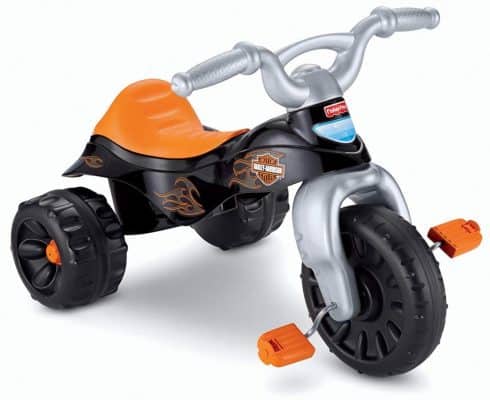 Put a smile on your child's face by gifting him this amazing tricycle. It is high quality and has durable and rugged tires to withstand harsh terrain. The tires are also wide to ensure stability and the easy-grip handlebars and big foot pedals make riding even more comfortable and fun. It has a secret storage compartment under the seat where your son can keep his valuables. The toy is great for exercising leg muscles, and it also helps to develop excellent motor skills. It is sturdy and easy to assemble and can be ridden both inside and outside the house.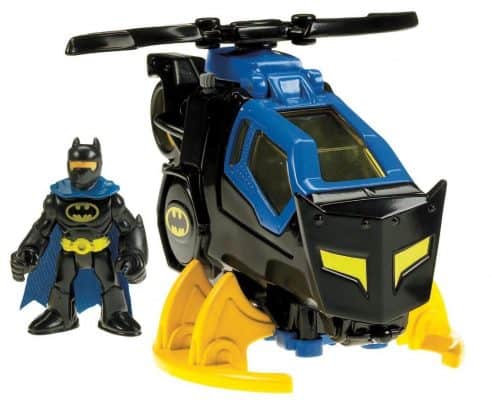 It is time to take down the villains terrorizing the city, and there's no one better qualified than Batman, and his bat copter will get him there quickly. The toy has rotating blades and a Batman figure ready for action and landing gear for daring rescues. It helps develop your son's imagination and creativity as he comes up with new adventures for Batman and his copter, while also stimulating his curiosity as he tries to figure out how to turn the landing gear into a claw. Batman can be put in the cockpit by squeezing a trigger thus promoting hand dexterity. It is a fun toy, and your son will appreciate it.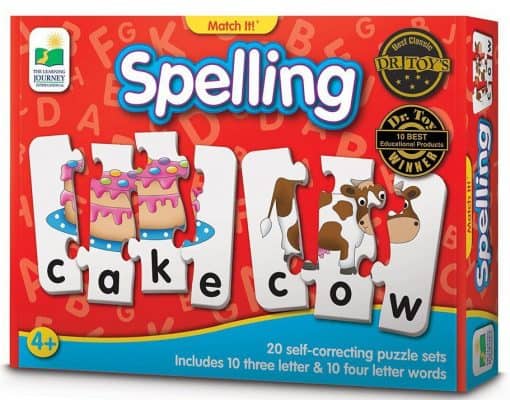 This self-correcting puzzle contains three and four letter words for your son to match and can only fit if the words are right. It is excellent for helping your boy learn spelling, reading, and word formation at an early age. He also develops skills for solving simple problems which prepares them for more demanding tasks ahead, and it increases his attention span and focus as he works on completing the tasks. It is made from thick, durable cardboard and is easy for your son to grasp. Construction of the words will also help improve his hand-eye coordination. This is an excellent toy for your son to learn in a fun and entertaining way.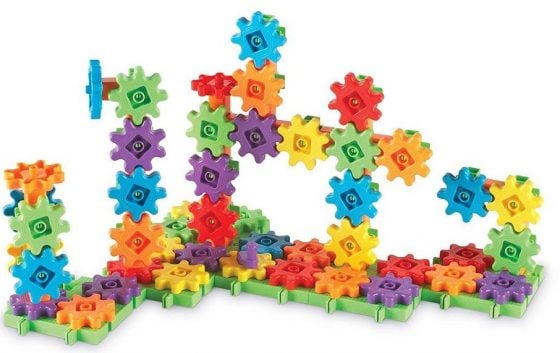 This sturdy set includes 46 colorful gears, 26 square pillars, 21 six-way axles, six interlocking bases, one crank handle, and an activity guide. It provides your son with unlimited options for construction thus promoting his creative thinking and imagination, while also allowing him to discover new things. It helps develop your son's interest in engineering, and it stimulates his curious mind to discover how every-day objects are built. It also betters your son's motor skills and hand-eye coordination. The pieces are perfectly sized to fit your son's small hands. The vibrant colors will bring out the artist in your boy as he mixes and matches colors to create his own masterpieces.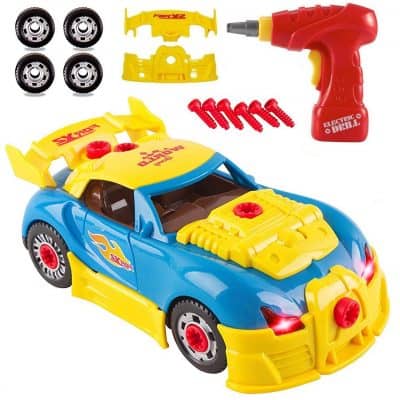 It's time for your little mechanic to get to work with this Build Your Own Racing Vehicle Toy Construction Playset. It includes eight tires, a drill, drill bit and screws and the parts include an engine, a seat, a roof, a hood, side bumpers, spoiler, and a front bumper. The car makes really realistic engine sounds and also lights up when shaken. Your son will have countless hours of fun constructing and dismantling the car. Both the car and the drill run on batteries, are strong and durable and can withstand constant abuse from the little guy. It helps develop excellent motor skills and build your son's interest in mechanics and engineering while also promoting his creativity.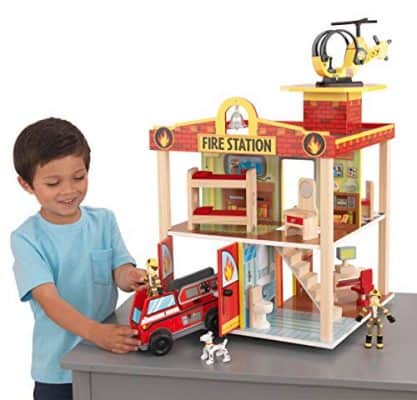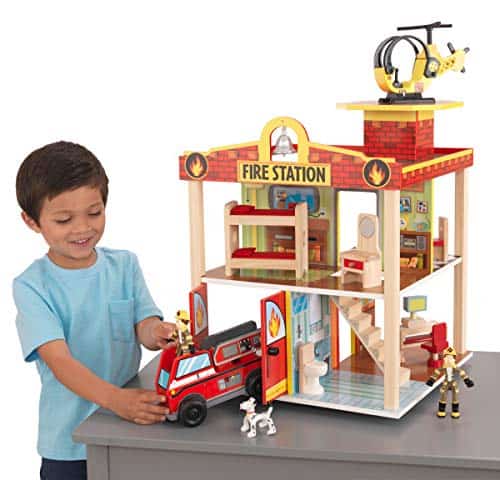 This toy lets your son pretend to be a real-life hero and saving the day. It includes a helicopter, two fun vehicles, and a fire truck, and step by step instructions on how to assemble. The station has a helipad on the roof for helicopters to land and its garage doors open and close. It also has bendable fireman figurines. It is colorful and highly detailed with brilliantly illustrated panels giving it a realistic feel. The set allows your son to use his creativity and imagination to come up with new life-saving missions and adventures. It is sturdy, durable, easy to assemble and is the perfect gift for a 4-year old boy.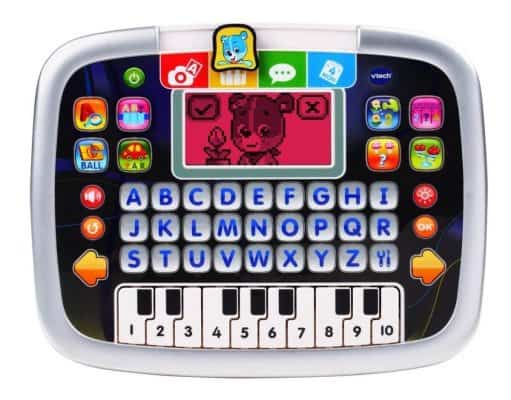 This learning tablet features a color changing screen, large letter buttons, a piano keyboard for playing music, a fun question and answer feature, and many more. Your son will love this toy whose features are fascinating yet educational. He will learn how to spell, count numbers, and also gain basic problem-solving abilities. The large A-Z letter buttons make it easy for your son. The product is high quality and durable, and your son can pass it on to his younger siblings as he grows. It plays fun songs and great educational games and helps expand your son's reasoning. It is a perfect gift you will never regret buying.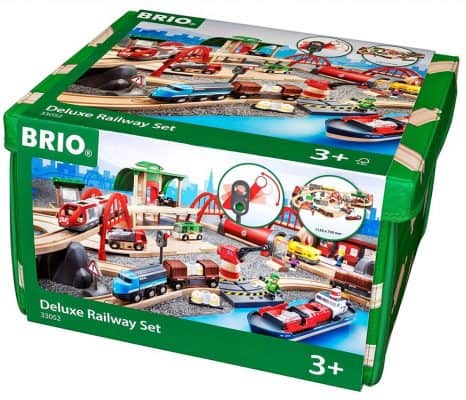 Take your son on an adventure with this amazing railway set. It is a complete set which includes play figure, a cargo crane, container ship, rail tracks, stations, bridges, a truck, a bus, and many more. Your son can drive the train through the city and pick up and unload passengers at the station. He can easily set it up to get it working and can push the battery-powered light and sound engine faster to create more light and train sounds. The great detail in this product makes it realistic, and it helps spark your son's creativity and imagination, and he also becomes knowledgeable. It is made from high-quality materials and has a storage box which also functions as a play-mat when unzipped.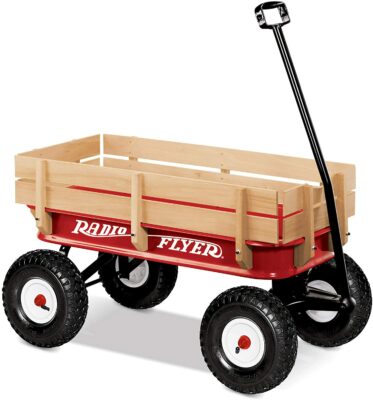 This classic red wagon is great for on and off-road adventure. It has big and rugged wheels for your boy to pull or be pulled comfortably on any terrain. It is made from good quality steel and wood and can hold a weight of up to 200 lbs. The extra-long handle can fold under the storage, and it has a controlled turning radius to prevent your son from tripping. It comes with clear instructions on how to assemble making the work very easy. It is also sturdy and very durable. This toy helps develop your son's muscles as he pulls the wagon and it also sparks his creativity and imagination through pretend play.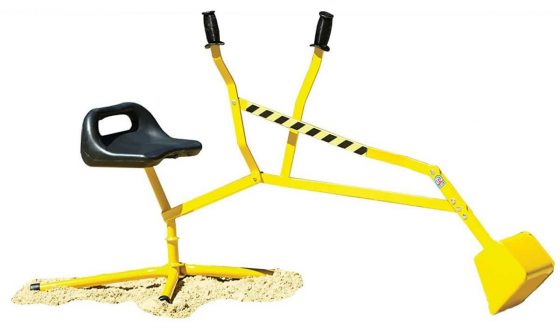 It's time to build stuff and have fun with this Big Dig Ride-on Working Crane. It is constructed from metal while the swivel seat and handles are made from plastic. The wheels are super durable thanks to the durable rubber that they are made of and have a wide base for stability. Again, with the seat swivelling all the way around, your boy will have options to either move sand, dirt, or snow and can hold a maximum weight of 110 lbs. The toy provides a realistic experience by simulating real-life construction vehicles which encourages imagination through pretend play. It helps improve your son's hand-eye coordination and problem-solving skills building his confidence and competence. It is very sturdy and can withstand rough treatment from children and adults, and is also very easy to assemble.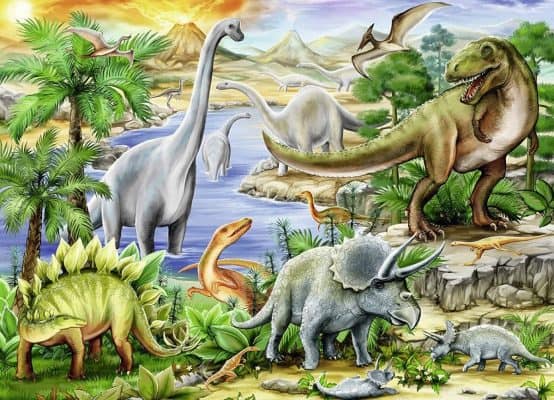 It's time for your kid to travel back in time with this prehistoric jigsaw puzzle. It is very high quality, and the puzzles fit precisely no matter the size. Each piece of the 60 pieces has a unique shape, and your child will not get frustrated over similar pieces. It helps build your son's concentration and creativity as it takes him on an adventure in the ancient world of dinosaurs. The pictures are bright and captivating and will hold your son's imagination. The puzzles can be built on a table, or a floor and adults can join their kids in fun.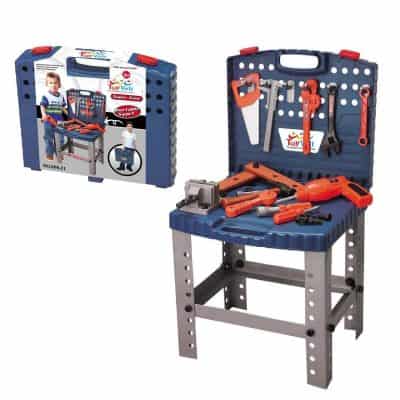 This all-inclusive toolset is the perfect gift for the young man. The tools in the set look just like the real ones and your son will have a blast repairing things and building his masterpieces. The set contains 12 play tools and 68 parts and a whole range of realistic nuts and screws, a hammer, a saw, and an electric drill. The toolbox is light and convenient to carry allowing your kid to use his creativity anywhere, either indoors or outdoors. It is sturdy and durable and can withstand constant wear and tear from the young handyman. It is excellent for boosting your son's imagination, creativity and motor skills.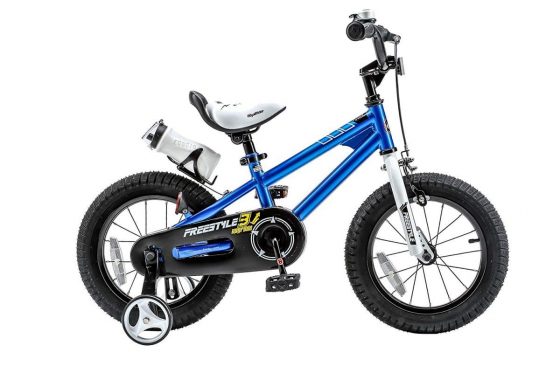 This sports bike comes with a bell, a water bottle, tools, training wheels, and an owner's manual. The bike comes mostly assembled and only needs installation of the training wheels, pedals, handlebar, and saddle, which are very easy to install. It has safety features including a fully enclosed chain guard, safety grips, and heavy-duty training wheels. This is a brilliant way to keep your son off iPad games and too much T.V. It helps to develop and strengthen your son's muscles and is an excellent first bike. It comes in different sizes, each designed for specific ages and the height of the seat can be adjusted.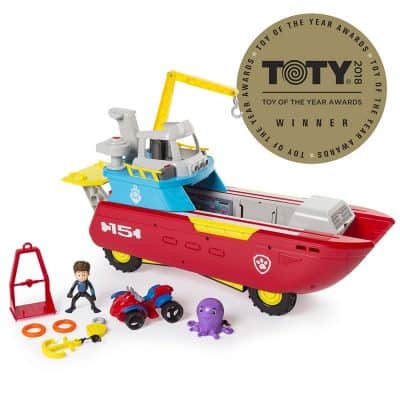 This sea patroller can also transform into a land vehicle by sliding the bridge forward to drop the wheels down. It can carry up to two vehicles and has room for Ryder and his gang of pups. It has a moving crane to help Ryder during the rescue. It comes with two figures, two vehicles, 2 lifesavers, one detachable anchor, and cell batteries. This toy promotes your son's imagination and creative thinking as he comes up with new missions on adventure bay. It also enhances his problem-solving abilities. The toy is durable but should, however, not be submerged in water.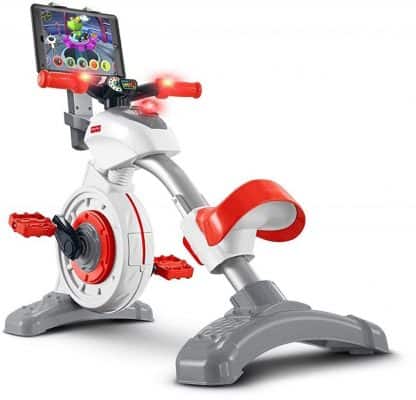 This toy provides your son with three ways to play including driving, gaming, and racing. It is equipped with Bluetooth technology which makes it possible to play on a tablet or T.V screen and is compatible with Apple devices, most Android tablets, Android T.V., Amazon Fire tablets, and Amazon Fire T.V. It has an adjustable seat to make playtime more comfortable and an adjustable tablet holder to fit tablets of various sizes. It also allows your child to exercise This product lets your child learn numbers, letters and phonics, reading, writing, and prepares them to become great readers. It is sturdy and very durable.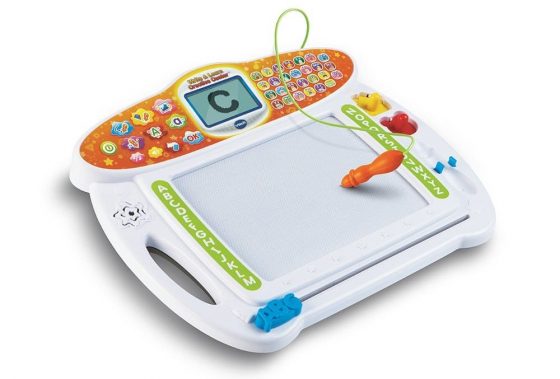 This learning toy includes a magnetic pen, two magnetic stamps, eight stencils, and batteries. It introduces your child to writing and drawing at an early age and in an interesting manner. It has an animated demonstration on the screen for your boy to follow along and learn how to write letters, both in uppercase and lowercase and it plays cheerful music to add to the fun. The stencil allows your son to learn how to draw by progressing from simple lines and shapes to various objects. It is also great for promoting your son's creativity and is designed for your son to carry it around conveniently.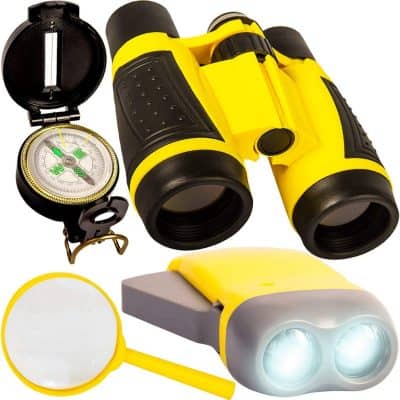 Bring out the adventurer in your son with this good quality explorer toys kit. It is perfect for your kid to explore outside and learn about nature. He can go camping, bird watching, or use it in pretend play. He can learn how to read maps and figure out directions on his own, and the magnifying glass allows him to study small insects, rocks, plants, and many more. The binoculars have eyepieces surrounded with rubber, and it has a carrying case and a neck strap making it easy and safe to carry. The mini flashlight comes with a hand strap and is self-energizing hence do not require any batteries. It comes with a carrying bag which keeps everything in one place and makes it easy to carry around.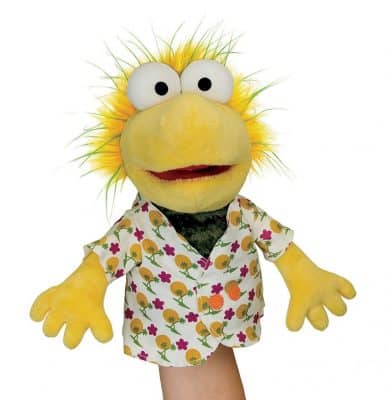 This colorful puppet is great for keeping your son occupied by engaging him in conversations. The beautiful colors and texture captivate your son's imagination and the fuzzy hair, and big eyes make it look like a big non-scary monster. You can use it to tell fun bedtime stories to your son and teach him important and helpful skills, or you can let him use it by himself. The toy is high quality, and the inside is soft and padded and has enough room for your son's hand to grow into. It helps spark your boy's creativity and reasoning as he comes up with conversation topics to engage the puppet. This will surely be your kid's new best friend.