Top 30 Best Toys and Gift Ideas for 9-Year-Old Boys 2023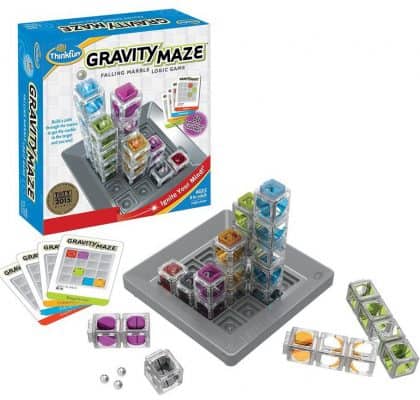 This is a great toy for stimulating your son's mind and he will get attached to it quickly. It includes a game grid, 3 marbles, 1 target piece, 60 challenge cards and an instruction manual. The challenges range from amateur to expert and each one gets more difficult as players progress through each level.
The blocks have to be arranged a certain way to prevent the marble from falling off before the end, requiring your son to reason and think carefully. It also promotes his problem-solving abilities.
Adults can also participate and challenge themselves with the expert level!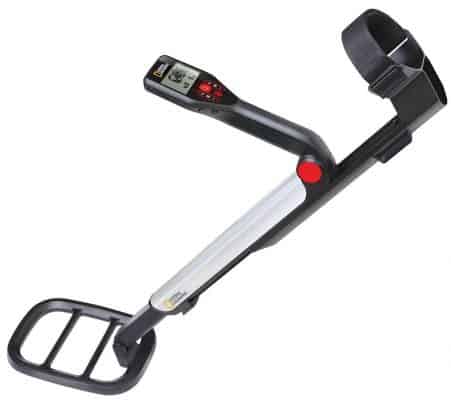 Treasure hunting will be made more fun with this National Geographic Pro Series Metal Detector. It features three modes of detection, four sensitivity levels, and has a pinpoint feature to enable your son to tell the difference between treasure and other junk.
The detector is light in weight and foldable making it easy to store and carry around, and it is easy to operate so your son will not have a hard time using it. It has a waterproof coil which allows him to search for treasure in water bodies—but make sure not to get into areas that are too deep.
The volume can be adjusted, and it has a headphone jack to ensure precision and high-quality sound. It develops your son's interest in exploration and encourages him to use his imagination and be mindful of the environment.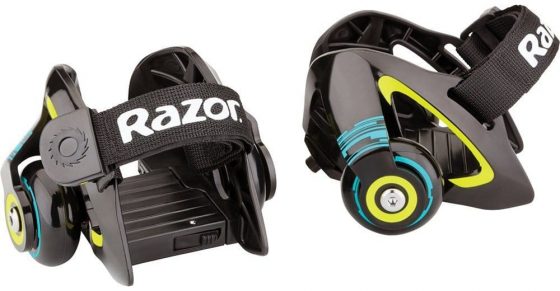 Get your son on the move with these Razor Jetts Heel Wheels. They are easy to put on, and they can be adjusted to fit your son's shoes perfectly. The wheels' adjustable feature also means that they fit adult shoes and can support weights up to 220 lbs. They are made from high-quality materials and are sturdy. They have spark pads that make riding more enjoyable for your son, and these pads can easily be removed and replaced.
They work best on smooth surfaces and can be ridden indoors or outdoors, although your son can dare to ride them on rough surfaces as long as he has safety equipment on. They are great for learning how to balance.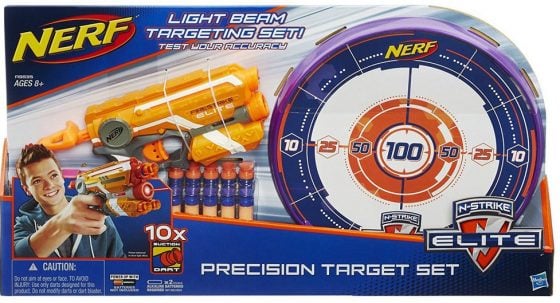 This toy is great for your son who loves playing indoors and outdoors. It is very easy to learn how to use, and your son will be playing with it all the time. It includes a Firestrike Blaster, a target, easy-to-follow instructions, and 10 suction darts with one color for every five. The target itself can stand up or be hung on a wall, and the suction darts stick firmly to it.
The set is very sturdy and can withstand constant abuse, though it'll fall to the ground more often than we'd like. It is a good way of keeping your son active and engaged, and it helps in perfecting his aiming and accuracy skills. It's pretty fun for adults, too.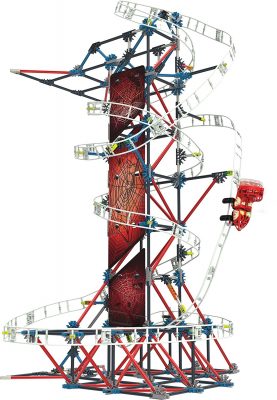 Your son will love learning how a roller coaster is built and how it works with this roller coaster building set. There are more than one ways to play, and the instruction manual provides clear instructions on how to build different versions of the roller coaster. It comes with air, and battery-powered card and the track glows in the dark to add to the fun.
It is the perfect toy for kids who love to assemble things, and it will teach your son basic construction skills—though kids who are impantient with long assembly times might gt frustrated. It is great for fostering creativity and imagination as it provides several ways of building. It also develops his interest in engineering, math, physics, and more, and this might help him in choosing his career.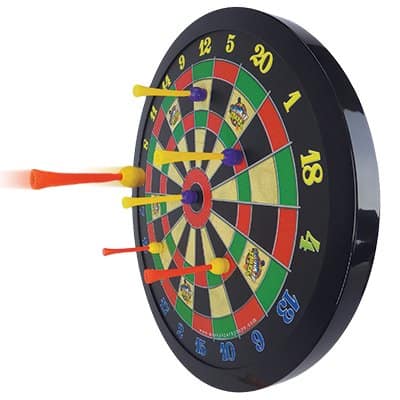 This toy lets your son enjoy playing darts but in a safe way so he will not harm himself. The magnetic dartboard has a hook for hanging on any wall and comes with 6 magnetic darts (careful not to lose them!), and each three of the six have the same color. The game is suitable for all ages, and the set is very sturdy, and your son can play alone, with family, or even his friends.
The best thing is that you don't have to worry about your wall getting ruined no matter how many times it gets hit by the darts. Your son will learn about aiming and accuracy, and he will develop coordination and balance.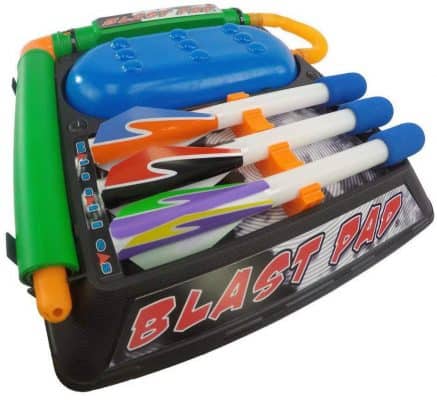 This kit includes three missiles, one blast pad, one launch tube, and a blast pad base. Your son will have a blast playing with this toy outside the house (it's a bit big to be used indoors) alone or with his siblings and friends to see who can launch the missile the highest. The tips of the missiles are made of soft foam to ensure that nobody gets hurt when they accidentally get hit by one, and they can easily be replaced in case they wear out or get lost.
A great feature of this toy is its ability to store neatly in the base without having to disassemble it. The game is easy to play, and your son will develop an interest in science and mechanical physics while he is having fun.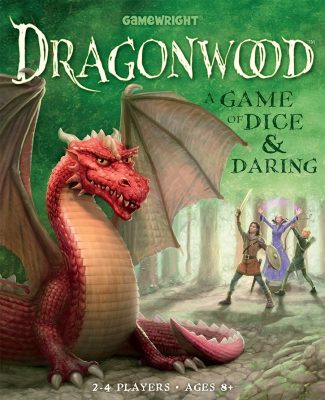 This game will take your son on an adventure into the mythical forest lurking with scary creatures. It includes six dice, game rules, and several cards. It involves luck, and the players are required to capture animals and roll dice. The cards have amazing pictures that are catchy to the eye, and there are different ways to play the game. It is a game of strategy and players will need to choose which cards they will attack the animal with.
Although it's mostly a kid's game, it can be played during the family game night and is sure to bring you lots of fun. It is worth mentioning, however, that it's really only suitable for kids who enjoy these types of activities—others might find it a little slow-paced. The game might seem hard but is simple and easy to learn and your son will be playing it in no time. It encourages his creativity and promotes his problem-solving abilities.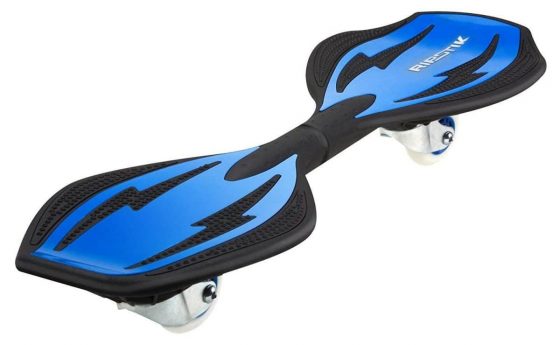 This toy lets your son snowboard on dry land. The caster trucks can rotate all the way around and is designed to move smoothly on almost any kind of pavement. The caster board allows your son to perform tricks and stunts without falling and hurting himself and is designed to be accelerated without pushing it.
It is high-quality and durable and can also be used by adults up to 220 lbs. The lone weak point is the wheels, but although they will wear out before the rest of the board, they are replaceable.
The decks have a concave shape making them slip-resistant and easier to ride. It teaches your son to be good at balancing and coordination and develops his talent in snowboarding and even roller-skating which might help him become a great sportsman when he grows up.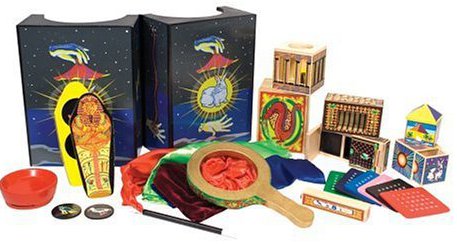 This set is great for kids who love magic or aspire to be magicians—other kids might turn up their noses, but Houdinis at heart will be overjoyed. Your son will learn the secrets of magicians to perform mind-blowing tricks. It includes the classic tools magicians use in their performances including magic coin box, disappearing ball, secret silks, and more. It has instructions on how to perform the tricks which are easy to master.
It also comes with a wooden box that acts as a performance space and a storage box. The set is made of solid wood and is, therefore, sturdy and will grow with your son. It is realistic, and it fosters your son's creativity and imagination. It also builds his confidence and posture and develops fine motor skills.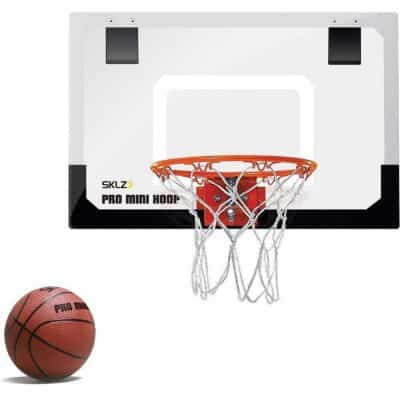 Build your child's basketball skills with this indoor basketball hoop. It is quick and easy to mount on the door, and your son will get to business right away. It is designed to look like the real thing and will keep your son occupied for hours—but make sure you give him a lot of space to do it, otherwise you might lose your favorite lamp.
The backboard is padded with foam to protect the hoop from ruining your door and is shatter resistant. The rim can bend down when your son dunks but bounces right back up when he releases it making your son feel like a basketball star.
The hoop is high-quality and will survive several games and abuses, and your son will use it as he grows. It helps develop your son's sportsmanship, and he also keeps active and fit while perfecting his moves.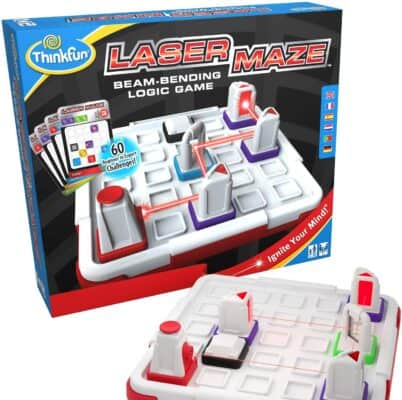 Laser Maze is a fun board game toy that allows boys to play with lasers and mirrors and develop logic and critical thinking. Laser Maze comes with 60 beginner to expert challenge cards, players must manipulate the beam to hit targets.
The game can be played solo, or in groups, and boys will love feeling like scientists as they play. Younger boys may have difficulty getting the pieces to stay in place on the game board, and it's important that boys are mature enough to understand not to point the lasers in their eyes.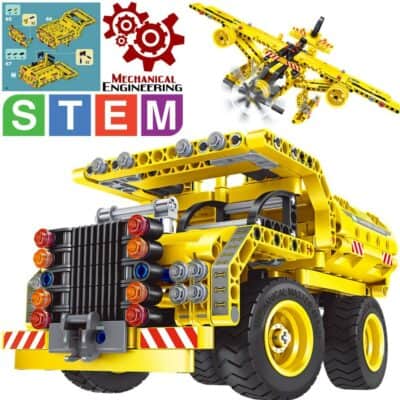 A construction kit with 361 pieces, Gili Building Toys is a 2-in-1 engineering set that allows children to build either a dump truck or propeller plane, encouraging mechanics, problem solving, and hand-eye coordination.
Boys can follow along with piece-by-piece manuals, but some younger children may find the instruction difficult and counterintuitive. They'll love putting together the moving propeller of the plane, or the lifting cargo bed of the dump truck, but it can be difficult to take the pieces apart when children want to build their next creations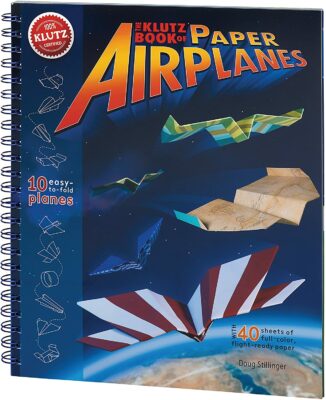 Klutz's Book of Paper Airplanes Craft Kit is a booklet of 10 different paper plane instructions, including 40 custom, double-sided sheets of paper in over 20 unique designs. The booklet includes 56 pages of instructions and has folder pockets for storing paper that isn't ready to be folded.
Boys will love being able to test different designs of paper planes, and test which ones go the farthest and fastest. Children who have difficulty staying on task or focusing may struggle to follow along and complete a plane. This is a great activity to take on vacations or days at the park or beach.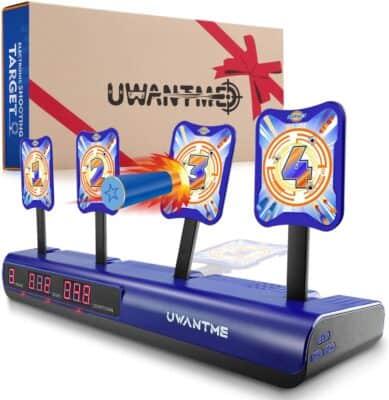 UWANTME's Shooting Target is a digital target practice that can switch between solo play or multiplayer mode. It comes with 4 different targets to hit, and is compatible with all types of nerf blasters, some kids may be disappointed that UWANTME does not come with included blasters. Solo and multiplayer modes each have unique scoring, and a countdown, and the digital readout clearly keeps track. The targets are satisfying to knock down, but kind of small.
This is a fun addition to the toy box for boys who already have Nerf guns and want a unique way to try them out or add competition.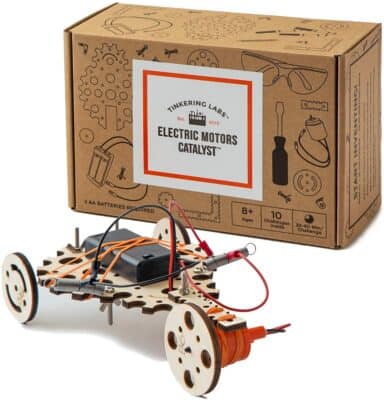 The Electric Motors Catalyst by Tinkering Labs is a mad scientists' dream in a box. Each box comes with 10 "challenge" cards, like "build a machine that draws curvy lines", or "make a ride for one of your toys", with all of the parts, motors, and gears needed to make it happen. The kit also includes a guide of tips and tricks to get the challenges moving.
The kit does require a lot of ingenuity to get it working, so boys without a lot of patience, creativity, or an engineering mindset will get lost. It also doesn't include straightforward instructions, so it can get complicated quickly. Boys who love to tinker and thinking out of the box will enjoy building with this kit.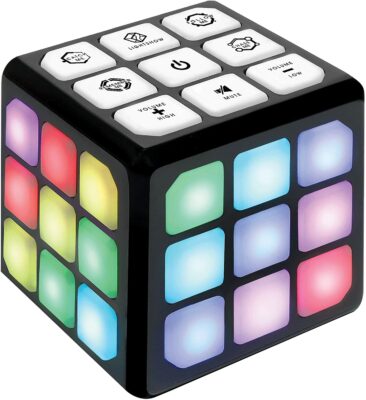 FlashDash is a unique memory game in a cube, that's fun to take on the go. It has 4 games in one: 1) Chase Me, where you don't let the light get out of your sight, 2) Catch Me, quickly press the blinking lights before time runs out, 3) Follow Me, memorize a pattern of lights and colors, and 4) Remember Me, follow along to flashing light sequences, similar to "Simon Says".
Smaller hands may have a hard time holding the cube without pushing the buttons at the wrong time, causing a "loss", and some of the games can seem repetitive. This game is fun for long commutes, and because the volume can be turned off, great for travel because it fits well in backpacks.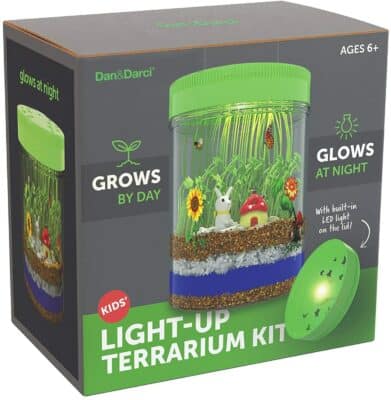 Watching something grow and making a nightlight is uniquely fun with this Light-up Terrarium Kit for Kids. This terrarium kit includes everything kids need to make a fully enclosed ecosystem nightlight that will have them engaged and excited to check on it each day. It includes a jar, light-up lid, charging cable for the lid, soil, blue sand, river rocks, wheatgrass seeds, chia seeds, water bottle sprayer, wooden stick, miniature bunny figurine, miniature mushroom house figurine, sticker sheet, and an instruction booklet.
Children will love putting together their own jar of nature, decorating it themselves, and watching it grow little by little. The light does dim very quickly, and the grass and chia can mold or outgrow the jar and may need to be trimmed back or replanted.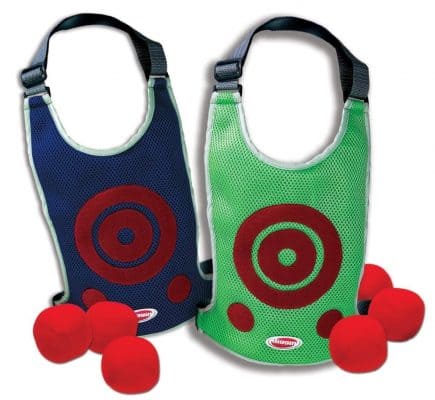 This product is excellent for outdoor play, although it can also be played inside the house. It includes two vests and six dodgeballs. It is a fun and easy game where players wear the vests and take three balls each and throw one at their playmates who are required to dodge, and if it sticks on the vest, they lose. The target is pretty small, though, and some kids might find it difficult to hit.
The balls are soft, and there is no risk of someone getting hurt, and the vests are adjustable for the players to wear them comfortably. It helps keep your son active and fit, and his concentration and timing are improved. It also enhances his hand-eye coordination.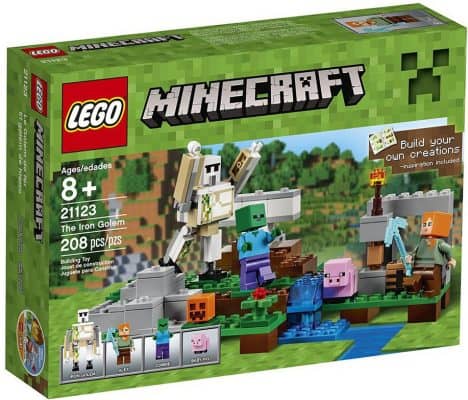 LEGO sets never disappoint, and kids love them. This set is no exception. It includes 3 ground panels, 3 bags each containing pieces of varying sizes, an Iron Golem figurine, 2 mini-figurines, a baby pig, and an instruction booklet. The final product is a bit underwhelming, but your son is provided with many options for building so he can use his imagination to build anything he can imagine.
The pieces are sturdy and easy to set up, and the set can be combined with other LEGO Minecraft sets to create a world full of fun, and this would be a perfect addition to your son's collection. It encourages him to use his creativity as he comes up with different ways of setting up the pieces.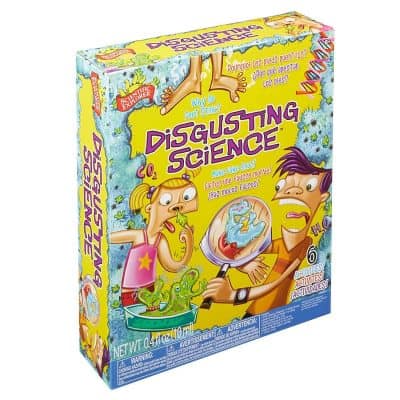 This kit teaches your son why his body is behaving the way it does. It includes red and green food coloring, 4pPetri dishes, 4 cotton swabs, a magnifier, gelatin, sugar and baking yeast, a rubber balloon, and an activity guide for your son to perform various experiments including making fake blood, stinky guts, fake snot, and other gross body features and it requires adult supervision. He also learns how to grow bacteria which are beneficial and distinguish it from harmful bacteria.
The kit encourages your son to maintain good oral and body hygiene and to prevent some of the disgusting activities from taking place in his body. He also gains useful knowledge about the human body, and it will develop his interest in biology which might eventually become a career. Adult supervision is required, however, since the projects involve a few complicated steps.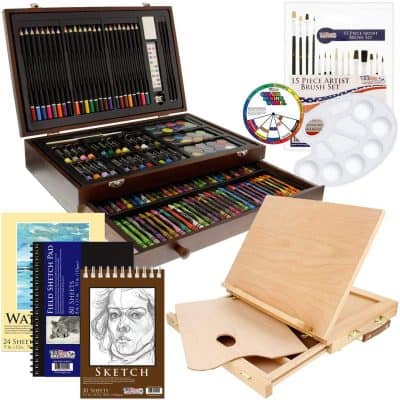 This set contains all the tools needed for making art and is perfect for introducing your son to artistry. These tools include colored pencils, wax crayons, paintbrushes, sketchbook, and many more, and they all come in an appealing wood case which opens fully to provide easy access and has clasps to ensure the tools are secured inside and also makes it easy to travel with—though it's not as sturdy and stable as we'd like.
Your son will have his very own little studio where he can bring his imagination to life. He will become so engrossed with it that it might be hard for him to leave it. It fosters creativity and imagination and develops and promotes his talent in drawing and painting, and in turn, his confidence will improve.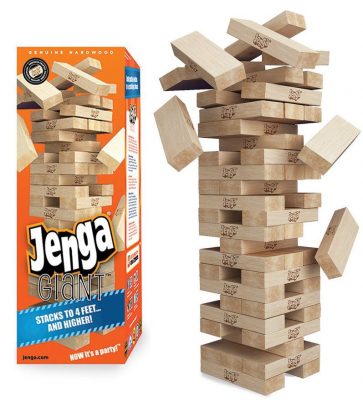 Does your son enjoy suspense? Then this is the perfect gift for him. It's a little more expensive than a standard Jenga game, but it will have him at the edge of his seat as he hopes the tower does not fall when he pulls out a block. It includes 54 blocks and a stacking sleeve with instructions, and it is much bigger than the normal Jenga blocks and stacks more than 4 feet high when arranged.
The blocks are good quality and sturdy, and they come in a sturdy box which makes it easy to store and travel. Your son can play it alone, with friends, or family. The game will require your kid to think carefully and become creative with the blocks lest he loses, and it builds his strategic and balancing skills.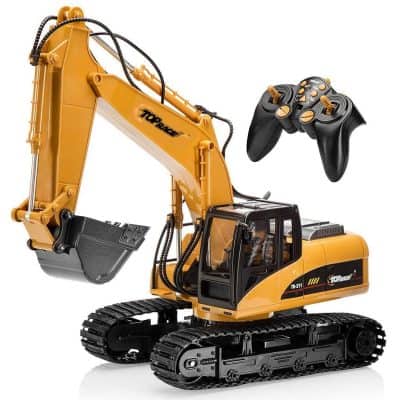 This is a rechargeable toy excavator that highly resembles the real one. It has a sturdy metal shovel that can dig into sand and soil and load them onto the back of a truck or transport them to another location.
The excavator is easy to control, and the remote control displays different functions of the buttons, and it is controlled from a distance of more than 100 feet, and just like a real excavator, it moves forwards and backward and can also rotate. It comes with its own batteries and USB charging cable—which is good, because you'll unfortunately need to charge it fairly often.
It is a great way to keep your son busy, and it builds his interest in construction, and he can learn how excavators work satisfying his curiosity. Your son will also become better at coordination and improve his physical development and sensory skills.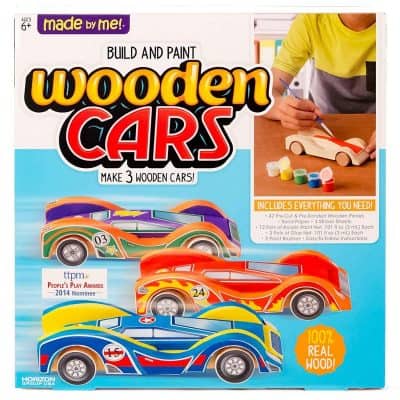 This kit includes wooden pieces, paint brushes, sandpaper, and other tools required by your son to build his own race car. The wood pieces come pre-cut and pre-sanded, and there are easy-to-follow instructions to make your son's work easier. The pieces build three cars, and your son chooses how he wants to paint and design the cars. Assembly is pretty straightforward, but it is time-consuming.
It is a great activity to undertake with siblings and friends and, therefore, it encourages teamwork. The cars are simple to make and will keep your son occupied as he strives to come up with a masterpiece. The kit encourages your son to use his creativity and imagination and improves his concentration. It also improves his ability to solve problems and develops fine motor skills.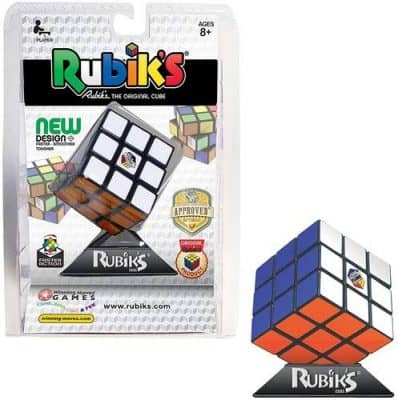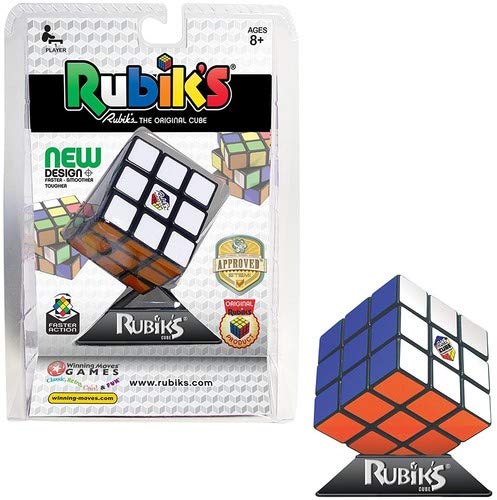 Rubik's Cubes are one of the most popular toys ever to exist. They have different colors for each side of the cube which are used to solve it. There are countless ways to solve Rubik's Cubes, although it can be solved with a few simple moves if you know what you're doing.
The cube is sturdy and also suitable for adults, and it comes with a stand to place the cube when not in use. The cube is an excellent gift for your son as it will keep him occupied and is excellent for testing his problem-solving abilities and improves his concentration—although, being difficult to use, it can frustrate some children. Those who use it will find that their mind is sharpened, and their creativity is promoted as they comes up with their own ways of solving the cube.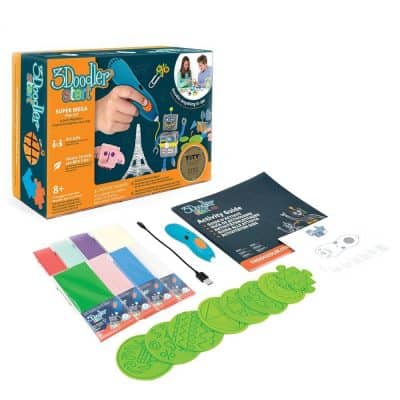 Your son can finally bring his imaginations to life with this 3D printing pen. The set includes a 3D printing pen, two packs of 8-mixed color eco-plastic, eight doodle blocks, a USB charging cable, and an activity guide. The pen is easy and safe to use, and the tip won't burn your son, and the plastic hardens immediately making it possible to draw in the air. Unfortunately, you'll run out of plastic to print with pretty quickly—but it's easy to find refills in tons of colors.
The doodle blocks allow your son to create shapes drawn on them and he can also follow online tutorials and even make cool objects entirely from his imagination. It is a fun activity, and it encourages creativity and imagination. Your son also develops an interest in planning and construction, which he can make a successful career out of.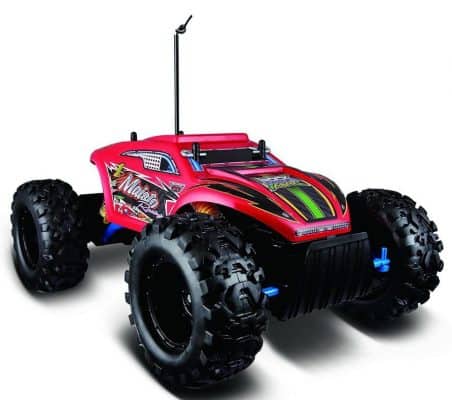 This is a cool radio-controlled toy that is great for indoor and outdoor play. It has a sturdy structure and a flexible body and is designed to work on harsh and rugged terrain, and your son will have a lot of fun playing with it. The vehicle runs on 6 AA and 3 AAA batteries and is light making it easy to carry around. It has a nice boyish design and is easy to operate. Its ability to move on rugged terrain will make adults want to play with it too! Your son can even use his creativity and imagination to build barriers if he can't find a rugged terrain. It improves his hand-eye coordination and spatial skills.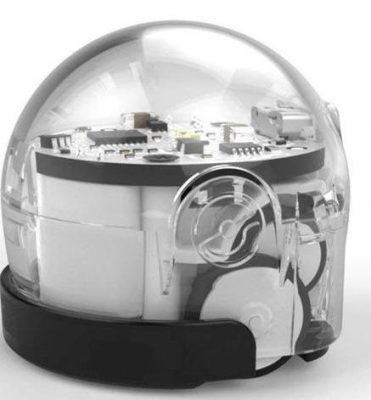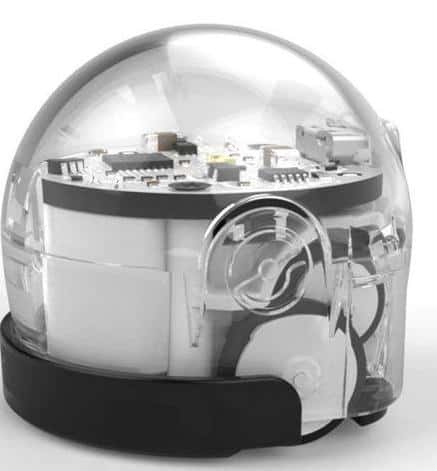 This is a mini-robot that can be programmed to perform different functions. It comes with a rubber helmet, pattern cards, carrying case, a charging cable, and a quick start guide. It is equipped with sensors that detect colors as codes and also respond to your kid's commands. The mini robot can automatically follow color patterns or follow programmed instructions.
You can also download games and challenges for your son so he won't have to play the same games over and over. He learns how to code and can proceed to more advanced levels of play. The robot develops his interest in science, technology, and engineering and it encourages him to use his creativity and imagination to create his own tracks. With that being said, it's not easy to use, so only kids with an interest in robotics are likely to stick with it.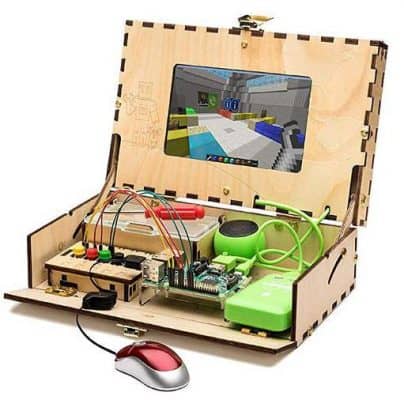 This toy is great for the little mechanical engineer as it lets him build a computer from beginning to the end and lets him understand how every day electronic devices work. It includes a computer, cables, an SD card, and a laminated blueprint to guide your son while building the computer. It connects to WiFi to allow your son to download new levels and updates.
The toy isn't cheap, but it's built to last, and your son will use it as he grows, and he will learn how to code and build simple electronics and progress to complex ones. He can assemble the pieces with his siblings or friends, thus encourages teamwork and it builds his confidence and creativity. Assembling the toys will challenge your son and widen his reasoning and problem-solving abilities.