When the weather is warm, throwing open your windows seems like a great idea. For new parents, though, windows can be a major area of anxiety. Children have a natural desire to explore; it's how they learn about the world. But those explorations can be dangerous. Children under the age of six are far more likely to have a serious injury from a fall than older children, with 1-2 year-olds having the highest risk.
As a parent, you probably know that 1-2 year-olds are at a major developmental turning point. They are starting to develop their motor skills, but their reasoning skills are not there yet. While new legislation was passed in 2018 to make windows in residential buildings safer, if you live in an older house or apartment, you may still need to take some precautions to ensure your little one's safety. Windows, glass, screens, and blind cords can all pose safety hazards that you may have never even thought of.
How to Select Window Safety Devices
Bug screens and typical window latches won't cut it to keep your children safe. In fact, bug screens are even required to have a label stating that they won't prevent children from falling out of the window.
So what's the best option to prevent your child from having a dangerous accident? Depending on your needs and the style of windows in your house (which we'll break down for you in this guide), some safety devices will be better than others.
Type of Window Safety Device
Window safety devices come in many forms, each with its own way of preventing unwanted falls. Some of the most common and effective are listed below.
Window Guards
They may look a little prison-like, but these bars are a good option if you still like to open your window from the bottom or your window swings out to open. They allow fresh air in while creating a barrier for your child.
Safety Stops
These stoppers are designed particularly for sliding windows and glass doors. They block the window or door from sliding open with an angled stopper that flips up or down as needed.
Wedges and Blocks
These devices vary in complexity, but are good options for windows that slide horizontally or vertically to open. They are often attached to the sill or frame and block the window from opening.
Cord Winders
Dangling blind cords are a risk to small children as well. Cord winders keep cords wrapped up and out of the way.
Window Locks
For children who are a little older, standard window latches are easy to open. Adding a more secure lock can keep the window open as much as you want it, but makes it much harder for your child to open it more. They are available in keyless and keyed models.
Installation
Different window childproofing products install differently, balancing security with ease of installation. The most common installation methods are listed below.
Adhesive
Some window childproofing products adhere to windows with a simple glue. While it's permanent, it's not necessarily the most-childproof product, and it can sometimes be a pain to remove, especially if it's been installed for a long period of time.
Clamps
Clamps are an effective combination of a permanent solution and a childproof product, although they aren't necessarily as permanent as a screw-in or glued-on option, they can be just as effective in terms of childproofing
Locks
Locks are intentionally impermanent, but they can be quite effective. The only issue? They don't just restrict window access for children, but for anyone else in the house as well.
Screws
Directly screwing childproofing products into window frames is the best and most permanent way to maintain security. Screws can also be tamper-proof, meaning that once they're installed, they're nearly impossible to remove without serious effort.
Here is a list of the ten best childproofing products we've found for windows. On this list, you'll find a variety of childproofing devices to fit your lifestyle and window design.
Top 10 Best Window Childproofing Products 2020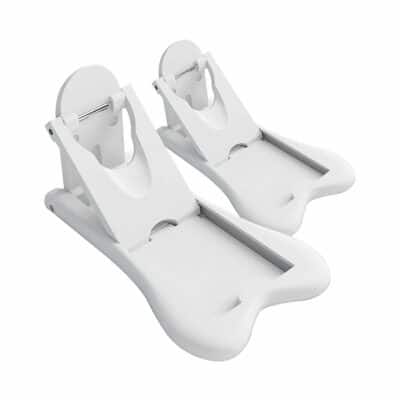 Why we like it:
This stopper is a versatile option that can be locked and unlocked as needed on nearly any window or door.
Editor's Rating:
Quick Facts:
Style: Safety Stop
Installation: Adhesive
This keyless safety device is easy to install with a 3M adhesive strip attached to the back. It adheres to nearly any surface, making it perfect for sliding glass doors, windows, and even wooden doors or cupboards.
The stopper flips up and blocks the door or window from opening. When you need to open the window or sliding door, you can push the latch down and go about your business.
Though it's designed for sliding windows and doors, it can be used on double-hung windows and other areas around the house as well.
Downsides
Because of the adhesive this device uses to attach it to your door or window, it can leave behind residue and won't stick securely to another surface unless you replace the adhesive strip with a fresh one.
It's easy locking and unlocking feature can also pose a risk when it comes to older children. If an older, somewhat stronger child rattles the door or window continuously, they could possibly force it to unlock. For very young children, it's very effective.
If the white plastic look puts you off, there are similar devices available in clear plastic to be a little more visually discreet.
What Stands Out
If you're having trouble deciding where to start when it comes to childproofing your home, these Ashtonbeen stoppers are a good option. They provide added security to nearly any window or door that slides to open, so it will suit a number of different window styles.
Installation is quick and easy. You won't have to worry about keeping a key on hand to disengage the lock when you want.
Sold in a pack of two, this is a moderately priced option that's still effective.
Pros
Keyless locking

Easy to disengage

Quick and easy installation

Works on a variety of windows and doors
Cons
May leave a residue when removed

Not as effective for older children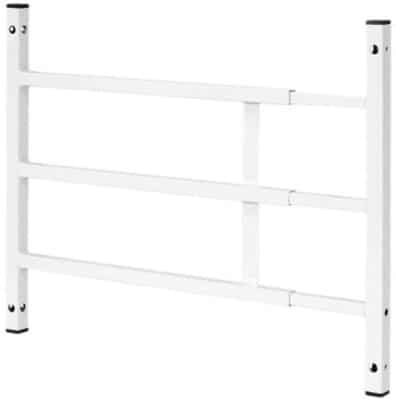 Why we like it:
The bars are surprisingly sturdy and allow you to open your windows while keeping your children safe.
Editor's Rating:
Quick Facts
Style: Window Guards
Installation: Tamper-proof Screws
For double-hung or casement windows, these window guards are a great option. If you like to open your windows for ventilation, these will allow you to enjoy fresh air and some peace of mind.
Available in six sizes with telescoping adjustment, this guard fits across the window. Its carbon steel tube design is lightweight but strong. To install, you fit it directly into the window frame. The guard comes with tamper-proof screws that will keep it secure even if your child tugs on it.
The window can be partially opened behind it to allow air to flow into the house, but the bars will block your child from climbing or falling out. These are especially great to use on casement windows that may not work with other childproofing devices.
Downsides
Since this guard must be screwed in, it's not easy to remove and will leave holes in the windowsill. It's not advisable to use this guard on a window that you need as an emergency fire exit because it cannot be quickly removed.
There are also limits to how much weight the guards can handle. The hollow tubes make this light for shipping and home installation but are not as strong as solid metal. If your child is a little older and pulls on it or puts their entire weight on it, there may be some bending or warping to the bars.
What Stands Out
This guard and its included screws are a great extra security measure. Since the screws have an unusual shape on their head, only the included driver can install or remove them. This makes them a great deterrent for break-ins as well. Tamperproof screws also prevent children from getting out.
This window guard is a great option if you don't want to compromise on enjoying natural ventilation while keeping your family safe.
Pros
Sizes available to fit most windows

Adds extra home security

Allows you to open your windows
Cons
Blocks windows from being emergency exits

Requires screw holes in your frame or panes

Will bend under a lot of weight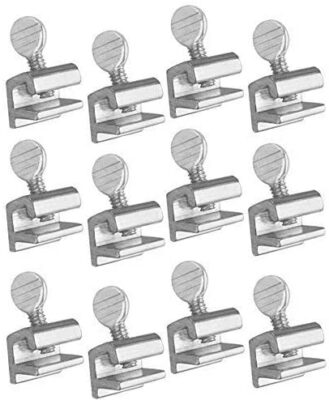 Why we like it:
This 12-pack of window locks is a simple and unexpected starter set for parents looking to childproof a lot of windows quickly and easily.
Editor's Rating:
Quick Facts:
Style: Window Lock
Installation: Clamp on to Window Frame
If you have a ton of windows and need to better secure them quickly, this set is a great start. Clamping onto the frame, these metal locks block single or double-hung windows from opening.
Simply tighten the screw and the metal piece will block the window from opening. These could work on sliding windows and doors as well when attached to the bottom rail. Installation requires no additional tools and isn't permanent.
Downsides
While these are easy to install and remove, they don't meet with fire-safety codes in some areas and may reduce accessible emergency exits in your home.
They also are quite small. Some window frames may be too wide for the clamp to fit around. Other windows may have too large of a gap between the frame and the edge of the window which may make it less effective. Measuring in advance will help ensure whether or not it will be a good fit.
If you want the added security of a clamp lock that can only open with a key, check out these sliding window locks on our list.
What Stands Out
For such small, inexpensive locks, these are quite effective when fitted properly. Just one lock per window gives significant protection. If your child is old enough to open a basic window latch, this will still stop them from being able to get the window open.
These locks add additional home security as a protection measure against break-ins as well.
Pros
One pack will cover 12 windows

Tool-free Installation

Added home security
Cons
Won't fit many windows

May not meet fire safety codes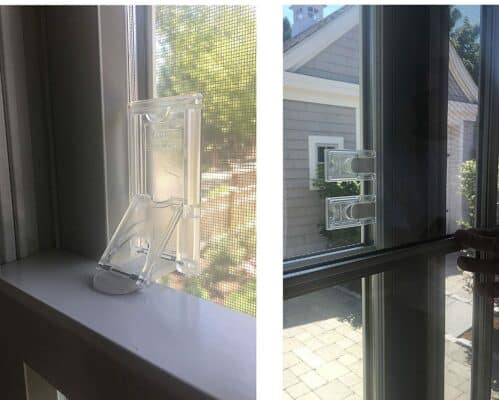 Why we like it:
If you want an effective option for sliding or double-hung windows that doesn't visually stand out, these are a great choice.
Editor's Rating:
Quick Facts:
Style: Safety Stopper
Installation: Adhesive
If you don't want everything in your home to scream: "a small child lives here," these subtle, clear stoppers fit the bill. Attachable by adhesive strip, these can be placed wherever you need them on sliding or double-hung windows. If you want the window to be able to open a little bit, or not at all, you can adjust their placement accordingly.
They come in a pack of 4, with 2 per window recommended for maximum security. The simple folding latch doesn't require a key to be locked or unlocked.
Downsides
For true escape-artist kids, the latch design may be too simple. If they can easily reach the latch, they may be able to figure out how to open it. Putting it high enough to be out of reach is the best way to ensure they won't figure out how to open it by fiddling with it. You can maximize security by keeping furniture away from windows.
If you're unable to keep the lock out of reach and your child actively tries to get out, you might want to consider our option from Okefan.
It also has the expected downsides of any adhesive product. Removing it may leave some residue and you'll have to purchase more adhesive strips if you want to reinstall it elsewhere.
What Stands Out
These stoppers are very easy to use. Transitioning them from locked to unlocked is simple and allows you access to your windows when you need it, making them safer if you need to use your window as an emergency exit.
If you're looking for a discreet deterrent, these are a great option. Just do your best to place them out of reach of your kids.
Pros
Discreet look

Easy to operate

Quick and easy installation

Doesn't block use of window permanently
Cons
Simple design can be figured out by determined children

Requires more adhesive strips to install on another window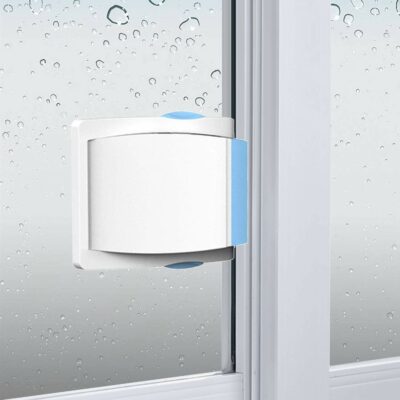 Why we like it:
Okefan's horizontal design makes this stopper more ideal for sliding doors or windows and has extra security measures for curious children.
Editor's Rating:
Quick Facts:
Style: Safety Stopper
Installation: Adhesive
Made with a combination of durable plastic and a stainless steel spring, these stoppers are tough. They attach to your window or sliding door with a 3M adhesive strip, no tools required. It will adhere to most surfaces, so it can do double duty on doors and cabinets as well.
Unlike other safety stoppers on our list, this one is better suited for sliding windows because of its horizontal design. However, it can still be used on classic double-hung windows.
Downsides
Because of the security mechanism, this device is a little thicker than many safety stoppers. For tightly fitted sliding glass doors, there may not be enough clearance for it to pass over the stopper when it's not engaged. It could potentially cause your door to become unsealed if you force it to open over the device.
The strength of the adhesive helps keep the device secure during use, but it can cause a problem for removal. Instead of peeling cleanly off, it can leave behind adhesive residue. You may have to use acetone to remove all of it.
What Stands Out
This stopper has a more sophisticated locking system than most of this style. Rather than just folding it down to unlock it, you have to press two buttons on either side of the stopper simultaneously to disengage the lock. Simply tugging or pressing on the device won't unlock it.
This makes it a great option for families with kids who may be big enough to reach the stopper or who are just especially determined to get out and explore the world.
Pros
More secure locking mechanism

Simple installation

Strong design
Cons
Too thick for some sliding doors

Can leave behind pieces of the adhesive strip

Why we like it:
One of the simplest options available, this device can be removed and reattached multiple times without losing efficacy.
Editor's Rating:
Quick Facts:
Style: Wedge
Installation: Adhesive
The wedge-shaped design of this stopper keeps a window from fully opening without taking up a lot of space. For double-hung windows, it discreetly sits on the upper frame, out of reach for most young children. It prevents the window from opening from the bottom or the top in that position.
The included adhesive strip for installation has Velcro loop material on one side. The separate strip adheres to the window frame. The wedge itself has durable slip-resistant hooks that slot into the strip for a snug fit.
In case of emergency, the wedge can be removed quickly from the strip, allowing the window to open normally.
Downsides
If you apply this stopper to the bottom frame of slider windows, it becomes less effective. Once a child starts becoming stronger and more dexterous, they could be able to fiddle with these enough to pull the wedge off the Velcro strip. The safety advantage of removability can become a disadvantage in that case.
If you're looking for a childproofing device that will also beef up your overall home security, these won't add much. They won't stand up against a determined adult. For more security-conscious users, it might be better to invest in a window guard system.
What Stands Out
If, like many people, your house has double-hung windows, this device is one of the best options. Unlike many devices that require a lot of clearance for you to open the window when they're disengaged, this one lets you remove the device completely. It's ideal if you like being able to open the windows from time to time.
The heavy-duty Velcro attachment, combined with the wedge shape makes it strong enough to stop most young children from being able to push up a window.
You can also double up and put two on each window if you've got a particularly determined toddler.
Pros
Stops double-hung windows from opening in either direction

Simple adhesive installation

Wedge is removable when you need to open the window
Cons
Less effective on sliding windows

Doesn't add much to overall home security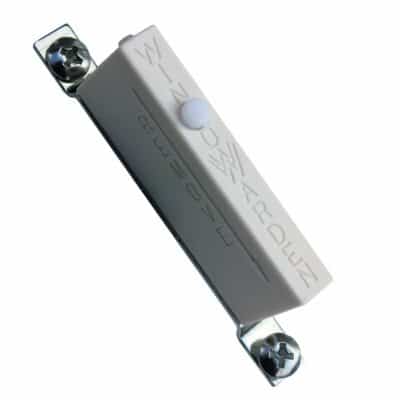 Why we like it:
The Window Warden surprises with its sturdiness and convenience in a small package.
Editor's Rating:
Quick Facts:
Style: Block
Installation: Screw-In Plate
These guards come in two parts: a metal backplate and the guard itself. Once you screw the metal plate into your window frame, the guard slots in easily. If you need to open the window, you simply press the device down and it will slide off.
Having a metal plate attached to the window frame makes these sturdier than adhesive options. Their small size (about 2 x 1 inches) makes them discreet, as well. They won't interrupt your view or clash with your decor.
Downsides
Since these have to be screwed into the window frame to work, they may not be ideal for renters. For fiberglass windows, they can also be a problem. You simply may not want to drill into the frames and damage them.
Like most keyless designs, they do have a greater risk of failure. As your child gets a little older, they are more likely to figure out how to bypass the lock and remove it from the window. It may be better to choose a keyed window lock options for such cases.
What Stands Out
This guard is an inexpensive solution that allows you to add extra security to your windows without compromising your ability to open them in an emergency. The metal backplate helps the device withstand more pressure when installed than adhesive.
The push-down removal method also adds security. Since most windows will be pushed up to open, it goes against the removal mechanism, making it harder to force open.
Pros
Sturdy metal backplate

Small and discreet design

Easy removal in case of emergency
Cons
Must be screwed into the window frame

Easy removal can pose a risk to older children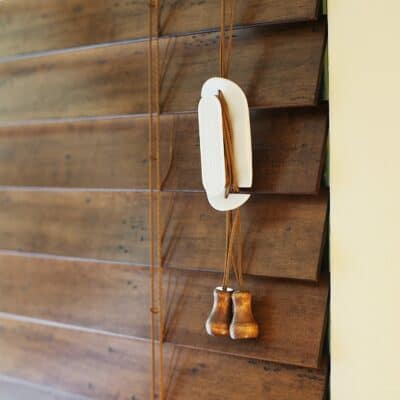 Why we like it:
This cord winder keeps blind cords out of the way to prevent injury with any blinds and over a range of ages.
Editor's Rating:
Quick Facts:
Style: Cord Winder
Installation: Wrap Up
The perfect complement to any other security device on our list, a cord winder is a must if you have blinds. This super-simple device allows you to keep pull cords wound up and out of the way. It will keep babies from pulling on them or putting them in their mouths during the crawling stage. Once they reach the toddler exploring stage, this will also prevent them from getting tangled up in the strings.
The intuitive design requires no tools or adhesives. It also works with all types of blinds. Simply wind your cord around the center spindle and then loop it through the bottom cut out.
Downsides
If you have floor-to-ceiling windows, you may need to use two winders for each. The spindle is somewhat shallow, so it won't hold all of a very long cord. You can have a second one further up the cord to help reduce the overall length.
If you frequently use your cord to bring your blinds up and down, you may find this somewhat inconvenient. An option is to wrap each cord separately, rather than having both on the same winder, so you can still operate them independently to raise or lower the blind.
Thinner cords can also slip out of the bottom cut out somewhat easily if you don't knot off the end.
What Stands Out
You can easily shorten your blind cord and keep it out of your child's reach without having to drill any holes in your walls. This makes it a better option for renters than cord cleats that must be screwed into place.
Since small children can easily become tangled in long cords, this is a great addition to any home childproofing kit. Even if your window is securely shut, you should use this sort of device to remove any other chance of window-related injury.
Pros
No need to drill into the wall or use adhesive

Keeps cord out of your child's reach

Works with any blind
Cons
May need more than one winder per window

Cord can slip out of bottom cut out

Inconvenient for blinds you use frequently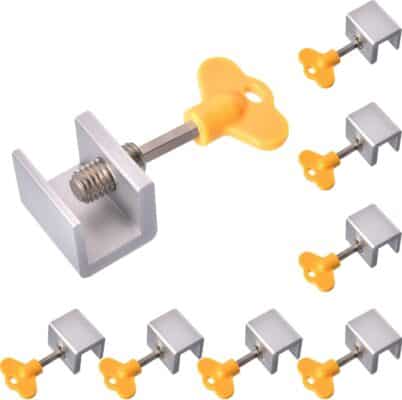 Why we like it:
This is one of the most childproof options for securing your windows, only accessible with a key.
Editor's Rating:
Quick Facts:
Style: Window Lock
Installation: Clamp Lock
This option is perfect if you have a little Houdini in your home who can easily figure out how to bypass other window latches and stoppers. This lock slips over the bottom or side of a window frame and blocks the edge of the window from lifting up.
The separate key tightens the screw to the frame. The same key will also unscrew it for removal. The metal body of the clip that attaches to the frame is tough enough to test any child's strength if they try to pry it.
As with many window security products, you can use two per window to increase their strength. Sold in a pack of 8, you'll have plenty to double up if necessary.
Downsides
These locks are more secure than stoppers you can simply fold down, but that does pose some problems. In case of emergency, it can eat up valuable time to get the lock off. If you lose the key (an Allen wrench with a handle attached to the end), it can be a hassle to open your windows again. Any key, especially one you don't use every day, can be lost.
The clamp is also small, so if you have wider frames, they won't be able to properly tighten. This can make them more susceptible to being pulled off, or slid higher up the frame with enough force.
Vinyl window frames may also show some scratching or denting once you tighten the screw to be secure. It does need to put significant pressure on the frame to be effective.
What Stands Out
This lock doesn't require any installation and won't cause significant damage to your window or frame. For renters, this can be a big bonus.
Its metal body and key access make it perfect for windows you don't need to open often but are in reach of your children. Keeping the key somewhere secure may be a challenge when your children get older, but without it, this lock makes any window almost impossible to open.
Pros
Can only be removed with a separate key

Full metal body

No adhesive or screws to install
Cons
Makes windows less emergency accessible

Won't securely fit wider frames

May leave scratches or dents on your frame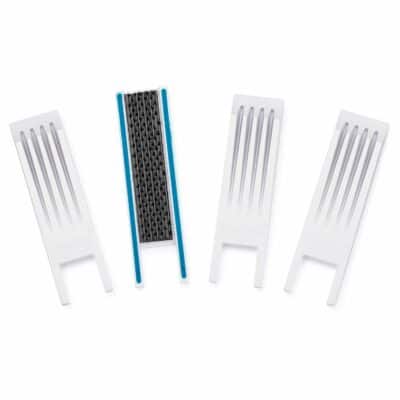 Why we like it:
For a simple, no-frills option that will deter your children from opening the window, this is a practical choice.
Editor's Rating:
Quick Facts:
Style: Wedge
Installation: Adhesive
This wedge stopper option is more budget-friendly than many of the stoppers on our list. Like others, it features Velcro strips for easy application and removal of the wedges as needed. This makes it safe to use even on windows that need to be accessible in case of emergency.
To install, you can adhere the included Velcro strip on either the frame or the glass itself. Adhere the corresponding Velcro on the wedge to secure it in place. The wedge will then work to block the window from opening above whichever level you've chosen to install it.
Put it higher to allow the window to open a little for ventilation, or place it flush against the window to prevent it from opening more than a centimeter or so. The choice is yours.
Downsides
Basically, this is a budget version of the other wedges on our list. This results in them being a little less durable overall.
Rather than a hard plastic Velcro strip on the wedge and the window strip, these have the softer, fuzzy kind of Velcro more similar to what you'd find on clothing.
If your child is used to Velcro closures on their shoes, for example, then it may be possible for them to pull the wedges off if they can reach them. This limits their use in places like the bottom frame of sliding windows where children can easily access them.
What Stands Out
This childproofing wedge is simple, versatile, and easy to use. It allows you to choose the level you want your window to open to and it's easily removable if you need to open the window all the way. Unlike some plastic stoppers, it won't interfere with the window opening fully once the lock is disengaged.
The weaker Velcro may be a downside if your child figures out the security device and can reach it. However, if you need to make sure the window is accessible for members of the family who may not have a lot of grip strength, this is a safer option.
Pros
Set to the window opening level of your choice

Allows windows to be opened in an emergency

Safe for adults with less grip strength
Cons
Not as strong as other wedge options

Less durable construction overall
Know Before You Buy
To keep your child from having a dangerous fall or an unsupervised adventure, adding some additional security to your windows is important. Every year, more than 3,300 children are injured by falling from windows.
Why Do You Need to Childproof Your Windows?
While the risk of death from falling from a window is relatively low, the risk of accident and injury in young children is high. The beautiful bay window or sliding glass door that attracted you to your apartment or house initially can easily become a major point of anxiety.
If you're a first-time parent, it can be overwhelming to think about all ways that you need to make your home safe. Starting with simple but effective solutions will help your house be ready by the time your little one starts exploring.
If you have a child five years old or younger, it's essential that you take steps to make the windows in your home safer.
Common Window Types
Most relatively modern houses have one of a few types of windows. The kind of window you have in your home will help you determine which safety products will work best for you. Here are a few of the most common kinds of windows found in residential buildings and the products that work best with them.
Double Hung
Most modern homes have double-hung windows in at least some of the rooms. These are two windows hung together that latch in the middle and can be opened by pulling down the top window or pushing up the bottom window.
A window wedge is a simple option that will stop both the top and bottom windows from opening.
Casement
Casement windows can seem a little tricky to childproof because they swing outwards. Most will have a crank to wind them open that cautious parents can remove altogether. If you don't want to lose all functionality of the window, though, placing a window guard across the window is a great option for the casement style.
Slider
Windows and doors that open by sliding horizontally are especially common around the back deck or poolside. These panels slide along a bottom rail. Adding a device like a flip-up stopper is a good way to prevent them from opening.
Bay
Bay windows are usually a panel of multiple windows that extend beyond the wall of the house. These can use double-hung or casement windows. Since they're often accompanied by a wide ledge or cozy window seat, it's especially important to make sure they are secured, since a child can climb up on them easily.
While using safety devices is a great start, there are some other ways to reduce the risk overall of your child having an accident. For example, using a cord winder in addition to other safety devices will remove an often-overlooked risk.
Some other ways to keep your window areas safer include removing furniture from around the windows. Keeping chairs and stools that can be climbed on by your child away from the window will reduce the risk of your child unlocking the windows and bypassing any extra safety device.
The National Safety Council provides more information about safety precautions parents can take. Check out the window safety page on their website.
Childproofing the Rest of Your House
Childproofing doesn't stop at windows: the rest of your house can pose distinct hazards to growing, curious children. Consider adding the following products to your arsenal to keep your house safe.
Outlet Covers: Prime targets for curious kids are outlets that pose shock risks. Cover your outlets with small, inexpensive plastic tops to avoid dangers.
Childproofing Kits: If you're prepping for the birth of a new baby, you can knock out all of your childproofing at once with a complete childproofing kit.
Final Thoughts
Keeping your family safe can seem like a full-time job, but there are plenty of resources out there to help keep you and your children safer at home. Figuring out the best type of window childproofing device for your home is about understanding your needs. You'll have to determine whether you need a more permanent solution versus an easily removable one. This may vary from window to window. You should also consider your child's age and abilities. And, of course, you should consider what sort of windows you have when choosing a safety device.
Beyond that, keep in mind that some areas may have specific requirements for window safety. For a house or apartment to pass a safety inspection, there may be guidelines on which devices can be used in the home. Be sure to check your community's guidelines before purchasing a safety device. Hopefully, this list will get you started and help you find what will work best to keep your family safer and your mind more at peace.