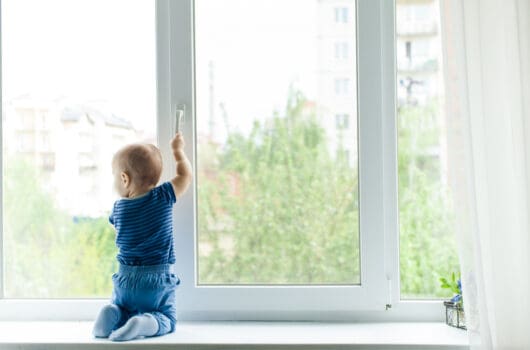 O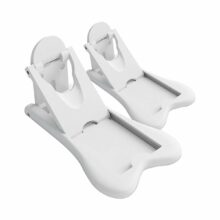 Sliding Door Lock for Child Safety by Ashtonbee
B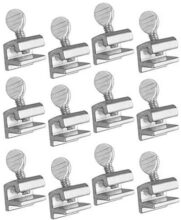 Sliding Window Locks Set
P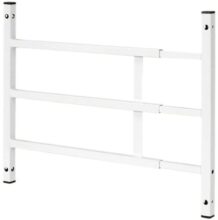 Segal S 4752 Fixed Adjustable Child Safety Window Guard
Previous
Next
When the weather is warm, throwing open your windows seems like a great idea. For new parents, though, windows can be a major area of anxiety. Children have a natural desire to explore; it's how they learn about the world. But those explorations can be dangerous. Children under the age of six are far more likely to have a serious injury from a fall than older children, with 1-2 year-olds having the highest risk.
As a parent, you probably know that 1-2 year-olds are at a major developmental turning point. They are starting to develop their motor skills, but their reasoning skills are not there yet. While new legislation was passed in 2018 to make windows in residential buildings safer, if you live in an older house or apartment, you may still need to take some precautions to ensure your little one's safety. Windows, glass, screens, and blind cords can all pose safety hazards that you may have never even thought of.
How to Select Window Safety Devices
Bug screens and typical window latches won't cut it to keep your children safe. In fact, bug screens are even required to have a label stating that they won't prevent children from falling out of the window.
So what's the best option to prevent your child from having a dangerous accident? Depending on your needs and the style of windows in your house (which we'll break down for you in this guide), some safety devices will be better than others.
Type of Window Safety Device
Window safety devices come in many forms, each with its own way of preventing unwanted falls. Some of the most common and effective are listed below.
Window Guards
They may look a little prison-like, but these bars are a good option if you still like to open your window from the bottom or your window swings out to open. They allow fresh air in while creating a barrier for your child.
Safety Stops
These stoppers are designed particularly for sliding windows and glass doors. They block the window or door from sliding open with an angled stopper that flips up or down as needed.
Wedges and Blocks
These devices vary in complexity, but are good options for windows that slide horizontally or vertically to open. They are often attached to the sill or frame and block the window from opening.
Cord Winders
Dangling blind cords are a risk to small children as well. Cord winders keep cords wrapped up and out of the way.
Window Locks
For children who are a little older, standard window latches are easy to open. Adding a more secure lock can keep the window open as much as you want it, but makes it much harder for your child to open it more. They are available in keyless and keyed models.
Installation
Different window childproofing products install differently, balancing security with ease of installation. The most common installation methods are listed below.
Adhesive
Some window childproofing products adhere to windows with a simple glue. While it's permanent, it's not necessarily the most-childproof product, and it can sometimes be a pain to remove, especially if it's been installed for a long period of time.
Clamps
Clamps are an effective combination of a permanent solution and a childproof product, although they aren't necessarily as permanent as a screw-in or glued-on option, they can be just as effective in terms of childproofing
Locks
Locks are intentionally impermanent, but they can be quite effective. The only issue? They don't just restrict window access for children, but for anyone else in the house as well.
Screws
Directly screwing childproofing products into window frames is the best and most permanent way to maintain security. Screws can also be tamper-proof, meaning that once they're installed, they're nearly impossible to remove without serious effort.
Here is a list of the ten best childproofing products we've found for windows. On this list, you'll find a variety of childproofing devices to fit your lifestyle and window design.
Top 10 Best Window Childproofing Products 2020
Know Before You Buy
To keep your child from having a dangerous fall or an unsupervised adventure, adding some additional security to your windows is important. Every year, more than 3,300 children are injured by falling from windows.
Why Do You Need to Childproof Your Windows?
While the risk of death from falling from a window is relatively low, the risk of accident and injury in young children is high. The beautiful bay window or sliding glass door that attracted you to your apartment or house initially can easily become a major point of anxiety.
If you're a first-time parent, it can be overwhelming to think about all ways that you need to make your home safe. Starting with simple but effective solutions will help your house be ready by the time your little one starts exploring.
If you have a child five years old or younger, it's essential that you take steps to make the windows in your home safer.

Common Window Types
Most relatively modern houses have one of a few types of windows. The kind of window you have in your home will help you determine which safety products will work best for you. Here are a few of the most common kinds of windows found in residential buildings and the products that work best with them.
Double Hung
Most modern homes have double-hung windows in at least some of the rooms. These are two windows hung together that latch in the middle and can be opened by pulling down the top window or pushing up the bottom window.
A window wedge is a simple option that will stop both the top and bottom windows from opening.
Casement
Casement windows can seem a little tricky to childproof because they swing outwards. Most will have a crank to wind them open that cautious parents can remove altogether. If you don't want to lose all functionality of the window, though, placing a window guard across the window is a great option for the casement style.
Slider
Windows and doors that open by sliding horizontally are especially common around the back deck or poolside. These panels slide along a bottom rail. Adding a device like a flip-up stopper is a good way to prevent them from opening.
Bay
Bay windows are usually a panel of multiple windows that extend beyond the wall of the house. These can use double-hung or casement windows. Since they're often accompanied by a wide ledge or cozy window seat, it's especially important to make sure they are secured, since a child can climb up on them easily.
While using safety devices is a great start, there are some other ways to reduce the risk overall of your child having an accident. For example, using a cord winder in addition to other safety devices will remove an often-overlooked risk.
Some other ways to keep your window areas safer include removing furniture from around the windows. Keeping chairs and stools that can be climbed on by your child away from the window will reduce the risk of your child unlocking the windows and bypassing any extra safety device.
The National Safety Council provides more information about safety precautions parents can take. Check out the window safety page on their website.
Childproofing the Rest of Your House
Childproofing doesn't stop at windows: the rest of your house can pose distinct hazards to growing, curious children. Consider adding the following products to your arsenal to keep your house safe.
Outlet Covers: Prime targets for curious kids are outlets that pose shock risks. Cover your outlets with small, inexpensive plastic tops to avoid dangers.
Childproofing Kits: If you're prepping for the birth of a new baby, you can knock out all of your childproofing at once with a complete childproofing kit.
Final Thoughts
Keeping your family safe can seem like a full-time job, but there are plenty of resources out there to help keep you and your children safer at home. Figuring out the best type of window childproofing device for your home is about understanding your needs. You'll have to determine whether you need a more permanent solution versus an easily removable one. This may vary from window to window. You should also consider your child's age and abilities. And, of course, you should consider what sort of windows you have when choosing a safety device.
Beyond that, keep in mind that some areas may have specific requirements for window safety. For a house or apartment to pass a safety inspection, there may be guidelines on which devices can be used in the home. Be sure to check your community's guidelines before purchasing a safety device. Hopefully, this list will get you started and help you find what will work best to keep your family safer and your mind more at peace.