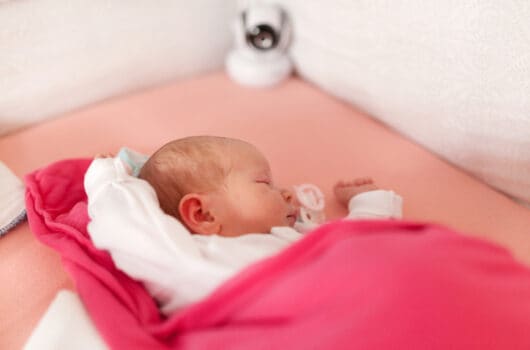 O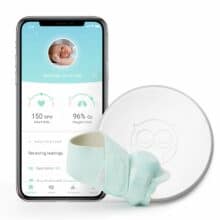 Owlet Smart Sock 2 Baby Monitor
B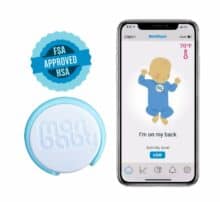 MonBaby Baby Monitor
P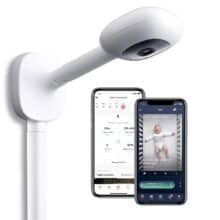 Nanit Plus Smart Baby Monitor
Previous
Next
There is nothing more exciting and filled with joy than having a new baby. For most parents, however, there is also nothing that can cause more fear and anxiety. While most babies grow up without incident, a small percentage of them develop breathing problems. Thankfully, parents can keep track of their infant's breathing and find some extra peace of mind by using a baby breathing monitor.
As the name implies, a baby breathing monitor will closely watch your infant while they sleep in their crib. If your little one stops breathing for any reason, the alarm will notify you so you can rush in and check on them. Many of these monitors also come with other features to help you to know what is going on in your nursery while you are in another room.
If you are thinking about purchasing a baby breathing monitor, you want to make sure you get the right one. Read through this page to learn more about how these monitors work, which ones are the best on the market today, and much more.
Before Picking a Breathing Monitor for Your Baby
Unlike a traditional baby monitor, which allows parents to watch or listen in to their baby in their crib, all of the products on this list are able to monitor your child's breathing.  Here are the important things we considered when picking which ones to recommend.
What is Being Monitored
All of the products that are included in this list will monitor your baby to make sure they are breathing. There are a few different ways they accomplish this. Some of them monitor using sensors that are clipped onto your child's clothes, others will use sensors that are placed under the crib mattress, and still others use a video camera to detect movement. You can read about how each of these options works in our full buyer's guide below.
All of these options can be very effective in making sure there aren't any problems. The main differences between them will be how they are installed, and the extra conveniences offered.
Many of the monitoring tools will also have other great features. For example, some of them include an audio and video monitor that will display either on your phone or on an included device. Others will monitor your child's temperature, the temperature in the room, or even if your baby has a wet diaper. For many parents, choosing a breathing monitor that will also monitor these other things will make it an excellent investment.
Accuracy of Alerts
One of the most important things that you need to consider when purchasing this type of monitor is how accurate it will be. If a monitor is not sensitive enough, it could fail to detect when your baby has stopped breathing, which would be disastrous. On the other hand, if a monitor is too sensitive, you will get a lot of false alarms.
If a false alarm wakes you up several times each night, you will quickly stop using it and either go without this peace of mind or have to spend money on another unit. We looked closely at how accurate each baby breathing monitor was when reviewing them and made sure to only include models that had an excellent reputation in this area.
Notification Methods
Some baby breathing monitors will sound a loud alarm from the monitor or a base station, some will send a notification to your phone, and others come with their own portable monitoring device that you carry with you. Each of these options has its own pros and cons, so make sure to carefully consider which one will work best for you.
Whenever shopping for something as important as this, you will want to make sure that you find the perfect one for your situation. Below you will find the top 10 baby breathing monitors for 2020.
The Complete Baby Breathing Monitor Buyer's Guide
When purchasing any type of device that is designed to help protect your new baby, it is important to choose the right one. Baby breathing monitors are a relatively new option in the history of parenting but have already saved many lives and helped many parents enjoy increased peace of mind.
Whether your little one has a breathing issue that requires careful monitoring, or you simply want to make sure you are alerted in case there is a problem, these monitors are an excellent option. In this buyer's guide, we will analyze all the key features of this type of device, what to look for when comparing them, and much more.
Why do You Want a Baby Breathing Monitor?
One of the first things you should do when you begin shopping for a baby breathing monitor is to ask yourself why you want one. Make a list of all the benefits you hope to attain with this purchase. This will help you to identify the features you need. For example, if you are just looking for a standard baby monitor but think that being able to monitor breathing is a nice additional feature, you will want a model that includes audio and video streaming. Some questions to ask yourself include:
Do I Need Video Monitoring of the Nursery?
Do I Need Audio Monitoring of the Nursery?
Will I Take This Monitor With Me While Traveling?
Does My Baby Take All Their Naps in Their Crib?
Do I Want Alerts On My Smartphone?
What is My Budget?
As you browse through the various baby breathing monitors reviewed on this page, you can narrow down your choices by ensuring each one meets your requirements based on these questions. In addition to meeting your specifications, you will also want to find an option that is accurate, durable, and easy to use.
Types of Sensors
When it comes to a baby breathing monitor, one of the most important things to understand is what type of sensors are used, and how they work. We will not go into the technical details on how each type of sensor works. It is good, however, to have a basic understanding of the different methods used as it can greatly influence how useful a monitor will be in your situation.
Video
Some baby breathing monitors utilize video monitoring to determine if your child is breathing. In these models, a high-definition camera is used to 'watch' your baby while sleeping. The monitoring system is able to detect even very small amounts of movement in your little one's chest and belly. Of course, the video and audio will also be live-streamed to a device such as your smartphone, so this option also serves as a normal baby monitor.
Many people are impressed with this type of monitoring because even when they cannot see the tiny movement of their baby breathing, the system is able to detect it. In most cases, these monitors are very accurate, but if your baby is sleeping with thick pajamas in the winter, you may get a few false alarms.
Also, you need to make sure the cameras are set up to see the entire sleeping area, or your child could squirm out of view, thus setting off an alarm. To see a great example of a device that offers great video monitoring, look at the Nanit Plus Smart Baby Monitor.
Under the Mattress
As the name implies, under the mattress sensors are placed under the mattress in your infant's crib. When activated, they will monitor for even the smallest amounts of movement within the crib to determine if your baby is breathing or if there is a problem. It is almost hard to believe that a sensor can be sensitive enough to pick up a sleeping infant's tiny breaths from through a mattress, but they really can.
In fact, this type of sensor tends to have the fewest false alarms of all the options because the entire mattress is monitored. A great example of a device that uses under the mattress sensors is the Angelcare 3-in-1 Baby Monitor.
On-Body
The third type of sensor is one that is actually placed directly onto the infant themselves. Depending on the model you choose, this could be done by clipping the device onto your baby's diaper, placing a special sock onto your child, or buttoning the sensor to your infant's onesie.
All of these options work in the same general way. They are in direct contact with your child, so they can 'feel' the precise movements in order to determine if there are any issues. In addition to being accurate, this type of monitor is also the easiest to use no matter where you happen to be, which is great for families on the go. We have found that the best device that uses this type of sensor is the Owlet Smart Sock 2 Baby Monitor.
Additional Features Offered
Most baby breathing monitors will provide a variety of additional features on top of simply making sure that your child is still breathing. While the ability to detect when a child has stopped breathing is the most important aspect of these monitors, you still need to know what else the device can do. The following is a quick introduction to the various other features that you will find on some monitor models so you can make the right purchase:
Audio Monitor – Audio monitors let you hear what is going on in the nursery, so you know when your infant wakes up.
Video Monitor – Video monitors let you see into the nursery so you can peek in on your little one without disturbing them.
Baby Temperature – This option lets you track your child's body temperature, so you know if they are getting too warm or cold.
Ambient Temperature – This monitor displays the ambient temperature of the room so you can make sure your baby is comfortable.
Humidity – The humidity in a room will have a big impact on how comfortable your baby is sleeping.
Sleep Tracking – Many baby monitors will track your child's sleep time so you can spot patterns that may help them sleep better.
Wet Diaper Monitor – Some monitors will alert you when your infant has a wet diaper, which is very important for children who struggle with diaper rash.
Pulse Oximeter – This monitor measures the oxygen saturation in your child's bloodstream. This is great for babies that have weak or sporadic breathing but do not stop breathing entirely.
Heart Rate – Keep track of your baby's heart rate while they are sleeping.
Rollover – As your baby gets older, you will want to know when they roll over so you can ensure they are sleeping in a safe position.
Each device is going to offer a specific set of these features. Making a list of which ones are most important to you will help ensure you select the right model. In most cases, you will be able to find a monitor that provides all of the key features that you need in one unit, so you do not have to purchase multiple devices.
Baby Breathing Monitors Provide Safety and Peace of Mind
No matter which baby breathing monitor you choose, you will benefit from the added safety and peace of mind that they provide. As long as you install it properly, all of the models on our list will provide accurate and reliable monitoring throughout infancy. Whenever looking into products for your baby and their health, however, it is a good idea to talk with a pediatrician to see if they have any specific advice or recommendations based on your unique situation.