Top 15 Best Gifts For New Moms 2023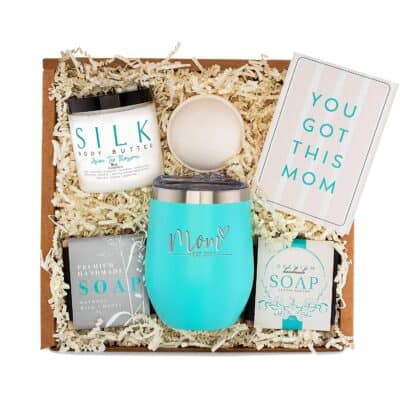 What is it?
The Mom Est. 2020 Spa Gift Box is a fun box of goodies to celebrate a new or expecting mother and also makes a great gift on Mother's Day for a friend, or a coworker. It includes two handmade soaps (an oatmeal, milk, and honey scent, and one cherry almond scent), one Asian tea blossom scented body butter, one confetti bath bomb, an insulated 12 oz. tumbler, and a card for writing a personalized note.
For Mom
Moms will be especially touched by the cute personalized tumbler, which says "Mom est. 2020," another option is available for moms due in 2021. Some moms who have sensitivities to stronger fragrances may not like the soaps and lotion in this set. We love that it's a miniature spa day in a box, and she'll be touched by the gesture.
For Baby
This isn't really for the baby at all. Since everything in a new mom's life has changed, this gift set is all about celebrating mom.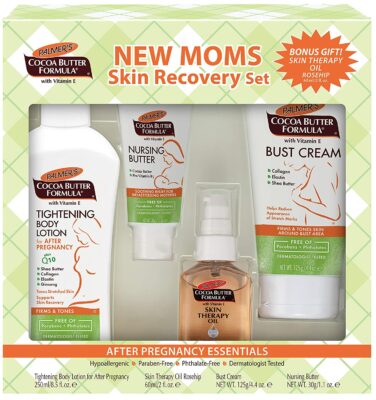 What is it?
This four-piece Cocoa Butter Skin Recovery Set from Palmer's is perfect for adding into a gift basket for a new mom. This set includes tightening body lotion, nursing butter, skin therapy oil, and bust cream, everything a new mom needs to help soothe irritated postpartum skin. Each product is free of phthalates, parabens, and is dermatologically tested.
For Mom
While skincare after pregnancy can seem personal, new moms will appreciate the thought of experienced moms knowing what it's like, and making sure to provide her with all the essentials she'll need to be comfortable during this special time. Moms will enjoy that each product in the Palmer's Cocoa Butter Recovery Set is formulated to go on smooth and soak in quickly to relieve chapped and inflamed skin. Vitamin E also helps to diminish the appearance of stretch marks and supports skin healing.
For Baby
Nursing can be difficult for new moms, not only is it emotionally draining, but also physically, and this takes a toll on babies. Nursing butter helps alleviate some of the pains associated with chapped, sore nipples, and makes it so mom and baby can get back to a happier nursing routine. However, this nursing butter must be wiped off before each nursing session, which can be a bit of a hassle.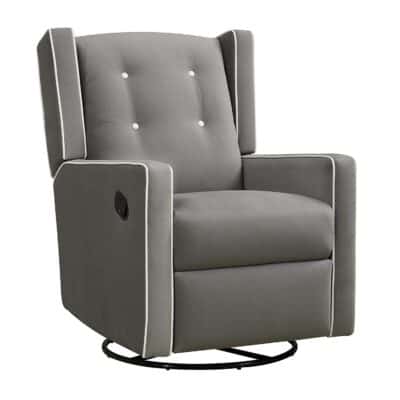 What is it?
One of our top picks from our list of best nursing gliders to buy, The Baby Relax Mikayla Swivel Gliding Recliner has three different reclining positions to keep mom comfortable while she's nursing or spending time with the new baby. The chair gently glides back and forth with very little effort, making it easy to soothe and rock a baby to sleep. This gliding nursery chair accommodates up to 225 pounds and is easy to assemble.
For Mom
Being a mom is exhausting. That's why a good reclining glider is worth its weight in gold. New mothers spend lots of time in their babies nurseries, often during all hours of the day and night. It's certainly one of the most expensive gifts for new moms on our list, but it's definitely one she can appreciate for years to come.
For Baby
There is a proven link between the time a baby spends with their mother and their future cognitive skills. That's why we think it is so important to do whatever is possible to ensure that mother and baby are given as much time to bond with each other as possible. The ultra-comfortable Baby Relax Mikayla Swivel Gliding Recliner encourages lots of quality bonding time.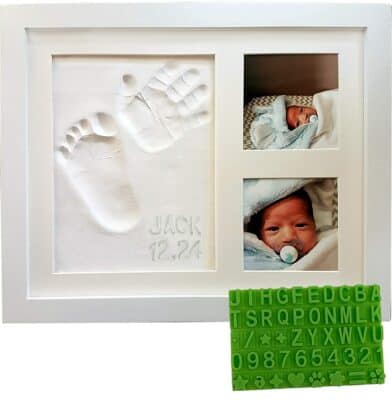 What is it?
All parents know that babies grow up fast, which is exactly why it's fun to have keepsakes from this special time. The Baby Mushroom Handprint & Footprint Photo Frame Kit has everything moms need to make a clay print of the baby's hands and feet to frame and cherish forever. The kit includes a wooden frame for the prints and two pictures, clay, roller, double-sided tape, wall brackets, and table stand. It also comes with letter, number, and symbols stencils for adding names and dates.
For Mom
Remembering how sweet and small her baby's hands and feet were is something every mom will love, making the Baby Mushroom Keepsake Photo Frame Kit a unique and special gift for baby showers or sprinkles. Moms will love that the kit has everything they need to make a full piece of personalized wall art, and the included stencils add a finishing touch. Moms will need to act fast, as the air-dry clay hardens quickly, so this can be a difficult project to complete with a fussy baby.
For Baby
Children will appreciate being able to look back on the finished pieces and see their own hand and footprints, families with multiple children, or generations will enjoy seeing collections of the prints as unique family heirlooms.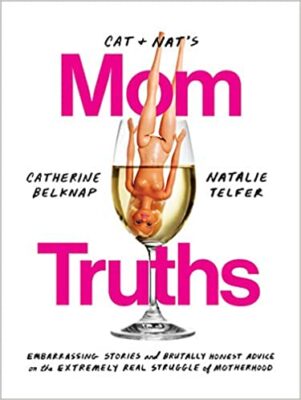 What is it?
A refreshing, comedic take on motherhood, Cat and Nat's Mom Truths: Embarrassing Stories and Brutally Honest Advice on the Extremely Real Struggle of Motherhood, is a great book for answering the most common mom question: "am I alone in this?" The answer? No. Catherine Belknap and Natalie Telfer are real-life best friends who write about everything from the little things, like what you should take with you to the hospital when you give birth to the big things, like how it's okay to not be perfect.
For Mom
Moms will love this brutally honest and hilarious book on motherhood, and that it actually has practical tips and advice for real-life issues. Let's face it, sometimes it can feel embarrassing to ask questions, or seek advice on personal things like postpartum sex or mom anxiety, and the authors of Mom Truths lay it all out there with no judgment. This is the perfect gift for starting up a new moms' book club. Some moms may find the brash language a little jarring, so you'll need to make sure you give it to the right person.
For Baby
Honestly, this isn't for babies, it's for moms needing to find a little levity in motherhood. Although getting advice from other mothers, and knowing there are others out there experiencing the same feelings is good for new moms, which in turn makes a better environment for the baby.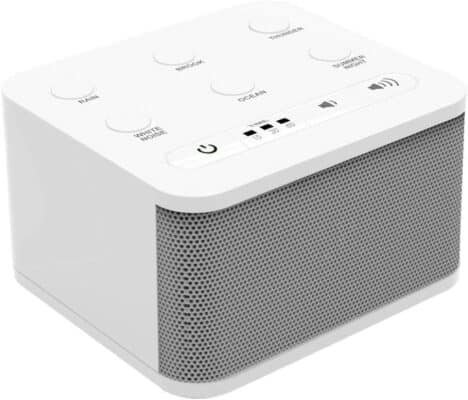 What is it?
Moms need all the sleep they can get, and the Big Red Rooster White Noise Machine is a great way to help moms fall asleep quickly and get more restful sleep. White noise machines play soothing, ambient sound at a low volume to help mask background noises, tinnitus, and alleviate anxiety. The Big Red Rooster White Noise Machine has 6 sounds: brook, ocean, rain, summer night, thunder, and white noise (static).
For Mom
One of the biggest difficulties of being a new parent is getting enough sleep, so it's important that when moms do get to lay down that they're actually getting restful sleep. The Big Red Rooster White Noise Machine is easy to use so it doesn't need to be pre-programmed, has auto-shut-off or can run all night, and can be plugged in with an A/C adapter or run off of three AA batteries. No one wants to be given a gadget that's difficult to use, especially when they're tired, but the Big Red Noise Machine is a gift she will appreciate and is the best white noise machine for new parents.
For Baby
Because the Big Red White Noise Sound Machine is made to block out background noise around the house, it's great for light sleepers. Not all babies are sound sleepers, and sometimes a little ambient noise is just the ticket for putting them at ease and getting the whole house a restful night's sleep. The Big Red Sound Machine can run all night or can auto shut-off after 15, 30, or 60 minutes so mom won't have to risk waking the baby to turn it off. The volume adjustability is lacking and sometimes can seem either too quiet or too loud.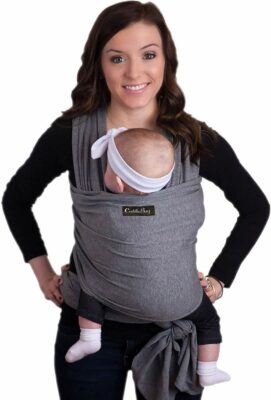 What is it?
Being able to carry around a baby and have your hands free is always a plus, the CuddleBug 9-in-1 Baby Wrap is the best baby wrap to give to a new mom. The CuddleBug is easy to put on in a few quick motions and can be worn easily by mom or dad. It's lightweight and made out of a soft, stretchy, spandex-like material, so it fits moms of all sizes. Some parents may be disappointed that it only carries the baby on the front and can't be repositioned to a back carrier.
For Mom
The CuddleBug Baby Wrap is designed to be as naturally comfortable as possible for moms. It keeps all of the baby's weight off of the lower back and redistributes the pressure, though it does have a bit of a learning curve and might take a few tries to get used to. Mom will love that it is machine washable and is a ring and buckle free, so no pinching, or uncomfortable squeezing. It can also double as a nursing cover or sling for on the go privacy.
For Baby
Babies love to bond up close. Not only does the enhanced closeness release oxytocin, but it promotes their cognitive development. Being able to see and interact with the world closer to mom and dad's level helps them grow their language skills and emotional intelligence.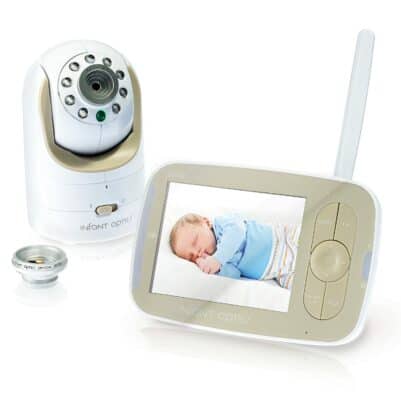 What is it?
The Infant Optics Video Baby Monitor is a full-color video baby monitor that allows parents to see and hear their baby from anywhere in the home. With camera features like pan, tilt, and zoom, and a wide-angle lens, the Infant Optics Baby Monitor is the best baby monitor to give parents who like fun gadgets and using the latest in technology.
For Mom
Moms will love the peace of mind of being able to see and hear their baby with this video baby monitor. Infant Optics can be set to save battery by only turning on the screen when it detects motion, and even allows for two-way talk to help soothe infants and toddlers without mom having to get out of bed. Infant Optics does not use an internet connection and only transmits to one monitor via a secure and private connection. Moms will also love that the screen can fit easily in a pocket to be carried around the house, although may be disappointed by the poor night vision capability of the camera.
For Baby
Staying asleep can be difficult for newborns and toddlers, even when nothing's wrong, and sometimes all they need is a little reassuring word from a parent. The Infant Optics Video Baby Monitor allows two-way talk so mom or dad can sweetly shush baby back to sleep without disrupting the sleep of the rest of the house.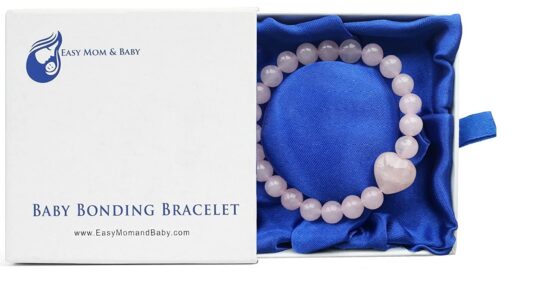 What is it?
Breastfeeding is a very personal experience. It can be very rewarding, but it's also frustrating, and this Baby Bonding Bracelet honors this journey. The bracelet is used to remind a mother on which side the baby last nursed. It is made of light pink rose quartz, known for healing and renewing properties.
For Mom
Moms will appreciate the thought and care of honoring her new addition and supporting her in breastfeeding. The light pink rose quartz looks effortless, and the addition of a heart-shaped center stone is classic. While the bracelet is stretchy, the elastic can get brittle over time.
For Baby
While the bracelet is not for babies, it is a great help for new mothers in remembering their last nursing sessions and creating a deeper bond with their baby.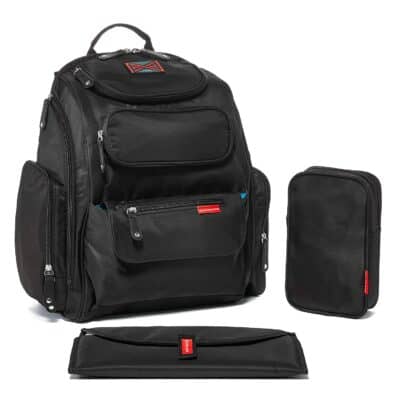 What is it?
This Diaper Bag by Bag Nation is a simple backpack design in a chic unisex style. It's comfortable to wear on your back while also carrying your little one. Because it's not too flashy, it fits in with all styles making it a great gift for any mom on the go. Unlike the single shoulder strap design found on most diaper bags, this bag features an ergonomic two-strap design that evenly distributes weight, and keeps mom hands-free. It also has side pockets for insulating bottles, additional small sundry bag, and matching diaper changing pad.
For Mom
Having everything you need in easy to reach places is a must when you're a new mom and you're out of the house. The Bag Nation Diaper Backpack makes knowing where all of your essentials are as simple as possible. With dedicated pockets for diaper wipes, a hook for keys, stroller buckles, and even a laptop compartment, it's easy to remember where everything is when you need it. Some mothers may find the number of zippers and the weight of the backpack cumbersome. Moms will especially love the lifetime warranty if something breaks or wears down over time.
For Baby
As any experienced mom can tell you, babies love to be held. Because the Bag Nation Diaper Bag is in a backpack design it allows moms to tote their babies and essentials around with ease.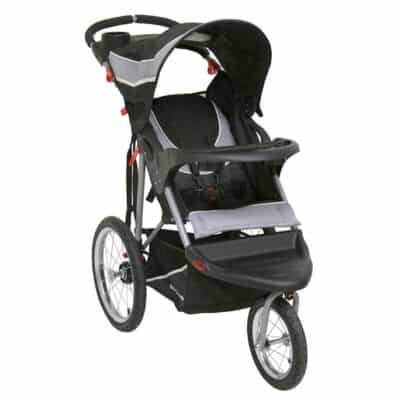 What is it?
Baby Trend's Expedition Jogger Stroller has everything a mom needs in a stroller to confidently jog around town or run errands. It has a locking front swivel wheel, covered upper storage compartment for a phone, wallet, or keys, and a one-handed push-button folding system. Baby Trend Car Seats are compatible with the Expedition Jogger Stroller and can be locked into the top of the stroller. The Expedition Jogger carries babies up to 50 pounds.
For Mom
Not just for running, a good jogging stroller is key for moms who like to get out of the house. Walks through the park, trails, or even just around the neighborhood are ideal uses for this stroller. Jogging strollers are designed to be easy to push, lightweight, and simple to pop in and out of a car without extra hassle. The Baby Trend Jogger Stroller has tall cup holders, an extra-wide ergonomic handle, folds up to fit into compact spaces, and has a large storage compartment to carry all of baby's and mom's essentials.
For Baby
Babies love riding along in the fresh air in their stroller, and the Expedition makes it as comfortable and safe as ever. With a five-point harness and fully reclining seat, babies will be snug and secure for exploration and naps. The Expedition Jogger also has a folding waterproof canopy to block rain and sun and a peek-a-boo screen so mom can check on them as they walk.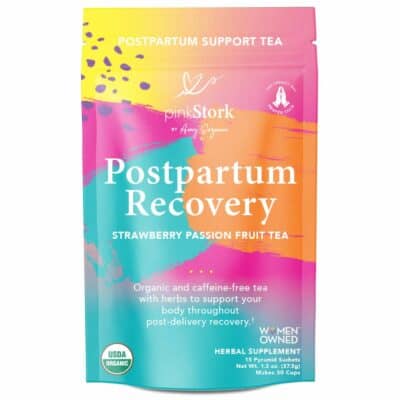 What is it?
Pink Stork's Postpartum Recovery Tea is a strawberry-passion fruit herbal tea to support energy, physical recovery from childbirth, and healthy gut bacteria. Each bag of Postpartum Recovery Tea comes with 15 sachets of tea, which make 2 cups of tea apiece. Pink Stork is a woman-owned and operated company, USDA certified organic and made in the USA.
For Mom
New moms will love the pretty packaging of Pink Stork tea, especially when paired with a cute gift mug, and she'll especially enjoy that she can choose to drink it hot or have it over ice. Some moms who don't typically enjoy herbal teas may not like this one either.
For Baby
Because Pink Stork Recovery Tea only has organic chamomile, dandelion leaf, ginger root, oatstraw leaf, red raspberry leaf, and strawberry leaf, and is non-caffeinated, there's no worry of mom passing anything through her breast milk to the baby. However, like all supplements, moms should check with their doctor or pediatrician before use.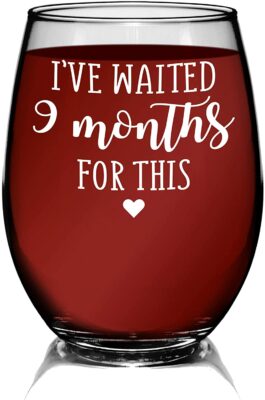 What is it?
Let's be honest, 9 months is a long time to go without your favorite drink. This YouNique Designs Wine Glass is a funny, and creative gift when paired with a favorite boozy drink as a push present. Each glass is made from high quality, sturdy glass, with a thick bottom for extra stability.
For Mom
Each glass comes packaged in a box for easy wrapping, but also fun unveiling, moms will love opening up a box to pull out this silly wine glass. Not only will she be delighted by the playful message, she'll love that it's also a solid piece of quality glassware. However, to avoid damaging the etching, this glass is hand wash only.
For Baby
The last 9 months have been about the baby, so this gift is just about mom.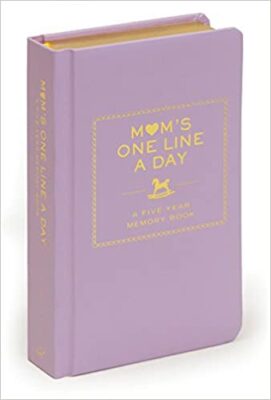 What is it?
Because babies are growing and changing so constantly, remembering every new thing they do can be daunting, but forgetting to document the big things can leave moms with mom guilt. Mom's One Line a Day journal is a quick diary for new moms to make short quick diary entries about new milestones or memories, without feeling like they need to scrapbook every moment. Each book chronicles up to 5 years, leaving space for 6 lines of notes each day.
For Mom
Moms are often the keepers of family history and memories, and often as life gets busier with more children and hectic schedules they don't have the time to fill out large baby books. Busy moms or moms of multiple children will appreciate how the One Line a Day book makes it easy to be able to still reflect on the progress and milestones of her little ones. Because each day is only 6 lines long, the journal size is small, and some mothers might prefer a journal to document their baby's journey.
For Baby
Children will love being able to look back and see these snapshots of time and see what they were doing or how they were growing, each book makes a beautiful family heirloom to be passed down.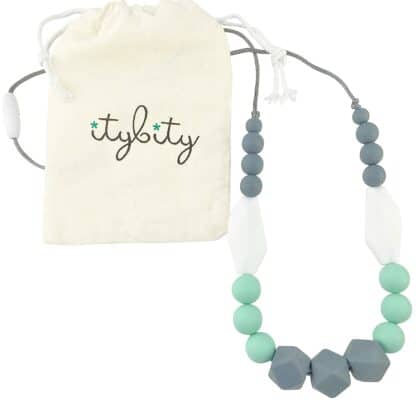 What is it?
Teething babies love to chew on anything they can grab on to, which often means mom, and mom's jewelry. That's why Itybity came up with a fashionable way for babies to soothe sore gums and not ruin mom's accessories. The Original Baby Teething Necklace is a necklace for mom to wear. It's made from large, food-grade, silicone beads and is safe for baby to chew on. Each necklace is BPA free, lead-free, has no metal parts, comes in a variety of colors, and is dishwasher safe.
For Mom
This is such a simple and cute idea to give to any new mom that it will have her wondering how she hadn't already thought to get one. The bright colors and trendy bead shapes are actually fashionable and look great over a plain tee-shirt. Some moms may find the length of the necklace a little short.
For Baby
Babies will love being able to actually chew on this and not have it taken away. Reaching and grasping onto the necklace helps with fine and gross motor development, and the colors and textures stimulate visual and sensory growth.