Got a bun in the oven and haven't worked out where your little one will sleep? Then it's time you went shopping for a crib.
But as our lives become more urbanized and our living spaces increasingly compact, not everyone has the space for a full-sized crib. And that's where the mini-crib comes in, a tiny solution to all your space-saving, baby-sleeping needs.
Features to Consider in Good Mini Cribs
The number of mini-cribs on the market has multiplied in recent years as families search for compact solutions for housing their precious newborns. And although mini-cribs all have one thing in common—they're smaller than standard cribs to save on square footage in your home—each has been designed with specific features in mind. Let's do a brief round-up of the top things to consider:
Size: How big is a crib? A standard, run-of-the-mill crib is mandated by the government to measure 28-inches wide and 52-inches long, which provides plenty of space for a newborn to grow into but might be a little too big to cram into the master bedroom. A mini-crib, on the other hand, measures on average 24-inches wide and 38-inches long, making it far more compact and easier to squeeze in a tight space. However, mini-cribs can vary significantly in width and height, so measure your available space and work out what's best for you.
Price: We won't sugarcoat it: buying a beautiful new crib is a substantial investment, with the top models costing a sizable sum. But hey, your little guy or gal is totally worth it. In any case, you must buy something that fits within your budget; otherwise, how are you going to afford all those cute baby toys? But don't stress if you are on a tight budget because we've included several cost-effective options in today's list.
Aesthetics: We all want the best for our babies. And that desire for greatness goes beyond comfort and functionality—we also want our little ones to look the part. For many parents, aesthetics plays a vital role in the decision-making process, whether it's for their self-satisfaction or to appease the newly born child. We've all got different tastes, so it's sensible to settle on a crib that aligns with your personal style.
Portability: Are you going to leave your crib in the master bedroom until the baby grows out of it? Or are you going to bring the baby over to grandma's every weekend for a sleepover? Some mini-cribs are lightweight and foldable, while others aren't particularly portable at all. And the best option for you depends on the kind of lifestyle you and your child plan to live. If you just want something you can easily move between rooms, then a mini-crib with wheels might be your best bet.
Convertibility: The big disadvantage of the mini-crib is that although it saves serious space, your baby will quickly grow out of it, forcing you to splash out on a new model. Convertible mini-cribs, however, can be extended into a daybed or twin bed, allowing your little one to keep using the same crib for years to come. And that'll save you, the parent, a considerable sum.
Top 10 Best Mini Cribs 2020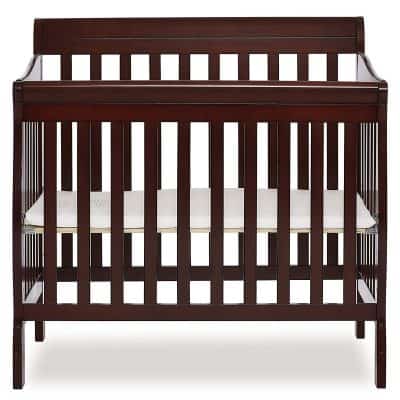 Why we like it:
This excellent all-rounder is a hit for its sheer versatility, with multiple height settings and conversion options.
Editor's Rating:
Size:
39 x 23 x 36 inches
Sleeps a baby up to 50 pounds
Design
The Dream On Me Aden gets the top gong for its unrivaled functionality; this versatile little mini-crib does (almost) everything you need and more.
The Aden sits low to the ground to make it easy to pick up your baby, and has a four-position adjustable mattress setting, which you can tweak for optimal comfort depending on the size of your little one. A solid pine wood frame and a choice of sleek minimalist finishes see it blend into the average 21st century home. Smooth arches prevent your baby from harm, while the crib's spade feet keep the whole thing steady in place.
But the best thing about Dream On Me's Aden is its convertibility. Rather than forking out for a brand new crib once your baby gets too big, you can simply convert the thing into a fully functional twin-bed. The conversion kit is sold separately, and you can choose if you want a headboard or not. It also converts into a toddler daybed, this time without the need for a kit.
Need to know
No wheels are included in this model, so you won't be able to maneuver it between rooms. If you need a changing table, Dream On Me sells a matching product, the Marcus Changing Table and Dresser.
Pros
Excellent stationary all-round option

Converts into a twin-bed or daybed

Four-setting adjustable mattress height

Sleek and compact design
Cons
The included one-inch mattress is a little too thin

Not foldable or portable

No wheels to move between rooms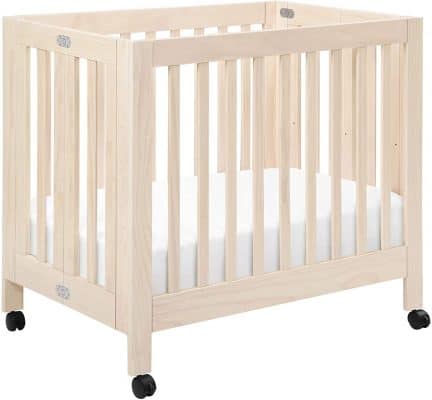 Why we like it:
It's light and packs down small—perfect for hauling over to grandma's when you need an impromptu unpaid babysitter.
Editor's Rating:
Size:
39 x 26 x 36 inches
Sleeps babies 0-18 months
Design
Good things come in small packages, and this beautiful little mini-crib from Babyletto is no exception. Lightweight, foldable, and compact, it's easy-peasy to pack up and throw in the car for a weekend trip to the Hamptons or a babysitting stint at the grandparent's place. Yet despite its fully functional foldability, the Babyletto Origami comes in quality New Zealand pine and looks a dream in three selectable shades: white, grey, and natural wood.
Above all else, the Origami is designed to squeeze into impossibly tight spaces and fold up fast—hence the name—which is what makes this such a perfect portable crib. However, this extreme portability comes at a small cost to comfort. The Origami only has a dual adjustable mattress height setting, which is less than other options on our list, and the included mattress is a paper-thin one inch deep (buy a thicker mattress to keep at home).
Auto-lock wheels make it easy to move between rooms without the risk of baby going bye-bye. Meanwhile, a GREENGUARD Gold Certification guarantees you won't get any nasty infant-harming chemicals on the finish.
Need to know
No longer safe once the baby learns to climb
Pros
Durable New Zealand Pine

Fits into small spaces

Folds up and packs down quickly

Fits into a small storage area when packed down

Movable with wheels
Cons
Only two adjustable height settings

The included mattress is thin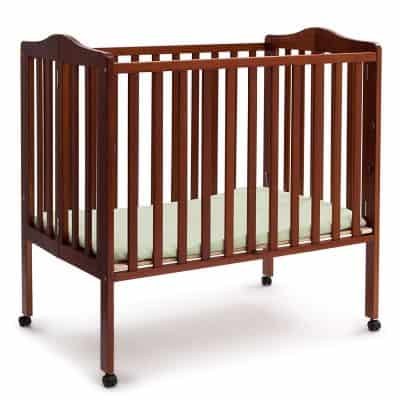 Why we like it:
It's a cheap and cheerful mini-crib that doesn't compromise on quality and packs away nicely.
Editor's Rating:
Size:
39 x 25 x 37 inches
35 pounds maximum weight
Design
The Delta Portable Mini-Crib is the most cost-effective option on our list—and you get fantastic bang for your buck.
Despite its low price point, this flagship model from Delta is built from high-quality wood and comes with a durable first-rate design. The sturdy wooden frame supports a baby up to 35 pounds and can be quickly packed away to store in just 6 inches of space, making it easy to slip into the boot or cupboard. It's got wheels on each leg, too, so you can slide it around the house without having to pick it up.
The Delta Portable has two adjustable mattress height settings, which is slightly less than average but about what you'd expect for such a portable crib. The attached one-inch mattress isn't the most comfortable on the market, although it does fit inside the crib when you pack it down, which makes the whole process so much easier.
One of the things we like most about this model is because it's so cheap, you could buy it as a second back-up mini-crib without breaking the bank. And because it packs down so small, you could leave it in the closet at a relative's house and just whip it out whenever your baby needs a sleepover. That way, you don't have to bother bringing it with you each time you visit, and you'll always have an impromptu bed ready should the baby suddenly need to stay the night.
Need to know
The wheels don't have locking mechanisms
Pros
Cheap enough to be a back-up crib

Folds down to a tiny 6 inches

Easy to move around with wheels

Mattress included in the low price
Cons
Heavier than other portable cribs at 34 pounds

Only two adjustable height settings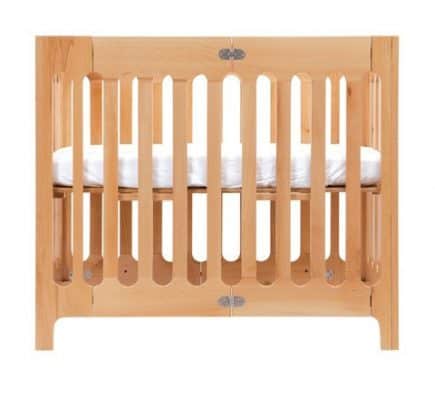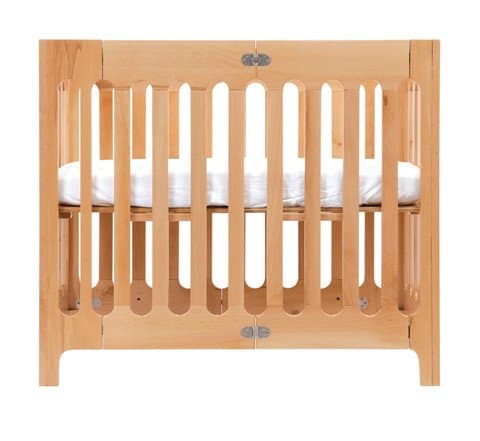 Why we like it:
High-quality hardware, a sleek design, and optimal portability make this the best premium option of the bunch.
Editor's Rating:
Size:
37 x 19 x 36 inches
Sleeps babies up to 12 months
Design
If money's no object, get the Alma Mini Crib from Bloom as it's the cream of the crop. Although it cost several times more than other options on our list, this high-end mini-crib is worth it because it comes jam-packed with safety features, boasts a sophisticated, durable design, and is super easy to scoot around the home.
The frame has been built from slats of high-quality beech hardwood and comes with a beautiful low-VOC finish in both white and natural wood. And at less than 20 inches wide, its super-slim frame is among the narrowest on the market, perfect for condo families who need to navigate tight spaces. Lockable castor wheels come as standard, making this an optimal option for apartment living.
Although it's a little heavier than most, coming in at 51 pounds, the Alma is foldable so you can still pack it down and move it around when needed. Two adjustable mattress settings provide extra comfort and safety for your growing baby, who probably won't outgrow it until at least 12 months old.
You won't need a handyman to put together this mini-crib either, as the Alma is one of the easiest options to assemble on our list. Even a total D.I.Y. novice could do it in less than 15 minutes (other cribs can take hours).
Need to know
The Alma is different from most standard U.S. mini-crib sizes, so double-check the dimensions of your mattresses and sheets before purchasing.
Pros
Gorgeous design

Durable, high-quality hardwood

Extra narrow for moving around tight spaces

Four lockable castor wheels

Foldable
Cons
Expensive

Not convertible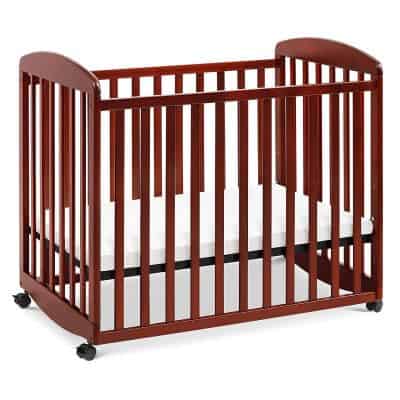 Why we like it:
Solid design, sleek aesthetics, and a gentle rocking function make this DaVinci option a rock star.
Editor's Rating:
Size:
38 x 26 x 35 inches
For babies up to 18 months
Design
The DaVinci Alpha Mini rocks!
If you love rocking your little one to sleep, or if your baby won't doze off without a gentle swing, then the DaVinci Alpha Mini is for you. The critical point of difference here is, unlike most mini-cribs, this model lets you manually rock your little one to sleep, which is ideal for sleep-deprived babies and parents alike.
The downside to the rocking mechanism is the model isn't foldable, so give this a miss if you need to travel around town with your crib. But other than that, it's got all you could ask for in a top-quality mini-crib: a slim space-saving design, a sustainable New Zealand pine wood frame, four lockable wheels, and GREENGUARD Gold certification.
The Alpha Mini has three adjustable mattress positions that keep up with your baby's growth, the last of which puts your baby down low very close to the floor. As a result, there's no way your little one is climbing out of this thing until they're at least 18 months old—a significantly longer lifespan than most mini-cribs. Unfortunately, however, the Alpha isn't convertible, so you won't be able to stretch it any further than that.
Need to know
The Alpha comes with a thin one-inch mattress, which seems strange to us because it's not even foldable. Factor the price of a thicker, more comfortable mattress into your budget because one inch is a little too Spartan in our experience.
Pros
It rocks

Three adjustable mattress positions

Long 18-month lifespan

High-quality pinewood

Reasonably priced
Cons
Thin mattress

Not foldable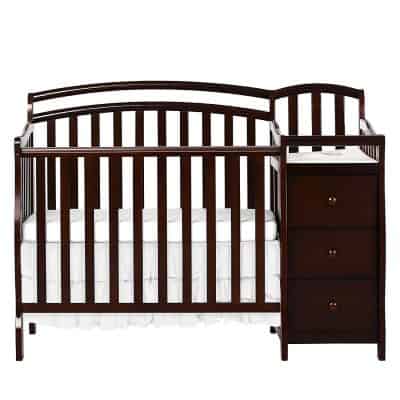 Why we like it:
You get all the functionality and form of a high-end mini-crib with a changing table and cute little shelves to stash your baby's stuff.
Editor's Rating:
Size:
56 x 29 x 41 inches
64 pounds
Design
If you look at the weight and dimensions here, you'll see the Casco isn't exactly petite. In fact, this bulky option from Dream On Me is the biggest and heaviest on our list, yet it's still a super space-saving machine. How so? Because the Casco has a row of handy draws and a changing table built-in, which means you won't have to find a place to put these two infant essentials elsewhere in the house. And having them so close at hand is a game changer for us: the baby's bibs are always within easy reach and late-night nappy changes are a breeze. Although it's pricier than other cribs, the Casco is worth the extra investment if having a combo crib is important to you.
Aside from the increased size, the major downside is the model isn't foldable, so you can forget about bringing it over to grandma's house. Increased functionality comes at the cost of portability.
Still, if you've got the space to place it in your master bedroom, the Casco works like a charm and its rustic style looks divine. Its solid pinewood frame comes in five sophisticated non-toxic finishes: black, espresso, pebble grey, white, and cherry. Three adjustable mattress positions provide enhanced comfort and lifespan, and its safety features exceed the CPSC standards.
Once your baby outgrows the mini-crib, you can convert the model into a toddler daybed or twin bed, although you'll need to purchase the kit for the latter separately.
Need to know
The Casco comes with a one-inch changing mat but no mattress, so you'll need to buy one separately.
Pros
Changing table and drawer combo

Convertible

Solid design with a gorgeous finish

Three adjustable mattress positions
Cons
Not foldable

A little expensive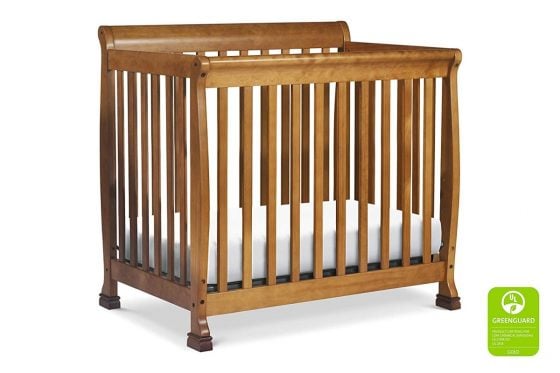 Why we like it:
It's a superb convertible mini-crib for parents who don't need portability.
Editor's Rating:
Size:
40 x 28 x 38 inches
37 pounds
Design
The DaVinci Kalani is one of our favorite all-rounder mini-cribs, second only to the Dream On Me Aden. And the thing we love most about this beautiful baby's bed is its sleek aesthetics—think a minimalist sleigh-style design with smooth undulating lines and a gorgeous natural wood finish. Four different color themes are available to choose from; we reckon it's hard to look past the chestnut option.
Eye-catching aesthetics aside, the Kalani boasts brilliant functionality. There are four adjustable mattress positions to accommodate babies of all shapes and sizes, and it converts into a twin and toddler's daybed for an extra-long lifespan. Sure, you'll have to pay more for the conversion kits, which are sold separately. But the savings associated with not buying a whole new crib are significant. Assembling the mini-crib and the conversion kits are easy and don't require any special skills.
Just like all DaVinci products, the Kalani boasts a GREENGUARD Gold safety certification (no nasty chemicals) and a TSCA compliant frame, so you know your baby's in good hands.
Need to know
The included mattress is more of a sleeping pad and not suitable for everyday use. You'll need to purchase one separately, or as part of a bundle, which adds significantly to the cost.
Pros
Beautiful design

Easy to assemble

Exceeds all safety standards

Convertible for extra-long lifespan
Cons
Not foldable

Buying a separate mattress and conversion kit adds considerable expense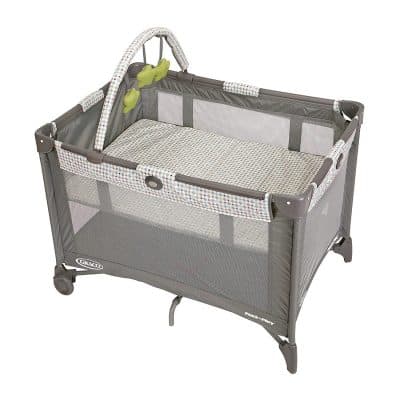 Why we like it:
Cheap and cheerful, this ultra-portable travel crib from Graco is designed to be lugged around with ease.
Editor's Rating:
Size:
40 x 28 x 29 inches
23 pounds
Design
Unlike our other options, the Graco Playard is a Pack-n-Play Crib, A.K.A, a travel crib, which essentially means it's designed to be carried around wherever you need to go. While cribs like these don't make the best permanent beds for your baby, they're fantastic for quickly assembling and disassembling when you pop over to a friend's house to catch up on the latest gossip.
The crib weighs a measly 20 pounds and packs down into a small carry bag, meaning it's incredibly portable. Two back wheels also make it easy to push the crib around and reposition it within the house. And as the name suggests, you can convert the Pack-N-Play into a miniature playpen by setting the adjustable mattress to the lowest position. The mini playpen is made of mesh so you can keep a close eye on your little one at all times.
By design, travel cribs are a lot more lightweight and, therefore, more flimsy than your standard mini-crib, so this isn't the best option for a primary sleeping space. Nevertheless, its cheap price point makes it affordable enough to consider as a back-up portable crib. You could bring it over to a friend's place for a few hours or even have your little one occasionally sleep in there overnight. Furthermore, hotels and vacation homes often don't provide suitable sleeping options for infants, so having a packable travel crib in the house can certainly come in handy.
Need to know
It's a travel crib, so it isn't designed to be the baby's primary sleeping space.
Pros
Super lightweight

Packs down into a small bag

Easy to assemble and disassemble

Low price point
Cons
Not as sturdy or comfortable as a proper mini-crib

Only suitable for small babies up to 20 pounds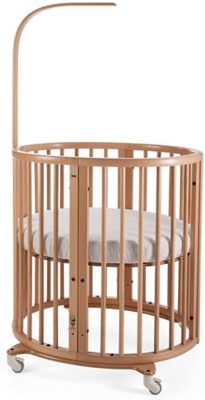 Why we like it:
While other cribs are rectangular, this suave oval option is all about those smooth curvy lines.
Editor's Rating:
Size:
32 x 23 x 15 inches
40 pounds
Design
Looking to stand out from the crowd? Well, you can do just that with the Stokke Sleepi, an undulating oval-shaped mini-crib that's unlike anything you've ever seen. Instead of your stock-standard rectangular form, Stokke has gone with a smooth round shape to create a cozy nest-like space for your little one to doze. The natural wood finish, bright white drapes, and cool minimalist design further add to the aesthetic appeal. So if appearances are important to you, then this chic little crib is hard to beat.
Apart from being good looking, the Stokke Sleepi has fantastic functionality. Four lockable swivel wheels let you cart the crib around your home and safely stow it away, while three adjustable mattress positions allow the crib to grow with your child. It's tiny, too, so you won't have any trouble fitting the crib into a confined space.
Given its unique shape, the Stokke Sleepi isn't foldable, which is kind of a shame because it'd be cool to show off around town. The biggest downside here, however, is the cost—this isn't one for a penny pincher to consider.
The good news is the crib is extendible, so you can convert it into a bigger bed once your baby outgrows the original model. Although these conversion kits are sold separately at a hefty fee, they do still help justify the initial outlay.
Need to know
The included 1.5-inch mattress is surprisingly comfortable.
Pros
Cool cocoon-like oval shape

Wonderful minimalist design

Can convert into a larger crib
Cons
Expensive

Not foldable or portable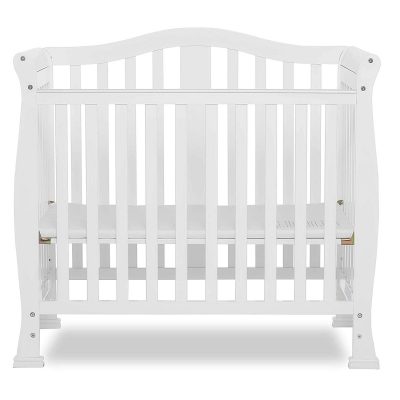 Why we like it:
Does everything a good mini-crib should do with sophisticated old-school charm.
Editor's Rating:
Size:
32 x 24 x 38 inches
34 pounds
Design
While Dream On Me's Eden got our top pick for best mini-crib overall, their Addison model isn't far behind. In fact, we'd say it's the superior option if you prefer a curvy rather than a rigid design. Your choice of five gorgeous colors accompanies the solid pinewood frame, which looks fantastic when you're going for a timeless look.
Three adjustable mattress height settings let the crib adapt to your growing baby, and convertible kits can change it into either a twin bed or a toddler's day bed for optimal long-lasting use. Safety is a serious consideration for every Dream On Me crib, and the Addison meets or beats all ASTM and CPSC Standards.
As this bed is a convertible, it doesn't fold down for travel, so give this one a miss if that's essential for you.
The one-inch mattress pad is a little too thin, so we recommend grabbing the three or five-inch mattress upon purchasing the unit.
Need to know
It's very similar to the Dream On Me Eden, although with a unique curvy design.
Pros
Stylish design

Converts into a twin or daybed

Three adjustable mattress height settings

Complies with safety standards

Reasonably priced
Guide to Buying the Best Mini Cribs
New to the world of mini-cribs? Then this is the section for you. Before you go out and invest a sizable sum on your baby's beautiful new bed, you need to do your research. Here, we'll delve deep into the details regarding the pros and cons of a mini-crib plus the key things you need to consider.
Advantages of Buying a Mini-Crib
What can a mini-crib do that a regular crib can't? Why should you invest your hard-earned dough in a miniature version of the age-old cradle?
They're Easier to Fit Into a Small Space
The central selling point of the mini-crib is its petite stature—its teeny weeny diminutive size. Living arrangements are becoming increasingly tight as we urbanize and real estate prices soar. Nowadays, many of us can only dream of living in an enormous two-story suburban house with the quintessential white picket fence. Our living quarters are shrinking, so we just don't have the space to house a full-sized crib. And mini-cribs solve this modern-day dilemma by being…well…mini.
Furthermore, the C.D.C. recommends we spend the first 12 months sleeping in the same room as our newborn. Therefore, to do the right thing by our precious baby, we must fit their crib into our already cramped bedrooms. And for many of us, a mini-crib is the only viable option.
They're Easier to Move Around
Normal cribs are bulky and hard to budge. For the most part, we assemble them in our homes and don't move them an inch until our little one is finally ready for a grown-up bed. Full-size cribs simply aren't designed to be portable.
The mini-crib, on the other hand, is lightweight and compact, thus notably easier to move around. Depending on the model you have, your mini-crib may even be foldable so you can pack it up and bring it over to grandma's on a whim. Many models come with wheels too, so sliding the mini-crib around the house becomes a cinch.
They Give Your Baby a Snug and Cozy Fit
Your newborn has just spent nine whole months all snuggled up in a warm womb. And going from being tucked away in a small space to spreading out in a giant full-sized crib will come as a psychological shock. Sleeping in a smaller, cozier, and more womb-like mini-crib will provide a familiar environment for your baby, which helps them to relax and sleep. Although there isn't yet any hard data to prove this, many moms have provided anecdotal evidence to support the theory.
Disadvantages of Buying a Mini-Crib
If mini-cribs are so great, why would anyone consider buying a full-sized crib? Well, the advantages of the bigger option are two-fold: convenience and cost.
Babies grow at lightning speed; before you know it, your little baby will have outgrown its mini-crib and will be ready for a big kid bed. The age that a baby outgrows a mini-crib depends on the size of the baby and the model in question, although you can usually bank on getting 9-12 months of use. And at this young age, your baby won't be ready for a toddler's bed, so you'll have to invest in a full-sized crib for the interim.
Researching a new crib, purchasing it, and storing your old crib is a lot of work, so it's more convenient to have one full-sized crib the whole time. It'll also cost you a fair bit more money, even if you succeed in selling your old crib second hand.
However, many modern mini-cribs now come with the capability to convert into a toddler bed or twin bed, which negates the need to purchase a brand new crib once the baby starts getting too big.
Things to Consider When Buying a Mini-Crib
If you've decided that a mini-crib is the best option for your family, then there are a few things you need to consider before hitting the buy button.
Size
Unlike full-sized cribs, which the U.S. government requires to be 28 inches by 52 inches, mini-cribs come in all different shapes and sizes. In fact, the only sizing requirement is a mini-crib is shorter in length than a full-sized crib. Indeed, some are only slightly smaller, sometimes even by just a few inches.
Of course, size and weight will affect portability, so grab a small and lightweight model if you plan on moving your baby crib around a lot.
The other main consideration for size is how much space you've got to spare. Work out exactly where in the house you'd like to put your mini-crib and measure the dimensions. If you've only got a small area to work with, you'll need to invest in an appropriately sized crib. Of course, the downside to a smaller crib is your baby will grow out of it sooner.
Safety
Safety must always be the utmost priority for our children. And as any veteran mom will know, infants are adept at doing themselves damage in all sorts of outrageous ways. Make sure your mini-crib complies with all the relevant Consumer Product Safety Commission (CPSA) Standards at a very minimum, although it doesn't hurt to get a product with ATSM compliance as well.
Features to look out for include:
Lock-down safely rails to keep the baby inside the crib
Automatic locking wheels to stop the crib rolling off downhill
Reinforced slats for when the baby puts on a little bit too much weight
Multiple adjustable mattress levels to stop the baby climbing free
Low VOC paint to ensure the baby won't lick up any toxic paint
TSCA compliance to safeguard against nasty chemicals
A sturdy frame to reduce the probability of collapse
Convertibility
Some mini-crib models can be converted into toddler beds when your baby eventually outgrows them. In most cases, you'll need to get a conversion kit (sold separately) to do the transition, although it's worth the extra expense as this could save you considerable coin in the long run. If you plan to do this, grab a conversion kit when you buy the mini-crib, as it could be hard to find the correct kit a few years down the track.
Portability
Probably the most significant advantage of the mini-crib, at least for most models in the market, is its portability. Ultra-portable mini-cribs can quickly fold up and pack down; making them perfect for taking to a relative's place should they agree to look after the baby. If you plan to get help watching the baby or expect to be moving around a bit, then a portable mini-crib is a must. Aim for a model that, aside from being foldable, is small and light so you can effortlessly lug it around.
Even more portable still are the Pack-N-Play and Travel Cribs, two types of mini-cribs designed especially with movement in mind. These are more uncomfortable and flimsy than standard mini-cribs, so it's best to use them as a second crib rather than the primary sleeping space.
Regardless of the design, most mini-cribs have wheels so you can scoot them around between different rooms of the home.
Appearance
We all love having beautiful furniture in our homes. And although your baby may be too young to appreciate the aesthetics of a top-quality timber, mama and papa aren't. If you can't decide between two similar mini-cribs, there's no harm in picking whichever you like the look of best.
Mattress Thickness
The more portable a mini-crib is, the thinner its mattress will be. And the reason is simple: it's just too cumbersome to fold up a big thick mattress whenever you need to move the crib around. Mini-cribs designed explicitly for portability may have mats as thin as 1 inch, although anywhere from 1-4 inches is typical. Non-foldable mini-cribs designed to remain stationary come with thicker, more comfortable mattresses, typically around five to six inches.
You can always buy a second mattress. So if you get an ultra-portable crib with a wafer-thin one-inch mattress, you could also get a thick six-inch mattress to use at home, while putting the thin one aside until you need to travel.
Price
There's no denying baby stuff is expensive. From strollers to bassinets and high chairs to change tables, it's hard to imagine how any young family can afford to raise a baby these days. And considering the sheer quantity of baby-related stuff you have to buy, it's understandable you might want to save a buck or two along the way. Luckily, not all mini-cribs cost a fortune, and we've included plenty of budget-friendly options on our list.
Mini-Crib: F.A.Q.
Wrap your head around the bewildering world of mini-cribs with our no-nonsense F.A.Q.
What Is a Full-Sized Crib?
A full-sized crib, often just called a crib, is a 28-inch by 52-inch baby bed. Cribs don't tend to be portable, and the U.S. Government mandates they must all be the same size.
What Is a Mini-Crib?
A mini-crib is any crib smaller than the mandated full-sized crib. Most mini-cribs, however, measure approximately 24 inches by 38 inches. Some models are foldable for travel, and others can convert into a toddler bed.
Are Mini-Cribs the Same Size?
No, mini-cribs come in an array of different sizes, so it's essential to purchase your linen after you've chosen your mini-crib.
How Long Can a Baby Use a Crib/Mini-Crib?
Depending on how fast the baby grows, you can continue using a mini-crib until 9-12 months. Cribs, on the other hand, are suitable for babies up to two.
What's the Difference Between a Travel Crib and a Mini-Crib?
Travel cribs are an ultra-portable kind of mini-crib specially designed for travel. These lightweight models pack down into small carry cases so you can move them around. Travel cribs are flimsy and uncomfortable, so they're best used as a secondary crib to use on the road.
What Is a Pack-N-Play Crib?
Pack-n-play cribs can be used as portable playpens as well as cribs. They tend to be of a similar size to mini-cribs, usually around 24 inches wide and 39 inches long.
How Thick Is a Mini-Crib Mattress?
Mini-crib mattresses vary depending on the style of the crib. The portable travel-orientated mini-cribs have thinner mattresses, as these are easy to move around. Non-foldable mini-cribs have thicker mattresses for added comfort.
With such a perplexing array of options on the market, choosing the perfect mini-crib for your baby will seem bewildering at first. But with a little insider know-how courtesy of this guide, it won't take you long to pinpoint the ideal model. Take a browse through our handpicked selection of mini-cribs to find the most appropriate solution for you.